Women cagers for big game
For the first time in the history of basketball a women's team will be participating at the Master's Games in Australia, said Rio Ramlan, Co-ordinating Secretary of the Veteran's Women's Section.
She said players such as Kamala Kulathilake, Nihal De Silva, Kusum Goonasekera, Pushpa Thilakeratne, Rohini Perera, Theckla Fernando, Soraya Fazurdeen, Puthri Majeed, Princy Barthelot, Nanda Ganegoda, Preethi Fernando, Dushanti Attanayake, Kasturi Wilson, Champa Abeyasinghe, Anne Thalaratne, Ranjini Fernando, G.F. Dissanayake and Rio Ramlan.
---
Another first in sports
Sri Lanka's first ever Bowling Centre-Y2K and Sri Lanka's first ever Sport Marketing and Event Management Company - Sport Promotions (Pvt) Ltd., recently signed an agreement which is another first in the history of local companies maximising their resources in the field of sports.
Sport Promotions (Pvt) Ltd, has been appointed exclusively in marketing the Y2K Bowling Centre, while the Centre will concentrate on maintaining its facility and services.
The awareness amongst the people of the Y2K Bowling Centre is high. This agreement will enhance the patronage of the Centre by the Corporate, Institutions, Professional, and other segmented areas. In addition, a number of tournaments too, would be introduced during the year, so that Bowling would sustain a continued interest among the players.
Sri Lanka's first Sport Marketing and Event Management Specialist, Sport Promotions (Pvt) Ltd, will use its expertise in taking the game to potential segments and inviting Companies, Institutions, and other bodies to experience the thrills of the game - free for beginners with training facilities.
The Ministry of Sports has assured the Centre that National recognition would be put in place within the next two weeks. This would allow for the formation of an Association, which would enable Bowling Clubs to be formed. In the future, a National Bowling Championship would be organised, and affiliation to the International Bowling would be made possible.
---
New chapter in junior tennis opens
With the re-introduction of the international schools for the local sports arena, British School of Colombo has embarked on a new chapter in tennis to organize the Junior Masters Tennis Championshps for the year 2001.
The tournament will be worked off from 10th to 18th of February at three venues; Queens Club, Health Dept., Sports club and Sri Lanka Tennis Association courts.
The director of the tournament committee Sudantha Soysa said that they hope to attract around 250 participants this year islandwide, with a good number of children from international schools participating.
Children under age groups of 08,10,12,14,16, and 18 are invited for championship tournament which awaits best of the awards this season.
The British School of Colombo, headed by Mistress Jail McDonald said the school management is ready to award two full scholarships to the best performers who would be selected by a special panel and criteria for selection would appear before the tournament .
Speaking on behalf of the sponsors Lankem Robbialac, their General Manager Tony Ranasinghe stressed the need for true sportsmanship in the world of sports today, while assuring the support of the company in the proposed fair play award, which is a new edition to tennis this year.
---
Karundapone Hill Climb on Feb. 18
The Karundapone Hill Climb conducted by the Sri Lanka Association of Racing Drivers and Riders in association with the Kandy Motor Sports Club will be held on February 18.
Assistance will be given towards the success of the hill climb by the Managment of the Kegalle Plantations Limited, Jayantissa Ratwatta the Director and Jerome Perera the Superintendent.
Entries will close on February 6th at 5 p.m. at No. 128, High Level Road, Nugegoda and at No, 36, Torrington Road, Kandy.
Events will be held for cars and bikes.
This hill climb was not held for the last two years.
---
Old Trinitians in the scrum
Under the Title "Kandy youth in the Scrum" there appeared an article that had a number of inaccuracies which had reference to the Old Trinitians Sports Club.
We wish to correct these inaccuracies and kindly request that your newspaper publish it with the same prominence.
a. One Maurice Perera has made some comments regarding the Old Trinitian's Sports Club activities connected with Rugby.
b. We are not aware who this person is and he is not a spokesman for the Old Trinitians Sports Club.
c. The Old Trinitian's Sports Club has not made a decision not to play premier league Rugby.
In fact we are making all arrangements to participate during 2001. We are awaiting formal confirmation from the authorities concerned.
d. From the article it appears that an attempt is being made by the so called Maurice Perera to mislead rugby lovers and decision makers to create confusion, and bring disrepute to the Old Trinitians Sports Club.
-Lt. Col. P.R. Athuraliya (for Hony. President OTSC)
---
Newsline 'A' champions of Wijeya Publishing
Newsline A emerged the inaugural 7-a-side football champions defeating Security by 3 goals to nil in the Wijeya Newspapers Inter Department tournament concluded at Pedris Park.
The champions will be awarded the D.R. Wijewardena Memorial Trophy.
In all, 12 departments participated in this tournament.
Results-
Pre Quarter finals-
Newsline A beat Lankadeepa 2-nil, Accounts beat Despatch Reds 4-nil, Typesetting beat The Sunday Times 2-nil, Transport beat Electrical 2-nil.
Security beat Process 4-nil, Despatch Blues beat Newsline B 4-nil.
Quarter finals-
Newsline A beat Advertising 3-nil, Accounts beat Typesetting 2-1, Security beat Transport 1-nil and Despatch Blues beat Circulation 3-2.
Semi finals-
Newsline A beat Accounts 2-nil and Security beat Despatch Blues 3-2.
Best Player: Nuwan Sampath - Newsline A.
Highest Goal Scorer: B.T.S. Gomes - Newsline A with 4 goals.
Best Goal Keeper: Jayaratne Lokuge - Transport.
---
Professsional surfing at Hikkaduwa
Sri Lankan Airlines is proud to announce that the International Professional Surfers Championships will be held for the first time In Sri Lanka from February 21 to 24 at the Beach of Hikkaduwa.
The first two days, February 21 and 22, will see Japanese surfers taking part while February 23 and 24 will be for International Surfers.
Thirty two Japanese surfers will battle it out for supremacy on the first two days joined by ten international surfers on February 23 and 24.
On all four days surfing will commence at 6 a.m. and end at 11 a.m.
The sunny shores off Hikkaduwa will have a "Rock Festival" in the evenings performed by the best rock and reggae bands in Sri Lanka which will be open to the public.
The Japanese Professinal Surfers Association visited Sri Lanka for an inspection in July and were satisfied with the surfing facilities here.
Being the premier event in Sri Lanka, this will mark a watershed in the history of this sport.
The Japanese Professional Surfers Association (JPSA) established in 1981, is a member of the Association of Surfing Professionals, which holds ten surfing circuits a year in Japan.
Last year an event was held in Bali with over 200 participating.
Ten Japanese judges too will officiate in this championships sponsored by Sri Lankan Airlines, as the main sponsors supported by Carlsberg/Jetwing Travels/MBC-MTV and The Sunday Times, as the official media sponsor.
This championships will be an annual event.
The prizegiving will be held on Saturday, February 24 at Coral Gardens Hotel Hikkaduwa with many suprises and rewards.
---
Opatha willing to help our pacies
By Bernie Wijesekera
"It was a distressing sight to watch our fast bowlers in action in the series against South Africa," said former Sri Lanka all-rounder, Tony Opatha. Opatha was interviewed by The Sunday Times.
Q. What made you make these comments? A. "On ideal pitches tailor-made for fast bowlers they lacked the basics or the confidence placed in them. Can you elaborate? A Firstly, they lacked fighting qualities, variation and had no control. In the process wayward bowling was the result.
They have to be brainwashed and taught these fundamentals. These ingredients were lacking in them," he added. "This aspect needs proper handling and they must be made to work hard to achieve their objectives on a proper schedule. Further, specially fast bowlers have to be 100 percent fit to stand the strain in a gruelling contest. It's not one-day cricket. Unlike in the past today Test caps are on offer on a platter.
Already the game has deteriorated as the bowlers are not there to deliver the goods, barring Muralitharan and to some extent Chaminda Vaas. The absence of these two bowlers was felt in the Third Test at Centurian Park. The Lankans won a good toss, but the fast bowlers failed to exploit the pitch and conditions and got caned all over. Late order batsman Shaun Pollock made merry as a result.
"Make no mistake. I am not criticising the Cricket Board or coach Dav. Whatmore. But they, too should have taken notice of this to overcome this malady to put the bowlers on track (fast men) who constantly lacked direction and line.
Q. In what way are you going to help?
A. "I am prepared to take over the fast bowlers clinic for three months, of course backed by the C.B. hierarchy. Negotiations are being made. It will be done on my condition without let or hindrance. It's done purely to help Sri Lanka cricket and give back something to the game which has helped me to go places in life. It was a great honour for me to represent the country, besides material gain.
"I am prepared to take the challenge. At this juncture Sri Lanka cricket has hit a new low due to lack of quality fast bowlers, who could bowl intelligently. Some of them looked mere trundlers. This was evident in the SA series where the bowlers failed to revel on the conditions. Excuses are not the remedy but one must start afresh with proper guidance that, too with a professional outlook.
That means you need a complete overhaul. At present there is quantity, but not quality."
---
All-Island Age Group Western Province Chess Tournament
Dilini Tillekaratne of Holy Family Convent, Wennappuwa won the girls' under 10 chess championship and Udani Vindya Hemanthage of Takshila MV. Horana finished as runner-up at the All-Island Age Group Western Province tourney held at the S. Thomas' Prep. School Main hall at Kollupitiya.
Maneesha Sathruwani Perera of Ratnavali Balika Mv., Borella won the under-12 title, while Sachini Binushima Ranasinghe of Musaeus College winning the under-8 title.
Vindya Dinushani Wasala of Devi Balika won the under 14 title while A.G. Dilini Rasangi of Ratnavali Balika, Borella was the runner-up.
The championships were conducted by the Russian Centre in Colombo.
The champions were Mahesha Sathruwani Perera, Udani Vindya Hemanthage, Sachni Dinushima Ranasinghe, Buddhapriya Ramanayake, Mrs. Suneetha Wijesuriya, Mylvaganam, Diliui Tillekaratne, A.G. Dilini Rasangi, Vindya Dinushani Wasala.
---
A new dimension
By Rohan Jayetilleke
South Africa - Sri Lanka Test and One dayers Series in South African soil added a new dimension to the game of cricket. This reminds me of the poem written by English poet Emerson Wilson (1888 - 1918) which suggests where the South African cricketers, umpires and commentators are bound to settle in when they sleep the sleep of never awakening. Sportsmen in Paradise They left the fury of the fight, And they were very tired. The gates of Heaven were open, quiet Unguarded, and unwired. There was no sound of any gun; The land was still and green; Wide hills lay silent in the sun, Blue valleys slept between. They saw far off a little wood Stand up against the sky. Knee-deep in grass a great tree stood... Some lazy cows went by. There were some rooks sailed overhead And once a church-bell pealed. "God but it's England." someone said, "And where there's a cricket field." In the third Test Sri Lankan batsman to be ruled by the Umpire LBW was Kumar Sangakkara, Trinity Lion, law student and a great young gentlemen. He took the decision showing no remorse or anguish just two runs short of his maiden Test hundred. The commentator very correctly said knowing very well the Sri Lankans disastrous tour was at an end, "This is certainly not a decision according to the Rules of Cricket". Then what law was the umpire pinning his faith on. "White Rule Policy of Apartheid" to harass and ridicule the Sri Lankan Blacks in the presence of 'bikini dressed nude' white African women watching not the match but shows of sadistic half nudism. Where Sri Lankans went wrong is not the way they approached the game in South Africa but the approach to the game by all schoolboy cricketers. If Sri Lanka cricket is to maintain its consistency at the highest level there are two areas that need to be examined. This examination must be carried out by a 'Think Tank' which should comprise former Test cricketers and if necessary services of a few former Test cricketers from India and Australia with proven career records. This 'Think Tank' could examine the status of the domestic club cricket tournaments, depoliticalization of District Cricket Associations, school cricket and provision of more turf wickets on schools and clubs cricket grounds. These are areas that have not gained the attention of the Sri Lanka Cricket Board. Just donation of few cricket materials to schools is not the panacea to retrieve the school cricket standard now in the doldrums.
School Cricket
The Schools' Cricket Association is a nonentity, with no sponsorships arranged for cricket playing schools to improve the ground conditions and to provide the schools with competent Cricket Board qualified cricket coaches. It is best that the Schools' Cricket Association be dissolved and school cricket too brought under the Board of Cricket Control. Thus this would enable the Board to exercise an overall control of cricket at the grass root level as school cricket is the nursery of cricket in the country. The District Cricket Association too being only 'Image Builders Cliques' these associations too should be wounded up and district club cricket too be brought under the Board, with a Deputy Director of Cricket appointed to each District, so that with the necessary clerical staff and information technology, attainments of each club cricketer in the District be computerized and this data base be utilized in recommending cricketers for the national pool. It is opportune to mention that in the 1990 and 1991 schools' cricket season Muttiah Muralitharan, playing for St. Anthony's College, as an off-spinner bagged in each season 100 scalps. But when it came to nominating a player for the 1991 young cricketers tour of England, Muralitharan's name was not sent up by the then cricket coach of St. Anthony's (not Sunil Fernando) and the District Association. Now accolades are being showered on Muralitharan when he gathered 300 Test wickets. Almost all Test playing countries arrange for contracts for their players to play in the English County Cricket tournaments or for Clubs in Australia. Except Aravinda de Silva and Muralitharan no Sri Lankan Test cricketer has been provided with this necessary playing stint. The new Minister should direct the Cricket Board to arrange Kumar Sangakkara, Rusell Arnold, Mahela Jayawardena and Nuwan Zoysa to play either in the English County circuit or for some Australian clubs. In 1960 the touring Australians under the captaincy of Richie Benaud trounced the Pakistanis in Pakistan neck and crop. At a dinner then President of Pakistan Field Marshal Ayub Khan inquired of Benuad the root cause of the Pakistani debacle. Quick came the reply, 'do away with your matting wickets around the country both at school and club level and let grass on them.' He was meaning laying of turf wickets. This golden rule was executed and Pakistani cricket rose like the phoneix of old and continues to be ever growing. Cricket Board laying of concrete wickets on club or school grounds is not the panacea but, to obtain the services of a team of qualified curators from Australia and relay all cricket playing grounds in Sri Lanka both at school and club level with fast and bouncy wickets. If the soil of a particular area is not geological by strong enough the Geological Departments or the Peradeniya University geology experts could be consulted to obtain soil with the necessary qualities for fast and bouncy wickets. Nothing grows better or best in Sri Lanka. In the selection of the type of grass, varieties of grass could be easily obtained from Australia for the wicket as well as the outfield. Presently in Dave Whatmore, Sri Lanka has an overseas national cricket coach. Similarly the Board should enlist the services of a foreign coach for each of the cricket playing districts and other non cricket playing districts as Anuradhapura, Ampara, Polonnaruwa, Trincomalee and Badulla so that cricket could be introduced to the schools of these districts. Rover pinpoints...
Officials first?
The Manager and the Coach of the Sri Lanka Table Tennis Associaion for the World Cup in Japan and the Commonwealth championship in India to be held during the same month were picked first.
They bear the initials; LP and JS.
The team for both these tournaments has not been picked as yet.
Blank cheques
A schools official of the poor mans game, was making merry with some blank cheques signed by an official who had to go abroad.
He even went to the extent of withdrawing part of the money paid as a deposit from the Sugathadasa Stadium.
As much as Rs. 17,000 has been spent for the holding of four committee meetings at this schools association.
No way
The decision to write to the Chairman of the House by the Lake against a journalist, Rover learns had been taken at an Exco-meeting of the Cricket Board. Don't they have enough work rather than meddle with journalists.?
Take an example
Those assigning cricket commentators for TV coverages should take a lesson, from South Africa who had all South Africans in their panel of commentators during the recently concluded Sri Lanka/ South African series.
In Sri Lanka, other than one or two, few are favoured as commentators while the others are not considered.
Foreign commentators, however come over and shower praises on certain officials.
What a way of promoting local commentators. Please consider this request.
In doubt
A senior official of the Cricket Board, spelled out that the match to be played at the Dambulla Stadium on March 23 is in doubt.
This official confided to a journalist that this match may be played at the SSC.
Name game
Speculation is rife as to what name the Dambulla Stadium will get once it is declared open.
Rover predicted that a powerful official's name akin to a politico's name will be associated with the new structure. Only time will tell.
---
Nandasena swings back
By Ruhanie Perera
Just two weeks ago, K.A. Nandasena Perera was at the 'Pakistan Open' golf tournament which opened on January 11. There he took a 'swing' and landed a hole-in-one covering a distance of 180 yards. A noteworthy achievement for the man who has been out of the limelight as a player for some years now.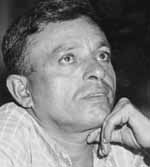 K.A. Nandasena, the famed caddie turned golf professional thought he saw the end of his professional career in 1993 when a severe attack of rheumatic arthritis resulted in him backing out of a tour in Japan consisting of 39 golf tournaments and taking a complete break from golf for the next two years. "Whenever I think back to that time tears come to my eyes, because it was a wonderful opportunity I missed out. I was at the prime of my career at the time, but I suppose God had other plans for me," says Nandasena.
But even at that stage he was not about to give up on the game he loved. A game that dated nearly a 35- year involvement in his life. "I wasn't a child who liked to study, sport was my forte. Of all the sports I played golf was ingrained in my life," says Nandasena who at just five years used to play his own little game of golf with a stick in the marshes near his house. "I lived near the Royal Colombo Golf Course and was influenced by everything that went on there. I started off as a 'ball-boy' earning 25 cents for every golf ball I retrieved from the water." Then with a wistful look in his eyes he talks of how he went on to become a caddie, starting it as an after school job and then as a permanent one. It was then that he started to follow the game and learn the technique - "I always knew that my achievements in life would be through the field of sport".
Other job offers that came his way were declined in the pursuit of this dream. While not on the job Nandasena was practising and when working he was picking up tips. "I was never taught; everything I learned about the game is what I observed as a caddie. Since then I put in my very best into the game and would have continued till the very end, if I hadn't fallen ill."
Although he couldn't play continously, the minute he felt better Nandasena was back on the green - only this time as a coach. "Now that I don't go about that much on tournaments I have enough time for coaching. And I believe that you must share what you know with others," says Nandasena who although wasn't taught by anyone, treasured the tips he received from the patrons at the RCGC. His favourite pupil though is his 14-year-old son, who taking after his father, shows the same keen interest and enthusiasm for the game. "He plays very well and I have great hopes for him," says the proud father adding that his eldest daughter is a very good player as well.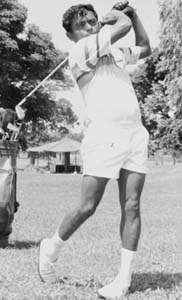 Maybe some day they will follow in their father's footsteps. Footsteps that have travelled a long road of many achievements, beginning with a winning streak in at the 'Caddies Championships' in 1973. From that point onwards he was flying high coming first in the Sri Lanka Open from 1981 - 1985. Other achievements include winning the Amateur Championships held in Malaysia, Singapore, Pakistan, India and Sri Lanka and coming second place at the Singapore Open, New Zealand Open and the Malaysian Rocksman Masters as a professional player. He also won the Malaysian Sub-open as a professional. However, the most significant event for him is the Asian Games where he walked off with a Silver medal having just missed the gold on a playoff.
Many an achievement for a man who started off with a golf set gifted to him by an American, for whom he was a caddie for 10 years. Grateful for such support he received over the years he says, "Without him and a number of other members at the RCGC, I would never have got to where I am". Nandasena' father was another person who had great faith in his ability - "he was always interested in what I did".
"The game golf is like a scale," says Nandasena and goes onto explain that the slightest miscalculation will make the scale tip. "People who don't understand the game they may wonder why we enjoy walking around hitting this ball, but to me...it's life!"