---
Where Eagles dare

The SLAF's magnificent men in their flying machines brave danger to protect Sri Lanka's sovereignty
With land routes blocked and sea journeys restricted, the Palaly Air Base can now qualify for a unique title - the gateway to the Jaffna peninsula.
If the protracted 19-year-old separatist war has brought about this situation, the Sri Lanka Air Force (SLAF), which marks 50 years of its existence next month, has grown from a mere supporting arm to meet new challenges that have arisen and to play different roles. That is whilst significantly enhancing its main role of supporting the Army in their fight against Tiger guerrillas.
An average of some 600 troops and civilians arrive or leave Palaly by air every day. Troops head for Anuradhapura and Ratmalana.
For the civilians, though arduous Government procedures, sometimes grossly humiliating, precede travel, the one hour SLAF journey to and from Ratmalana brings them joy and relief.
Last year, the SLAF moved 140,714 passengers, mostly troops during flights between Ratmalana and Palaly. That was almost the same as the number that would have left or arrived at the Bandaranaike International Airport. In addition, last year, the SLAF moved 70,550 tons of cargo - an average of 5,879 monthly.
The silent transformation, in the past three years in particular, has gone on, without much fanfare or the glare of publicity. So much so, the SLAF has grown to become a modern, sophisticated outfit acquiring new equipment, new skills and greater professionalism. Gone are the days when crashing planes, drooping morale and allegations over widespread corruption in procurements gave it a dubious reputation.
During a visit to Jaffna two weeks ago, photographer Alfred Silva and I saw how the men and the machines of the SLAF were at work, both in their supporting role in the war effort, and playing many additional roles, including servicing civilian needs.
The atmosphere around the Palaly Airbase, which has the third largest runway (but the widest of all) in the country, as the Russian built Antonov 32B taxies to a halt, is a clear reminder one is stepping into a battle zone. During the approach for landing, the aircraft is escorted by helicopters mounted with fifty calibre and 7.62 guns. Their pilots fly low over the neighbouring sea while the helmeted Door Gunners, wearing heavy body armour, with their fingers on the trigger of the guns, scour the seas for enemy boats.
Walking across the parking apron to a waiting vehicle, there are more signs. Guns stick out from well fortified bunkers. Only helmeted faces are visible from a gap in the neatly laid out rows of Palmyrah logs. Stacks of sand-bags lie on the roof.
A Russian built Mi-24 helicopter lands on one side of the runway and taxies to a parking bay where other similar gunships lie parked. Armed sentries who guard them walk around periodically. The Bay is well secured with bunkers and against RPG (Rocket Propelled Grenade) attacks.
In marked contrast to these sights and sounds, we encounter something unusual in an open area adjoining the SLAF's Palaly Base. A group of young men are playing cricket. But in the heart of this high security zone, that was not a game played to a finish or called off by umpires during bad light. Its continuity hinges on a telephone call from the Operations Room nearby.
The players are all young pilots. Cricket and other forms of sport during the day not only keep them fit but also occupied. They live together, like one family, in a single building. They watch television and spend their free moments chatting with each other.
Every now and then, the telephone would ring. The mood in the Pilots' Chalet changes. Within minutes, the men don overalls, grab their helmets and dash towards their aircraft - Mi-17s, Bell 212s or Mi-24s. For those manning the first two, it may mean casualty evacuation or close air support to ground troops. For the latter, it would be a combat mission - all tasks involving high risks.
Some have lived to relate the narrow brushes they have had with death or witnessed the painful ordeal of their colleagues' deaths.
Others were not so fortunate and paid the supreme sacrifice. Yet the mood is upbeat and all the Pilots I spoke to were unanimous they want to continue to fly. They spoke of their good and bad moments. They did not hide the fact that there were nervous occasions but were happy continued experience helped them overcome it.
Flt. Lieut. Dhammika Dias, who had a penchant for flying from his school days, flew Mi-17 transport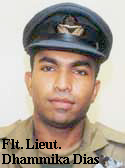 helicopters before transferring to Mi-24 attack helicopters.
His first encounter came when three Mi-17s were flying in formation on November 10, 1997.
They were carrying troops and were over Kokilai lagoon, located further north of Mullaitivu.
They were escorted by a Mi-24 helicopter gunship and were maintaining an altitude of 150 feet.
"I was in command of the third Mi-17. I handed over controls to the Co-pilot. We do that so they may get experience. I relaxed a while but I remained alert," said Dhammika.
Then he was shaken by what he saw on the ground. Dhammika said, "From the distance, it looked as if someone was throwing a lit match stick at us. As it drew close, I realised it was a missile. The Mi-24 escorting us was hit. It made a dive."
"I radioed the Vavuniya Air Traffic Control Tower. My Commander (Air Marshal Jayalath Weerakoddy) was in Puliyankulam that day. 'Operation Jaya Sikurui' was underway. When he learnt of my conversation, he ordered a Bell 212 to be airborne immediately," he said.
The three Mi-17s and the lone Mi-24 were airborne from Vavuniya some 20 minutes and were flying past land towards the Kokilai lagoon. Thereafter they were to veer towards the high seas and head for Elephant Pass to make a descent to land the troops.
The unexpected began to happen. The anti-missile system in one of the Mi-17s was activated. It disgorged hot metal flares that distracted the missile and made it explode in mid air. That was automatic.
But, what was installed in the only Mi-24 escort was a hand-operated missile system. That had to be activated by the pilot upon recognising a missile threat.
Flying Officer Dhanesh Gunasekera in the Mi-24 had observed the missile fire coming from the landside of the Kokilai lagoon.
He spoke to Sqn. Ldr. Tilina Kaluaratchi and turned the helicopter gunship answering the call sign "Charlie Hotel 619" to make a dive to fire at the ground based attackers.
It was too late. A heat seeking missile had homed in. One engine was on fire.
But F/O Dhanesh found there was sufficient hydraulic pressure to control "Charlie Hotel 619". He made a controlled landing on water.
From the upper level cockpit, F/O Dhanesh found his way out.
One of the gunners had also made his exit from the Mi-24 from the cabin door before it hit water.
F/O Dhanesh kept afloat and helped the gunner to inflate his life jacket.
Together the duo then helped the second gunner out of the aircraft.
The latter had left his life jacket inside the assault helicopter.
So he floated himself clinging on to his gunner colleague who wore the life jacket.
F/O Dhanesh then shouted at the two gunners to immediately move out of the area.
He feared the assault helicopter would explode in flames.
As for himself F/O Dhanesh did not want to leave without his guru, Sqn. Ldr. Kaluaratchi, an experienced Flying Instructor.
It was the latter's decision to place F/O Dhanesh in command that had left Sqn. Ldr. Kaluaratchi in the lower cockpit.
So F/O Dhanesh moved towards the waters to the left of "Charlie Hotel 619".His bone dome (helmet) was filled with water.For a while he struggled to remove it and breathe some fresh air.
"Charlie Hotel 619" was sinking.
It had tilted to the left as it submerged, thus pressing the latch door of the lower cockpit to the ground.
The frightening event had sealed the fate of Sqn. Ldr. Kaluaratchi.
An Army boat picked up an exhausted F/O Dhanesh and brought him ashore.
The Bell 212 despatched on the orders of Air Marshal Weerakoddy arrived within minutes and ferried him to the Anuradhapura base hospital.
Doctors there battled to save his life.
His lungs were full of water and he breathed his last.
A second experience, Dhammika said, occurred last year when two Mi-24s were assigned to give close air support to troops moving out of their defence lines at Sarasalai. "I saw the other Mi-24 being hit. I saw it crash land and radioed the Palaly tower immediately," he said.
The Pilot and Co-Pilot of the Mi-24 survived but the two Door Gunners were killed in this incident.
"You really don't worry about it when things are happening. When you return to base and reflect over what went on, you begin to really feel it, particularly how your brave colleagues faced it," said Dhammika.
Kalinga Mahipala has flown Bell 212 helicopters for six years. The son of an Army Warrant Officer, he

has also had a penchant for flying from his younger days at school.
His first operational mission was to airdrop troops who were assigned to re-take the Mullaitivu Military Base after it was attacked in July, 1996. He came under attack then but was able to avoid it.
Said Kalinga: "In December, 1999, my colleague Tyronne Silvapillai and I were chatting in my room. He was seated on my bed for a while and was called in for a task. Just 30 minutes later, I heard the bad news. He had died after the LTTE shot down his Mi-24 Hind helicopter. It was one of two on a sortie to take on LTTE boats moving in the Kilali lagoon.
"It became my task to fly to pick up his body. I cannot hide the fact that I was shocked. He was senior to me but we were close to each other."
Thushara Salgado has been flying from 1993 and now operates on Mi -17 helicopters. His Mi-17 was

the first to land on the southern outskirts of Mullaitivu after the Military Base there was over- run by the LTTE in July, 1996. He was with a group of Special Forces personnel led by Colonel Fazly Lafir and came under heavy LTTE fire. Yet he touched down.
Col. Lafir, a decorated Special Forces officer who has seen action in many theatres in the North and East, was to later die in that area due to mortar fire.
"I was inspired to come back a second time with another load of troops. This was after what I saw. Another helicopter which had been able to drop off only some troops lifted off the ground after it came under fire. It was about 50 feet over ground when I saw a soldier, in full combat gear, jump to the ground. I don't know what happened to him. But I felt, if he could venture out that boldly, it was my duty to go there again," said Thushara.
"Some of the most difficult times in my career came soon after missile threats surfaced. We had to carry out night flights regularly to troops at Pooneryn, a camp that remained isolated with enemy dominating surrounding areas.
It was both tiring and tense with constant problems of visibility. Despite all this, we never kept the men there starving or in need of requirements," added Thushara.
"I love my job. I take great interest in carrying out casualty evacuation. I know the sooner I bring them for medical care, the better it is for them. I feel content every time I do this for a delay is the distance between life and death," Thushara said.
SLAF's Base Commander in Palaly, Group Captain Vijitha Gunaratne, said that the Pilots and Co-Pilots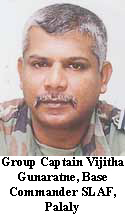 were a "closely knit family." He said "one readily agreed to stand in for another at times of urgency. That was when one was on leave or had just ended an arduous task." He said the most touching moments come when some are away on tasks assigned to them and their colleagues have not heard of their activities.
"Those on ground would go to the Air Traffic Control Tower to learn what is going on and to see whether any help was necessary. That is their bondage and high level of commitment," Group Captain Gunaratne said.
In an exclusive interview with The Sunday Times (See Situation Report today), the Commander of the Sri Lanka Air Force, Air Marshal Jayalath Weerakoddy, said since 1995 "we began upgrading to meet the new challenges we faced. We identified the areas. We formulated the concept. In the year 2000 we got our equipment." He told me "I must tell you one thing. We have still not used our fuller capacity."
When that gets done, there is more the nation can expect from a modernised SLAF
.