---
Making a perfect pitch
By Ruhanie Perera
Soundarie David and Neranjan de Silva were born with a one in 1000 ability. The ability to identify the key of any note on the piano when it is played; the gift called 'perfect pitch'. Over the years they've teamed up often with Soundarie on the piano and Neranjan on keyboards, playing in perfect harmony. A partnership that has seen the birth of yet another 'perfect pitch'.

'Perfect Pitch', launched on December 16 is the very first CD put out by Soundarie and Neranjan and is aptly named for it is one that identifies with each individual. It's a collection of many a 'favourite' starting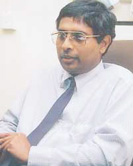 from 'Morning has broken' right down to the last song on the CD - 'Thank you for the music'.
"The choice of what to play was rather spontaneous," says Soundarie, but the collection of songs on the first recording didn't appeal to either musician. That saw producer Dayani de Silva (who is incidentally Neranjan's wife), compile a play list having gone through numerous collections of music and getting various opinions on what people liked to listen to. "She was a great source of encouragement," says Soundarie and Neranjan adds, "and she was an independent entity; that helped because when it came to actually choosing the work she was at the forefront since Soundarie and I are very critical of our own work." Finally the songs were chosen, some were special for the two musicians bringing back memories for them, others they hoped would be memorable for their listeners.
Having decided on the play list, the recordings were done in no time, for this was the easy part for both musicians. "We recorded the piano sections first," says Neranjan, "and it was at Soundarie's place that it was done. Here we got ample advice from her mom." Soundarie admitting that her parents and brother have supported all her endeavors explains, "since my mother is a music teacher she made many valid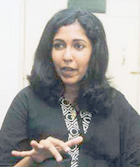 suggestions. Sometimes she would walk in and tell me 'why are you playing that, play something else'."
It was fortunate that both musicians came from supportive families, for towards the date for the launch of the CD they gave new meaning to the term 'family support'. "We did everything in the 'how not to put out a CD book'," laughs Neranjan. "We had first set the date and went about everything else, so the last few days saw me cutting CDs in my studio and Soundarie and her brother doing a different kind of cutting - the labels for the CD cover."
Under all the stress the CD was completed and when it came to the launch, neither musician had any last minute doubts for it had been tested on family and friends and had got a prompt 'O.K.'. It was music that would inspire people to sing or at least hum along, so naturally the response from the public was simply - "Great!" The CD was an instant hit, selling almost as soon as it hit the racks, also making its way to the States and England. Judging by the success of 'Perfect Pitch' Soundarie and Neranjan are considering releasing some more CDs - four to be precise. "All containing different types of music for the variety of music lovers in society," says Soundarie.
Together they make a vibrant team. Having played together they have developed a rapport that helps them not just to complement each other, but also to instinctively know when something is wrong and cover up. "It's like being in a team. We possess separate playing styles, but they co-exist perfectly," says Neranjan - a qualified pianist who started classes at the age of 14 and had completed all his exams within six years. According to Soundarie, who holds a post-graduate diploma from the Royal College of Music (London), they are not dependent on music. So when they see a basic music score, the musically creative wheels in their heads turn at high speed churning out all kinds of innovations. "Sometimes we don't play the same thing twice," she laughs.
Neranjan, an engineer by profession and Soundarie who is studying hard to be a lawyer someday, hope to do more for the music industry of Sri Lanka someday. Together they will work to see their hopes fulfilled. But for now they are content with putting music into people's lives.