---
Govt. has gifted land for the Chitrasena Dance School but there are no funds to build it
Dancer's dream
By Renuka Sadanandan
It has been a lifetime dedicated to dance. And there will be none to dispute that this man, has done more to keep alive the rich heritage of Sri Lankan dance than any other.

There have been many milestones along his journey. Another approaches. Not on the stage, for age has now put that brilliance behind him, but in his personal life. Chitrasena turns 80 on January 26. Birthdays, as such are not of great significance to him now. But there is one wish. One very deep-rooted desire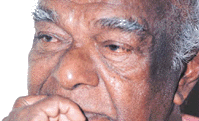 that he would like to see fulfilled.
The Chitrasena Dance School, Theatre and Museum is down on paper. For some years now, the plans have been pondered over. The government has gifted a half-acre plot on Park Road, Narahenpita but the money to build the school has yet to be found. "What I have in mind is a training centre, where students can be trained to present the traditional dances of Sri Lanka in terms of modern stage and theatre. It is not for me, it is for the future, the future of the younger generation," he says.
The school is envisaged to have six dancing studios, five of them open-air, one air-conditioned, a central auditorium with seating for about 250 people, a recording studio, some accommodation facilities, an artistes' club and also a museum.
The museum will hold not only the history of the folk dance traditions in this country but also Chitrasena's personal memorabilia, a collection that spans some 60 years, from his very early days as a young dancer.
Such a project would, it seems, be deserving of support, but Chitrasena explains that friends of his are hoping to raise some funds from Japan. Why then is local support so sadly lacking? He shrugs. It has been so throughout his illustrious career, a long history of battling with the authorities, facing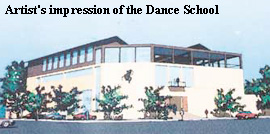 disappointment, never really being accorded the recognition he so richly merits.
" I would like to see the school become a reality soon while I will still be around to give it direction," he says pensively. There are young people being trained whom he feels would be able to take up the challenge. "You can only give the basic direction and allow it to grow."
This thinking has been the pattern in his life as well. The concept of letting the greater purpose come through. "There is a plan that takes me. There was nothing for me to take direction from_no role models."
No, there were none for Chitrasena, born Maurice Dias and educated in the anglicized confines of Wesley College. True, his father was a theatre aficionado, an actor-producer whose heart was in playing Shakespeare, whose home was a Mecca for the artistic community.
Seebert Dias also believed in nurturing the indigenous folk culture and it was through Chitrasena's early travels to remote parts of the country in search of this with his father that the youngster's passion for dance was born.
Given Seebert's leanings perhaps it came as no surprise when his son chose a career on stage. What did surprise, if not shock the family was that the young man wanted to dance. Seebert, however, recognising his resolve, arranged for the country's best gurus to coach him. So it was that Chitrasena learned the traditions and techniques from great masters such as Algama Kiriganithaya Gurunnanse, Muddanawe Appuwa and Bevilgamuwa Lapaya Gurunnanse. His maternal uncle, Sir D.B. Jayatilleke also supported his efforts, he recalls.
In 1936, at just 15 years of age, Chitrasena had made his maiden appearance in Sri Sangabo, a dance drama directed by Seebert. A few years later Seebert returned to the stage in Sena, a drama to raise funds to send his son to South India where he could then learn the great South Indian dances like Kerala's Kathakali.
His genius was visible even then for his celebrated guru Shri Gopinath was to comment, "He will soon become a great dancer having no rival in the art."
Chitrasena's admiration for the Indian disciplines is still strong. He has returned to India many times and has a fund of memories across the years.
He relates how as a student at Shantiniketan he met Mahatma Gandhi and Jawaharlal Nehru. "Wherever Gandhi went, he was like the Pied Piper. Thousands would follow him. It was the same when he came to Shantiniketan for a few days. Five Ceylonese students were selected to meet him. We could get his autograph for Rs 5." The money went to the Harijans Fund, Chitrasena recalls.
He pauses, to leave us for a while to find the autograph book. It is coming apart at the seams, but there is treasure within. The autographs are of Gandhi, Nehru, Sarojini Naidu, Ravi Shankar, Tagore's grand-daughter Nanditha Kriplani (with whom he was selected to dance in Chandalika, a Tagorean dance drama in 1945) and many others. Hopefully it will have its place in the museum.
If Chitrasena as a young man sought the autographs of these greats, as his career progressed, it was him they sought as in the sixties and Seventies he danced in the major capitals of the world before royalty and celebrities, too many to list here. From London, to Paris, Moscow to Sydney, the Chitrasena-Vajira Dance Company enthralled audiences.
Those were the best days, Chitrasena recalls, when there was great satisfaction in bringing Sri Lankan dance to a wider audience.
He remembers dancing in the early Sixties on a cultural programme at the Kremlin Theatre before Krushchev and the world's first woman premier Mrs Sirimavo Bandaranaike. "She was visiting Moscow at the time and Ceylon was on everyone's lips." After the highly successful performance, there was a reception at the Sovitskaya Hotel and the Russian ambassador, he remembers took him by the hand to introduce him to Krushchev. Audiences in the West reared in theatrical traditions embraced the troupe wholeheartedly and as the reviewers enthused, the invitations kept flowing in.
The revolution he began had gathered momentum in the fifties with his home at Kollupitiya becoming a school and stage as well, as Chitrasena and Vajira, first as his student and then his wife and prima ballerina broke new ground. As one critic Bandula Jayawardhana wrote, "Vajira illumined her husband's career and shared his efforts to speak as Sri Lanka's ambassador for the dance". She has upheld the tradition more than anyone else, says Chitrasena paying tribute to his wife.
From Ravana, Vidura and Chandalika, the early ballets to Nala Damayanthi and Karadiya, then Nirthanjali and Kinkini Kolama and The Dance of Shiva, Chitrasena's stature grew. He demanded strict discipline and dedication to the art from the students resident at the school.
"Without discipline there is nothing," he maintains. They practised daily. "Every evening at 4 o'clock we were dancing, whether we had shows or not."
That dedication is lacking in today's artistes, he says. "Everyone wants everything overnight. They have no patience. In our case we just danced. We didn't know how we would survive, it was a struggle, but we survived."
"We could have done very much more if the governments in power had been more sensitive to the cultural needs of the country," he adds, voice tinged with regret.
Now there is time for reflection. He lives quietly in his home at Mahara, Kadawatha, but still keeps a weekly date with the students of the Chitrasena Kalayathanaya at their Saturday morning practices at Kollupitiya's GFS hall. "I'm there by eight," he says_.there's no missing that. There is a continuing interest in Sinhala dance among the young people, which he sees as an encouraging sign for the future.
Yet much of what passes for dance and music today is sad in his book. He is deeply critical of the state institutions that are aimed at fostering the arts, seeing them as not providing the right atmosphere for growth and development.
"We have fine arts colleges where the traditional arts are taught but the students are not taught how to use it for stage and theatre. The training is not given."
State apathy has always infuriated him. That any efforts that he made to help were thwarted still rankles. " I tried my best to help but they kept me out. In those days people saw me as a rebel. They even accused me of dancing in the nude because I removed the traditional costumes, but used the technique for my creative work."
"I created two dance programmes_Nirthanjali and Navanjali_which include all the traditional dances of Sri Lanka, the Kandyan, the Low Country, the Sabaragamuwa, a kind of fast moving revue of all the dances.
"Today, they give it all kinds of different names, but they cannot go beyond that because of the lack of understanding of theatre and the stage," he says.
Which brings us back to the need for Chitrasena's school. The traditional dance in the village, he reiterates is disappearing. He cites the Kohomba Kankariya, which originally was performed over seven nights and then at least one night. "It is now almost dead. We don't see that ritual being performed, because no one knows it. What we must do is make use of the technique_the young dancers today are not going to dance in the ritual any more. We have to teach them to present it for the theatre."
After so many years of rigid discipline, he is philosophical about the slowing down with age, of his inability to dance anymore. "The dancer has to learn to know his body, so that in the fullness of time he can surrender it," he says.
The passage of years has seen him step back, away from the limelight, into a new way of life. "Now I watch the passing scene," he says wryly. "The games people play to survive. Dance has taught me the impermanence of life."
The evening gloom is upon us as we leave his Mahara home, with the wish that in his twilight years, his signal contribution to our dance traditions will not go unheeded.