Unexpected mouthwatering delights in Kelantan
By Kumudini Hettiarachchi
It was a pleasant time to be in Malaysia, the state of Kelantan, - towards the north-east, bordering Thailand to be specific. Though sheets of rain daily poured down unceasingly.

We had hoped to get away from Colombo's choked roads, unbearable traffic and crowds of shoppers during the Christmas and New Year season and were happy to see the sign, while driving from the tiny airport, "Welcome to Kelantan in peace".

But those hopes were not meant to be fulfilled for we had forgotten that part of Malaysia's Indian and Chinese population would be celebrating Christmas and all Malays would be celebrating 'Hari Raya' in December. All the people who worked outside the state - and many did - had decided to 'Balik kampung' (go back home).

Kelantan with over a million people has a mix of communities. Though Malays make up over 90 percent, there is a sprinkling of Chinese, Indian and even Thais in this state with its large tracts of paddy. Tobacco too is grown here, with batiks and intricate silver-crafts being its specialities. To my 'touristic' eye, the state seemed to be women-driven with most jobs, even wayside stalls being run by them.

Though hopes of a quiet Christmas and New Year were shattered, we got our initiation to "open houses".

The first came on December 25. Midnight mass on Christmas eve, ended with the priest's message that everyone was invited to the "open house" to be held by the nuns on Christmas Day.

So around 11 a.m. in we trooped to the convent, to find that several more families had beaten us to it. The table was surrounded by people, enjoying beehun (rice noodles) with a spicy chicken curry and lots of other dishes. Till those at the table finished their meal, we were treated to snacks and cookies, including different varieties of murukku and kokis. People ate, said thank you and left.

And on the the 25th came the announcement that, Hari Raya, the period of fasting would end on December 27. Aidil-fi-tri or Ramazan as we call it, would be on December 28. Then we got our full dose of "open houses".

Customarily people are not invited to the "open houses" but expected to come. Anyone could walk into any house, specially those of the Tunkus (royal family) and Datos and Datins (those who have been bestowed a title like Sir and Lady).

However, knowing that foreign expatriates like my sister and brother-in-law would never walk into a house without being invited, the phone calls come the day Aidil-fi-tri was announced.

The day or the eating, to be more precise started around 11 a.m., with a visit to the palatial home of a Datin and the sound advice from my niece, "Don't gorge yourself on the lovely food at the first house, because there's more to follow." And we went through seven homes, including a Tunku's. The mouth-watering food included Beehon, Mee (noodles fried or in a soup), Ayampercik (grilled chicken with coconut sauce), Koayteow (flat noodles, fried or goreng-style), Laksa (white noodles) with raw vegetables such as beansprouts on top, eaten with fish sauce, ketupat (glutinous rice squares or triangles) with beef rendang (slivers) with coconut and onion, a fish curry, which seemed to have been made of dried fish, capsicum and tomato and of course the sweetmeats such jellies, dodol, jelly with sea coconut and a delicious layered cake.

A small chat with the hosts, filled plates, fuller tummies and out you go to the next "open house". As you leave, the hosts present all children with duit raya (a gift), gaily decorated colourful envelopes with money ranging from one ringgit to 10 depending on the age of the receiver.

And to our embarrassment, everytime we walked out of an "open house", my four-year-old would run back to the table laden with food and grab a handful of satay sticks, with succulent pieces of roasted chicken or beef.

---
Kelantan
Kelantan, where most women cover their heads and mosques are sited within close quarters to each other, is also home to a proud monument of Buddhism.

Sitting tall at slightly over 30 metres, a Samadhi Buddha 22 metres wide on a lotus base of 47.5 metres,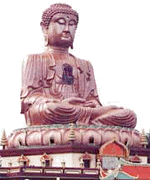 serenely surveys the land. It is said to be the biggest Buddha statue in South East Asia.
As you drive out into the countryside from Kota Bharu, you pass two other slightly smaller statues _ a standing Buddha and a sedentary Buddha _ before your eye catches the reds, blues, yellows and golds of the pagoda named Phra Buddha Bharameedharm Chamruslok, which means "Light of the Buddha's Dhamma Enlightens the World", a name granted by King Bhumibol Adulyadej of Thailand on July 7, 1993.
Paintings and sculptures adorn the newly-built temple, with the apt images of the three monkeys depicting hear no evil, see no evil and do no evil standing at the entrance.
"Nobody really knows how old the temple is. It's believed to be about 250 years," Chief Monk Ven Thantit who is of Thai origin tells us - of course with my brother-in-law acting as interpreter in Bahasa Malaysia.
"First there was the old temple," he says pointing to a dilapidated structure with moss-covered walls and crumbling sculptures.
On hearing that we are from Sri Lanka, he leads us to a hall, filled with statues and other relics, removed from the old temple, and to be enshrined in the new one, with the seated, meditative Buddha as its centrepiece. In a position of prominence in the hall lies a glass dagoba, gold-domed, a relic from Sri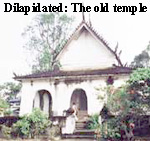 Lanka.
Fortunately, what our limited communication can't enlighten, we find in a Sunday Mail article, the only one in English, stuck on a wall, about a miracle that took place when the new temple was under construction.
On June 4, 1994, during the adornment and consecration of the knotted hair of the seated Buddha, a miracle had occurred, the article says.
As the last knot was gilded, a ray streamed down from the sky, moving in a circle and bathed the statue in light, making it glow softly.
The temple had originally been called 'Temple of the Middle Path' named such by 1,000 Thai soldiers sent by the Thai king to protect the Tumpat (the temple) during the Japanese occupation as it was in the middle of three other wats in the area.
The statue is hollow with chambers inside built to hold urns containing the ashes of deceased monks.