Saying a lot with light and colour
By Uthpala Gunethilake
Painting the light that lies like a net over a pond of blue lilies or the undulating film of sunlight over an expanse of grassland, is a labour of love.

"Without light there won't be life," she adds, and indeed her paintings span miscellaneous themes, from nature and people to images born out of Bible quotations, all in a play of light and colour.

The title of her forthcoming exhibition, "Light and Colour 3" therefore presents no mysteries. But the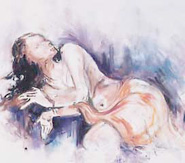 canvases beckon you to linger, to look closely.
The artist is Marie Alles Fernando, no stranger to the local art scene.
She recently won the Zonta Award for "Woman of Achievement for Creative Art"-Year 2000, and this exhibition is to celebrate her award.
"I wasn't expecting it, but when I got the award, I was thrilled," she says.
Her compulsion to draw, though, is one that goes beyond the need to win a prize.
Having picked up the brush at a young age, she has had many exhibitions, local and international, in more than 25 years of painting. "Light and Colour 3", coming after two previous exhibitions of the same name displaying her continued interest in the theme of light, will feature 40 new oil paintings.
Marie says this time the emphasis is on flowers of Sri Lanka.
"In Sri Lanka there is beautiful light - different light at different times of the year.
"This, together with the tropical flowers, offers much scope for colour harmony," she says.
Marie says that her exploration of light and colour has been through Realism and Impressionism, but her recent work is more on abstract lines.
"When you are mature, you want to simplify things, to work your way down to the essentials, bring out the essence."
"That's what I'm trying to do. In poetry you say much with only a few words.
"Like that, in painting you can say a lot of things with a few colours," she adds.
The exhibition will also feature a few miniatures, one of Marie's experiments. "Tiny canvases make the subject more intense.
"You have to look very closely," she says.
True enough, what looked like a buggy-cart and shadowy blotches of colour turned out to be a wayside shrine at closer scrutiny.
Marie's paintings are on permanent display at the Sapumal Foundation and this exhibition will be opened on November 29 at the Lionel Wendt Gallery by Mr. and Mrs. Mohan Tissanayagam.
The guests of honour will be Razik and Yasmine Zarook.
The exhibition will be open to the public from November 30 to December 2 from 9 a.m. to 8 p.m. and till 12 noon on December 3.

---
Don't turn a blind eye - help, help them
By Upali Salgado
A few weeks ago, Sandaruwani Nisansala (10), stood sobbing beside her young mother, when five soldiers brought home the mortal remains of her soldier father in a sealed coffin. He had been killed in action fifteen kilometres away from Elephant Pass. The next day he was buried close to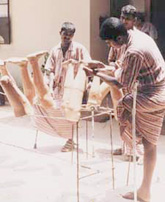 Horowapatana, in the North Central Province.

This Province has sent not just two or three thousand young men, but over six thousand soldiers to the warfront. Other areas that have sent large numbers to battle are Kurunegala, Matale, Mihintale, Attanagalle, Kegalle, Galle, Kalutara and the deep South. Today garlanded photographs of servicemen 'killed in action' and glittering awards (medals) given posthumously, are a grim reminder of lost loved ones in many rural homes.

In this scenario, it is encouraging to note that several voluntary organisations have come forward to care for families of dead servicemen.

The Ranaviru Doo Daru Rekavaranaya, founded about four years ago by the late Venerable Piyadassi Nayake Thera of Vajiraramaya Temple, Bambalapitiya, has been working with the Sri Lanka Army Seva Vanitha Unit. This foster parent organisation has sponsored the education of 500 children, aged between eight to seventeen. Being a private Buddhist organisation, it is managed by a board of trustees.

Children of soldiers 'Lost in Action' now have the financial support of several compassionate individuals, companies and organisations, associated with this foundation. A few notable donors are the Ceylinco Group of Companies, the NDB/Eagle Insurance Sarana Fund, A.B. Gomes Trust, Araliya Impex Co., the Canadian Edmonton Fund, Access Intl Ltd. and Swarna Mahal Jewellers Ltd.

A visit to a dead serviceman's home at Medakumbura Harispattuwa electorate, revealed a moving story. The Delkandura family has lost two sons in the war. The aged mother, wept as she related how her eldest son had died in the Pooneryn debacle, and six months later, her second son who was a Police Constable was killed when the Tigers attacked the Valaichenai Police Station. Her only grandson, now ten attends school, twelve kilometres away from home, in Kandy town.

In June 1999, the President launched a state organisation to implement several welfare activities and services for personnel of the armed forces and their families. This organisation, the Rana Viru Seva Authority (RVSA) was cemented by an Act of Parliament (Act 54) six months later. The mandate given to this body covers a wide spectrum of welfare activity. Families of service personnel killed or reported 'lost' in action, the disabled, and families of those who are on duty at the battlefront, are those who are considered for welfare programmes.

The first chairperson was Dr. Mrs. Tara De Mel who laid a firm foundation. The programmes and schemes she began are now being implemented by her successor, Dr. N. Wickremasinghe, a former Air Force Commissioned Officer. A Treasury Representative and several Army and Seva Vanitha personnel serve on the Board. The work of the Authority itself is handled by a dedicated team, with a few volunteers assisting.

The RVSA's work relates to housing projects, two of which have been completed in the Anamaduwa and Nika- weratiya electorates, with help received from John Keells, Pan Asia Bank, the Slimline Group of Companies at Pannala and several garment industries, CIC Paints Ltd., Nestle Lanka and Korea Ceylon Footwear Ltd. The education programme made known to the world through Internet has been helped by massive donations for scholarships. One sponsor, the United Lanka Forum looks after 1000 children, over a forty four-month period - each student receiving Rs.500/- per month. They are all students sitting the GCE (O) and GCE (A) level examinations. The State Mortgage Bank and the Saudi Airlines Catering Service are the other sizeable donors. Our own Embassy in the Netherlands has arranged for several Sri Lankan residents in Holland to send in their contributions. The Bankers Institute has already selected seven "scholarship students" to follow courses of study and sit examinations after four years, of study. Their commitment will be over Rs.650,000/-.

Vocational Training, including computer training is also provided to families of servicemen. The IDB is assisting in this regard. Disabled soldiers also receive artificial limbs portable toilet commodes and wheelchairs from different donors through the RVSA. Another area which the RVSA looks into is legal assistance for soldier families with help from the A.G's Department for civil disputes.

A private group that came forward, over three years ago, to provide a large number of artificial limbs to soldiers is the Ratmalana Mallikarama Sarana Padanama. This Buddhist organisation has thus far donated 375 artificial limbs to soldiers. Each donation costs Rs.8000/- and the limbs are manufactured at the Army Rana-Viru Factory, Ragama.

The Army Welfare Directorate has provided over 500 houses for soldier families, at Kuruwita, Avissawella, Horana, Kurunegala and several other areas. The Army Seva Vanitha Unit runs montessori schools and welfare shops in these housing estates.

Electorates such as Medawachchiya, Horow apatana, Vavuniya and Muttur in the past produced bountiful harvests of paddy. Today, without adequate manpower their agriculature has been ruined. This war, it appears will leave in its wake indelible scars of communal disharmony and mistrust. In that scenario, the social welfare of those who have sacrificed much is of prime importance. Their suffering surely is our concern. Their welfare should be our happiness. More and more public support is needed.