Jumbo refuge
With a mobile vet service and paper recycling projects using elephant dung, the Millennium Elephant Foundation is helping the endangered species in different ways.
By Allyson MacDonald
Flying over Sri Lanka's lush greenery, it is hard to imagine the rumbling war with nature going on beneath the canopy of tree-tops. But the world's largest land mammal is in battle with the species that thinks it is bigger than them all; humans. The elephant's only real enemies are flies, and us.

Sri Lanka's sub-species of the Asian elephant, called Elephas Maximus adorns the art and religion of this country. The elephant has long been associated with status and esteem. But the majestic giants face a struggle for their very survival. Perhaps the joy of watching babies recklessly playing under the watchful eye of adults at the Pinnawela Elephant Orphanage, or seeing an elderly abused elephant dozing peacefully in the river at the Millennium Elephant Foundation are made all the more poignant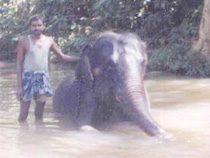 with the realisation that elephants are dying out.
Under colonial rule in Sri Lanka, elephants were the kings of jungle. But they were hunted for 'sport'. During his time as District Judge and Assistant Government Agent in the first half of the 19th Century, Major Thomas Rogers shot and killed over 1400 elephants. He was killed by a streak of lightning and buried in the hills of Nuwara Eliya. His neglected gravestone is shattered by a deep crack. Some say it was pierced by lightning at the command of the ghosts of dead elephants as retribution. Six thousand elephants were killed in the 1840s and '50s alone. Now in the Sri Lankan jungles, there are just 2000 elephants in the wild. It's reckoned that the elephant population is disappearing at a rate of 6% a year.
The Sri Lankan elephant is listed as an endangered species, and given full protection under the Fauna and Flora Protection Ordinance No. 2 (1937). But despite the haughty legal status, domesticated elephants can be bought and sold like cattle. The only requirement for ownership is the money at the auction. The chillingly low price of Rs 10,000 (US$345) for a 40-year-old male elephant shows how almost anyone can now buy an elephant. The animal died soon after the sale, probably after suffering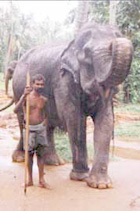 harsh treatment from an owner who knew nothing about elephants.
Early this year, the Millennium Elephant Foundation in Kegalle set up a pioneering mobile vet service. Two vets, based at the University of Peradeniya, are escorted to any needy elephant and provided with the medicines they need to give treatment. This service is supported by the World Society for the Protection of Animals (WSPA) and from donations given to the Millennium Elephant Foundation. More than 40 elephants have already been treated since the service was set up. In the long-term, word of mouth among elephant owners may persuade traditionalists to trust modern vets.
Many domesticated elephants are still worked. But the labour is half a world away from the back-breaking logging of recent years. Watching the elderly and abused elephants bathing peacefully in the river at the Millennium Elephant Foundation belies their painful history.
Loku Menike is in her late-60s. She is a grand old lady of the elephant world, but for most of her life she was a working elephant, hauling great logs onto tractors. As she walks slowly towards you, her large body wobbles slightly and you notice her tilt to one side because of a large lump on one side of her belly. She was crushed by a falling tree when she was logging. Her friend Menike has a phobia of vehicles, dating from when she had to haul heavy trees onto trucks. When someone drives near her she rears backwards flapping her ears.
Beautiful Karuna, who's name is Sinhalese for 'kindness', has not experienced much of that in her lifetime. Lazing in the river with her trunk folded over her face, it is easy for us to forget that this 60-something elephant has suffered abuse for most of her life. Sometimes bumps break out all over her body where she was struck hard with a stick.
The newest addition to the elephants here is 60-year-old Somaliya, whose elephant-keeper (mahout) had burned her on her face and her body. Watching them, perhaps we should hope that the elephant's renowned memory is not so good after all, and that they can dream in peace. These elephants' lost generations in the wild have no such retreat. Some have been relocated to national parks, but some of the most endangered animals are trapped in so-called 'pocketed herds'. Entrapped by ongoing human developments, elephants resort to raiding plantations for food, sometimes causing human deaths,and often being shot by angry and protective farmers. Elephants are being maimed and killed. Transporting them somewhere else is one option. Sometimes this is done by tranquillizing elephants, but it's costly, time-consuming and traumatic. Sometimes a herd is moved by having an elephant-drive, but this can cause both human and animal injuries, and it can devastate all farmland that happens to be in the way. Another suggestion to curb the human-elephant conflict is to create elephant corridors; passageways between the national parks. But elephants have a habit of going back home. An overwhelming change in attitude is probably the only thing that can really save the elephants. To most local people the elephant is a pest. The Millennium Elephant Foundation has an idea to make farmers view elephants as more useful alive than dead. It wants to set up small paper-recycling factories near herds of wild elephants, and use dung as the raw material for making paper. Farmers and their families would be employed to make paper, and perhaps see that a healthy animal is more profitable than a carcass. There is already a factory at the MEF site in Kegalle, which produces hand-made sheets at a rate of 6000 a week, in all textures and colours. Recycling in its most pure form.
With elephants needing five square kilometres of land to feed, Sri Lanka can feel like a very small island. But the elephants were here first. Conservationists, and those with a passion for elephants have heard the alarm bell tolling for these gracious giants. Much good work is being done to curb the spiralling decline. But as you fly above Sri Lanka's jungle floor, and peek through the green roof of the elephant's domain, spare a thought for the largest mammal on earth, slowly shrinking.