---
Chinese Taipei outclassed
By Jatila Karawita
Sri Lanka's national rugby coach SSP Nimal Lewke, who masterminded their 2-0 Test serios win over Chinese Taipei last week, spoke in glowing terms of his charges and said, they had atoned for their failure in the Rugby Asiad, with eye- catching performances.

"Training will not make you perfect, but perfect training will make you perfect, was the motto of our players, during this Test series.

For one thing I thought we rectified almost all our mistakes in the Rugby Asiad, and the new faces came through well in both games.

We also had a perfect game plan, to counter the Taipei team having seen them play against Hong Kong in the Asiad, and our three's played exceptionally well" was how Nimal Lewke described, the performance of his boys in this Test series.

Sri Lanka led by seasoned second rower Asoka Jayasena, won the first Test 34-27 at Nittawela, which was followed a few days later, by a 46-30 win in the second Test at Longden Place, giving the hosts a clean sweep.

Chinese Taipei arrived in the country, with the tag of being the third best team in Asia behind Asian giants Japan and South Korea, but left Sri Lanka, with doubts hanging over that claim, after a series defeat here.

Asked to point out what deficiencies were ironed out, ahead of the Tests with Taiwan, Lewke said areas as line outs, line kicking, and scrummaging, which had been highlighted as weak points in the Asiad, were improved in the series against the tourists.

" Line outs, line kicking, and even aimless kicking, which we indulged in the Asiad were sorted out by the boys, and our three quarters delivered the goods, when the forwards found the going tough.

Also another important point to be made, is that we spent a lot of time on mental preparation , as well as on motivation, and commitment, all of which have born fruit in the end" said Lewke, who was glad to see the impact made by Sri Lanka, in Asian 15 a side rugby, after a lack-lustre display in the Asiad.

Commenting on the game plan adopted by the locals, to counter the opposition the Lankan coach said, all players had carried out instructions, given to them to the letter.

"After we saw Taiwan play against Hong Kong in the Asiad, we knew our game plan will be for our forwards to take it up front initially, and take it from there by the three quarters, which was the case in both Tests" disclosed the Lankan rugby coach.

Commenting on players who had excelled, he said fly half Asanga Rodrigo, wingers Radhika Hettiarachhi, Sanjeewa Jayasinghe, and full back Nalin Disanayake, had stood out for the winners, and commended the leadership of Asoka Jayasena, who had been able to get the best out of his players.

Among the forwards prop Naren Perera, hooker Mohammed Buchks, lock Ravi Jayasuriya, and no.8 Shamly Nawaz, had caught his eye while noting that, every player had contributed for their success.

Coach Lewke who has taken great pains, in moulding a competitive rugby team, to do honours with International teams, at least in the Asian region, finally drove home two vital points, for the local governing body (SLRFU) to ponder on.

"If Sri Lanka has ambitions of climbing up the ladder, in the Asian circuit then we should concentrate more on taking on the likes of Chinese Taipei, and Hong Kong, on a regular basis in the future.

Also it is time the SLRFU thought seriously, of giving some sort of an incentive, to the players so that they get the necessary initiative and interest, to further continue in the sport" added Nimal Lewke, who had a word of appreciation, to the Chairman of the national selection committee Tikiri Marambe, for egging him on with the much needed backing day in and day out, which ultimately proved crucial for Sri Lanka's win.

---
Fakir invited
M.F.M. Fakir, Senior Vice President of the Carrom Federation of Sri Lanka has been nominated by the International Carrom Federation (ICF) as the Technical Representative for the third World Carrom Championship to be held at New Delhi from November 6-10, 2000.

Fakir was earlier appointed as the Vice Chairman of the Technical Committee during the 1st Malaysian Open International Carrom Championship held last year at Kuala Lumpur.

Fakir, a founder member of the Board of Management of the ICF has served the ICF in various capacities since its foundation in 1988 and is currently a Member of the Finance Committee of the ICF.

Fakir functioned as the Organizing Secretary of the 2nd World Carrom Championship when it was held in Colombo in October 1995.

Fakir is presently employed at the National Development Bank of Sri Lanka as the Manager, Negombo Branch.

He left for India on Friday.

---
Sinhala at Lord's
By Carlton Samarajiwa
Our striking (both literally and metaphorically) cricketers have been carrying the world before them. They did it in 1996 at the World Cup and at other Cups later (and of course with a few defeats in between) and most recently at the Coca Cola Cup, the cup of all cups. They have been doing something else as well, equally noteworthy for a "little" island nation. They have been and are and will be using the Sinhala Language, spoken only in Sri Lanka, on the cricket fields abroad - at Lords and the Oval, at Sharjah and at WACA and at Wellington and Eden Gardens, in Cape Town and Nairobi and Bulawayo and Harare.

In fact, everywhere they play the game of our colonial masters, which they have mastered to perfection, they are also using Sinhala, the language of their country, in place of English, the language of cricket. And why not, indeed? Surely, there's no English needed to hit a "haye paara" and bowl a "vega panduva" and to win a "kusalaanaya"!

Romesh Kaluwitharane's continual admonitions, persuasions and cries of encouragement from behind the wicket are heard loud and clear by millions of TV viewers all over the world. As they do so, they are listening to a language spoken by a mere 15 million people in a far away island, where cricket is an undying passion and a silver lining in a gloom-laden nation.

"Allaganna, Allaganna" and sometimes "Alla" (Catch it, catch it) uttered in desperate tones (to the obvious bemusement and distraction of Pakistani and Bangladeshi batsmen) is Kalu's knee-jerk reaction to any ball that is "in the air" - to use Tony Greig's breathless phrase - or "taking the aerial route" to use Ranjit Fernando's.

Feeling the pulse or vulnerability of the batsman in front of him, Kalu would admonish Murali or Vass to send a slow one, with "Me sare hemin evanna" (A slow one this time), and hey presto, the ball is "in the air" for a simple catch. "Niyama bole, machang" is also often heard in praise of a good delivery. That is better than saying "Well bowling"!

Young Kumar Sangakkara (isn't he the baby of the team?), who briefly took "little Kalu's" place at a few international matches recently, encouraged his mates in the authoritative manner of a master-in-charge of cricket: "Lamayi, Lamayi sahayogaya denna," (Children, please co-operate) when performance or morale seemed to be low or "Apata diga gamanak yanna thiyenava" (We have a long journey before us) when the scoreboard was not ticking fast enough to his liking.

Our cricketers also receive the blessings of the Buddha, Dhamma and Sangha through pirith and pirith nool and pirith pan before they leave for a big tournament abroad. It is a touching sight and shows that our cricketers prepare for and play the game of the Englishman in accordance with a time-honoured trait of "Sihala Urumaya."

The endearing terms "Aiya" and "Malli" are also part of our cricket lexicon on the field and in the dressing room. These winning appellations that bind kindred spirits have all combined to give cohesion and camaraderie to a team and to add lustre and warmth to a game - both of which have captured the hearts and minds of Sri Lankans of all stations in life.

How else - except in Sinhala - should they deliver these messages which, like catches, win matches for them? This is part of the revolution that has taken place in Sri Lankan cricket. Arjuna Ranatunga often made it a point to say that under the ancient regime it was only the Colombo schools, and that too the more prestigious ones, that had the exclusive privilege of supplying cricketers for the nation. This meant that only English-speaking players of the "pukka sahib" variety would have entry to an elitist game, whose players spoke good English and ate rice and curry with fork and spoon.

All that is history today as Arjuna in his time did his bit so well and Sanath Jayasuriya is now doing equally well for the swabasha-speaking cricketer. Incidentally it is a pleasure not only to see Sanath batting but also to hear him using the English Language with commentators after matches and both before and after collecting his awards with much more confidence now than when he first faced the mike. Very soon undoubtedly, he will be speaking the language of cricket with the fluency of a Russell Arnold or a Marvan Atapattu and any of the Indian cricketers.

This provokes a thought on the question of English in India. Except for a very few cricketers there, the vast majority of them handle the English Language with as much fluency as with bat and ball. Saurav Ganguly and Rahul Dravid and Sachin Tendulkar and dozens of others are good examples of a young Indian generation whom many of our youth may well envy for their command of English. It was India's sane attitude to English in contrast to our own insane attitude that helped the Indians to retain their skill and proficiency in the foreign language.

We threw the bath water with the baby when we dethroned English in a wave of nationalist fervour and in one fell woop. Indians, no less but even much more national minded than us, did wiser than we did with English.

"While English is a bird in the hand, Hindi is not even a bird in the bush, but a bird which we are trying to create," said former Governor General C. Rajagopalachari as long ago as in the middle of the last century.

Sixty years later, that wisdom has brought dividends. India is a world leader in science and technology and Information Technology today, and Indians can also play cricket without Hindi while we can without English!

---
Asanka, a star in the making
By Rohan Jayetilleke
The great oaks of temperate climes grow from tiny acorns. In the wilds of Sri Lanka, halmilla, kaluwara, mahogany, buruta and ironwood reach great heights silently to be victims of the axes of timber tycoons to cushion their bank balances. The children of the villages, with no permanent playgrounds play the game of cricket with wooden improvised bats on the post harvest paddy fields and on the byroads and gravel paths of the villages, and bloom to blush unseen and wither away with the passage of time.

Haresh Asanka Ratnayake (17) of Dharmaraja College of Kandy (former Senkadagala Srivardenapura) too came to the limelight in the Under 17 Asia Cup Finals between Sri Lanka and Pakistan at Karachi (Pakistan) on July 25, 2000, making 80 runs off 102 deliveries, embellished with six fours and a six in the match winning total of 173 ( all out in 40 overs)

Haresh commenced his cricket career at Dharmaraja College in the under 13, 15 and 17. He now represents his College in the First Eleven and coached by Ananda Wijesekera. His Under 13 and 15 coach was Priyantha Weragoda, former Dharmarajah skipper, who with his leg spinners bagged sometime ago five wickets, in twelve overs all the overs being maidens in a Sara Trophy Tournament game playing for Kandy CC against Negombo CC. Haresh in the Under 15 inter-School matches has amassed five centuries and in the Under 17 inter -School matches as an opener has maintained an average of 94.5 run averge. In the Under 17 Asia Cup tournament in which finals Sri Lanka emerged victorious against Pakistan, Ratnayake's contribution in the Tournament was 145 runs, as the opener.

Ratnayake, is one player who could play right round the wicket with a great staying power as the opener, reminding one of famous openers Desmond Haynes and Gordon Greendige of West Indies. If Ratnayake, is given more exposure to cricket in foreign lands on cricket training programme, especially in the Australian Cricket Academy, Sri Lanka would be certain to unearth a reliable and dependable opener, now that the regular openers of Sri Lanka Sanath Jayasuriya and Marvan Atapattu are on possibly the penultimate stage of their cricket careers.
Asia Cup Under 17
Sri Lankan press failed to give a comprehensive account of the Under 17 Asia Cup finals of Sri Lanka with Pakistan, which Sri Lankan very youthful outfit won outplaying Pakistan.

The Sunday Times, Sports Plus takes this opportunity to give an eye-witness account of this day of specific cricket glory to the youth of Sri Lanka. 'The Dawn' newspaper's cricket journalist Khalid H. Khan in the July 26, 2000 issue under the eye-catching caption, ' Outplay Pakistan by 57 runs: Sri Lanka Lift U-17 Asia Cup' wrote under the dateline Karachi, July 25, 2000 the following comprehensive coverage of the finals.

"Sri Lanka lift U-17 Asia Cup.

Karachi, July 25 Sri Lanka, displaying brilliant all-round performance, outplayed Pakistan by 57 runs to clinch the inaugural Under-17 Asia Cup Cricket Tournament at the National Stadium here on Tuesday. The islanders, after winning the toss and electing to bat first on a placid pitch, rattled up 230 in 44.3 overs.

The hosts, in reply, were bowled out for a disappointing 173 in 40 overs. Sri Lankan captain Jehan Jayasuriya received the glittering winner's trophy from the chairman of the Pakistan Cricket Board, Lt Gen Tauqir Zia, who was the chief guest at the final. The visiting team were also awarded a cash award of Rs. 25,000 put up by Habib Oil Mills, who were part sponsors of the 11-day tournament. Pakistan skipper Salmon Butt had to be content with the runners-up trophy and received a cash prize of Rs. l5,000. Openers Haresh Ratnayake and wicket-keeper Ishan Mutalip laid the foundation with a magnificent partnership of 149 in 29 overs.

Both batsmen capitalized on shoddy Pakistan fielding. The left-handed Ratnayake was given two 'lives' on 36 and 51 as Suleman Qadir (caught and bowled) and substitute Mian Adnan (at square-leg) floored simple catches.

Mutalip, the right-hander, was let off when he had made just eight in the fourth over of the innings. Munir Ansari was the culprit at square-leg as Mutalip spooned the ball high while attempting to pull left-arm pacer Najaf Shah. To add to the woes, Pakistani fielders missed several run-out opportunities as time and again they either fumbled or over-ran the ball.

However, despite their shortcomings in the field, Pakistan staged a dramatic but belated fightback with all Sri Lanka wickets going down for 81 runs once the opening stand was broken at the start of the 30th over.

Mutalip was the first to go for a 97-ball 72 which was studded with six fours and a six when he charged at part-time off-spinner Faisal Khan and was stumped by Adnan Akmal. Ratnayake followed shortly afterwards for making 80 off 102 deliveries. His sparkling knock was laced with six fours and a six.. Off-spinner Munir Ansari, who has modelled his action on Sri Lankan spin maestro Muttiah Muralitharan, claimed four wickets for 54 runs to take his tally to19 in the tournament — a feat which earned him the best bowler award.

But the pick of the bowlers were Faisal Khan, who took three for 33 in 8.3 overs and off spinner Suleman Qadir, son of former leg-spin Test great Abdul Qadir. Suleman, though failed to take a wicket, conceded only 27 runs in his quota of nine overs.

Pakistan emulated the Sri Lankan openers as Salman Butt and Khalid Latif played some lovely drives and cuts during their partnership of 86 in 17 overs. Ratnayake took a fine, well-judged catch on the deep square-leg fence when Khalid mistimed a pull off off-spinner Jayasuriya.

The openers scored 39 off 48 balls with four fours and a six, Wickets then fell at regular intervals as the Sri Lankan spinners bowled to a tight line and length. Slow left-armer Ishara Dilshan, who was later adjudged Man-of-the-Match, claimed three for 25. Salman Butt played a lone hand for a gallant 73 off 101 balls before he was run out by a superb direct hit by a diving Jeewan Mendis, racing in from short cover. Salman, who was fifth out, stroked nine boundaries.

Jayasuriya, leading with example, took two excellent catches but he was upstaged by Eashan Abeysinghe's stunning effort at mid-wicket to get rid of Adnan Akamal. Jeewan Mendis was declared the Player-of-the Tournament while Bangladesh's Mohammad Ashraful was named the best batsman for scoring the competition's only century."

In Kandy only two colleges Trinity and St. Antonys have turf wickets on their own colleges' cricket grounds, thus contributing to the production of Test cricketers from these two colleges in Kandy alone. It is most lamentable Dharmaraja College, the leading national school in the Central Province, with an inestimable record in university admissions to all faculties and with a pint-sized playground atop Dharmaraja hill, with no action taken either by the Ministries of Education and Higher Education (Schools governing Ministry), the Sports Ministry and the Sri Lanka Board of Control for Cricket to enlarge this College's Lake View grounds and to provide it with a turf wicket to play all inter-school matches without hiring Trinity College grounds on a daily rental of either Rs 10,000 or 15,000 and also with a cash deposit of around Rs 25,000, no Test cricketer has been produced by this Central Province's leading national School.

About four years ago Dharmaraja Foundation was provided with a plan of action by this writer, which was submitted to the Cricket Board by the then Principal of Dhrmaraja Mr. Bandaranayake and this report to all intents and purposes appear to be sitting ducks, the only charitable conclusion one can arrive at, over a four-year-inactivity. Dharmaraja College certainly being the leading National School on par with Ananda, Nalanda of Colombo and Mahinda of Galle, needs to be served with the same spoon used for the other leading national schools in Sri Lanka.

The only development work involved is to bring down the height of the ground by another few feet, lay a strong retaining wall in the perimetre of the ground and reclaim the additional ground space required and lay a turf wicket in the center.

This work could be commenced during the December school vacation and the ground could be ready even to be baptized with the annual Big Match Dharmaraja - Kingswood in March - April 2000. It is hoped that the Minister of Sports is on my reading wavelength. Sri Lanka Cricket Board is one of the richest organizations in the country. At least 23 per cent of their financial resources should be deployed annually to develop school cricket grounds in outstation areas, rather than concentrating all the time on clubs, as schools are the nurseries of cricket and clubs are only 'finishing Houses.'

The nursery when developed, cricketers will emerge like mushrooms, now a most palatable dish with a high export potential.

What school cricket is what national cricket is, in the very same vein one Dr. C.W.W.Kanangara, my paternal uncle said in the Legislative Council introducing the free education "What school education is, what the state of the nation's."

---
HSBC rally for charity
The roar of 35 engines will signify the coming to life of yet another Charity Drive today at the Nugegoda Branch of the HSBC! For the third consecutive year, the customers and staff of HSBC will participate in HSBC's Charity Drive orgainsed by the Sports Club of HSBC and powered by Mobil, the main sponsor.

This fun-filled Drive through impossible pathways and off the beaten tracks promise the excitement, the adventure and the anticipation of the dusty, deserted roads of a true rally. Only, this rally will be more for giving something back to the community and for providing customers with some great entertainment.

Because HSBC is striving to bring a lasting benefit to the community it works in, the Bank is actively involving itself in various charity projects of this nature along with the support of its customers. True to tradition therefore, the main aim of this event is to raise over Rs.150,000/- which will be divided between two Orphanages. These Orphanages house children of different communities. They have all been displaced by the civil war in the country and the money raised will provide them with provisions and sport equipment in an effort to lighten up their lives somewhat. A sum of Rs. 5000/- will be charged from all competitors and this collection will be matched by the Bank.

This adrenaline pumping drive will begin at 7.30 in the morining and continue on a mystery route until the vehicles reach Negombo 130 kilometers and several dirt tracks later. Each car will carry a maximum of three persons comprising a combination of HSBC's customers and staff members. The rally will also be restricted to four-wheeled vehicles. Once the destination has been reached, the participants will be treated to a well deserved lunch and the winners will thereafter be rewarded.

Mr. Ajita Pasqual, Manager, Commercial Banking thanked Mobil Lubricants for all the support that has been extended to HSBC by sponsoring this event and a very special mention was made of Mr. Jaafer Satar, Managing Director, Raiwin Garments along with Mr. Nauffer and Mr Saffras Junaid who were the mainstays in the organizing of the rally route and logistics and concluded by wishing all the participants a lot of luck and day full of fun and adventure. He also mentioned that HSBC's commitiment to community activities of a charitable nature has always been strong and thanked the customers for the enthusiasm they have shown in participating in an event that has been orgainsed to raise funds for charity.

With over 6000 offices in over 81 countries and territories, the Bank serves more than 25 million customers worldwide and is one of the largest financial services organisations in the world.

---
The toast of Kalutara
Seventeen-year-old Suresh Silva from Kalutara who won a scholarship to Ananda lowered two public schools records at the Sir John Tarbat Shield Schools Athletic meet last week, Bruce Maurice reports
Last Sunday the toast of Kalutara, the district that is famous for that succulent and mouthwatering fruit, the mangosteen, would surely have been a 17-year-old athlete from Ananda College, Chanaka Suresh Silva.
On that day he broke two Public Schools records. Running in the Under-18 200 metres, he set up a new record in 22.30 seconds and then broke another record that had stood the test of time for 32 years. This was when he won the 100m dash in a record time of 10.9 seconds. The previous record had been 11.2 seconds.
The second son of a Cement Corporation employee, Siripala Silva and a mother who devotes her time caring for Chanaka and his elder brother who is a Commerce student at the Open University, he commutes daily from Kalutara to Maradana. When asked what he would be pursuing in life, he said that sports would take priority. But like his brother he too would like to be an accountant one day. At present he is in Year 12 of the Commerce stream. Encouraged by his father to take up to athletics, he took to it like a duck taking to water. His mother and brother also give him all the encouragement now as they know he possesses tremendous natural talent.
Starting his education at Kalutara Vidyalaya, and coached by Suddina Pathirana and M.R. Weerasooriya, he became the champion athlete by winning the 100 metres, 75 metres and long jump in the Under-11 age group and also the 100 metres, 200 metres and long jump in the Under-13 age group. From now on it was full steam ahead. Wins came cascading in. His first all island win was in '95, when he won the 100 metres and came 2nd in the 75 metres. His timing in the 100 metres at that time being an all island record. In the divisional meet that same year, he won the 100, 200 and was a member of the 4 X 100 relay team that was placed first.
In 1996 he won a scholarship to Ananda College and wasted no time in stamping his class at his new school. Running for Gemunu House at the inter-house meet, he was the champion athlete in the Under-14 age group. He came first in the 100 metres, 200 metres, won the long jump and was a member of both the 4 X 100 and 4 X 400 relay teams that his house won. The following year he was adjudged the champion athlete in the Under-15 age group. That year running in the colours of his new school at the zonal meet he won the 100 metres, 200 metres and anchored the 4 X 100 relay team to victory. That year Ananda became the zonal champions. In the divisional meet he once again won the same events. But in the Western Province meet he had a slight jolt when he was placed 2nd in both the 100 and 200 metres. However, he had some consolation when they won the 4 X 100 relay. At the public schools meet that year he was again beaten into second place and Ananda also lost the 4 X 100 relay.
Came 1998 and with it once again the victories. At the inter-house meet, he was the Under-16 champion athlete. That same year at the Public Schools meet, he won the 100 metres in 11.6 seconds and Ananda won the 4 X 100 relay. That year he was awarded a special medal by the college for his athletic achievements. In 1999, he was appointed vice captain of Gemunu House and was now a member of the Under-17 squad.
His first meet for the year 1999, was the zonal meet that was held at the Sugathadasa Stadium. He won the 100 metres, came 2nd in the 200, but his school won both the 4 X 100 and 4 X 400 relay. That year Ananda were the champions. At the Divisional meet, he was placed 2nd in the 100, 3rd in the 200 but they won the 4 X 100 and 4 X 400 relays.
At that meet Ananda College were the champions. Again that same year in the Provincial meet, he had to be contended with second places in both the 100 and 200 metres. But Ananda set up two records when they won both relays. Finally in the all island national schools games, he came 1st in the 100 but was placed 2nd in the 200 metres, and were all island Under-17 champions by winning both relays.
This year, he is in the Under-19 athletic team. At the Divisional meet he won both the 100 and 200 events and Ananda won both relays. Ananda were overall champions and relay champions as well. At the zonal meet they repeated the same wins. At the Provincial meet he suffered losses in both the 100 and 200 metre events, but Ananda won both relay events.
At the National schools games he was once again placed 2nd in both the 100 and 200 metre races, but the school set up a new meet record when they won the 4 X 100 relay in 43.1 seconds and also won the 4 X 400 relay. Laurels now came tumbling in thick and fast. He won his national school colours, was elevated to House Captain and won the awards at Ananda for the most outstanding athlete of the year. At the Under-18 junior nationals he won the 100 metres in a record 11.3 seconds. And then last Sunday at the Sir John Tarbat meet, when he won the 200 metres in the record time of 22.3 seconds and the 100 metres in a record time of 10.9 seconds.
Chanaka Silva has won all the victories and brought credit to his school and parents by making use of his talents and sheer striving to reach the top. Unlike a boy born to affluent parents, who can afford to give their children all the luxuries, his parents cannot afford to do it. But in their own way they give him the best they can even at the cost of sacrificing things for themselves.

---
AIDEX celebrates 10th anniversary
By Faraza Farook
Undeterred by their physical disability, the Jaipur artificial limb-users marvelled the spectators with their talents at the AIDEX sports meet held at the Reid Avenue Grounds last Sunday.

Three hundred Jaipur limb-users of varied age groups were brought together from all corners of the country at the AIDEX sports meet. This year's sports meet was special for AIDEX, which stands for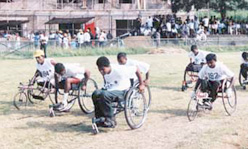 AID to the EX able celebrated its 10th anniversary.
The event aims at bringing out talents of the physically able who have often been a group left back and promoting self reliance, making them no different from others in society.
Unique in its nature, no other sports event could measure up to the AIDEX sports meet. While practices and rehearsals are an important ingredient to ensure success in most sports events, participants of the AIDEX sports meet had no prior training.
"For many, its their first experience. But there are regular participants too," says Rupa de Silva a member of the Colombo Friend-in-Need Society (CFINS) which is carrying out the Jaipur Foot Programme.
The events were categorised according to the disability - above knee amputees, below knee amputees, bilateral amputees and of course taking into consideration the different age groups. Among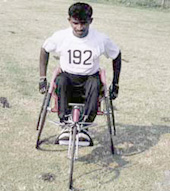 the participants were 95 disabled persons from the Forces for whom events were held separately.
The programme started off with a parade, the Air Force band, followed by all the participants and volunteers.
Events ranged from bicycle races, walking and running races, putt shot, long jump, discus and wheelchair race.
The event which was open to the public, saw many spectators among whom were family members of the participants among whom were the British High Commissioner Ms. Linda Duffield as the Chief Guest, Deputy High Commissioner of Australia Ms. Kathy Klugman and USAID Director Mr. Richard J. Byess as Guests of Honour.
The enthusiasm showed by the participants proved that their disability was the last thing in their mind. Their spirits roared high as spectators cheered.
Demonstrating their will-power, there were some who fell during the race but had the courage to get up and run again. According to the CFINS's President Mrs. Kalyani Ranasighe, first timers, especially above knee amputees sometimes experience pain when running. "But this doesn't stop them. There is a spirit of competition and at the end of the event, psychologically they have become stronger," she said.
The AIDEX sports meet, in addition to encouraging the participants also inspired others in society who need a helping hand. The disability was not at all a detriment to the sportsmen and women of AIDEX.
Seventy eight-year-old W.A. Karunasena who is a below knee amputee, the oldest participant, took part in the event immaterial of whether he wins or loses and 73-year-old D.H. Liyanage was another senior citizen who won the third place in the 100 metres.
Shehan Sanchitha just four-years-old, though failed to win a race, showed much interest in his participation despite being a below knee amputee.
All winners received Rs. 1000 in cash, a gold medal and a gift pack while winners of the bicycle race were given a bicycle. In addition, all participants were given consolation prizes, taking away the feeling of defeat.
However, there was one little boy at the CFINS hostel who even after applying to participate had to stay back because his artificial limbs were not ready at the time.
Twelve-year-old Sampath Wasantha from Yatiyantota lost both his legs (below knee) after a train accident on Sinhala and Tamil New Year day this year.
He was on his way home after shopping in Colombo with his uncle for the festival. Eager to get home, Wasantha was standing at the door of the Avissawela bound train when the train jerked and he got thrown out.
The CFINS, through its Hope for Children Fund provided Wasantha with a pair of artificial limbs costing Rs. 15,000 last week, but a little late for the event.
The pair, especially tailor-made by a British Prosthatic Consultant Ron McGaw, working here as a full-time volunteer has given hope to Wasantha to get back to school and to look forward for the next AIDEX sportsmeet.
There were many like him, who, though failed to participate this year, were looking forward for the next meet.
The annual event was like Olympics for the physically able.
Of course, the commitment of the members of the Colombo Friend-In-Need Society is a fact to be appreciated.
They were the people behind the curtain who made last Sunday a memorable day for a special group of people.
And then came the sponsors who volunteered to help financially or otherwise to make the event a success.
Let's wish all of them success !