An earth-bound experience
By Ruhanie Perera
Last week the National Art Gallery was a sea of ornaments, vases, pots, figurines, dinner and tea sets all glowing in the afternoon sun. The striking display was for 'Earth and Fire' - a ceramic exhibition organised by the Department of Industries (Western Province), which was opened on November 1.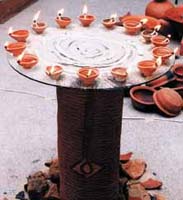 'Earth and Fire' was the culmination of an intensive two-year course in ceramics conducted at the Dediyawala Pottery Industries Centre. It was significant because it was evidence of the talent and potential of the first batch of 15 students, whose course concluded on this encouraging note. Vinitha Senaviratne, director of the Department of Industries said that, having recognized its potential they have decided to take steps to further develop the industry and thereby guarantee its future. They thus sought the assistance of the Japan International Co-operation Agency and were fortunate to have had Mr. Hidoyku Asakura, an expert in the field, volunteering as a lecturer. Mr. Asakura together with a team of experts enhanced the quality of the programme which was launched as a weekend course for undergraduates, "since we felt that such expertise required educated young people who would appreciate these efforts" said Ms. Senaviratne.
Mr. Ranjith Weerasinghe, also attached to the Department of Industries feels that the technical exchange that took place through the involvement with Mr. Asakura helped the students. He says the students have experimented and tried out many of the latest techniques in the field thanks to Mr. Asakura's efforts.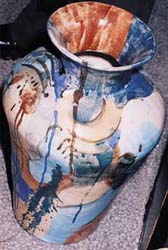 Of the 15 students who participated in the course, one was a graduate, whilst another 10 were undergraduates attached to the Institute of Aesthetic Studies of the University of Kelaniya. A final year student of the Institute of Aesthetic Studies, Ajith Manjula decided to follow this course because he wanted a more in-depth knowledge of ceramics. And what did he learn? "That ceramics is a far more diverse art than I thought it was - starting from making a solution right down to finishing a product. In certain aspects of this subject we still use old methods not even realising that they are outdated. I think the most important lesson was the importance of quality.
He says students were given a free hand in experimenting with material. "We would keep at it till we got it right. Some of us made our own 'recipes' and I think that, they will some day contribute towards the development of the industry."