Shipping and Aviation
In my opinion
By Gunapala Ranasinghe
The elections are over and the subject on everybody's lips is the large cabinet and portfolios given to the various ministers.

Although we expected better coordination in the appointment of said ministers, many surprises came our way. The appointment of one minister for shipping while the port was allocated to another is a prime example, further deepening the controversy surrounding the appointments.

If one takes a look at other countries the portfolios of shipping, aviation and transport are generally under one ministry, which assists in the coordination and effectiveness of the ministry.

Locally, while container transport is controlled by one minister, the operation of container freight stations is "no body's business".

Although certain norms and ethical standards are accepted practice when appointing ministers, diplomats, CEOs etc., we find that this is not the case with today's cabinet.

During the past six years, shipping which forms part of the backbone of many a country's economy, has received step-motherly treatment from those in positions of power. Today, the dismal performance of the port and shipping in general is the direct result of "too many cooks spoiling the soup".

Both the national carrier and national fleet have suffered because of it. It is indeed a pity that none of our leaders have seen the importance of a strong national merchant fleet and CSC.

Those in the import/export arena have suffered many setbacks as a direct result of the formation of so-called "carrier cartels", and the increase in freight rates contrary to legal standpoints. Due to the lack of a strong national carrier the industry lacks the all-important impetus to counter such abuses.

Although the present state of the national carrier is old news, no one seems to have noticed. We do hope that the young Rauf Hakeem will take due note of this and take the necessary steps to restore the national carrier to its former glory.

It should be noted that during the tenure of the late Sirimavo Bandaranaike, the CSC thrived under the CFB. In this regard one must not forget B P Karandawela, who was single-handedly responsible for the development of the CSC and the training and development of human resources for the industry.

In addition, M L D Caspersz and Lionel Fernando contributed immensely for the betterment of the CSC - a fact well-known in shipping circles.

In testament to the calibre of people produced by the CSC, most professionals holding top positions in the shipping industry today are products of the CSC, and not the private sector.

It is the opinion of the writer that the pathetic position of the CSC is not due to inefficient officers but due to a lack of political will and indifference by the powers that prevail.

The failure to turn the CSC into a viable institution by de-politicising the decision-making process and eliminating bad appointments compounds this apathy.

Many were the opportunities offered by various shipping lines, including prestigious firms such as Hanjin and CMA, to the CSC.

Alas, it seems that certain VIPs were only interested in increasing the size of their pockets as opposed to developing the CSC.

This writer hopes that, in the not-too-distant future, Rauf Hakeem will take the necessary steps to restore, once again, the CSC. I hope that I may see the lion flag fly once again on a restored national fleet.

---
CIT, Sri Lanka to hold global meet
The Sri Lanka chapter of the Chartered Institute of Transport has won a bid to host the International Council Meeting of the world body in Sri Lanka in March, 2001.

The bid was awarded to Sri Lanka at the International Council Meeting held in Birmingham last week.

"There was concern about the security situation in the country, but all members of the council were supportive of our bid and were keen to come to Sri Lanka next year," said John Diandas, who represented the Sri Lanka chapter at the meeting.

Over 100 participants are expected from the UK, Africa, Australia, the Far East, North America and the Indian sub-Continent for the upcoming meeting.

"We hope to have the transport exhibition, international conference and the presentation of awards in Colombo, and them move over to a resort for the council meeting," a spokesperson for the Sri Lanka chapter said.

"The exhibition, conference and awards presentation are an annual event, which usually coincides with National Transport Day. In the past we have had the full endorsement and support of the ministries of transport, highways, aviation, shipping, ports and airports for this event."

"We had the participation of HRH, the Princess Royal, Princess Anne, who was the then International President opening this major event in 1995. Next year we will have the opportunity of hosting the entire international CIT community in our country," the spokesperson added.

---
ICS Sri Lanka —new challenge for the future
The Institute of Chartered Shipbrokers, Sri Lanka Branch concluded its annual general meeting recently.

Maxwell de Silva, former General manager of Maersk Line, presently Director of the Institute of Commercial Studies, was elected, uncontested, as fourth Chairman of the branch.

De Silva, the was the Founder Chairman of the branch, was requested to take the position of chairman by the seniors in order to guide the institute and to set a course in meeting new challenges.

De Silva is known as a 'taskmaster' and is very confident of taking the branch to the next level of the tier, infusing modern management practices.

To make the promise a reality is a difficult task. De Silva in his speech to the membership said that he intended accomplishing a number of goals and objectives, which could be measured by the size of membership at the end of his two-year term.

Some of the objectives are: popularising shipping as a core subject by way of marketing and the liberalisation of the teaching of shipping, holding of an international seminar. De Silva also hopes to make mandatory - by way of the shipping regulations for agents and freight forwarders to have professionally qualified personnel as a prerequisite for obtaining a license.

In addition, the ICS to be an advisory body to the government in policy formulation.

In achieving these objectives, de Silva sees the membership playing a major role as active participants.

De Silva is assisted by Ralph Anandappa - Vice Chairman, presently at Asha Group, who is also a product of CSC.

---
CEE — quick response time
For many years, Colombo Engineering Enterprises (CEE) has been accepted and acclaimed as the most efficient marine organisation in the country.

Headed by the youthful and popular businessman, Kiran Atapattu, this organisation has earned a prestigious reputation in international circles for its performance and marketing strategy overseas.

CEE carries out ship-repair work, as well as professional and commercial diving operations. The pride of the organisation is its efficiency and quick response time to emergencies whilst having stand-by repair and diving teams which has proved a real boon to the Port of Colombo.

Attending to ships in distress is one of CEE's specialities. The success rate achieved by CEE in this regard augurs well for the facilities available to the international shipping community in Sri Lanka.

"We don't keep ships waiting for overnight decision-making. We make our decisions on-line and keep vessels on the move, so as to improve Sri Lanka's image and safeguard her reputation," said Atapattu.

---
What's on a shipper's mind
In every forwarding company these days, there is a group of very clever people asking themselves a very simple question: "What do our customers really want from us, and what will they want tomorrow?"

Those people should read this piece. Dozens of customer surveys have been conducted over the years to determine what shippers need from the airfreight industry. Not surprisingly, the surveys reveal that the number one requirement is for products to arrive in good condition - at the agreed time and place.

A simple concept, one might think, but one which Chris Welsh, Secretary General, European Air Shippers Council (EASC), finds he constantly needs to raise with forwarders and logistics suppliers.

Established in 1986, by national organisations representing the interests of European industry, the European Air Shippers Council works to promote the interests of European air shippers across a broad spectrum of day-to-day business activities. And with a membership made up of representatives from Switzerland, Finland, Holland, France, Israel, Sweden, Norway and the UK - including the likes of Hewlett Packard, IBM, Nokia, Electrolux and Volvo - the council clearly knows the people who matter.
Stand and deliver
"My brief to liaise with industry bodies, such as freight forwarders, service providers and intermediaries," explains Welsh, "and help make them aware of the requirements of the customer. The point is to discuss service quality - and how we might improve standards within the industry.

"As part of this process, we hold an annual meeting with the world's leading shipper organisations in Europe, North America and Asia, where we discuss transport issues on a global basis. We don't represent forwarders - but we do offer the opportunity of liaison with forwarders' associations. Its all about coordinating and networking with the key industry representative groups."

"Where shippers increasingly want us to intervene on their behalf," he continues, "is in relation to the work we've been doing in the last three years on 'best practice'. The idea has been to develop performance standards which give the shipper greater certainty that the promises made by service providers - both freight forwarders and airlines - are translated into confidence that the service will be delivered as described."
The big issue
Most of the items on the shipper's wish-list would be self-evident to forwarders. Flexible and competitive pricing structures, a wide regional coverage, technological facilities and the development of new transport solutions - "these are the key issues for shippers today, ad these are the areas that forwarders should be focusing on," he says.

What might surprise the industry, however, is the level of concern over current standards of service which, as Welsh now tells us, are regularly seen as disappointing.

"These days there is a tremendous amount of pressure on manufacturers and shippers to provide high-quality products and services — and its clear that the role of the freight forwarder has changed in response to the need for real supply chain solutions," argues Welsh.

"But, even though standards of service are developing at a fast rate, there still needs to be a higher quality of service across the board if it to meet the requirements of customers."

His US counterpart, Peter Gatti, Vice-President for International Relations at the National Industrial Transport League (NITL), sees definite parallels Stateside. "Its pretty much the same scenario worldwide," Gatti confirms. "Shippers are no different from anyone else in business... they are looking for a genuinely high level of service. And if a forwarder's product can be tailor-made for a shipper's own specific requirements — so much the better."

NITL is the oldest and largest trade association representing shippers, with approximately 1,300 private company members - including logistics staff from top-flight firms such as DuPont, Dow, General Motors, Ford, Chrysler, Toyota, SaraLee, K-Mart and Nike.

"What we're finding now in the US, is that the shrewder forwarders are determined to get the product right, and looking to add value at every stage," he says. "In many instances, they're taking desk space in the manufacturing plant so they can understand what it takes for that company to meet its customers' needs. Technology is also important. There's no getting away from the fact that a progressive forwarder will be expected to have state-of-the-art facilities at his disposal."
Competitive edge
Competition, of course, is the great motivator. As Gatti is keen to point out, US deregulation in the domestic transport industries has sparked an unforeseen level of improvement in the standard of service being provided.

"What it really comes down to," Gatti remarks, "is a need to do it quicker, cheaper and better than you would have done in the older, regulated environment. But it can still go further."

Meanwhile, organisations like EASC and NITL are busy making sure their members get what they pay for. "We've even looked at putting together a series of guidelines for shippers, which would include a rating system for forwarding services," Gatti reveals.

"Its difficult politically, though, because of the antitrust laws in the US. We don't want to get into a position where forwarders could claim against us for damaging their reputation. It might be better just to let them sink or swim depending on their own efforts."

And that, as they say on Wall Street, is telling it how it really is.

---
Lankan farmers cry out for help
By Feizal Samath
The Sri Lankan economist- turned tea planter was once offered a professorship at a university in the United States but refused the offer since he wanted to help struggling farmers in his own country. "That offer is still open. But I want to stick out and see justice for these farmers.

I won't quit until I have given my level best to resolve the crisis facing farmers," says Ratna Gamage, a 33-year old US-trained economist who owns a state-of-the-art tea factory and tea lands in the country's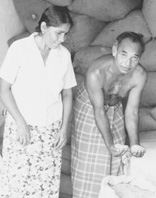 southern region.
Thirteen months ago, Gamage and a group of Sri Lankan tea producers was about to launch a hunger fast outside the offices of the World Bank in Washington to protest against tea imports when the attempt was halted by promises from the government to consider their problems. President Chand-rika Kumaratunga, Deputy Finance Minister G.L. Peiris and Central Bank Governor A.S. Jayawardena - in the US for discussions in September 1999 with the multinational bank - met the group in the bank's lobby and persuaded them to call off the protest before it even started.
Though many mon-ths have passed since them tea producers are still struggling to counter imported teas with the government doing little to ease their plight.
Now they want to renew their hunger campaign in Washington and this time would be joined by the country's rice farmers, who have even worse problems with cheaper rice imports eating into their markets.
"We are desperate because the government is not taking action to alleviate our problems, " Gamage says, as he prepares for another meeting with a group of farmers who have arrived in Colombo from the north central rice farming regions." We want to protest in front of the World Bank and the IMF offices, as it has to do with imports and globalisation.
I hope the protest would affect foreign funding to Sri Lanka and force the government to help us," the tea planter said. Sri Lanka's foreign aid donors meet in Paris in December to consider financial
Donors, particularly from the European Union, have been critical of widespread election abuses and rigging of local and national polls in recent years and have threatened to tie up aid and trade to conditions for free and fair elections.
Gamage, also chairman of the Association for the Protection of Natural Resources (APNR) which represents farmers across the island, will lead a group of five protestors - two tea producers including himself and three rice farmers - to Washington on November 13.
The group was planning to fly on Wednesday, October 24 but put off the trip by three weeks to give more time to the government to consider their requests.
The rice farmers include 75-year-old G.G. Haramanis who led a six-day hunger strike two months ago protesting against rice imports and the government's failure to buy local rice at decent prices.
Haramanis has never got on a plane before but is determined to stick it out in Washington under whatever circumstances. "We will rather die in Washington than stop our struggle," the elderly farmer says bitterly.
In August, Harama-nis and 10 others - two old women, three Buddhist monks and five men - held a six-day hunger fast in the north central town of Hingurakgoda to back demands by rice farmers for government intervention in rice prices and rising debt.
The protest was called off after a meeting with Prime Minister Ratnasiri Wickre-manayake and assurances that government agencies would buy paddy at Rs.13 per kg. Farmers are still waiting for the promise to materialise.
Haramanis now feels it was a mere election ploy to woo farmers. Parliamentary elections were held earlier this month and the government was keen not to offend the farming community.
More than 40 percent of Sri Lanka's 19 million population is involved in agriculture.
The cost of producing rice is at least 11 rupees per kg whereas the market-buying price is only seven rupees. "We can't sell even at this price and we pleaded for government agencies to buy our rice at a guaranteed price to no avail." Haramanis says.
Liberalized market policies by present and past governments have led to an influx of cheaper rice from
India, aggravating the problems of local farmers.
Farmers apart from being opposed to imports of rice also say imports of other crops like chillies and onions, mostly from India, affects them. Unable to sell their crops at "realistic prices" and at least to cover costs, farmers are forced to sell below cost.
Protests and demonstrations first came from potato farmers, followed by chilli and onion producers. Last year chicken farmers joined the campaign after cheaper imported eggs and meat flooded the market and now rice and tea producers are up in arms.
Sri Lanka's rice production last year was 2.9 million metric tonnes, up by seven percent from the previous year, according to Central Bank statistics. The bank said imports during the year was 214,0000 metric tonnes with over two thirds being imported during November and December due to a shortage.
Rice import duties were also sharply reduced to 10 percent from 35 percent between October and December to encourage imports and stabilize local prices, the bank said. But farmers are outraged by these figures, alleging they are incorrect. "It's all wrong. The government allowed the import of 2 million metric tonnes when the import requirement is only 500,000 tonnes," said Gamage.
Rice farmers have mortgaged their properties and whatever valuables they have and are working to please the banks. "We are working in the fields to service the banks not our families," says Haramanis, who fears farmers would lose their livelihood soon and their families would suffer. Gamage's personal grouse is over the import of teas.
The government, over the years, has allowed cheap tea imports from countries like China, Vietnam, Indonesia, India and Papua New Guinea, hurting mostly factory owners and small producers. Factory owners have no objection to special high grade teas being imported for blending purposes in Sri Lanka, the world's biggest tea exporter, but say cheap, poor quality teas enter the market in the guise of special teas undermining local production. "We are not opposed to imports or liberalization. But imports should not beat the cost of local producers," he argues.
Worst affected are 36 factories that produce an unorthodox range of teas called CTCs (cut, twisted and curled). Ever since prices of this type crashed in May 1998, the market for these teas has never recovered. Prices sank in May 1998 to 80 rupees per kg from 200 rupees per kg the previous month due to the influx of imported teas. With CTC tea prices falling, green leaf producers sold their teas to factories producing other tea types that fetched a higher price and that situation continues to-date. "Our machines are not working, 19 factories have been closed. We have been bankrupt for the past few years," Gamage said. Sri Lankan tea output in 1999 was 284 million kg with production this year expected to be around the same or more. Of this, the local demand for CTC tea is around 25 million whereas local factories produce only 19 million kg with the other factories shut.
The balance for local CTC requirement is imported though Central Bank figures show only 1.9 million kg of tea have been brought into the country last year. Gamage says multinational firms import large quantities and hold them in stock for six months. "They import much larger quantities and then control CTC prices," he said, adding that factory owners have struggled since the crisis, two years ago.
Factory owners say they each lost 15 million rupees due to the crisis in1998 and have never recovered since then. "There were times I was so desperate ... I didn't know what to do," said Gamage, recalling how repayments on loans for his factory had to be rescheduled due to losses. Producers want a more consistent policy on imports. "We need some consistency here," said Gamage.
The APNR chief lamented that the government also chose to ignore a Supreme Court order earlier this month which banned all tea imports, excluding special high grades, following an appeal by Gamage. The government is yet to take any action on the court order. "If the government is not even listening to the Supreme Court, what do we do?" he said, adding that he had instituted a contempt of court action against the state but believes it would take several months to conclude.
State-run Tea Board officials have denied reports in the past of cheap tea imports saying special high grades teas were allowed in for blending purposes only. The five-member group of farmers are planning the protest in a park outside the World Bank and IMF offices. 'This is a park where protests against these institutions are normally held,' said Gamage.
Farmer Haramanis said it was only in countries like Sri Lanka where farmers are not protected against imports unlike the United States or Japan where wheat and rice farmers get all the protection they need from the state against cheaper food imports.
"We are not terrorists. We are advocating non-violent ways to fight for our rights. But that does not mean we will sit back and watch our industries and farms crumble and our families destroyed," says Gamage running his campaign from a small office in Pettah, Colombo's main business district.