---
The inventor of Stanley Trios, goes on and on innovating despite crippling hardships
Eureka Eureka Eureka
By Hiranthi Fernando
Eighteen years ago, a tragic accident left Stanley de Silva paralysed from waist down. Wheelchair-bound since then, Stanley is an inspiring example of how sheer grit and perseverance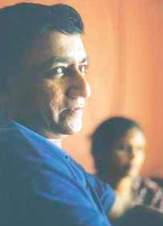 together with amazing ingenuity can triumph even in the most difficult circumstances.

Though his medical treatment over the years swallowed up whatever financial assets he had, Stanley has managed to earn a living to support his family, by making his own invention, hand-operated tricycles for the disabled.

Employed by the Ceylon Insurance Corporation as an Insurance Agent, Stanley was visiting Pussellawa Estate to see a friend, when the accident that changed his life occurred. He was driving his modified Simca Aronde car, with his wife, who was eight months pregnant and his little daughter seated beside him.

His friend's house was on the top of a hill and finding him not in, Stanley got back in his car, but the ignition did not function. "I alighted from the car and allowed it to roll down the slope and turned it around, steering it from the outside," he recounted. "It had to be pushed up the slope some way to get it in position so that I could start it while it was going down the slope. My wife was unable to help since she was pregnant. There was nobody around except a little boy from the estate. As I was pushing it, by the front buffer, I asked him to place a log against the wheel to prevent it rolling down again. I intended jumping in to the car, kicking the log off and starting it."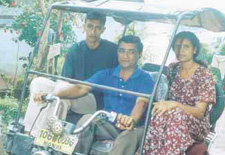 In his own family vehicle with his wife and son
"Unfortunately, the boy put the log behind the wheel, not in front and as the car rolled forward, I fell down and was under the car, with the suspension bar pinned on my spine. The entire weight of the car was on my spine. To make matters worse, in modifying it, I had used 18 gauge metal for the body which made it heavier than a normal car. It took the screams of my wife and daughter, for the estate labourers to rush there, lift the car and take me out."
Stanley was taken to the nearest hospital and then to the Intensive Care Unit in the General Hospital, Colombo, where he spent 14 days. His legs became benumbed and he had no sensation below his waist. From then on it was a never-ending saga of treatment from both Ayurvedic and Western medical practitioners. The son of a medical doctor himself, Stanley was forced to sell his large house in Homagama, to pay his medical bills.
"I had to sell everything I had," he said. "Gradually, the sensation in one leg improved. The Veda Mahattaya said I would later be able to walk with crutches, but because of the financial problems I couldn't continue the treatment."
Finally, after 1 1/2 years at the Ragama Rehabilitation Hospital, Stanley learned to transfer himself to his wheel- chair and do his own work himself. "The Doctor gave me a hand-operated wheel- chair, which I could manage alone and I then started doing insurance work from my bed and wheelchair."
With two young children to support, no income and no home, Stanley was in desperate straits until Dr. A.T. Ariyaratne, who had been his teacher at Nalanda College, gave him a Sarvodaya house rent free, for one year.
Stanley then started giving English tuition to earn some money and soon had sixty students. After a year, he kept his promise and gave up the house.
Finally on an appeal to President Ranasinghe Premadasa, Stanley was given a small piece of land 22ft by 24 ft.
"I had no money to build," Stanley said. "The money I earned from tuition was just enough to keep the home fires burning. From the Sarvodaya house at Laxapathiya, I moved to a friend's house at Hunupitiya. My wife was now employed at Sarvodaya. My daughter boarded with another friend."
With his family scattered and no means of transport, Stanley had a difficult time. But his luck changed when a friend gave him a second hand 50cc motor bicycle.
With a frame from an old motor bicycle given by another friend, Stanley built a hand-operated tricycle which provided him with a much needed mode of transport.
"I was now able to get around. With this I approached Lalith Kotalawala for assistance. He was so kind. He asked Ceylinco Insurance Co. to construct a house for me any way I wanted, on my land." Stanley drew a plan for a small house, with room for him to move around inside on his wheel chair. His family now had a little home of their own.
Since his hand-operated tricycle was giving some problems, Stanley approached a German lady, Ms. Juta Nute from a charitable organisation. "Asking me how much I needed to make a new tricycle and how long it would take, she gave me the Rs.25,000 I needed straight away. I made my first tricycle in nine days by combining two Honda Challys together.
"On the tenth day, I rode it to her residence in Colombo. She was very happy that I had kept to my target of 14 days."
"I did everything on my tricycle," Stanley said. "Three people could travel in it. I was able to do insurance work, travelling to see my clients on the bike. It had a hood to protect me from the rain. When I used to ride it on the roads, people who saw me asked me to make them similar cycles."
Stanley has so far, turned out 33 hand operated tricycles, suitable for disabled people, on order. Welding is done by another disabled person and he employs other disabled people to assist when necessary, making a small profit on each tricycle.
Coming into contact with more disabled people through his work, Stanley has set up an informal association for the disabled called Eureka.
Working with other charity organisations, he helped to obtain 22 cycles for needy disabled persons free of charge. He has also become a social worker. "Once during a curfew, I took two pregnant women to hospital, one to Kalutara and one to Kalubowila, on my tricycle," Stanley recalled.
Known as 'Stanley Trios', the hand-operated tricycles are particularly handy for disabled people. Lacking funds, he makes them on order. Clients who request the bikes pay an advance for the materials.
Stanley transports all the materials required on his tricycle. "Being disabled, I know how to make the cycles with the correct balance and brakes for the disabled," he explains. The tricycles have a hood cover and a luggage carrier.
After his tricycles were displayed at an exhibition last year, Stanley received a letter from Prof. Harsha Seneviratne, Professor of Obstetrics and Gynaecology at the Colombo University, asking him to design a simple, easy- to-operate vehicle to transport pregnant women in rural areas to the hospital.
He has since sent the design to Prof. Seneviratne but not been able to proceed further since he had to be hospitalised for stones in the bladder. He now has to undergo surgery.
Stanley's own tricycle, which is now 14-years-old is in disrepair as the frames are corroded. He does not have the financial means to make himself a new one. But his inventor's mind is ever active. He has plans for making a tricycle where the family can travel on a seat behind as in a Trishaw. He says if he uses an MD 90 motor bicycle, the longer frame will allow for a seat behind.
"If I can get some assistance to buy the necessary equipment, I could manufacture one or two samples which would be available for sale right away when a client requires one," he remarked.
"If I have the funds I can supply hand-operated tricycles to anyone who requires them. We can also do so many other items such as trolleys and wheel chairs for hospitals." For Stanley, it seems where there's a will, there is indeed a way.