---
Paula: sudden end
P aula Yates the former wife of Bob Geldof was found dead in bed on Sunday September 17. Paula who was 40-years-old was living in a flat in London's Notting Hill area with her 4-year-old daughter Tiger Lily whom she had from the late Michael Hutchence.

Apparently it was one of Paula's friends who had come to the flat on Sunday at around 10 a.m. who alerted the emergency service. Her body was recovered by ambulance crewmen. Reports say there were no signs of violence. A postmortem carried out on the body the next day was inconclusive. She had a drugs and drink problem. Paula used to buy miniature bottles of vodka daily, sometimes two bottles for consumption. Further forensic tests are to be carried out shortly.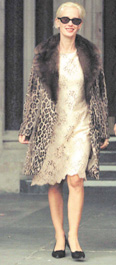 Ex - husband Bob Geldof issued a statement, while last Monday he was awarded temporary custody of Tiger Lily.
Paula Yates was a prominent television personality. She presented and appeared on several programmes. One such programme was the "Big Breakfast Show", telecast on week days between 7 and 9 a.m. Though essentially a children's show, it has a wide audience.
Paula had 3 daughters for the Boomtown Rats leader Bob Geldof. He went to be the torch bearer for the starving people of Ethiopia in 1984. He organised Bond Aid at Christmas in 1984 and then the famous Live Aid concerts in London and New York in 1985.
Geldof and Yates married, but their marriage broke up after INXS frontman Michael Hutchence was interviewed by Paula which later developed into a romance. She then had a baby from Hutchence which brought her marriage to an end.
Paula had difficult custody battles with Geldof. Later Hutchence committed suicide. She could never get over the death and was very depressed. She even attempted suicide once and was saved by her daughter Tiger Lily who alerted a passer-by outside their flat.
Yates was removed to hospital where she recovered. A few years ago she was shocked to learn that her biological father was Hughie Green, the presenter of the TV series "Opportunity Knocks".
With Modjo's 'Lady (Hear Me Tonight)' holding on to the No: 1 position on the UK singles chart, the Australian singer Kylie Minogue checked into the numbers game at No: 2 with 'On A Night Like This'.
Once again Kylie relies on dance music.
Of course when the song was released last week, chart watchers were sure 'On A Night Like This', was not going to repeat the performance of Kylie's previous release 'Spinning Around', by going all the way to the top of the chart. Despite the video being another raunchy affair which shows the singer/ model revealing herself to what looks like a group of elderly whales, the song did not sell enough to enter the chart at the No: 1 spot.
Nevertheless Kylie's dance formula is for the moment appreciated by the fans out there.
It is expected Kylie's next release ahead of Christmas is going to be the much talked about duet with Robbie Williams.
As the Ibiza season came to an end last weekend the Lynx Awards were held on the island. Two famous disco divas of a bygone era Grace Jones and Chaka Khan performed at the event before a large and enthusiastic audience. Jones who is also a one time model revealed that she was making a new album and was hoping to tour the UK.
At the R'n B Awards held in New York recently Areatha Franklin threw a challenge to all the other artists gathered by writing a big cheque for nearly $ 100,000 in aid of a fund to help artists who are now in need of assistance after falling on bad times.