---
CH&FC aims for grand double
Young rugby players rise to the occasion in grand style
By Jatila Karawita
'Fabulous' was how Nazim Mohammed the lanky number eight and CH & FC skipper expressed his delight to the Sunday Times' in the aftermath of his rugby team CH & FC won the richest prize in local rugby the Premier League last Saturday at Maitland Crescent.

CH which went through a period of lean times in the league put an end to a seven year wait with out league success when they downed neighbours and last seasons league runners-up CR & FC by 27-22 in front of their vociferous supporters.

'I think the bottom line this season for our success story was the ability of our youngsters to rise to the occasion and when they did rise despite severe setbacks during the past two seasons they did it in style' said skipper Nazim Mohammed in an interview having scored CH's match winning try when the scores were tied at 22 with two minutes from full-time.

Nazim who was sidelined for much of the season with a knee injury came to play his part in the few games that mattered most. The Maitland Crescent lads rallied behind the tall number eight to prevail over their two big rivals Kandy and CR and lay their hands on the Caltex trophy.

Airing his views CH skipper said though they went through two mediocre seasons in '98 under Jude Dimithri and last year under his own captaincy what opened up the eyes of the boys was the two matches played against Army and CR last year.

"If I can remember correctly at the end of last season we lost 55-0 to the soldiers, and following that we managed to beat CR after four years at Longden Place.

Those two contrasting performances made the boys sit up and take stock of rugby at CH. From then onwards all the experienced players along with the youngsters began to play as a unit. That was the spirit in which we played throughout the league," said Mohammed who was a former crack forward at Science College Mount Lavinia before joining the CH scrum for whom he has been serving with distinction since 1991.

Asked to comment on the players who had captured his attention Mohammed mentioned that of Ajith Upawansa the dashing wing three-quarter who led the club with admirable success during Nazim's absence as the undisputed star of the team.

'During the first five weeks of the league we lost five key players such as Naren Perera, Manjula Damith, Saranga Jayakody and Ravindu Athukorala, from our team, including myself, due to injury.

And despite all those injury constraints Ajith did a magnificent job with the charges and the youngsters such as Ranga Gunawardene, Sameera Wijesinghe, Kokum Senevirathne, Ravindu Athukorala, Varun De Silva, and Milinda Jayasinghe all clicked to perfection with the seasoned campaigners like Upawansa, Nalin Dissanayake, Bimal Perera, Nishantha Dias, Thushara Jayalath and Naren Perera to name a few' said Nazim Mohammed who is one of the six surviving players from the champion CH outfit of '93 led by ex-Sri Lanka star Hisham Abdeen under whom they last pocketed the premier league title.

Mohammed was of the view that Upawansa was a player who should by now have been in the national pool and he called on the national selectors to give the dazzling winger a break to represent his country at future tournaments.

'I certainly feel that with the way Ajith performed for us this year leading the team he has opened the selectors eyes as to what they should do with a player of his caliber.

It really baffles me to find that he does not even feature in the national pool, and I feel that selectors should step in and give deserving guys a break to play for their country' stated Mohammed.

The CH & FC skipper speaking further stated that the replacement players who filled the boots left vacant by the injured experienced players was outstanding and that was also one of the key elements of them scaling the heights in the league.

Asked to comment on the teams which gave CH the toughest fight CH captain mentioned that it was none other than CR who stretched them all the way this year but they managed to pull it off in their favour at the crunch.

'I think we were pretty fortunate to have ended the league at the end of the first round as table leaders.

What helped to maintain the top slot for us was that crucial draw between CR and Havelocks in the first leg.

From then on the boys got the desired motivation to continue their winning ways. They ultimately completed the second leg sans any hiccups and with a clean slate,' said Nazim Mohammed who also took the opportunity to convey his gratitude to a number of officials from the back-stage who were instrumental in CH reaching the pinnacle in rugby this millennium.

'At the outset I will like to emphasize the key role played by the trio of Gramme Raux, who looked after the three-quarters, M.D. Ifthikar who handled the forwards and the head coach and our rugby think tank Tony Amith.

They were the three cogs in the wheel who saw to our success. There were the others in the CH & FC rugby committee as well, such as Rizly Illiyaz, secretary of the rugby Committee, Faiz Hamidoon Rugby Chairman, and Rohan Anthony who functioned as our manager, looking into the well being of all the players,' Mohammed said.

The CH & FC skipper also went on to mention that Chandrishan Perera who was a well known ruggerite produced by CH over the years was in charge of the fitness of the boys and he was well assisted by Kodithuwakku as the physiotherapist.

' At this moment I will be failing in my duty if I do not mention the names of our club Chairman Kitto Dias, Sunil Peiris, all the committee members, sponsors and last but not least our die-hard supporter from the fair sex Mrs. Shirani for encouraging the boys to deliver the goods in the league,' summed up Nazim who was upbeat at his team making an impact at the upcoming knock-out tournament to complete the season's grand double in style.

---
Mastering position sense, following injury
By Dr. D. Atukorale
Must include at least the simple methods - walking, jumping, hopping, skipping, climbing steps, running, forwards and backwards, sideways, in a square, in a circle, in zig zag, cuting, in a figure of eight, up and down a slope, both forward and backwards, cuting at 90 degrees

Running sideways:

Summary of rehabilitation in stages

Five stages: 1) ricee+ stretch + electric forms of tr + pain free movt, + alt exercise-cycling.

2) above minus ricee; + more strength + position sense ex, a few skills of the game.

3) more power + position sense + start functional work. = specific game skills + .,Practice games=speed work

4) full game=cont.Strength + cont stretch.

5) above + follow up for one full season

When the trainer is satisfied the player will resume full play. But remember the foll. Minus factors that should prevent resuming, play.

When is it not advisable to resume play even after 'recovery'

1)muscle power< than 90%

2)poor psychological make up -thinking of the injury during treatment and play; fear of a2nd injury - both these give more pain/delays healing.

Cardio-vascular fitness;

This is important - even if player is otherwise ok in hamstring tears

During limited weight-bearing, one must do cycling. Weight training/long distance running/short distance fast running with rest periods in between must be done in recurrent hams tears, it is best to do more of this while reducing the period of weight trainning.

Physiology of muscle injury

It may be useful to know a little bit in this space age

Muscle damage ......> Inflammation + low activity + pain changed cell chemistry....> Cell death ....> Weak muscle.

Strengthening other muscle groups affecting hams-injury:

This must include;1 [ front of the thigh quadriceps] :2[ abdominal muscles: 3] gluteal muscles

Correct shoes

In body contact games one is worried about having shoes which should be ideal for running, change of direction and good for kicking old shoes cause injury.

What will happen if the muscle tears at the junction between the muscle and the tendon? IMMEDIATE SURGERY

---
Jack Hobbs, England's greatest batsman
By Bruce Maurice
Hobbs made 9 Test hundreds in Australia. The two finest of them, was the 178 at Melbourne in 1912 and the 122 also at Melbourne in 1921. But an innings that will never be forgotten in Australia is the 49 he made in the England second innings in the Test at Melbourne in 1929, when England had to chase 332 to win on a brute of a wicket. Australia did not have any fast bowlers in this Test. But they had an abundance of spin bowlers. Oxenham (medium off-breaks), Grimmett (right arm leg breaks) and Blackie (slow to medium off-breaks). And on that wicket and against such a spin attack, nobody gave England a chance. But right from the very first ball, Hobbs and Sutcliffe dominated the pitch and the bowlers. They went on for hour after hour, and at tea, they were 78 for no wicket, with Hobbs on 36 and Sutcliffe on 32. Both batsmen and even Oldfield were black and blue from deliveries that kicked off the wicket. One ball from Ryder, hit Hobbs on the head. One ball from Oxenham kicked up and went over Oldfield's head. Three balls from Oxenham particularly, revealed the state of the wicket. One bounced off Oldfield's gloves and went to first slip. The next one hit Sutcliffe on the shoulder and the next one went for a bye off Oldfield's shoulder. The hundred partnership came up in 133 minutes. And then, Hobbs was out. L.B.W. to Blackie for 49. But just before he got out, Hobbs sent a message to Chapman to change the batting order and send Jardine instead of Hammond. This was a wise piece of strategy. When stumps were drawn for the day, England were 1 for 171, with Sutcliffe not out 83 and Jardine not out 18.

The old firm of Hobbs and Sutcliffe had made their eighth century opening stand against Australia and out-generalled and outplayed Ryder and the Aussies. The next day they lost three wickets for 14 but coasted home to a victory by 3 wickets. Sutcliffe playing the innings of his life. 135 runs in 6 1/2 hours. But without a doubt it was the opening stand that won England the match.

Hobbs' first great opening partner for England was Wilfred Rhodes. Against South Africa at Cape Town in 1910, they put on 221 for the first wicket. And then at Melbourne in 1912, they put on 323. In Australia, Hobbs was at his best at Melbourne. Because of the 9 Test hundreds he made in Australia, 5 were made at Melbourne. But certainly not Sydney where he made only one Test hundred and was out to one of the greatest catches down the leg-side by Bert Oldfield. It was the fifth Test in 1925, and the very first ball of the England first innings. It was bowled by Gregory and Hobbs glanced it wide down the leg-side and set off for a single. But he was stopped dead in his tracks, when the Australian fielders let out a 'war cry' Oldfield having lost sight of the ball as it swung in, observed the golden rule of wicket keeping, and moved down the leg-side to take the catch of his career.

---
All about cricket lovely cricket in the Caribbean
By Rohan Jayetilleke
The isles are sun-kissed and of exquisite beauty. Disparate in many things. A crucible of many racial cultures, but united on one ambition- the game of the willow. Every cricket ground in the West Indies is sandwiched with history.

"The Caribbean - the golden beaches, crystal water, the sapphire boys, blazing blue skies, the mountains full of trees so lofty they seem to reach the sky, the singing nightingales, parrots, birds of a thousand sorts, the flamboyant trees with their scarlet blooms, the jacarandas, Sam Lord's Castle in Barbados - a splendid plantation house, the ecentric whim of Regency Buccaneer; the spectacular festival of Trinidad; Guyana's St. George's Cathedral with its spire rising over 132 feet above the ground, the exotic fruits of Jamaica, mangoes and passion fruit, the lazy peace of the Windward; Antigua with a coastline peerless for its rugged indentations and superb beaches; and a great export common to almost every one of these colourful and lovely islands - Cricket and Cricketers" wrote Gordon Ross in his book titled "A History of West Indies Cricket".

With history and geography expunged from the classrooms as separate subjects in Sri Lanka and substituted with a pot purri of 'Social Studies' with neither sociology nor science being dished out to children, many of the new generation believe West Indies is one country under one Head of State, similar to all the other ICC member countries where cricket is played and continues to grow. The West Indies are not. The islands are scattered in an arc, ranging from 1,600 miles to the south of the Atlantic Ocean, in the Caribbean Sea. These islands are separate nation States with different Heads of State. However, cricket has bound these islands to a unit to play only cricket as one country, one nation.

Christopher Columbus discovered the West Indies Islands in the 15th century. The islands being strategically located between the navigational routes of North and South America and Europe, in order to clinch the islands there were wars between British, French, Portuguese, Dutch and Spaniards. The quest for the proverbial gold mines - El Dorado - too was on their itinerary.

Thus as a corollary to these wars of conquest European habitations too arose. Under the British rule in order to boost the cotton and sugar cane mono-agriculture British brought boat-loads of slaves from Africa to open up the land. Later indentured labour from India (similar to Sri Lanka) and China were brought to the islands. Thus West Indies became a microcosm of many ethnic groups. Initially cricket was a British white man's game but later the various clubs had in their ranks players from every racial group that had made West Indies their adopted homeland. The two prominent Chinese who represented West Indies were Ellis 'Puss' Achong (Trinidad) and Herbert Change (Jamaica). The googly delivery earned the term ' Chinaman' from the spinning fingers of Achong, even accepted as a cricketing parlance by the Oxford Dictionary.

The Indians brought from the Eastern part of India too domiciled in the West Indies and most of their names with the passage of time were Anglicized such as the present day cricketer of Indian extraction Shivanaraine Chanderpaul. Etymolo-gically the Indian version of this name is Sivanarayana Dhanapalan.

The cricketing giants of the West Indies of East Indian extraction were Sonny Ramadhin, Rohan Kanhai , K. Charran Singh, Nyron Asgarali, Joe Solomon, Alvin Kallicharan, Inshan Ali, Imtiaz Ali, Faoud Bacchus, Leonard Baichan, Raphic Jumadeen, Ranjie Nanan and Sew Shivanarine. Even in the field of English literature the leading West Indian figure V.S. Naipaul, is of East Indian extraction. The Indian Test cricketer Robin Singh's great-grandparents moved to the sugar country village of Prince Town, (Trinidad) and Robin Singh, was born and bred in Trinidad and later on his own having come of age migrated or returned to his mother country India, from which country's Punjab region his ancestors had moved to the West Indies. His family still continue to live in Trinidad.

The four major countries of this region, Barbados, Guyana, Jamaica, Trinidad and Tobago some of the Islands in the Leeward and Windward groups from the cricketing West Indies. The first inter-colonial match was played between British Guiana (Guyana) and Barbados in 1865. The first overseas tour was to United States of America in 1885 and the first West Indies matches were played in England in 1900 and gained Test status in 1928.

Barbados is the strongest of all circketing centres of the Caribbean's, although it is a small island only 166 sq. miles in area with a small population of about 253,000 . Yet Barbados is the nursery of Test cricketers. More than 25 percent of the Tests, produced so far in the West Indies are from this tiny island. Barbados is farthest of the West Indies, the neighbours being Trinidad and Grenada on the south west coast was probably so christened by the Portuguese sailors to epitomize bearded fig trees of the island. An English ship arrived here for the first time in 1605 and British colonized the island as from 1627. Barbados became an independent country on November 30, 1966 and is the richest in the archipelago.

Barbados produced cricketing legends such as the Three Ws- Clyde Walcott, Everton Weekes and Sir Frank Worrell - Denis Atkinson Keith Boyce, George Challenor, Sylvester Clarke, Wayne Daniel, Joel Garner , John Goddard, Gordon Greenidge, Charlie Griffith, Wesley Hall, Vanburn Holder, David Holford, Conrad Hunte, Collis King, David Murray, Seymour Nurse and the ' Doyen' Sir Garfield Sobers.

The capital of Barbados is Bridgetown and the cricket venue is Kensington Oval. It was in this ground that Pakistani Hanif Mohammed entered the cricket annals with his swashbuckling 337 in a Test in 1957 - 58.

Guyana: This is not an island but, a country located on the north coast of South America, with Venezuela on the west, Brazil on the south and Surinam in the east. In the 17th century Guyana was a Dutch colony, and taken ever by the British in 1815 and named British Guiana. Indentured labourers from India outnumbered African slave workers and came to be more a home for the Indians. This which gained independence is now a Republic with 83,000 sq. miles in area with a population of around 771,000 became independent on May 26, 1966 and reverted to the old name Guyana.

The most famous of the Test cricketers porduced by this country is most successful ever West Indian captain Sir Clive Lloyd. The other greats are Faoud Bacchus, Leonard Baichan, Basil Butcher, Steve Camacho, the Christiani brothers Colin Croft, Roy Fredricks, Lance Gibbs, Alvin Kallicharan, Rohan Kanhai and Joe Solomon.

The main cricket ground is Bourda in Georgetown. There are several grounds where first class matches are played.

Jamaica: This is an island cheek and jowl with Cuba and USA. It is almost 900 miles to the west of Antiquilla in the leeward group with an area of 4,232 sq. miles with a population of 2,228,000. This island was visited by Christopher Columbus in 1494 and ruled by Spain. Britain seized the island in 1655 and finally became independent on August 6, 1962. Economically it is far behind Barbados or Trinidad and Tobago. Test cricket is played on Sabina Park in Kingston. It was here that Gary Sobers scored his world record of an individual Test score of 365 not out. The outstanding Jamaican Test cricketers were: Gerry Alexander, Ivan Barrow, Tom Dewdney, Uton Dowe, Maurice Foster, Roy Gilchrist, George Headley, Jackie Hendricks, Michael Holding, Jack Holt, Easton McMorris, Everton Mattis, Karl Nunes, Allan Rae, Lawrence Rowe, Collie Smith, Alf Valentine, Jeff Dujon, Patrick Patterson, Courteney Walsh.

Trinidad and Tobago : This Republic consists of two islands lying 20 miles apart off the north eastern coast of Venezuela, with a combined area of 1,981 sq. miles and a population of 1,204,000. Trinidad was first visited by Christopher Columbus in 1498 and was originally a Spanish colony and the Espanic culture still remains. In 1802 the islands came under British rule in 1802 and became independent on August 31 1962 . Oil being discovered, the islands emerged as the richest in West Indian archipelago.

The Port-of-Spain's Queen's Park Oval is the most serendipitious cricket ground in the West Indies. The most famous of the Test cricketers produced by this country is Learie Constantine, who was raised to the Peerage by the British crown. The other notable Test players were.: Inshan Ali, Joey Carew, Andy Gante-aume, Larry Gomes, Gerry Gomez, The Grant brothers, Prior Jones, Bernard Julien, Raphick Jumadeen, Deryck Murray, Sonny Ramadhin, Clifford Roach, Jeff Stollmeyer, Jaswick Taylor, Gus Logie, Toney Gray, Phil Simmons, David Williams. The other first class match grounds is at Guaracara Park in Pointe-a-Pierre.

Anquilla is only 35 sq miles in area with a population of 7,000. It got self governace in 1976 . Monteserrat of 32 sq. miles in area with a population of 11,600 became independent in 1960.

Antigua and Barbuda is one of the 20 smallest nations in the world, with a land area of 171 sq. miles and a population of 82,000. The name is pronounced as Aan-tee-ga, was discovered by Columbus in 1493 and annexed by Britain in 1632 and gained independence on November 1, 1981. The first Antiguan to gain the West Indian 'Test Cap' was Andy Roberts in March 1974. He was followed by the great skipper Vivian Richard's. The Test venue is the Recreation Park in St. John's with a spectator capacity of 15, 000, aggregating to around one fifth of the entire population.

St. Christopher and Nevis too is a small country of 101 sq. miles in area with a population of 44,000, comprising two volcanic islands It is also referred to as St. Kitts. These islands too were discovered by Columbus in 1493 and annexed by Britain in 1632, but an ownership question with France continued till 1713 and finally became independent on September 19, 1983 . The minute- island Nevis of 36 sq. miles of area, produced two Test cricketers, namely Elquemedo Willett and Derick Parry. The first class match cricket grounds are at Warner Park in St. Kitts and Grove Park in Nevis.

The Windward Islands group has four cricketing parts - Dominica, Grenada, St. Vincent and Grenadines and St. Lucia. Dominica is the most northerly of the Windward, with an area of 290 sq miles and a population of 74,000. It continued to be a British colony since 1805 and won her independence on November 3, 1978. The Test cricketers produced by this country are Norbert Philip and the cousins, Grayson and Irving Shillingford. The England's one time Test player Phil DeFreitas hailed from Dominica.

Grenada ( 133 sq. miles and population of 86,000), St. Lucia ( 238 sq. miles and population 123,000)

St. Vincent and the Grenadines (150 sq. miles and popultion of 103,000, too are independent countries of the West Indies archipelago producing Test cricketers for the West Indian side. The first Test player from these tiny islands was Alphonso Roberts who played against New Zealand in 1955. The England's one-time opener Wilf Slack hailed from St. Vincent. The domestic tournament for these inter -Island cricket is the Shell Shield.

Cricket is a way of life in the West Indies both with the young and old. On the beaches boys play 'knee-cricket'. The batsman has one knee on the ground (see picture) and the bowler with a high arm action brushing one's ears should bo wl full tosses for the batsman to hit a six. Only a six is counted. If one does not hit a six, he is out. This nurtures the young men to bowl with a high-arm action , as is the case with all West Indian Test bowlers and to hit over the in-field.

On the roads, it is improvised cricket, with two used truck tyres as wickets, which could be easily rolled off when vehicles are sighted on the road. Boys and girls play with gay abandon. This is how West Indian cricket grows, grows, grows and continues to grow, with no allegations of 'match-fixing'.

---
There's still a lot of cricket left in Aravinda
By Bernie Wijesekera
Aravinda de Silva, Sri Lanka's little dynamo, could still contribute much for Sri Lanka's cause with his batting skills. He has proved it in no uncertain terms with his epoch-making innings away from home.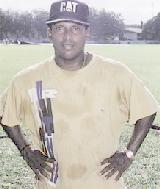 He has a highest score, 267 against the Kiwis, in New Zealand.

He blossomed out to be a world class batsman and thrilled fans at home and abroad. Be it Australia, Pakistan, New Zealand, India and England, he was a bowler's nightmare but the fans' idol.

'Ara' is prepared to talk with those who are willing to talk. He enjoys life off the field like the late M.Sathasivam. Even with a late night like 'Satha' but on the following day will deliver the goods with his blazing willow.

He has his own pride, he is prepared to listen or learn from the likes, who are conversant with the game, but not from figureheads, who apparently go on tours abroad as officials to "feather their own nest." Some pundits may say that he is not fit. Then they must make him fit, but just not be mere arm-chair critics. Even a thoroughbred needs a good jockey to handle not a pony rider. 'Ara' still has something to give back to the game in the autumn of his career. If England's Alec Steuart and Wasim Akram, Courtney Walsh and Ambrose could still play why not Aravinda, a precious gem to Sri Lanka cricket. How come 'Ara' was dropped for the first two Tests against S.Africa but was called for the Third Test by the present selectors when he was virtually out of action. It was Arjuna's farewell but not Aravinda's.

Hanif's comments

The prophet is not honoured at times, in his own country. Hanif Mohammed, the legendary Pakistani cricketer had this to say about Sri Lanka Cricket and about Aravinda in his autobiography. "One of the finest batsmen in the world today, and certainly one of the best that has been produced by Sri Lanka, who is equally commanding in Test as well as One day cricket. He, too was instrumental in taking his country from the position of underdogs to become the World Champions, as it was his commanding innings in the World Cup final in 1996 that clinched the cup. He is an excellent batsman, with all the shots in the book which he uses judiciously. The other batsman, whom he refers to master blaster Sanath Jayasuriya, in the mould of a Viv Richards - a one-day mauler still could play a long innings which was evinced the one he played against India, here scoring 340.

A blind 'Ara' better

This is what Arjuna Ranatunga had to say about his life when it comes to cricket. "Batting with Aravinda and watching from the other end, playing his shots. It's a fantastic experience. He will be in my world XI side any day.

A blind Aravinda is better than some of the cricketers today. I was having a chat with 'Ara' along with Whatmore. 'Ara' said, "I can close one of my eyes, still bat better than all the others". I said 'Ara' you are a fool. He looked at me. You can close both eyes and still bat better.

He is special even as a man. Before I took the reins as Captain, he used to go to night clubs. When I took the mantle I called him. "I am not making any rules. You can go anywhere, but please be back in the room by 10 p.m. before we play in any match. That is just one thing I request from you. Do you know that after that during his entire cricketing life he never went out on the previous day before a match, even for a meal. Most people don't know about that but could testify to this effect whilst on tour, with him." Kind words are short but its echoes are loud and long-standing. Aravinda, is one of the rare specimens in the game today, like Brian Lara, Sachin Tendulkar or Mark Waugh. They have their own line of thinking and have to be handled with understanding and care. They are not concerned who is captaining, but answer their teams clarion call at the opportune time.

An Aravinda is born once in a life-time like Sathasivam. He should be taken notice of.

Then he will deliver the goods with his perseverance and help the country's cause for a few more seasons.

---
Dimbula to promote cricket and rugby
By Bernie Wijesekera
Dimbula Athletic and Cricket Club with a historic background will promote sports at grassroots level.

This was revealed to the Sunday Times, by its president, Trevor Nugawela.

Nugawela was associated by his secretary, Saman Munasinghe.

Nugawela said, once the re-development programme is completed, the picturesque venue will be fit to stage an international game. Already the club is afforded with a new club house with all facilities. Plans are afoot to re-lay the square.

Bandula Warnapura, will handle it. Warnapura was helpful in preparing the turf pitch before the start of the mini-World Cup- Under -19. Three matches were played here. It proved an instant success.

"The Cricket Board headed by Thilanga Sumathipala, helped us with funds to build the new pavilion. Sumathipala has promised with further assistance to build a grandstand." C.I.C. and Dimos headed by its sports loving chairman, Ranjit Panditage. Panditage has given DACC the sightscreens and financial assistance. According to Munasinghe he has promised to build a fully equipped gymnasium.

Our objective is to promote the game among the schools in the district, and among the estate lads. There will be no barriers or racial prejudice."

"Already there is a junior schools tournament orgainsed by the N'eliya DCA, headed by Haren de Costa. His committee is doing a fine job. There is also a club tournament in the district.

One may be able to find a Alvin Kallicharan or a Aravinda de Silva - given the encouragement.?

This is why we are striving to get the help of the estate companies to help us to make it a reality. In the past the plantations had some outstanding cricketers serving the estates - the likes of Gamini Salgado, Saliya Atapattu, Vernon and Ralston Tissera, Gamini Tennakoon, Ironside etc., Some of them were fit to play Div. One club cricket, unlike the present barring Denham Madena. There was a hive of activity in Talawakelle and DACC, playing circket or rugby in the past.

At present DACC plays only in the Div. three tournament. This is one reason, why we are striving to revive sports sans barriers and even get the youth in the estates to play. Some of them already are playing rugby. This will also keep them involved in sports during their leisure time.

Initially we are hoping to stage a softball tournament among the estates. Don't you agree that all belong to one world, one earth, but with different tongues - The poor in the estates too deserve a better future. Tea is the main catalyst in the country's economy and they are serving well towards this end" You are right.

Through sports one could bring about peace and harmony, this is something that everyone must strive to achieve sans prejudice. DACC must be commended for focusing its attention to overcome this. Finally Nugawela said, one must not forget late Gamini Dissanayake, who did much for the development of sports in Upcountry.

Dissanayake laid the foundation for the uplift of the 144-year-old club to go places. Nothing was impossible for Dissanayake. We are grateful for others, who have helped us later with men and material.

It will be a tribute to late Dissanayake, if the Cricket Board decides to play even a warm-up international game at Radella in his memory after the completion of the re-development programme, Nugewela, added.

The new club house was ceremonially opened by former Sri Lanka skipper Arjuna Ranatunga and Cricket Board President Thilanga Sumathipala in June, this year.