An all-rounder on and off the field
Kesara Ranatunga meets cricket's new face Kumar Sangakkara
"I was a little nervous," he said, speaking of the first time he went out to play for the national side. But any such trepidation was soon forgotten "because of the tremendous support and encouragement given by everyone from the captain downwards." He says that in the team, there is no such thing as 'the new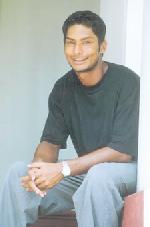 guy being left out'. Everybody does their best to make a newcomer feel part of the team.
Anybody who has even a passing interest in the game of cricket would know or have heard of the nonchalant yet elegant stroke-maker , Sri Lanka's new wicket keeper-batsman, 22-year-old Kumar Sangakkara. Blowing away any doubts in the selectors' minds with some stylishly made scores, he has made headlines as one of the top performers in a talented young Sri Lankan team.
I arrived at his house in Nawala, ten minutes earlier than our 10 a.m. appointment, only to be the cause of him being rudely awoken. With a naturally outgoing personality, Kumar is all smiles about being selected for the Sri Lankan team. "It's a dream come true and right now, it feels good," he says. Making it to the international arena is a personal achievement for him, and "it means that I've made a grade that most cricketers strive for."
It all began for Kumar when he was just a 12-year-old school boy at Trinity College, Kandy. Under the guidance of numerous coaches his cricket during the school years blossomed, slowly but surely moulding him into a stylish run-getter.
Since the age of 13, until now, Kumar has been under the watchful eye of Mr. Sunil Fernando who has over the years nurtured the young star, instructing him in the basics of cricket all the way up to the finer points of the game. "It's not just a student-coach relationship, he's more like an extension of the family," says Kumar fondly of the special bond he shares with his long time guru.
However, the man who made the biggest contribution to Kumar's success, is his father. A former cricketer for St. Anthony's College Katugastota, Kumar's father encouraged and actively participated in the training of his son. "Definitely it's my father first and foremost," says Kumar. Sangakkara senior no doubt, has had a major influence on his son and still plays a big role in his life. Breaking into a smile Kumar relates how his father has kept records of all his faults in several books since he was 13-years-old which he still refers to, to make sure that his son has gotten over them. "He still watches every match I play, and I think he's still my number one coach." He's probably also his number one fan.
A born sportsman, Kumar has excelled in every sport he has tried his hand at. Winning awards at junior national levels in both badminton and tennis, he gave them up for the gentleman's game. Cricket has won him accolades for superlative performances at school, national under 17 and under 19, A team and now finally at international level. "What I achieved at that time doesn't seem to compare with the grade of cricket I'm playing now," he says taking a moment to reflect. However it was undoubtedly these achievements that paved the way for him to break into the national team and become the player he is today.
"It's a great experience to play with the senior players because you can learn a lot by just listening to what they say in the dressing room before a match or simply just watching them play."
Never having been a passive learner himself, Kumar uses his sharp cricketing mind, and positive attitude to analyze every game and improve his performance. "I think every game is a learning experience. You have to keep learning and improving to keep your edge."
The first few international games for Kumar were eye openers. The quality of bowling being far above the A team level, it takes more than a little adjusting to get used to. "It's more mental adjustment than technical changes," says Kumar. "I think I handled it o.k."
Getting into the national side "has changed my attitude towards the game," he says. "To last in international cricket you need to be mentally tough," and you need to work hard to make the necessary adjustments to compete. "You can't say 'you've made it', and sit back and relax. You have to maintain that level, improve, go beyond and become a better player," says Kumar whose attitudes toward the game reflect the maturity of a seasoned campaigner and a positivity that promises much for his future.
Not just a cricketer, Kumar is also a second year law student at the University of Colombo. "Law is something I've always wanted to do," he says. "A bit of conditioning as well I think, since my father's a lawyer." But a career in the legal profession is definitely on Kumar's priority list. "Cricket does encroach on my studies, but I have to manage, because these are two things that I want to do." At the moment he's trying to balance the two. Considering that both cricket and academics at university level are both extremely demanding, he's going to have a tough job, but he's calmly confident that he will succeed.
"My family has been very supportive," says Kumar emphasizing that it has been because of their support that he has always been able to balance everything he did. His parents encourage him in every way to pursue both his sporting and his academic goals.
Reading is Kumar's form of rest and relaxation. Novels or "anything I can get my hands on" is his style. "Of late, I haven't been able to do as much reading as when I was small. But for reading I think you always have the time," he says rather profoundly.
More 'sensitive' questions on the romantic aspect of his personal life were dealt with rather cautiously, and he only volunteered the fact that he had a girl friend. Sorry girls...looks like he's out of the running!
You would think that all the publicity and being part of the Sri Lankan cricket team would have had a major impact on his life. But he replies in his characteristic easy-going way that "there's no difference in the way family and friends treat me. The only difference is that more people seem to recognize me on the road," he says, not seeming to mind the extra attention in the least. "The media attention was new, but it doesn't add any pressure or anything... it's just... interesting," he quips with a mischievous smile.
Kumar plans to play cricket for as long as he can. "I want to be recognised as a good batsman and a good wicket keeper. To contribute something worthwhile and be a fruitful part of the team." After he finishes his cricketing career, he hopes to move into the legal profession.
Charisma, a strong persona, and bags of talent, Kumar Sangakkara has got what it takes to make it to the top in what ever he chooses. He's got a lot dished out on his plate at the moment, but he seems more than capable of handling it. Typical of his nonchalant, 'no sweat' attitude, he leans back and says, "all this is just another part of my life. It just makes me a cricketer now."

---
Antioxidants: Nature's secret skin guardians
In your cells there are scavengers, or 'bad' molecules called free radicals. They eat away at cells, destroying them. This can result in illness and is also thought to be a major contributor to ageing.

Besides their natural occurrence in the body, free radicals increase as a result of external conditions, including ultraviolet sun exposure (direct and indirect), poor health, stress, environmental pollutants, cigarette smoking and inflammation.

While you can reduce free radical damage through adjustments to diet, lifestyle and environment, you will never do away with them altogether. This is why antioxidants, the 'good' molecules that combat free radicals and help restore cellular balance, are important.

Antioxidants are present in some skin care products, in the form of vitamins A, C, E and Provitamin B5. All help provide protection from free radicals. Vitamin A stimulates cell division and collagen production, to even out blotchy and uneven skin tones, reduce the appearance of lines and improve skin radiance. It can also increase the number of immune cells in the skin to help prevent infection. Vitamin C stimulates collagen production and helps maintain tissue levels of vitamin E. Vitamin E helps protect new skin and fight skin damage. Provitamin B5 helps build moisture levels to soften and smooth skin.

---
Jealousy: a fire hard to douse
By Uthpala Gunethilake
There is nothing that can be as stealthy as it is. Going about unheard, unseen, it's busy in the dark reaches of the mind. It's persistent and demanding wailing is almost always at a pitch that calls you away from rationality and things that really matter. Try to kill it, then you realize it has more than nine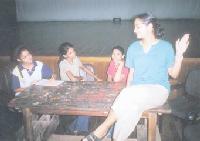 lives. And its eyes are green.

It's one thing to want something or love someone with every emotional muscle you have, but it takes quite a bit of psychological fitness to wrestle jealousy, the dark feeling that swells within you when what you want, be it love or be it that promotion, passes you by on to another's hands. They say it was nature's red alert for the primitive man to guard what he has from enemies and competition, handed down to us along the vein of evolution. The fact that it is pretty strong in us may be a sign that we are not as civilised as we think we are.

However, we do not need Darwin to tell us that jealousy is one of the most natural feelings in the world. It's one of those inevitable tag-a-long emotions that arrive with love, ambition, attachment and wanting. All of us have felt its insatiable prick at one time or other in life, though it might not have wrenched out our sanity as it does in its ugliest form. But here I'm not talking about the nagging envy that clamours in your head every time you see the cutest guy in the neighbourhood hanging out with someone other than you. I'm talking about the kind of jealousy that scruffs you by the neck hard enough to suffocate, and shakes all sanity out of you, sweeping you off in a whirlwind of irrationality that will leave many around you hurt in its wake.

History and literature are full of stories inspired by this age old human failing, and there must be thousands of unwritten tales recording the havoc caused by jealousy in relationships. But jealousy doesn't destroy relationships only: it destroys people, the jealous as well as the one towards whom jealousy is aimed at, their hopes and what they live for. Apart from the famous mother-in-law versus daughter-in-law battle, jealousy can fester in any relationship-family, friends, workmates- and in any environment.

What causes jealousy? "Insecurity", answered Saumya (20) without a moment's hesitation. "Basically, when you don't like who you are, you begin to be jealous of what other people are," she added.

In relationships too, insecurity is the culprit when jealousy sets in, sweeping away mutual trust. Feeling inadequate within a relationship, you become immediately suspicious of any influences coming from the outside and become possessive of what you feel you own. All hell breaks loose for the boyfriend who happens to glance at a girl across the street, or the wife who happens to smile back at a man who smiled at her. The mother finds it hard to let the daughter-in-law share what was so lovable in her son. This is the irony of jealousy: love can also cause bitter hatred for the loved.

Where possessions, rather than people are concerned, jealousy is an expression of discontentment with what you have. Competition sparks many ugly situations in schools, workplaces and other environments where a battle for status and better prospects is being waged.

Whichever way it is lit up, jealousy is a fire that is hard to douse. In its feverish frenzy it will pick up the innocent mistakes that litter relationships and turn them into rockets of fire, destroying what was once cherished. It also closes your mind to the beauty in people around you.

Do we have to be so petty minded in order to get through life? Being jealous will not get you one bit closer to what you want to have, be it status or another's heart. It just drags you further and further away from what's wonderful in life.

Security and self-worth doesn't come easily and it doesn't come fast, like all other worthwhile things in life. To like yourself, you have to be a likeable person, and maybe a mind free of jealousy is the first step towards becoming that person. If you don't like yourself, loving another truly is the remotest of possibilities. This is when relationships get mired in the slush and mud of mistrust, possessiveness and insecurity.

Life is full of beautiful things, but you can't have them all. But by truly appreciating and admiring what is wonderful in another person, you share all those good things. Maybe these words by an unknown writer will sum it up; "Appreciation is a wonderful thing. It makes what's excellent in others belong to us as well."