Sweet temptation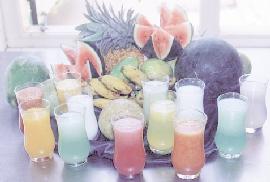 Pineapple Faluda
1 tin Milkmaid (525g)
5 tinfuls chilled water
2 tsps rose essence
2 tsps kasa kasa (soaked in water)
1/2 cupful pineapple pieces
red colouring
6 scoops vanilla ice cream
Mix the water and condensed milk in a jug. Add rose essence and colouring. Put in the kasa kasa and mix well. Add pineapple pieces and one scoop of vanilla ice cream on top before serving. Serves six.
Approx. cost-Rs.120
Cream Caramel
1 litre fresh milk
6 eggs
3 1/2 cupfuls sugar
3 tbs cornflour, dissolved in cold water
2 tsps vanilla essence
3 cardamoms, peeled and crushed
Beat milk, eggs, sugar, vanilla essence, cardamom and cornflour in a bowl or blender, and steam or bake until set. Brown the remaining sugar and add half a cup of water and keep stirring till it forms into a caramel. Turn the pudding upside down on to a plate and pour the caramel on top. Chill and serve. Serves six.
Approx.cost Rs. 75
Jelly drink
2 pkts strawberry jelly
1 cup boiled water
6 glasses of chilled water
2 cupfuls sugar
1 cupful pineapple cubes
half a ripe mango, cubed
1/2 cupful apple pieces
Dissolve the two packets of jelly in boiled water, add iced water, sugar and stir well. Mix in the fruits and serve. Serves 6-8.
Approx. cost Rs. 100
Mango Delight
Juice of four ripe mangos
4 tbs cornflour dissolved in cold water
2 1/2 cupfuls sugar
1 cupful fresh milk
2 tbs custard powder
plums and cashew nuts
Boil together the mango juice, cornflour, sugar, custard powder and milk.Keep stirring until the mixture thickens. Set in a mould. Add the plums and cashew nuts on top, cool and serve. Serves four.
Approx. cost Rs. 120
Avocado Faluda
2 litres fresh milk
4 ripe avocados, scooped
2 1/2 cupfuls sugar
4 scoops vanilla ice cream
2 tsps kasa kasa (soaked in water)
1 cupful jelly crystals (strawberry)
Prepare the jelly and cut into small cubes. Mix the milk, avocado, sugar and ice cream in a blender. Put in the kasa kasa and stir well. Serve in tall glasses with jelly crystals on top. Serves six.
Approx. cost Rs. 75
Mixed-fruit Faluda
1 tin Milkmaid
four tinfuls chilled water
2 tsps rose essence
1 cupful pineapple cubes
1 cupful mango cubes
2 tsps kasa kasa soaked in water
4 large scoops vanilla ice cream
red colouring
Mix the condensed milk, water, rose essence and ice cream in a blender. Add colouring and kasa kasa and mix. Serve in tall glasses. Finally put in the mango and pineapple cubes on top. Serves six.
Approx.. cost Rs. 150

---
100 WORDS
Thank you for the contributions sent in on 'Yesterday' to the "100 Words" page. The theme for September is 'Song'. Please send in your contributions before September 18 to
Madhubhashini Ratnayake
C/O The Sunday Times
P.O. Box 1136,
Colombo 2
---
Yesterday, Today, and Tomorrow*
Yesterday, Today and Tomorrow
Only a fragrance in the night's breath
Three shades of blossom
On one tree

With roots that search
Past present future
With words
We write our lives
Resurrect the dead and
Reopen the lips
Of their black night's wound
That the blood may not congeal;
Light the white candle
At their futile tomb
Let the flame rise

Sing of the fragrance
Of the three-blossomed tree
Sing the strange fire
Of the nearing star
Words are the blood
Words are the flame
Words are the fragrance
Of the three colour tree

*This is the name of a bush. Its blossoms are dark blue, pale blue and ultimately white.

Anne Ranasinghe

---
Yesterday and Today
Yesterday I exulted at your wedding
Beat out my joy on the hot rabana
Relished your sweets and valued the betel
Leaves you gave me as precious tokens

Today you have your wedding
In the five star hotel
The aroma of alien food nauseates me
And the loud music leaves me dumb

Yesterday I wept at your funeral
Burned the midnight oil at your wake
Laid my table out for your mourners
Clasped my hands together at the 'Pansakula'

Today your body lies in the funeral parlour
Your obituary says no flowers by request
I see you in your formal silence
And I leave cold and unrelated.

Kamala Wijeratne

---
Yesterday's Girl
She held my hand
We crossed the busy street-
She scampered on
My white bedsheet;
She's my little girl of yesterday.

She sneaked into my closet
My clothes they fit her right-
She smuggled my recipe book
I thought, 'well... alright !'
She's my little girl
Of yesterday.

She'd probably hold my hand
I'll walk with measured beat-
She'd remind me, 'Ma,
Steady, on those feet.'
Is that my
Yesterday's girl?

She'd probably clear my closet
Not find there much to take-
She'd ask me, 'Ma,
Would you like jaggery cake?'
Is that my
Yesterday's girl?

Roshan Mohideen Mubarak

---
Yesterday
For my sake and yours
I wish today was yesterday.

In a sea of experience
our meeting is but a drop;
But hope, chasing the glimpse of a friend deep within,
Skinned its knee everyday.
The bruises make me wish today was yesterday.

We can look back warmly and wisely at the day
Washed in the healing light of memory, hurtful no more;
Rough edges softened, pangs diminished,
The little, yet revealing doubts, mistakes, judgements all dissolved
Into the muteness and distance we cherish.
A day when curiosity was alive yet not bold enough,
When puzzled we hurried past each other
Forever.

Ama Yasodhara Dissanaike

---
She
The clock ticks.
I take a glance at it
And think again,
How beautiful she was,
Today...
Suddenly the clock strikes
Midnight and I,
Begin to think again,
How beautiful she was,
Yesterday...

Mahasen Senerathyapa

---
The Difference
Yesterday
I was mine
But today
I am yours.

Jayamalee Jayaweera

---
Realization
You were there
Yesterday... and the day before,
Even on the day before...
For about a month..
You have been there.
When everyone moved at their own pace
You stood
Looking, waiting patiently,
I saw it. But I didn't care.
Then it happened...
We were lucky to be spared.
Newspapers came
Then I realized the truth...
It was too late.

Veranja Liyanapathirana

---
Yesterday is the past
Without a backward glance
Yesterday has flown so fast,
In haste to join the past:
Days, weeks, months,
Years and centuries,
Swallowed by Time's invisible seas.
Like the mad woman in the attic,
I've been scribbling
In my diaries every year...
Describing daily pinpricks,
Disasters and little victories.
Now all those yesterdays come crowding back
With memories of childhood joys,
Of melancholy days, dark and sad;
Of melodies echoing in the distance,
And friendly voices heard no more.
Twenty thousand yesterdays have left
Their imprint on my mind and brain.

Jegatheeswari Nagendran

---
Morning makeover
She waited...mesmerized,
Looking at him sleeping, hugging the pillow
And when his eyes fluttered open
His eyes distant...disoriented...
She touched his open lips with a finger and said
"I'm sorry about yesterday..."

With a painful groan
He pulled her to his embrace
With a grip not so gentle...
And whispered in her ear...
"Yesterday was yesterday... this is now"

Malintha Perera

---
Yesterday
Yesterday
Sometimes
Screaming like a banshee
appears suddenly
Like a raven
Perturbs the heart and pricks open
Drains of tears.

Yesterday
Sometimes
Satisfies, like a sweet drizzle
That falls on the petals of a rose.

Yesterday
At most times
Leads life on
Through blossoms and thorns
To the unpredictable future
Or smiles with its damnable grin
Following like a bloodhound
Pushing towards agony
With its uncanny uncompromising hands.

Sanira Suranga Yahampath

---
'Fusion' of youthful talent
By Kesara Ratnatunga
Armed with the power of youth and the magic of theatre, the Interact club of Visakha Vidyalaya hits the boards with 'Fusion' - a thespian extravaganza of five one-act plays.

Organised by the club to raise funds for their up-coming projects, Interactors from Bishop's College, St. Bridget's Convent and St. Peter's College will join the Visakians in staging this event.

In the five plays which have been lined up, the main theme is comedy, intended to entertain audiences of all ages. Directed by the inimitable Indu Dharm-asena, three of these plays will be presented by the individual schools as well as two plays which will be combined efforts. 'Husbands Supplied', 'Plaza Suite' and 'Suppressed Desires' are some of the plays promised by the organisers.

Project Chairperson Sashika Withana says "since drama has become very popular these days, we decided to use theatre as this year's fund-raising project."

The estimated production cost is Rs. 100,000. However, judging by the bubbly enthusiasm of the organising committee, all seems to be going well and a grand show seems to be on the cards.

A large percentage of the proceeds from this event will be donated to 'Ranaviru Sevana' while the remainder will be used to finance several school and community service projects planned by the Interact club of Visakha Vidyalaya.

With around 100 students from the participating schools being actively involved in this project, the organising committee hope to promote inter school relations through 'fusion'.

The event will be staged at the Lionel Wendt Theatre on September 8 and 9, from 7 p.m. onwards each day. The chief guest on the 8th will be the principal of Visakha Vidyalaya, Mrs. R.M.L Jayasekara and the immediate past principal Mrs. M.L Edussuriya on the 9th.

Tickets priced at Rs. 100, 150, 200, 250 and 300 will be available at the Lionel Wendt Theatre from August 29.

'Fusion' is sponsored by Sevana Lotteries (National Lotteries Board), Hatton National Bank and Coca Cola. Media sponsorship is by the Sunday Times.

---
WESTLIFE go west
Reckon you know which WESTLIFE would break the law, distress a diva at dinner or go on a shopping spree? Here Westlife reveal their exploits in the U.S. of A.
Nicky
We hear you went on a few outrageous shopping sprees.
Kian and I both went mad as soon as we got to LA. I've spent an absolute fortune - more than œ5,000!
Didn't it cost you in excess baggage?
We never have to pay excess baggage, cos Anto (Westife's tour manager) always gives out pictures of the band or signed albums.
Was the American food up to standard?
In Manhattan we stayed in an Irish hotel, which served stew, cabbage and potatoes and stuff - lovely!
Did you run up against any unexpected language barriers?
The record company over there soon picked up a few words we use, like 'Knackered'. At first they'd say, 'What's knockered?' but next day some of the guys were using it nearly every other word!
Would you ever consider moving to LA?
I could definitely live in LA - it's cool! although it is very fake. I'd be there for two months then be dying to come home!
Why?
It's not just girls who have plastic surgery to be more beautiful. It seems automatic that, at a certain age, boys as well as girls have nose jobs!
Any outrageous flirting in theWestlife camp ?
There's always flirting going on with us! Bryan was the biggest flirt with the US girls - as usual! He's not really secretive about it. He'll just tell you six months later, 'By the way.....'I really thought Mark was going to hit it off with Mandy Moore, but he didn't!
Mark
What American phrases have you picked up after spending so long in the States?
I pick up accents really quickly and I caught myself saying 'baloney' a couple of times, but it's not a conscious thing, honest!
How did the Americans cope with the Irish sense of humour?
The Irish and British sense of humour is really, sarcastic. You say things and people know you're messing, but in America they take it so seriously. I was always putting my foot in it.
Who's the biggest fan of American food?
We're all big fans and if we stayed out there any longer , we'd be coming back looking like Rab C Nesbitt! All we eat over there are huge steaks and burgers, and the portions are absolutely massive.
So there must've been some dinner disasters?
Yes, the night we had dinner with Mariah Carey. Mariah's one of those people that the slightest remark can put her off her whole meal. She was telling us this, but Bryan didn't realise how serious she was, so he said her plate of seafood looked like a bowl of snot. And that was it, she put her knife and fork down and said, 'I can't eat that now' and Bryan and me were like, oh no, we've upset Mariah Carey.
What about your wild partying antics.
Bryan's portrayed as the mad party animal of the group, but most times I'm out there with him.
You must have gone out and let your hair down for your birthday.
I wanted to go out to this club, but they were having none of it so I just sat in my hotel room and read Angela's Ashes. There was nothing else I could do. The place we were in was so dull as well.
What about the Mandy Moore incident?
Nothing happened with Mandy Moore - honest!
We went out a couple of times, but when I first met her I didn't realize she's only 16. She's a lovely girl, absolutely beautiful. And we had a great laugh - but really, nothing happened. We've kept in touch even though we're on opposite sides of the world, but at the end of the day we're just good friends.
Shane
Did you act like crazy tourists in the U.S. of A?
We went to Disney World and I did the dodgiest thing ever. I hate roller coasters. Hate them! But there was this thing called the Aerosmith Rock'n' Roller Coaster - supposedly one of the fastest roller coasters ever. The other lads had been on it the day before, so they knew exactly what it was. But they told me it was a theme ride through Aerosmith concert footage. I didn't have a clue! I sat in this seat next to Nicky and just as I realized Nicky said, 'Sorry, Shane!' I started shrieking. It was brilliant though - I went on it another four times!
You must have gone on a few mad shopping sprees?
Well, I kind of did. I bought 20 pairs of trainer ankle socks for some reason! I know you can get them anywhere.
Who spent the most amount of money?
Well, I bought a Rolex and thought I was actually saving money. But then I worked out the sterling rate and ... well, I ended up spending œ3,000 on this watch when I thought it was œ200! Nicky and Mark bought Breitlings, Kian got a Rolex, Bryan waited and got his Breitling at Harrods.
Were you adventurous when it came to trying out new food?
I'm not into trying weird food. I try to eat healthily,
Any wild nights out clubbing?
It was really hard cos they're very strict about drinking under the age of 21. Nicky was the only one who was 21.
Are American fans more attractive?
Not really. But American girls have beautiful skin, you know. Maybe it's cos they're browner. All we had to do was speak - they loved that!
What lengths did the fans go to meet you?
A lot of them tried to sneak in by saying
they were related to us or they were Irish. Some actually got backstage. American girls are very good talkers.
-TOTP