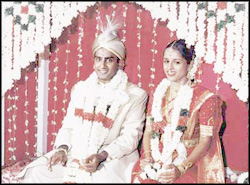 It was a wedding with a difference when Dinesh Sellamuttu tied the thali for pretty Sonali Senaratne on July 5, at Sri Ponnambalanvaneswarar Kovil, Kotahena. All the Hindu customs were followed at the registration ceremony. Pic. by Gemunu Wellage

---
Chantal Hiranthi (Obeyesekera) de Saram
My life is rich
Down Memory Lane
By Roshan Peiris
When she was 11 she met Lady Olive Powell who launched the Girl Guide Movement worldwide. " I met her with my grandmother, Lady Obeyesekera who herself was an active and dedicated Girl Guide," says Chantal Hiranthi de Saram who studied at Ladies' College.
I also remember the time when my grandmother, took me, a five-year-old kid, to have tea with Miss Simons, the Principal of Ladies' and Miss. Hitchcock the Vice- Principal.
"Those days," Chantal mused, "many missionaries like Miss Simons and Miss Hitchcock came over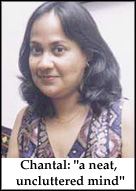 here with visions of making life better for the underprivileged and looking after them."
"My father (James Peter Obeyesekera) was, as I remember, a stickler for discipline and courteous behaviour," she said.
Chantal said she loved sports, specially running, swimming, tennis and netball. "Royal College boys climbed walls and trees to see us playing, specially me whom they considered a neighbour since the school was opposite my house. I, though, did not like having Royal College boys as my chosen escorts!"
"My life is very rich in memories. I am sorry that father is ill today. My mother taught me by precept and example the value of doing social service. To focus on orphan children, I even ran an orphanage at Watupituwela.
"This had a tremendous impact and gave me a first-hand knowledge of poverty and deprivation. It gave me while still young, memories to fall back on what poverty and maladjustment of the poor could be. This memory has remained with me all my life."
Chantal also paid a glowing tribute to mother Siva, who taught her while young, the value of local crafts and the pride in weaving our own textiles as had been done in the past.
Her eyes took on a far away look as she recalled, "I made trips by train to Jaffna with my parents, to bring down ponies. These were regular trips in the course of which I learnt to speak Tamil, as well."
This attractive and intelligent woman considers her home, husband and children as the main focus of her attention.
"The biggest experience that comes to my mind is that one thinks of the family above everything else and forgets to look after one- self."
She says, "I am a devout Anglican and all phases of my life have been guided by my religion.
Chantal is a calm, self-reliant woman with an uncluttered home and a neat uncluttered mind that goes with it.