---
Cricket is only one medium for Gwen
By Rohan L. Jayatilleke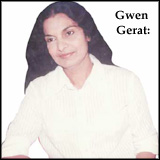 Cricket is only a facet to many of her talents. She strikes as a woman who knows what she is about and they are not confined to cricket alone but so many intellectual subjects. Gwen Herat is one determined woman who has set her cap on winning the Women's World Cup 2000. While her zest and energy is a tonic to the team, her enthusiasm is enough to convince that they should all 'go for the kill.'
If Gamini Dissanayake is the mentor for men's cricket, Gwen Herat is undisputed for women's cricket in Sri Lanka. Ironically, it was Gamini Dissanayake who induced, persuaded and nurtured her career as a top administrator of the game. She watched him sweat it out in his endeavour to gain Test status for Sri Lanka and she too was behind the scene with him. He inspired Herat until she gained confidence, long enough for her name to become a household name in cricket both in men's and women's cricket. Gamini Dissanayake established the Puttalam District Cricket Association in the early '80's and she has been President or Vice President till last year when thugs and hooligans invaded the meeting the way they had done earlier to all Presidents of District Associations who were politically opposed to the present Government. In disgust, Herat resigned and was followed by all office-bearers. She had done tremendous amount of work in the upliftment of cricket in Puttalam District which was way ahead of the other district associations. That put a stop to one of Sri Lanka's honest and dedicated cricket administrators and cricket was the loser. Since then she has watched the decline of this gentleman's game. With a flawless character, Herat has risen above politics in cricket.
However, women's cricket has a clean sheet for the moment and the reason why the Women's Cricket Association of Sri Lanka remains an independent body. As President of WCASL, Herat is very clear on this, stating the IWCC (International Women's Cricket Council) like the ICC (International Cricket Council) they remain independent. She points out that it is only in Sri Lanka that cricket is monopolised by the Ministry of Sports. Cricket must be an independent body, duly elected among credible persons of high repute who are beyond corruption. There must be a new system by which the game is safeguarded and perhaps a commission to overlook irregularities, if any, Herat said. She also emphasised on the fact that the President of the BCCSL must be nominated by the incumbent President of the country because he or she automatically becomes the Patron of the BCCSL. This will clear the way for the right person because the President of the country is not going to make a mistake of the choice.
As the dynamic President of the WCASL, Herat has achieved a great deal in such a short time. Their team qualified in the Qrt-finals at the Women's World Cup 97 at debut, stunning the rest of the member countries of the IWCC.
She has very little regard for the newly formed national body for women's cricket because it is a white elephant she said. They can never play international cricket locally or internationally without getting our approval. They were snobbed by the International Women's Cricket Council as we are the constituent member and are in the SUPER-8 for the Women's World Cup to be played in New Zealand.
The IWCC is made up of 22 countries and none of them will have anything to do with this body. Our association is highly respected for integrity among all nations she said. Infact, they are misleading many young girls who do not know the correct picture.
WCASL was inaugurated four years ago at the Board of Control for Cricket in Sri Lanka who guided us through even in the process of drawing out our own Constitution. Later, the BCCSL adopted our association as the representatives of women's cricket in Sri Lanka at their Executive Meeting and informed the Sports Ministry. After that, we took off to the Women's World Cup 97.
Herat feels strongly that the Sports Ministry should scrap this board if women's cricket is to improve in Sri Lanka.
They work as a team at the WCASL. Herat is ever grateful to Guy de Alwis who made everything possible, kneading a professional outfit from novices to stun the world of cricket. This time it is going to be better as the girls are more confident and experienced.
She has a special word of thanks for her Secretary, Mrs. C. Munaweera who spares nothing to get everything done on time. To all her sponsors who have faith in her, Herat says our triumphs will be dedicated to them without whose generous sponsorship, a tour to New Zealand would not have been possible.
Gwen Herat has not confined herself to cricket administration alone. She is a profuse writer of the subject and has already written two best sellers, Tomorrow's Cricketer and Turf Heroes.
There again it was Gamini Dissanayake who coaxed her to do so. His prodigy has come a long way amidst turmoil and hardship but if he was alive, Gamini Dissanayake would have been so happy for all what she has achieved.
Being the wife of a politician who held so many portfolios, she never permitted any political influence but kept above in a true ladylike manner, a fact known by all in cricket circles. I could go on writing about this talented woman limitlessly but end up quoting what Professor Laksham Marasinghe wrote in a Forward in one of her books, 'Gwen Herat represents the modern Sri Lankan woman the world would wish to meet..... Well-read, informed, Herat has sailed through arts, literature, sports and to politics with the ease and elegance of a much accomplished Third World Woman.
She is a versatile and popular writer and ranks high as a critic. She is a role model for woman'.
In retrosect the writer, Gwen and Christopher Periera, then assistant Secretary of YMCA Kandy organised in 1983, a cricket tournament among girls' schools of Kandy and the first match was played between Good Shepherd Convent and Mahamaya Girls' College in which Mahamaya won.
The tournament for Gwen Herat Challenge Shield was stalled by the Education Ministry as cricket was not a game then approved for girls schools.
Pauline Burce of outstation, who captained the women's cricket team of Western Australia, when Australian Test cricketer Rod Marsh was skippering the men's team of the same university in 1983 was on a teacher training programme in Kurunegala when she took up this question of non-recognition with the then Minister of Education Ranil Wickremesinghe and followed up with the question in cricket journals of Australia and England.
This is the spade work done by Gwen and the writer, and the later promotion are only birds of passage.

---
Sports should foster understanding, but not enmity
Bernie Wijesekera

Cricket must be played to learning people together rather than creating enmity said Lt. Gen. Tauqir Zia, the Chairman of the Pakistan Cricket Board, in an interview with The Sunday Times . Gen Zia was here to witness the triangular series between Sri Lanka, Pakistan and S.Africa. He gave an exclusive interview which gave much food for thought, be it players, administrators and the umpires in general. At present this gentleman's game is plagued and tarnished by scandals due to greed - money and lust.
Came to know Gen. Zia whilst on tour with the Sri Lankan team to Pakistan early this year. Zia, a firm disciplinarian, a man of few words, but has the ability to resolve problems with kind words, which is his most powerful weapon. To a boiling pot, flies come not. But his melting heart will always strive to solve even media problems, from whatever quarter. He takes full responsibility for whatever action he takes. Zeal is fit only for wise men. That's what Gen. Zia did when he spoke to me prior to his departure on July 13.
Good Relations
How do you look at sport?
Sports should be played to foster good relations with other nations for cricketing values, your physical fitness and understand the culture and human beings of the opposition.
That means there is more cricket off the field than on the field? You are right. Be it success at the height of your career its all temporary. But character and how you play the game are the most important ingredients. Pakistan has cordial relationship with Sri Lanka. It has to be further strengthened, but not to be soured by petty issues. It doesn't matter who wins, but strive to play a straight bat at all times.
One must enter the field to win a match and put in one's best. However losing should not disturb and one should learn lessons from such defeats. it's not the end of the world.
Today the game is too professional with big money at stake. It has lost some of its values in some quarters?
I agree with you. But money is not everything in life, one must strive to live with honour and die in dignity.
Any comments about umpiring and inconsistencies in their decision- making which has caused much heartburn apparently among players and fans alike?
There is some truth in what you say. The game has become so competitive and nations are so involved in cricket. It's better to have neutral umpires even for home series. There is a tendency at times for the umpires to show a blind eye when officiating in a home series. It should not be so, but it may happen. It isn't cricket and it's happening. A good example - Pakistan lost the Test series in the West Indies due to very poor umpiring. The match cost Pakistanis creating history at Antigua. While the technology is available it would be advisable to make use of this for close decisions like bat, pad and a caught behind.
Human errors
There may be human errors. Diseases are the price of ill pleasures. Any comments about umpiring in the ongoing series? I don't want to make issues. But I would like to mention, how Saeed Anver was ruled out off a no-ball hurled by Vaas. The umpires are well paid unlike in the past. It's their prime duty to be fit and alert and act without fear or favour.
All cricketing nations and its governing bodies should take notice to overcome it. As I mentioned earlier it's not winning or losing, but play it in the correct spirit. The umpires have a big hand to this effect. That means the outcome is secondary.
How to overcome this malady? The best way is to have neutral umpires even for your home series. I have brought to the notice of the ICC. It's their prime duty to resolve it. Don't you think the umpires, must possess mental toughness and act according to ones conscience in whatever level of cricket. They could apparently make or mar a game? There is some truth in what you say.
There is unwarranted appealing which has raised its ugly head. The bowlers constantly keep on pointing the finger at the umpire Once the umpire has given a decision there is no point appealing again as the umpire would not revoke his decision. It's here that the team management should teach their team to desist from such practice.
Any comments about the media and its role? Media has a very important role to play in cricket. They should be truthful . biassed comments will not help the game. It's really important for the media to cover the domestic season. It is only then that young players will learn when they enter the big league.
It should do well that some of our local John Arlotts and Brian Johnstons take note of these suggestions.
Finally Zia "the officer and a gentleman" said, that it is also necessary that countries provide good facilities to the media. Bad facilities only cause frustrations and media men cannot perform their duties well.
without doubt the facilities afforded to the media by the PCB were excellent. Seeing is believing.

---
14th Asia Pacific Age Group Swimming & Diving
We wish to thank you for selecting our daughter Harini Jayasekera for participation at the above Championships.
We are however disturbed that we have once again this year been asked by the NAASU to meet the cost of food, lodging and airfare for this meet amounting to Rs 90,000/= .This is the seventh Asia Pacific meet for which our daughter has been selected and except in one instance (in 1997 where the Ministry of Sports bore 50% of the cost), we have had to bear the entire brunt of expenditure.
Complete details of our expenditure in respect of our daughter's participation at Asia Pacific meets are given below.
Year Meet Description Country Venue Expenditure
1994 8th Asia Pacific India 28,600/=
1995 9th Asia Pacific Sri Lanka 3500/=
1996 10th Asia Pacific Korea 75,000/=
1997 11th Asia Pacific Taipei 75,000/=
**50% from Ministry of Sports
1998 12th Asia Pacific Malaysia 45,000/=
1999 13th Asia Pacific India 50,000/=
Total Expenditure: Rs.239,600/-
This total of Rs 239,600/= does not include amounts we have given for each trip as out of pocket expenses to our daughter. It is ironic that all this money has been spent by us on our daughter, so she could represent the country and bring at least some honour to our country when the organizing body does little and earns kudos and glory in the media for an excellent job done in "Promoting the aquatic sports in the international arena". All the while, it is the responsibility of parents who have to scrape the bottom of the financial barrel to ensure a child's participation in these International meets , due to the lethargy and ineffectiveness of the NAASU. I am aware of parents who have sold their assets and got into debt just to see their child participates in these overseas meets. After all, which parent can, after a child does his/her best and reaches a qualifying standard is able to tell this child "Sorry Putha/Duwa, we have no funds, so I guess you'll have to stay home. Anyway, as a special treat we'll take you to McDonalds instead!" This is a classic instance of the Organizing Body twisting the arms of parents by taking advantage of their love towards their offspring.
I have always been puzzled by the so called "Sponsor letters" distributed with the letters of participation. Are these to be used by the kids or parents? If the former, are the kids expected to stop schooling, training etc. and visit offices and business houses to ask for money? If so, isn't NAASU guilty of child exploitation?
If the latter, are parents expected to tell the world (business associates, uncles, aunts god-parents, former servants etc.) that we do not have the required funds to give our child the opportunity and we are therefore begging for a hand-out ? Come on officials of NAASU - it is not too late even now to stop thinking of foreign participation when you have no funds. Either that or to get your act together and start raising funds for the Association (Perhaps you could modify those sponsor letters and start visiting business establishments yourselves!!) You could even obtain the advice of the parents on how funds can be raised. If you recall, the parents organized a highly successful Fund Raising Musical Show, a couple of years back. A souvenir from this show with it messages makes interesting reading.
The other gentlemanly alternative would be for NAASU to issue a statement to the public that aquatic sports are for kids from affluent families and that those who do not fall into this category should keep away from the sport. This way, parents can direct their children towards other sports which do not have financial restrictions of this nature and thereby spare themselves embarrassment and heartache.
Each year, we are promised by the President at the time that next year, things will be different. Next year, milk and honey will flow in the land of NAASU. Each year, we parents have looked up to the President with hope and trust and believed. However, each year, it is parents who have to foot the bill. For us this time enough is enough. Whilst thanking you again for selecting Harini for participation, I wish to state that unless at least 50% of monies are found for her by NAASU, we will not be able to supply the funding requested. - Gemunu Jayasekera

---
The scourge of sledging
By Michael Roberts
It is on considerable foundations that the Australian cricketers have been considered the worst sledgers in the world for quite some time. Through unilateral action in the 1970s a number of Anglo-Celtic cricketers from the oldest and premier cricketing countries introduced this species of verbal assault into a game normally decided by bat, ball, captain's strategy and luck. The Australians have since been at its cutting edge and the sledging 'locust' has been added to the armoury of most teams.
Sir Vivian Richards' criticism of the practice has come at an opportune moment for the storm over betting is in contrast to the curious body of legitimation espoused in support of sledging. The ACB has joined this chorus of defence by challenging Viv Richard's claims. Lara, they say, bullied Glenn McGrath as much as McGrath bullied Lara by way of foul mouth. Lara's crime was to score centuries. I have always thought that it was a batsman's duty to score runs, many runs. And I was also under the impression that it was the bowler's task to dismiss a batsman by guile, speed and art rather than foul mouth.
The ACB defence of their charges is nothing less than casuistry one that is of the same order, albeit more prompt than the machinations of the Pakistan cricket authorities in the betting investigation. And to speak of McGrath being adequately punished by reprimands and miniscule fines is a joke. What sledging does is undermine the spirit of cricket. In defending sledging on air several 'respectable' cricketers who are now commenting on the game have condoned a practice that has done as much as the cheating bookies to sully the game. Their legitimising arguments assume that the street corner rap talk so familiar to the Western world is a universal phenomenon and is the quality that distinguishes real men from little boys. This is macho talk (of the sort Richards also indulges in). It is also an act of cultural imperialism that universalises Western male practices as the defining practices of all human beings. This article comes to us through Tita Nathanielsz who was able to persuade Michael Roberts to release this article to us. We also acknowledge the courtesy of The Wicket.com.

---
An opener in cricket is not a born specialist
By Thushara Kumarasinghe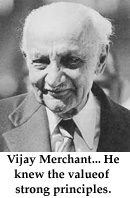 "The debate is on, some people are crying themselves hoarse that we need specialist openers in our National team. Fair enough, but what exactly makes players." specialist openers? Are they christened with such an appellation? Or are they the ones who have regularly gone in first since their school days? Or are there other factors involved not apparent to laymen?
Whatever be the definition of 'specialist openers' cricket addicts are well aware that men like Vijay Merchant (yes, Merchant). Mushtaq Ali, Vinoo Mankad, Pankaj Roy, Motganhalli Jaisimha and Ravi Shastri among others form a paradigm which does not belong to that group.
Shastri like Mankad began as a spinner, as did Mushtaq Ali. Both Roy and Jaisimaha began their successful careers in first class cricket batting down the order. And, surprise of surprises, the greatest of them all, the one and only Vijay Merchant never opened an innings, till he set his foot in England in 1936, while playing for Bombay or for the Hindus in the quadrangular and pentangular tournaments. Vijay Merchant was a prolific performer in the middle order. And it may amaze some that he even made his debut in Test cricket at number 06! Does it mean that Vijay Bhai was not a top quality opener? The phenomenal batsman has a first class average of 72.35, second only to Sir Donald Bradman,
The career of Merchant would give us an idea of exactly how transformations take place. Call it fate or accident, there is no denying that the best laid plans do not always yield the desired results in this most uncertain of all ball games. Before reaching England, Merchant had played 12 innings in two seasons of Ranji Trophy cricket. Not once did he open the innings. Similarly not in the quadrangular in England in 1936. He began as a middle order batsman, broke a finger in mid-May, and came back in six weeks' time to find that the team had not yet settled down to any semblance of sanity in the batting order.
Merchant requested his captain Vizzy to allow him to open the innings, and thus began a new and fruitful chapter to his Test career. He opted to open and applied himself, I suspect, to stay away from the intrigues and worse that pervaded and polluted the Indian dressing room on that tour.
As partner he found a man who was his perfect antithesis, the mercurial Mushtaq Ali. The pair put up 203 for the 1st wicket against the likes of Allen, Gover, Hammond, Robin-son and Verity Cardus who waxed eloquent over Vijay Bhais methods and wisden was quick to confer on him their much coveted "Cricketer of the Year" award. but then why was this middle order batsman so very successful in the unusual position of an opener?
Plain and simple, he had both the qualities required to bring about success: willingness and capability, which in the modern lexicon would read spirit and skill, just for some stunning alliterative effect. Before he set sail for England, Merchant had no previous first hand experience of English conditions. So he diligently set about to prepare himself with the guidance of men who had gone to England in 1932. Merchant invited his friend, the great Amar Singh, to bowl to him on wickets laden with early morning dew at the Hindu Gymkhana nets in Bombay. Wonder how many of the present day so-called professionals would have the inclination to apply themselves so assiduously.
The preparations did not go waste when he volunteered to open in England. The same technique, the same intelligent application, the same dogged will power of those early morning nets had prepared him for the travails that lay ahead. And then when the opportunity came the willingness ahead and the capability were manifest in style and splendour.
A plethora of Test matches today on sun-baked, tarpaulin-covered pitches have turned batting aggregates topsy-turvy. Little do we realize that even 30 years ago the pitches were exposed to the whims of nature and it needed quality batsmanship to succeed consistently on those pitches. On those insane pitches balls behaved like clowns. Merchant made the English critics not only rub their eyes in disbelief but actually wince, it was a terrible English summer in 1946, incessant rain and post war shortages made life miserable for most. Merchant merely took the deprivations in his firm stride. He relentlessly batted on and on, on wickets where Hammond, Hutton and Compton struggled, Merchant hoarded 2,385 runs at will with an average of 74.53! for a man of strict vegetarian diet, who relied, mainly on bread and fruits, to have played almost without rest for 6 months was in itself a minor miracle, Merchant did not believe in such luxuries like lack of motivation and staleness. When he went out to play it was as if the national flag was draped over his shoulders. For him cricket was a mission.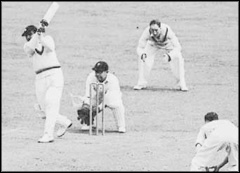 Curiously enough Merchant did not score even 1,000 runs in Test cricket, lest we forget, he played just 10 Test matches over a span of 20 years! And his peak was submerged by the 2nd world war. However, even in that truncated and scattered Test career his average is as high as 47.72. Far more than the modern marvels who have the scope to thrive on placid "designer" pitches and have the opportunity of playing the exact number of Tests that Merchant played (ten) in just one year! How ironical and cruel this game can be. Merchant's cricket career was full of ironies. Even his start to Test cricket was delayed by politics! Yes, politics. On the 1932 tour of England, Merchant, Jai and Deodhar would have been certainties. This was the period when the nationalist movement in the country was in full swing and the ruling Britishers employed atrociously tough methods to weaken the movement. In response the Hindu Gymkhana requested several players including Merchant to refrain attending the trials, and thus he lost out on his cricket career. This was a self-respecting individual's sacrifice for the greater cause of his motherland. Very few of the moderns would have had the character to make such sacrifices. They would talk of restraint of trade, free will, professional income and such other excuses which enhances self- promotion at the expense of National prestige. As it transpired the debut was to come 18 months later against Jardine's MCC team at Bombay in 1933-34 in the match noted for Lala Amaranth's grand hundred on debut. Merchant batted way down at No 6 and with his methodical and composed manner impressed one and all. The batting order made no difference. It was the skill of the craftsman that mattered. Hailing from an industrialist family and with a sound academic background, Vijay Merchant was a confident young man of high principles and values. No fun and frolic for him. His lifestyle, like his cricket, was studious and of character.
He analyzed and rectified. Planned and prepared. He knew the value of strong principles. Those were to stand him in great stead on and off the field, for the sake of the national teams. Vijay Merchant volunteered to open way back in 1936. Willingness was his principal forte. Similarly today when we see our young cricketers like Sachin Tendulkar, Saurav Ganguly and Rahul Dravid, willingly offer themselves to bat at any order including at the start, our hearts go out to them. These are kind of brave cricketers we need, who would not think of their own position in the batting order as long as the team cause came first and foremost. Let us please not blind ourselves with such vague ideas as 'specialist openers'. No unwilling horse can be successful at the post, no matter the number of opportunities and coaxing.
It would be a tragedy if unwilling players were asked to open, for them their chances would be slim, indeed as happened to quite a few Indian cricketers in the post. There is no reason to be dogmatic about tags. An opener is not born a specialist. He becomes one by virtue of willingness and skill.