Snoopy in court
By Hiranthi Fernando
Every dog has his day and it was indeed little lost Snoopy's day when his rights were upheld in an unusual case in the Gangodawila Magistrate's Court recently. Magistrate S.C. Karunaratne held that it was wrong for a person to take the dog away from his locality even if it comes trustingly when called.
Snoopy, a Pomeranian had been found in the Balapokuna area. When a taxi driver called him, the dog had jumped into his vehicle. According to the driver he had asked the people around whose dog it was, but as nobody seemed to know he had taken him home, court was told when the case came up for hearing on June 13.
Later the man and his brother had gone around their neighbourhood asking people whether anyone wanted a pedigreed dog. Fortunately, for Snoopy, one house they called at was that of Sathwa Mithra President Sagarica Rajakarunanayake. Thinking that they wanted a home for the dog, Sagarica had gone to the address given, but the driver had refused to hand over the dog saying it was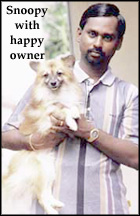 for sale.
Explaining that he had no right to sell the dog, Sagarica had requested him to come to the Kohuwela Police Station. The driver however had refused. Then she had reported the matter and a police team led by Inspector Ranjith Ambegoda had picked up the dog from the driver's home. The dog was produced in court the next day.
Sathwa Mithra had made arrangements with the Animal Welfare and Protection Association (AWPA), a member of whom was also present in court, to care for the dog at its transit home. The driver had also retained a lawyer and sought permission to keep the dog.
Observing that the animal's welfare was the important factor, the Magistrate ordered that the dog be handed over to the AWPA until the owner was found.
Two days later, Sagarica found the young couple, Danika and Anusha de Silva. With proof that they were the owners, it was back to court to claim the dog, which was by this time identified as Snoopy.
Kohuwela Police Officer-in-Charge P. Kaviratne said it was the first time, in his experience, that such a case was taken to court. Although there have been instances of owners resorting to court action to recover lost or stolen dogs, this was the first where an organisation had gone to court on behalf of an animal of an unknown owner.