Contents
---
"Joe will live in our hearts forever"
The untimely and tragic death of Joe is an irreplaceable loss to us in the music scene. It's always a difficult and painful task, to cope with a death of a friend who's been a part of one's life for so long.
The friendship between the two of us goes back about two decades, when we were, mere amateurs embarking on our dreams of being budding musicians in our teens. With a few years in the local music scene, we found ourselves heading for greener pastures where we spent most of our lives.I was already a part of a successful musical outfit and Joe joined us.
The album " rain" which was a brilliant piece of work was his brainchild. He wrote almost all the songs. I was deeply touched by the fact that I was the " chosen one" to do the vocals on the song he had writen for his daughter Sarah.
I remember spending countless hours together over this track, because I had to convey a father's love for his daughter. The only words he ever voiced for the entire album was, " I love you Sarah".. He was a musical genius, with talent of great magnitude. His quest for writing music had far reaching effects on the music scene.
I was present at his last performance . His final song, James Taylor's rendition of " You got a friend" had a touch of sadness to it. Looking back it seems as if he was reaching out to someone !! As I bade him good night and with a few words of sweet assurances of catching up. Never did I imagine that a couple of days later I would be dressing up under hot sweltering conditions, to witness his final poignant journey.
Joe was a sensitive person who wanted his life to be conquered by love and magnanimity. He was the epitome of an ideal partner, because he would go to every length to keep his partner happy, which moved us to quip in mirth, " hey Joe can we marry you ?"
On behalf of my colleagues Geoff, Derrick, Chris, Pramukh, Kevin and Lal (Not forgetting Najo, who used to be our spiritual mentor) we say thank you for the the friendship, music fun and the laughter !! At this sad time when the joy is turned to aching grief, derive much solace , from our memories of you. We bid you farewell my friend, till we meet again , may your soul rest in peace.
" Would you know our names if we saw you in heaven...Time can bring you down, time can bend your knees, time can break your heart, have you begging please"----
Damian Wikkramatillake
---
Wind Surfing at Bolgoda Lake
Aqua Pearl Lake resort offers you and your family an opportunity to enjoy the wonders of nature, the sound of the Birds, Windsurfing and water Sports, Tennis, Pool etc. A swimming pool with Kiddies pool. A taste of Eastern and, Western Chinese, 22 chalets equipped with attached baths.
It's more than just a hotel it is nature at it's best and now with the backing of the Bolgoda Windsurf School it's offering Windsurf training to beginners, with special windsurfing holiday package for the weekend. Also Kayaking expeditions to selected spots in the Bolgoda Lake to study bird life, flora and fauna is available on Sunday with prior notice. In addition Paddle boating, Boat rides, sailing too is available. Aqua Pearl is also popular hideout for weddings and for honeymooners. Located on the banks of the famous Bolgoda Lake, Sri Lanka's largest natural lake. The hotel is located close to Colombo on the Moratuwa-Panadura Road just 45 minute drive from Colombo.
Information on water sports can be obtained from the school on 074 212845 or from the hotel on 034 32960.
---
'Horizon': Where the sun never sets
By Sanath Weerasuriya
Koggala was a dying place for me before I visited 'Horizon' a couple of weeks ago.
Whenever I passed Koggala I could see the half dead 'Free Trade Zone' and haunted type hotels by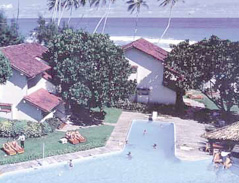 the beach side.
But I could not believe the activites going on inside the 'Hotel Club Horizon'.
'Hotel Club Horizon' has 73 A/C rooms with all modern amenities and 22 bungalows. 'Horizon', just eight kilometres aways from southern city Galle.
Three star hotel, one of the oldest in the area, is 24 years old and now managed by Confifi Hotel Management.
"Confifi took over about three years ago and I could see the improvement of business not only in the hotel but also in all connecting trades," said General Manager Upali de Silva, who has years of experience behind him in the hospitality industry.
Upali was at 'Horizon' for more than fifteen years except for three years, when the hotel was closed completely.
"During the first four months of the year, it was 97% in occupancy and we are very satisfied with when compared with other hotels in the southern region," Upali said.
Most of the visitors to the Club Horizon are from Germany, The Netherland, France and Russia.
"Club Horizon" is one of the pioneering hotels, which practice 'all inclusive' package in club atmosphere.
'All inclusive' means, you pay for your food, drinks, room, travel and other costs at the other end. You do not have to bring much money unless othewise for gifts and souvenirs,' he explained.
"The animation plays a major role in day-to-day programmes. Hotel has three trained foreign animators and four Sri Lankans.
'Sports' is one of the main sections we rely on," Upali said.
Apart from the pool activities and the beach, Table Tennis, Badminton, Volleyball, Dart, Mini Golf, Billiard, Archery, Basketball and Bocia are some of th outdoor favourites.
Animation shows, Ampitheatre and beach parties are quite popular among guests. "There is a 'Mini Club', which is mainly for kids. There are caretakers to look after children. The hotel is popular as family destination and at any given time, it has about 15-20 children around the hotel," Upali explained. Sri Lankan programmes, games and parties are popular among visitors.
Lace making, battle lessons, Sinhala language clases, Sri Lankan traditional cookery demos, 'Paduru Parties' are some of the very popular events among foreign visitors.
"When it comes to meals also we place Sri Lanka in front," Upali said. The buffet always has a "Sri Lankan corner'. Theme nights too popular and B-B-Q nights on beach are the events that guests really look foward for. 'Club Horizon' has an experienced executive chef, Niranjan Moraes, who is the man behind all these innovations. "Repeat clientale is another thing we are proud at. We have at the moment about 10 visitors, who were here at least twice before," Upali said.
Community services is another area, hotel is more keen on. Helping an orphanage close by and distributing dry rations among poor in the area were some of the activites, hotel has organised.
'Ayurvedha Health Centre' will be the latest addition to the 'Club Horizon' during the next tourist season.
Also with the most successful motor races held at Koggala air strip, Ruhunu Motor Sports Club has decided to take 'Club Horizon' as their official hotel for future events.
---
The Melody Maker: Ananda Samarakoon
By D.B.Kappagoda
Rabindranath Tagore's visit to Sri Lanka in 1934 created an interest among the youths in our country to study art , music, dance and drama at the portals of Shantiniketan. Among those who went to India Ananda Samarakoon was one. The others were Deva Surya Sena, Saranagupta Amarasinghe, Anangalal Athukorala, Suriyasankar Molligoda, Sunil Shantha and W.B. Makuloluwa.
Ananda Samarakoon was born on January 13, 1911 at Liyanwila, Padukka. His parents Samuel Samarakoon and Domingu Pieris named their son as George Wilfred Alwis Samarakoon . A Christian by birth, he first studied at Wevala Government School, Piliyandala. In school he was in the habit of writing songs and sing much to the annoyance of his teachers.
He joined Christian College, Kotte in 1919 and passed the School Leaving Certificate Examination and excelled in art and music which enabled him to join the staff of the college in 1934. His father excelled as a violinist and his two brothers' aptitude for art must have influenced Ananda Samarakoon to pursue on those lines.
On May 9, 1934 Tagore visited Sri Pali in Horana and laid the foundation stone for a seat of learning exclusively for fine arts on the lines of Shantiniketan. Tagore's party consisted of 40 artistes. They performed musical programmes in Panadura, Colombo and Kandy drawing crowds.
The interest was kindled in the mind of Ananda Samarakoon to study art and music.
He then proceeded to Shantiniketan and studied art under Nandalal Bosh and music under Shantidevi Gosh. The training he received in India helped him later to experiment different styles of presenting musical programmes.
The singers then sang devotional songs and had limited range of themes. Ananda Samarakoon with his experience was able to create a different mode of Sinhala music based on folk poetry.
Ananda Samarakoon using his experience made several compositions deviating from the popular songs based on Buddhist themes. He used simple themes close to nature which appealed to the young and old. The folk idiom helped him to sing melodies that became popular in the country.
He derived his inspiration from nature. Inspired by nationalism his songs conveyed patriotic feelings when he taught music in several schools, namely; Mahinda Vidyalaya, Galle, Dharmasoka Vidayalaya, Sri Sumangala Vidyalaya Hikkaduwa, Sujatha Balika Vidyalaya, Matara, Ananda Vidyalaya, Colombo, Teachers' Training College Balapitiya, University College Colombo. He also composed school songs for Sujatha Balika Vidyalaya, Matara and Rahula Vidyalaya Matara.
His musical career was greatly influenced by Tagore's compositions. He sang to the accompaniment of esraj, flute and jalatarang. His compositions displayed his creative ability by using themes found in our folk verses. This aspect can be seen in his songs such as Panchi Suda Sudu Ketiya, Podimal Etano.
Most of his duets had simple words to evoke feelings when one hears them sung set to instrumental music. When one hears these songs they arouse feelings of their days in the village.
He admitted that he was influenced by the music of Bengal.
They could be sung alone or in a group. Here lies his popularity as a singer.
The songs had a direct appeal to the listeners. The poetic element can be noticed in his popular song, "Endada Manike Mamath Diyambata". His composition for a film: Irangani "Raniye Ennako Nagi ma Pem" conveys the affection of a love using expressive words without being vulgar.
In his popular song, "Ese Madura Jeevanaye Geetha, Namu Ama Dahare" describes a pleasant night lit by the moon painting the beauty of nature choosing the correct words.
The most notable contribution of his was the national anthem,
"Namo Namo Matha" a song conveying patriotism and the love for Lanka. He composed songs for Sinhala films namely "Sujatha, Sedasulan, Duppathage Duka, Dosthara and Surasena".
As a singer and composer he was keen to create music for children to inspire them in understanding the nature and its beauty through music.
---
"Movie MasterClass"
Last week the film community gathered for the "Movie Master Class" workshop conducted by British film expert Mamoun Hassan at Sri Lanka Television Training Institute and University of Peradeniya.
The workshop was organised by the National Film Corporation in association with the British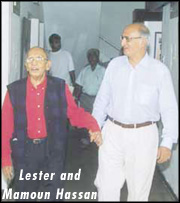 Council.
From June 1 to June 7 the workshop held for film directors, script writers, cameramen, editors, film artistes, film critics, journalists and academics, students of fine arts and mass communication in Colombo.
The conductor Mamoun Hassan was a script writer, director, editor and producer of the film. He has also run departments and led organisations that have developed and produced feature films. He has taught directing, producing and editing and given seminars for theatre audience on film language and history. He contributes regularly to the Times Higher Education Supplement and other newspapers.
Speaking to the 'TV Times', Mr. Hassan said that a film is a more of a expression of the society. "It is collective effort involving so many people. A nation needs many such collective efforts as it binds society together" he said.
When asked about the control of Holywood over the world cinema he said that it has become emperor dominating every part of the world.
"On the other hand they take any artiste from any part of the world when they want borrow their talents to Hollywood".
"But the saddest part of it is that all most all the film makers one dream is to get a ticket to the city of films, Los Angeles,".
Talking on the recent development in the cinema in the Asian and West Asian countries such as China and Iran Mr. Hassan said "they have presented themselves with their own identity to the world of cinema,". "We don't have any other alternative other than speaking with our own voice,". "Even in America though they borrow artistes from other parts of the world, they make their films with their identity," he said.
---

'Anuragaye Ananthaya' : A struggle between a woman and society
By Susitha R. Fernando
The story of the film "Anuragaye Ananthaya" is woven around a woman whose life is ruined by today's social evils.
The film, which is to be released later this year, is produced by famous film star, Geetha Kumarasinghe.
Starting from the film "Lassana Kella" (Beautiful Girl) in 1970, Geetha has won awards including best and popular actress several times for her outstanding performance on the silver screen.
She was not merely an actress but also a box office, record breaking producer. Her performance as 'Soma' in the film 'Karumakkarayo', and 'Doti' in 'Palama Yata', films she produced by herself were good examples for her versalitiy as an actress and producer.
The character "Kanchana Swarnadipathi", played by Geetha Kumarasinghe is a woman who is determined to face life despite all the difficulties she came across in her childhood. This battle becomes a success when she gets the chance to enter university for her higher education. Among the many friends she meets at university, there was one who won her heart. She liked him not only because he was a good painter but because of his ideas on life. They understand that the quick wedded life they started was not a bed of roses with the financial problems they have faced in the town in which they started married life.
Family harmony is seriously affected when Kanchana's husband (Lucky Dias) sold the picture which he painted of her when they were at university, to a hotel.
It was during this time she came to know that her husbnad was a regular visitor to a hotel where there was brothel. All these led to her separating from her husband even before she gave the birth to their first child.
Becoming a victim of social evils, Kanchana has to struggle to earn a living for herself and her child. Fate was unkind to her and she had to sell herself to eke out an existence for both of them.
The cruelty of society led Kanchana, who dreamt of a life defeating all the barriers she faced from childhood to prision, when she was accused of murdering her husband.
When she was spending the best years of her life in prison, her son was able to win the world. But at her return,will there be anyone to welcome this poor victim of the evils of society?
The cast of the film includes Geetha Kumarasinghe, Lucky Dias, Tony Ranasinghe, Cyril Wickremage, Palitha Silva, Mahendra Perera, Angela Seneviratne and others.
The film "Anuragaye Ananthaya" is directed by young film maker Mohan Niyaz. The music is directed by Somapala Ratnayake and Mohan Raj. M.S. Aliman is the editor while G. Nandasena was behind the camera.
---
The story of Daisy Akka
By D.B. Kappagoda
John Gunaratnam and Ellan Rose Gnanasundaram were blessed with a daughter who was named Daisy later to be known as Rukmani Devi. She grew up to be a tall, beautiful and had a golden voice and captured the hearts of the many with her singing and acting on the stage and screen. In fact it was Broken Promise the first Sinhala film released in 1947 that broke a record in which she performed the leading female role.
She was a sparkling personality with her sloe eyed face captivated the audience with her performance.
It was in 1939 Rukmani Devi acted in Rohini a school drama and cut a niche as a budding actress. Afterwards she acted in Walter Abeysinghe's Ramayana and proved her versatility and began her acting career for 40 years.
Her singing career began in 1939 when she sang with H.W. Rupasinghe. It was for AMV records in which she sang "Siri Buddha Gaya Vihare" and were for much praise from for her clear rendering of the popular song describing the grandeur of Buddhagaya the hallowed shrine of the Buddhists.
That was the gramophone era when popular singers like Lakshmi Bai, Susila Jayasinghe, Annie Boteju sang for AMV records.
Following her singing career she began to play in B.A.W. Jayamanne's Minerva productions. Their stage plays were different to Nurthi dramas which was popular.
Their plays portrayed social issues. The plays were not serious and did not portray the life of the people.
Instead they had characters belonging to middle class centered round love and the obstacles faced by the loves with a happy ending or sad finale.
The films in which she acted were Broken Promise, Kapati Arakshakaya, Hadisi Vinischaya, Matha Bhedaya, Perakadoru Bena, Dostare, Siriyalatha, Daivayogaya, Kavata Andare, Nalagana, Daskon, Kale Handa, Ahasin Polavata totalling upto seventy eight.
Her husband Eddie Jayamanne was known for his humour. His performance both on the stage and films brought fame for both. They were pioneers in the Sinhala cinema and opened avenues for others to get involved in the field of entertainment.
The stories for Sinhala films and the lyrics for Sinhala songs were highly imitative of Hindi and Tamil films in which song and dance were popular elements.
This was inevitable because Sinhala films were made in South Indian studios.
Rukmani Devi was a popular singer and actress when she was adjudged as the most popular film personality in 1956 by the Dinamina readers. In the same year she won the best actress award "Deapasika" presented by Lankadipa.
Her untimely death in a road accident at Tudella on October 28, 1978 stilled the colourful life of Rukmani Devi whose fame spanned 40 years. Here was a life of fame.
She dazzled her fans with her singing, dancing and acting on stage and screen. Her tragic and untimely death gave a shock to her admirers whom she entertained.
---
The mud fascination
By Poorna Rodrigo
Unlike many of us, Dayawansa had a special fascination for soil. A lump of mud he says can take innumerable fascinating shapes; a creative piece of work.
The maiden solo exhibition of pottery termed 'Adum Badun' of Dayawansa Wijayalath was declared open on May 22 at Lionel Wendt Theatre. The exhibition was inaugurated by the Deputy High Commissioner for Australia Kathy Clugman.
It is the earth that the people fight over, yet that very earth, that soil can be appropriated to produce a work of art, Dayawansa sounded philosophical.
As one looks at his work it becomes very obvious that there was no preplanned shape for his pottery. They had a shape of its own - shape that was identical to each of them. On the other hand the potteries were not given artificial but the creator has stuck to its original colours very often. However there was one special feature about his pottery. That it was all done manually without using a 'Saka Por-uwa' at all.
It was when a friend of mine did a research about soil that I initially became interested in it, Dayawansa reminded. 'It is facinating to see how a lump of mud take different shapes'.
Today it is not a mere hobby for him but he makes a living out of that . Also the ones that were displayed at hte exhibition were for sale... Yet unfortunately, he says that in Sri Lanka they are not paid for its real value and neither they are widely accepted as in other countries.'
In a world where only dazzling things hold an attraction to the beholder his works which are coarse and rough in the exterior, will surely make a difference, Dayawansa believes . Perhaps his maiden exhibition will happen to be his last but he hopes to continue with his work as long as he can.
---
Dial M for Manisha
By Ismail Khan
Manisha does not want to talk about her career moves or her non-existent love life. Therefore Manisha Koirala isn't quite the ideal candidate for a Icon and hey.
"Let's attempt something more original, she suggests.
So on a foggy winter morning at her tastefully decorated suburban apartment Manisha coyly rolls herself up and snugly hugs her pillow for warmth. She is lonely? Not quite. She says about her:
"I am super-sensitive. Since I am a Leo subject. I have a phenomenal ego. I spoil the people I love and I can be equally indifferent, once I am through with them. I've always been like that. My personality is too strong to change according to the dictates of social norms.
Of course, I've learnt to make adjustments because in relationships - be it with the family, friends, colleagues or for that matter with my men - the key-word has been compromise. Or else you end up suffering."
Manisha continues further:
"Money is extremely important to me. Call me mercenary if you must. I've no problems with that. I admit that I've done certain films only because I got paid handsome fees.
"When I joined the movies one of my aims was to see that my family was secure financially. I've done that. I also believe that a woman must be financially independent. And one must save for a rainy day. I have heard instances of artistes who despite ruling the marquee died in penury. That's sad.
"They probably fell on bad days because they had none to guide them. God forbid, I wouldn't wish something like that to happen to me. I know many women who marry wealthy men because they will be looked after for life. But that's not for me. I would rather have enough money in my own account to pay for my diamonds, mink coat or any other flight of fancy.
"Ten years ago, I realised movies were my destiny. Today it's my all abiding passion. I can't imagine being anywhere else but here. I want to continue acting forever. I know that's a tall order.... but still. If a day comes when I find no takes, then I would like to move on to producing and directing.
"I am an avid moviegoer. I take in as many late night shows as possible. Watching a film with the audience is a terrific experience.
Of course these days I am glued to my laptop on which I watch all the English latest DVD's. I just flow with a film. If it's a comedy my sides ache laughing. And if it's a serious film it leaves me depressed for days even affecting my equations with people.
"I am extremely moody. If I am woken up before I've completed my ten hours of sleep, I am sure to be in a bad mood. Besides I am very vulnerable. The slightest insult can drive me mad.
What's worse off-screen, I am a lously actress. You can sense when I am in a bad mood.
"I have been told that one must not carry one's mood to work. While that may hold good in other professions.
"I feel a special concession must be made for artistes. Most of us operate from the heart and are therefore hyper-sensitive. So it's only natural for us to be moody.
"I am above them. I can't deal with the manipulative ways of the industry either. When I hear someone has worked overtime to get me out of a movie I see red. And I react vociferously. I hate people who try to play God but here in the film industry camps and manipulations are a way of life.
"Actually since I come from a political family I have seen manipulations from close quarters. That's one of the reasons why I have detested politics."
So Mr. Khan, that's for now. More in my next letter. I hope you and your readers enjoy reading it. Bye!
---
'Nugawela Mansion': Walauwa turns hotel
By Randima Attyagalle
There are a few hotels with the personality of 'Nugawela Mansion'. Many old 'Walauwas' are in a sad state of despair. The lazy world of exotic languor cannot come to terms with the new millennium unless it is made a place of productive living.
This is exactly what Marawanagoda family - the present owners of Mansion Nugawala or once 'Nugawela Walauwa' has done. However, all unique features that give the ancient grandeur have been preserved to the maximum in Mansion Nugawela to the taste of famous Nugawelas, who built the place in early 20th century. Just 12 kilometres from the ancient city of Kandy and four kilometres from Katugastota (on the Kandy-Kurunegala highway), its character attributes to its history, culture, beauty and craft. The hard-to-get architectural artefacts of Mansion Nugawela speaks of its impressive past, settled among blissful green hills of Kandy.
The exclusive entrance to Mansion Nugawela is a masterpiece of wood craft. The heavy carving done with intense dedication on either side of the main door symbolise seasonal fruits, grains, venison and fish. The front porch decked with a dazzling view of paddy fields, give a picturesque setting, beyond the well kept garden with its ancient bird bath. The front entrance gives access to the dining hall to the right and the Billiard room on the left side.
The dining hall floor tiles are supposed to be one of rare quality, for they have preserved the original quality to date. The dining hall with its tall pillars of intricate art work and Victorian type antique glass cabinets give a palatial atmosphere. The fireplace at a corner of the dining hall with authentic furniture, provides a cosy little sitting room for intimate chats.
The grand twin staircase from the left and right sides of the dining hall, is another exclusive feature of the Mansion. The two staircases lead to the upper storey lounge with tall Doric columns projecting colonial splendour. A unique feature is the dome shaped colorful centre roof. An exit door from the upper floor gives access to a spectacular view of the large garden with age old trees which give a heavenly surrounding to the ultra modern swimming pool.
The 12 bedrooms in the Mansion are spacious and cosy, furnished with a range of awe inspiring teak and ebony almirahs and dressing tables. A rare quality of the Mansion is, how it has not disturbed the ancient touch and yet has been able to adopt all modern facilities. Each room has a television, a telephone and an attached bathroom with hot and cold water facility.
Mansion Nugawela does not lack recreation. It has got a newly built large swimming pool, Billiards, Snooker, Table Tennis, indoor games cycles for hire and a Children's Park.
Mansion Nugawela is a hotel with a unique atmosphere and a personality. It is a splendid place combining privacy with luxury, tradition and hospitality of a well trained staff, which makes every visitor feel privileged to be there. It is an ideal place to spend a relaxed and a private holiday or to hold exclusive conferences and wedding receptions away from the hustle and bustle of city life. For honeymooners it's a perfect bliss....
---
Literature in lyrical images
By K.S.Sivakumaran
The recently concluded festival of a few British films in Colombo reminds me of several attempts in translating literary works into the celluloid.This festival included a few such attempts.The theme of the seven-day showings was " from the swinging sixties to the troubled nineties'. D.H.Lawrence, Kazou Ishiguro, Jane Austen - undeniably great names in English literature - in their respective works presented a wide range of experiences and each work had its distinctive style and structure.The cinematic medium within its scope caught the main elements of the literary works and presented them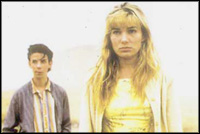 with a multifarious sheaths of beauty.Besides these three acknowledged writers there were other skilled writers creating storylines for the rest of the films.
Well-acclaimed screenplay writers like the Polish-born Indian writer Ruth Prawer Jhabvala, Emma Thompson, and other not-so-well known screenplay writers in our part of the world have justifiably done their jobs splendidly. Great directors like Ken Russel(theatre inclusive), James Ivory (who has directed many successful films out of great classics in English Literature), Ang Lee and even other notable contemporary British directors have given us wonderful lyrical images on the screen equating the pleasure one derives from a printed work.
Besides,talented actors and actresses (they are not glamorous alone) in the like of Alan Bates(of 'A Kind of Loving' fame), Oliver Reed (who reminds us of Omar Sharif in his appearance), Glenda Jackson (a fine actress of the 60s), Anthony Hopkins (of Irish origin), Emma Thompson (a scholar in English Literature), Kate Winslet (of 'Titanic' fame), Hugh Grant(a rave in the 90s) Julia Roberts (a craze even now) and many other talented players gave us moments of brilliant exposition of the characters they represented.
Technical virtuosity via cinematography,editing, sound, music, costumes etc were appropriate in line with the needs of the film. I love Emma Thompson. I had seen her perform in a few more films as well. She combines intellectualism and emotionalism with the right nuances. Starring opposite two men with different approaches to style of acting- Anthony Hopkins and Hugh Grant- she showed remarkable elasticity in bringing to life the different roles she played in the two films shown: 'Sense and Sensibility' and ' The Remains of the Day'.
Hugh Grant in 'Notting Hill' and ' Sense and Sensibility' proved that it is not his countenance alone but the studied performance by him that rates him as a fine contemporary actor.
It is irksome to analyse the films in respect of theme and style as the critics all over the world had done this already.Of all the novels by D.H.Lawrence, 'Sons and Lovers', 'Women in Love' are rated high by literary critics.To understand Ken Russel's interpretation of 'Women in Love', one has to write an exhaustive critique.That is mercifully avoided here. 'The Remains of the Day', though directorial splendid strokes occupy our attention, it is essentially an actor's film. Superb combination of the talents of Anthony Hopkins and Emma Thompson gives us moments of joy in appreciating their speech, mannerisms,pauses, silences and effortless and poignant display of emotion.
Again an actors cavalcade of distinguished playing by Emma Thompson, Hugh Grant, Kate Winslet,Alan Rickman and James Fleet in key roles was delectably charming with the bourgeoisie flavour. 'Notting Hill' is too close to us and I may be a little distanced in assimilating the kind of life as experienced in some quarters in the west.But it is a brilliant study of the showcases of glamour,pomposity,love, lust etc. I do not fancy much Julia Roberts and yet the film was very interesting.
'My Name is Joe' is funny and serious and yet somewhat alien to my relatively conservative outlook.It is a complicated film. I liked the film 'With or Without You'. It is poetic in many ways.Eroticism is mixed well with a sense of purpose.It is a contemporary story of middle class behavioral patterns.
Finally, 'Topsy Turvy' is a little boring, unless you like Gilbert and Sullivan as musicians.Musicologists and students of the study of operatic presentations would have liked it.
In conclusion, I wish to thank the knowledgeable Tissa Abeysekera and the British Council for providing us evenings of a few British fare of superior cinema.
---
Eugene to promote Colombo2000
"C & E promotions" the husband and wife promotion team comprising of D.J's Eugene and Cham have been contracted as promoters of the Colombo 2000 Night Club.
Cham will not be able to get directly involved due to personal commitments at present, instead popular Key boardist, Vocalist and D.J. Inshiran Deen a member of the entertainment act "The Force" will take her place.
D. J. Eugene who has been in the entertainment industry D.J.ing organizing, presenting, managing and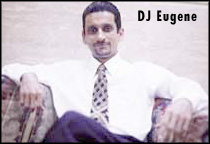 promotion entertainment and events for the past twenty years is a product of Sri Lanka's leading private school St. Thomas' Prep Colpetty and St. Thomas' College Mt. Lavinia. A hotel school graduate he has worked for Star class hotels in the F & B department as a trainee and in management capacities for period of over ten years. As Managing director of Mega Music (Pvt) Ltd, he also manages the entertainment act "The Force". Some of the Major night clubs he has DJed in and had contract's to supply DJ's Sound and lighting are The Little Hut, Colombo 2000, Santa Fe The Bottom Line, Valantinos, Saxophone Jazz Club, The Blue Leopard. The Library. The Den and many hotels out of Colombo.
He and his wife Cham also D.J.ed in Maldives in Nineteen resorts including the Maldives Hilton in the recent past.
Some of the leading DJs in Sri Lanka have been personally trained by him, but he says his wife Cham in the best DJs he has produced, and is also a good vocalist, he says. He also like to take this opportunity to thank Cham for all the support she has given him.
Eugene who has been involved with the Colombo 2000 and Valentinos for more than ten years before it was relaunched hopes to make Colombo 2000 the most popular Night Club in Sri Lanka. At present he has organized three theme nights. On Wednesday its going to be Flying-High dedicated to airline and travel trade personal. Thursdays it's Cell-talk for every one in the cellular industry and their clients. And Sunday it's going to be A musical Cocktail. It's going to be a cocktail of music from rock. Jazz, Blues, Reggae, mixed with alternate, Latin Hip-Hop and Soul.
From July, Fridays and Saturdays will have two exciting new theme nights. The entertainment act "The Force" and guest DJs are lined up for performance on special theme nights. It's all going to happen at the Colombo 2000.
---
"Hideo Shimizu" award for Sarath Kumara
Sarath Kumara Perera, attached to Sirasa Radio as a programme research officer has won the prestigious "Hideo Shimizu" award for his contribution towards the electronic media research in Sri Lanka recently.
Sarath Kumara is the first media research person in radio broadcasting history of Sri Lanka to be honoured by this kind of award. Earlier also, he won two distinguished awards from UNDA and the Sri Lanka Law College for his contribution to radio broadcasting through the medium of audience research.
"Hideo Shimizu Award" is a presentation from the Hideo Shimizu Foundation (HSF)of the University of Tokyo in memory of Professor Hideo Shimizu for mass communication students.
Sarath is a graduate of the Kelaniya University and holds a diplomas in 'mass media' from the Colombo University and the Media Foundation of the Bandaranaike Memorial International Centre.
The Award has recognised his role in creative programming of broadcasting activities.
He lamented the present day state of the electronic media which he said is remaining static.
"Our electronic media institutes have failed to gain a feed back from the audiences since they are not involved in research fields. As a result, listeners and viewers too are fed up with the whole set-up." Sarath said
Citing a new example, he has engaged himself in many research programmes which has immensely helped him to improve the quality of radio programmes of the Sirasa.
"My next step is to upgrade the quality of television programmes of the Sirasa through researches, so as to present an excellent product to the viewer." he added
Along with Sarath his superior Nimal Lakshapathiara-chchi, a Director of the Sirasa has also been awarded the Hideo Shimizu award for the outstanding media person in the field of electronic media of the year.
The HSF is a foundation that has been established in the name of Prof. Hideo Shimizu as a felicitation to renowned academician, a dynamic and veteran journalist in Japan.
Amongst the main objectives of the HSF are to assist the media personnel to improve their professional capacity through systematic training and research programmes consistent with the national development goals.
---
Different destinations at the Taprobane
The Taprobane Restaurant of The Lanka Oberoi, which prides itself as one of the most popular 24-hour restaurants in town came out with an exciting change of its theme nights. Introducing "A Different Destination Every Night", promising to take the diner on an exciting culinary voyage through the gourmet capitals of the world.
The journey begins with "Mediterranean Medley" on Monday where you can savour the true flavours of Southern Europe and North Africa on a superlative buffet of Spanish tapas, Italian pasta, Greek souvlaki and Turkish pilav, to name but a few, served amidst authentic Mediterranean surroundings.
"Thai Village Night" comes alive every Tuesday with exotic culinary dishes from the palm fringed beaches of Phuket to the highlands of Chiang Mai, Thailand an array of tantalizing appetizers, aromatic soups, vibrant curries.... hot and spicy to the sweet and sour.... topped off with some glorious Thai desserts!! All this in decorated surroundings of a typical Thai village, accompanied by oriental music, to soothe the senses.
Check out the catch of the day on Wednesday's "Seafood Night"!! In a setting that's sure to make you feel as if you were right there at the seafront, as you feast on a mouth-watering spread of ocean fresh seafood, prepared to perfection.
Soothing classical music in a candlelit ambiance of elegance sets the mood every Thursday as "Soiree Classique" offers you a taste of some of the best from the Southern European belt.
The exuberance of the tropics comes alive with the smell of fresh fruit and flowers as the Chefs of The Taprobane pamper you with a truly refreshing array of food from the sunshine state of California, mixing vibrantly coloured Polynesian foods with hearty dishes from American soil on Fridays "Pacific Rim".
Every Saturday The Taprobane goes Mexican with a Texan flavour!! An enticing buffet spread with "TEX MEX" favourites featuring, chillies, enchiladas, burritos, cooling salads... and stewards dressed up in ponchos and sombreros serving hot Mexican dishes the Texas way!!!! The last stop is at "Chinese Chopsticks" on Sundays, where Taprobane becomes a Chinatown in Colombo attired in traditional Chinese decor, offering you the best of Chinese cuisine in a selection exotic and diverse taste sensations including steamy Dim Sum, roasted duck and stir-fried specialties.
Discover a world of truly international cuisine at The Taprobane and explore a different culinary destination everyday of the week.