Twenty-nine orphaned babies live at the new transit home at Uda Walawe
Wanna go, wanna go, wanna go
By Ruhanie Perera
It was breakfast time at Uda Walawe and the baby elephants were impatient. The minute they got the chance they ran to the place where they were to be fed. Twenty-nine baby elephants, all determined to be the first in the feeding line, 'trumpeting for their breakfast', were a sight that brought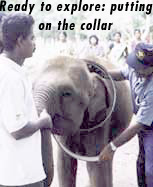 instant 'ahhhs' to the lips of the few lucky humans who were permitted to be present.
These not so little babies are orphans living in 'Ath Athuru Sevana', an elephant transit home in the Uda Walawe National Park. They have been orphaned by the never-ending clash between humans and elephants. Both fighting for survival and hurting each other in the process. Our actions have resulted in about 1,250 elephants getting killed in the past 10 years (according to the statistics of the Department of Wildlife Conservation).
Watching the contented 'little' ones guzzling warm milk, it was heart-wrenching to think that they were alone - mainly because their mothers were dead or because they were badly injured and left

behind by their herd.
"Most of the time elephants are shot," says Wildlife Conservation Department Director A.P.A. Gunasekera. "Sometimes nails are placed on the pathway used by the elephants or they set fire to the elephant."
There are times when they are badly injured, having fallen into pits dug by people for economic reasons, he explained.
The good news is that because of the elephant transit home, established by the department, these young ones are not alone. 'Ath Athuru Sevana' takes in abandoned baby elephants to cure and care for them until they are old enough to be released to the jungles where they belong. A relatively new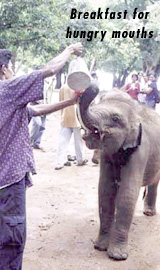 concept not just for Sri Lanka, but for the world as well.
"Our motto is 'Let them go back to their habitat'," says Dr. Nandana Atapattu, Deputy Director in charge of wildlife, health and management at the department. "Our goal is to work towards setting them free once again."
While he was explaining the concept of the transit home, his favourite elephant, Komali, greedier than the rest pushed and shoved her way through.
She had been brought to the home badly injured. She was hurt, scarred and frightened. "When she came she didn't even have a toenail," says Dr. Atapattu. Today she has carved a niche for herself in the hearts of all those who attend to the elephants. So much so that during breakfast she managed to get some of the precious 'seconds' everyone was waiting for.
Just looking at the finally- satiated baby elephants playing was enough to make anyone want to reach out and pet them, but the warning given before entering the park rang in my ears. "Look, but don't touch," we were told over and over again by Dr. Atapattu, for they were trying their utmost to bring up the elephants with minimal human contact.
Padavi, a very young one, just over a month old had got entangled in the net of some fishermen, who thought they had got a prize catch. This had been in the Padaviya tank in Anuradhapura, and hence the baby's name. When the fishermen hauled in the 'big fish' they had found a half-drowned baby elephant. Thanks to the team, which rushed to the rescue, Padavi is safe and sound.
Padavi has a lengthy stay before being sent back to the jungle. Elephants should be between three to six years and five to six feet in height before they are released. The babies are usually released in a group that is compatible, so that they have friends in the 'jungle world'. Isuru hangs around eavesdropping on this part as if he knows what's going on. And maybe he does, for on July 1, Isuru together with Sandamali, Komali, Maththali and Emily will be sent back to their 'home' for life.
In the forest they will have to fend for themselves, but the babies will not be 'abandoned' by the wildlife men. Radio collars are fixed around their necks to monitor them. "The collars are made of leather and are strong," says Dr. Atapattu. They put it on long before the animals are taken into the jungle, so that they can get used to them.
"When fixing the collars we leave enough room so that the baby elephants don't feel discomfort when they grow," he added.
The collars have transmitters, which give out a signal within a two-kilometre radius. Each elephant has a number to make the monitoring easier. If the signal comes from one spot for two days, the team goes into the forest to check whether the elephant is injured. After two years, when they know the elephant has adjusted to his new environment, the collar is taken off.
Easier said than done though, for they will no longer be babies, but grown wild elephants. "First they need to be tranquillized, then the collar must be taken off and finally you administer the antidote, preparing to run for your life," laughs Dr. Atapattu.
Though all the stories have happy endings there is a hint of tragedy. As a result of human wars invading the animal kingdom, Thamali, has to live with a disability. Having stepped on a landmine one leg is just a stump, which makes walking a problem. Slower than everyone else she is one of the last to get her share of milk. And yet because of her weakness she gets a little more milk without having to demand it like the others. Still slightly unsure of herself she may not be sent out into the forest for some time.
Returning home on the park trail, we pass herds of wild elephants. Someday the babies at the transit home will be part of it all. Babies, rescued from a cruel fate, who may have died in waterholes or at the hands of man, will go home and be part of the herds in the wild.

---
Adopt a baby
The Department of Wildlife Conservation has now launched a foster parent scheme for elephants. If anyone wants to sponsor a baby, he/she is required to pay Rs. 10,000 a month. The money is to be used to pay for the baby's milk and medicine.
Groups too can sponsor an elephant. Of the 29 elephants, seven have foster parents.

---
See them
One disturbing piece of news is that the department hopes to open the transit home to the public.
Then people will be permitted to see the elephants through tinted windows, so that the elephants are not aware of their presence. The question is how beneficial will this be to the elephants who are supposed to have minimal human contact and live in 'jungle-like' conditions?