Leisure pleasure
By Laila Nasry.
"Turn down the volume I'm trying to have some peace and quiet down here."
"It's my favourite song and I need to hear it full volume, besides it's raining."
Does this sound familiar? For mum its the couch, a mag, a warm cup of coffee, the perfect combination to relax on a rainy day. But for the 'head banger' in the family this is no way to chill out.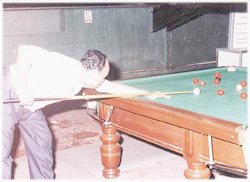 It has to be the best of G 'N R while playing 'Dave' on the computer.
While he wonders geez mum's really old fashioned, obviously mum's thoughts are more like that child is incorrigible, did I bring him up? What's wrong with the picture people???
Back then leisure blended in with people's slow paced lives. Stamp collecting, reading, knitting, sewing, gardening were what made people relax. It was hardly or never the fast and furious type of activities. These leisurely past times were not just balm for the weary soul but were a learning process in itself. Not only did one gather added knowledge, but learnt patience, perseverance and important lifelong skills.
Stamp collecting meant a way of gathering knowledge about different countries, learning about cultures, famous people etc. However to most of today's youngsters spending free time collecting stamps would be down right lousy, to say the least. For it entails hours of sitting patiently at one place with a bowl of water, glue, a stamp album and painstakingly collect what would seem to them small pieces of pictured paper with sticky backs and jagged ends.Information they'd rather gain surfing the net. Besides the fact that it's quicker, it's far easier to click buttons than stick stamps.
Say knitting and one would get a 'like totally duh', look from most teenagers. What many wonder is how in the world does it relax you when you have to concentrate really hard and strain your eyes to determine that the proper needle goes into the proper stitch, and that one does not miss a stitch.
"Gosh, I can't see myself sitting in one place and sewing or knitting. That way I really admire my mother's and grandmother's patience but that's about it. I don't see how it's fun and I just can't see myself indulging in such 'activity'. Thanks but no thanks," says 18-year-old Upeka.
If the majority of young people in Sri Lanka feel their parents missed out on a helluva lot because of their utterly illogical spare time activities, well then the feeling is mutual. Today leisure has taken an about turn. More and more young people are prone to do something "active" during their leisure. The rage being bowling, pro-karting, shooting pool, hanging around malls. Gone are the days of sitting still, the most being either in front of a computer or television
Harsha is 21 years old and loves bowling and pro-karting. "It's so cool. Even my dad comes along at times and has a jolly good time. I guess the older generation was unfortunate because they had neither the chance nor choice offered to them as we have now. Man, I'm glad I was born now and not then."
While some of the 'long timers' find pro-karting nonsensical for the mere fact that one has to drive round and round at break neck speed the young call it thrill, action, adventure. The 'in' thing among most teenagers is hanging around shopping malls all dressed up. But for most adults, this is the height of absurdity. They question what good comes out of the exercise other than it being an absolute waste of time.
"I totally disapprove of idling in malls. Other than that I have no problem with bowling, playing pool or watching movies except that they are getting more violent. But nothing like reading for me. Youngsters who don't read are really missing a treat. It's a whole new world," Mrs. Wijesooriya stated.
Shooting pool, which in essence is putting balls into holes, is seen as pure hype. It offers none of the added knowledge stamp collecting or reading offers nor has it any thrill element to it. "I feel that today's youth are caught up in a commercialised world and what a price they are paying. Leisure has turned into a money-generating business and the young ones are the guinea pigs. These activities have hardly any long term benefits," Mr. R Fonseka voiced.