Padmini Jayaweera brings hope to poor women in this remote village
The Lakshmi of Agbopura
Pix and text by Feizal Samath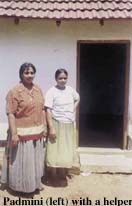 When Padmini Jayaweera walks along the dusty paths of the eastern village of Agbopura to meet members from her women's community group, a friendly tractor driver or a motorcyclist would occasionally offer her a lift.

"On many occasions a friendly soul would give me a lift to a nearby home,"said the portly Jayaweera, a community leader from Agbopura, about 223 kilometres off Colombo near the east coast, who has earnestly helped to uplift women in the area.

A 39-year-old widow, Jayaweera has, through her Agbopura Women's Group and a regional women's organization launched savings and loans schemes, alcohol reduction programmes and self employment avenues for widows among other empowerment work.

Vasantha Samaraweera, Deputy Director at the Women's Bureau says Jayaweera's Agbopura women's organization runs one of the best savings and loans schemes in the country in terms of returns and loan recoveries.

"She has turned a 200,000-rupee scheme into a much bigger savings and loans programme and we are absolutely pleased with the success of this project," said Samaraweera, who visited Agbopura last month to conduct a training programme.

The Bureau has granted Rs. 200,000 to Agbopura women from a revolving fund.

Agbopura, lying on the main A6 highway between Kurunegala and Trincomalee, has faced numerous problems in the past due to the ethnic conflict and lack of economic opportunities.

The small roadside town, about 20 kilometres from Trincomalee, has a few shops and decent houses, but walk along side-roads into remote villages and poverty stares you in your face, with women facing the brunt of the crisis. Alcoholism is rampant in most villages.

"Except for three or four men in my village, the rest of the men drink heavily and often beat up their wives," noted Yalaranga Leelawathie, who heads a small women's group at Peramadu, a rice-growing village of 80 families about four kilometres off Agbopura.

"Alcoholism is a serious problem," says Jayaweera, sitting inside Leelawathie's small house which lies next to a teashop run by the family. Villagers there recall the sad story of a desperate woman who killed her husband to escape his frequent after-liquor assaults.

"The woman, with her two children, slept on trees at night to escape the wrath of her drunken husband, but one day in desperation stabbed him to death. She has served her time in jail and now works hard on the fields to feed her children," said Leelawathie, who described Jayaweera as "immensely helpful and an asset to Agbopura".

Jayaweera's organization gave 20,000 rupees as a loan this year to Leelawathie's group, which in turn doled out 2,000 rupees each to the poorest of the poor women in the village for farming needs. The loans are given at five per cent interest and recipients pay soon after the harvest.

When her husband died three years ago after a heart attack, Jayaweera was left to fend for herself and her children. "It was not very difficult. I took over my husband's business of producing curd in claypots and selling them to the market," she said with a smile. Curd pots are stacked inside the house and under a thatched hut, ready for delivery to Kandy.

"I send them by train several times a week," she said, in addition to supplying to local markets. She earns about 10,000 rupees a month which she says is enough for her family's upkeep. Jayaweera's eldest, a 21-year-old daughter, is having a baby and the soon-to-be grandmother is looking forward to the event. "It will be wonderful."

Jayaweera, who says women are extremely poor in Agbopura, said, she got involved in community work more than seven years ago when a giant sugar factory, which virtually looked after the entire village, suddenly closed due to ethnic unrest and labour problems. There were 2,000 to 3,000 workers at the factory.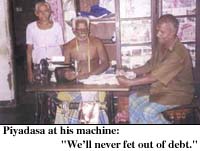 "That was a big blow to the village as residents provided various services to the factory," she said, adding that women suffered the most from this setback. Sugarcane farmers had changed to other jobs like fishing or rice farming which were not that lucrative. Panduwattagedera Piyadasa, a 68-year-old tailor, left his ancestral home in Kandy and came to Agbopura to find work in this bustling sugarcane town. A few months after his arrival in mid-1993, the factory closed.
"We will never get out of debt," he said showing his 30-year-old machine which is now difficult to work on."
He finds a little work during the school season when uniforms are needed. "But there are many times when people give me material and don't collect the clothes for many months as they don't have money," he said.
Seated next to him, Uruwarage Aramanis mourns the death of his 26-year-old soldier-son, killed last month in the north when Tamil rebels captured the key Elephant Pass base.
Driving down the sugarcane factory road filled with potholes, Jayaweera points to several bus shelters donated by mothers of dead soldiers. One shelter with the walled picture of a uniformed young man reads: "G.D.A. Sirinayake born 1978 - died 24-11-1997."
"There are no jobs in the village, so the young men join the forces with or without the consent of their parents," she said.
Jayaweera, who gives a patient hearing to many women on her daily treks into Agbopura's interior, says the villages have many problems - poverty, women without husbands who have either died as soldiers, from drinking or simply left them, and women going to the Middle East leaving behind a host of problems at home.
Walking down a narrow path, she waves to another woman accompanied by her small children, whose faces instantly look up with expectation and hope. Jayaweera's endearing smile and easygoing ways put many people at ease and often provide them with a probable answer to their problems.
"Padmini akka helps us a lot," a village elder says. The Agbopura women's group has helped with training schemes and loans to set up self-employment ventures. Many of the women cultivate rice, raise chickens, fish in the lagoon, make curd or sweetmeats.
"We want to make the women self-sufficient and as independent as possible," she said, showing me a house that the women in the village had built for a poor family.
Volunteers went round the village seeking donations like cement, bricks and wood and built four 28'x18' houses and gave them to poor women in the area. More houses are planned under this scheme.
The Agbopura community leader is now setting her sights on tackling the problem of alcoholism and is planning some protest marches and demonstrations against illicit liquor brewers, whose cheap, adulterated stuff has sent many a consumer to hospital.
"This devastates families. We need to do something to stop this menace," she says.