Little kids weave magic
By Alfreda de Silva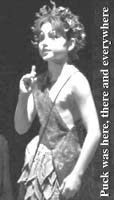 A Kid Summer Night's Dream, a Primary School Production of the Overseas School of Colombo at the Bishop's College Auditorium was held on May 26 and 27.

This was high adventure and sheer enchantment - an Australian adaptation of Shakespeare's A Midsummer Night's Dream presented by five to eleven-year-old children.

The adaptation had retained the Shakespeare characters and a simplified part of the dialogue, and had in addition a youthful freshness and liveliness. The young players, unbelievable as it may seem, knew what the play was all about and presented it to audiences that had a good many adults in them, all caught up in the pace and magic of the performance - a two- hour suspension of disbelief.

The curtain opened on the whole cast of 125 children swaying, dancing and singing the beautiful song 'Summer Nights'. They ranged in tiers from the engaging five-year-olds to the elevens. From the gorgeously- costumed fairies and forest folk to the older ones, who played character parts in the play. There was meticulous attention to detail.

The magic and song flowed melodiously and the lighting enhanced the magic of the play.

One could see that the enjoyment of the play was not only on the part of the audience. All the players were having fun. They were totally involved in what was going on and brought a wonderful insouciance to the play's fabric.

Philip Galway Witham Theseus, the Duke of Athens listens to a fathers complaint about his daughter rejecting Demetrius, his choice of husband for her. She favours Lysander; and her friend, Helena, wants to marry Demetrius, though he is not interested in her !

Hermia and Lysander plan to run away through the woods. She confides in Helena, who mentions it to Demetrius. Another set of lovers Oberon and Titania enter the scene. They are quarrelling over a child that Titania will not let him have, so he turns to magic.

He summons his faithful assistant, Puck, and asks him to find a flower, the juice of which will make the recipient fall in love with the first person he/ she sees. Puck is also instructed to put some of the juice on the eyes of 'an Athenian youth' he will find wandering there.

Puck puts the juice in the wrong youth's eyes and Lysander asleep in the woods, wakes to find Helena, and falls in love with her .

Puck, as ordered by Oberon, has already put the juice on Titania's eyes. She awakes to fall in love with Bottom, one of a group of amateur actors rehearsing a play to be performed before the Duke at his wedding.

Puck has given the simple Bottom a donkey's head and Oberon, watching the fun, takes the child away from Titania, without any protest from her.

He discovers that the wrong Athenian's eyes had been touched with that juice and directs Puck to repair his mistake. Too late Demetrius wakes and seeing Helena, swears his undying love for her

These conflicts are resolved and Oberon returns the child to Titania , after she is brought out of her magic induced infatuation

Everyone meets at the Duke's wedding to Hippolyta where Hermia and Lysander and Helena and Demetrius are also united in marriage. Peter Quince, Bottom Snug, Flute Snout and Starvelling perform their hilarious play of Pyramus and Thesbe.

The whole production was finely tuned and balanced, the players frolicking along at a consistently enjoyable pace.

Sometimes one was inclined to forget that the performers were children. This was so in the cameos of Hermia presented by Sigrid Owen and Helena by Dorien Vander Hoek, two eleven- year olds, who played their roles with aplomb and understanding. So did Patrick Lindsey as Lysander and Alexander Henk as Demetrius.

The glamorous Fairy queen Titania, was Khema Wijewardane while Oberon was played spiritedly by James Makin. Bottom is played by Ji Soo Kim and Andrew Udeshi.

And so we come to Puck the graceful, effervescent, spirit who was here, there and everywhere, as he talked, laughed, sparkled roller -bladed and danced into the hearts of the audience in the person of Andy Thoma. A Kidsummer Nights Dream was perceptively and artistically directed by Devika Ilayperuma, assisted by Sandra Fernando and produced by Karen Balthazaar.

The Musical Director was Kerry Gittins and the choreography was by a 14-year -old schoolgirl Karen Lindsey.

The spectacular sets in this vast undertaking, the facade of the Athenian palace and the enchanted woods with the morning mists rising, were devised by Art Director, Nirmalee Fernando and constructed by N Jagatheareran, V.Krishnan and the maintenance staff of the Overseas School of Colombo.

This play will be remembered for many things- for its adventurousness in breaking new ground. For the unself consciousness and zest of the children in the adult world and the way the large groups of five-year -olds conducted themselves in their song and dance, routines. Also the enjoyment the children derived from it all. Says Director Devika, "we have worked with a thinking group of children.... smaller groups don't permit this kind of synergy."

---
Shapes of flowing softness create oneness
By Felicia S.Katz

"Karmic Forces", the life we lead and human nature is the latest series that well-known Sri Lankan artist Druvinka is working on. Though we are all a part of the human race, we are individuals and cannot always read one another. Mutual understanding may not be clear; one can never absolutely know the experience of another.

In her paintings we can see people looking at people, trying to "see" beyond their boundaries as depicted by lines and boxes. Figures often look directly at one another or look past each other through or within their boxes. What do they see? Are they mirrored reflections? Are they looking for familiarity across foreign borders or across the unknown? Are people trying to see beyond the facade that we (as humans) sometimes build to guard our souls?

Typical of her earlier works are individual people who are separated by bold lines and squares with sharp edges. In her newest paintings, figures have begun to connect. We now see people becoming one, flowing into each other. Where one soul begins and ends is unclear as the boundary between two souls is ambiguous.

Another interesting feature of her newer paintings is that there is a decreasing use of distinct boxes and harsh boundaries. Instead we see a softening of shape where circles replace squares. Now Druvinka is placing her figures, united, within the softness and safety of a circle. The life circle, or the "Karmic Circle of Life" like a womb, is where souls are nurtured and given the opportunity to grow.

Living in the rural setting of Tagore's Santiniketan (West Bengal, India), Druvinka is currently furthering her studies in painting. Amongst a community of artists where there is little distraction other than the various bird songs, she is already a well-accomplished artist.

Druvinka's current work combines the traditional technique of a tempera process, with a more contemporary, semi-abstract style in which she executes human figures. The paintings are done on large canvases to which bamboo paper is fixed. This is a unique size for watercolour medium. Moreover, the bamboo paper provides texture to her works in that the canvas resembles the surface of a rock. In turn, the overall effect is reminiscent of prehistoric rock paintings.

Studying in Santiniketan, and especially the environment in which it is set have a strong impact on Druvinka's artwork. "Being here has a lot to do with me. I feel colour, form, shape and mystery in nature. My works often reflect how I react to, and experience life." The fluidity and softness of form, and the sombre and serene colour schemes chosen evoke an emotion that is uniquely feminine. Her figures are delicate, like individual drops of water. As viewers, we are thus given a glimpse of the world that Druvinka absorbs around her.

Druvinka's talent in painting, dance, her appreciation of nature, awareness of herself and the world mesh with the ideals set forth by Tagore. Namely, that the environment and traditional setting of Santiniketan in the context of the modern world should inspire students to realize their creative potential.

When she first came to Santiniketan for her B.F.A. degree from Sri Lanka in 1990 she knew little about the place other than that Tagore was a great figure. Now, ten years later, after graduating, returning to Sri Lanka and finding much success as an artist there, she has chosen to return to rural and tranquil Santiniketan. Currently, she is working on an Advance-Diploma and claims she has simply fallen in love with this place (Santiniketan).

She mostly appreciates the freedom of expression offered by the faculty and the interaction between people from various countries and cultures. These elements are traditions Tagore would be happy to know have continued and, in part, are what inspires Druvinka's art.

Druvinka's ambition and dedication to her artwork have earned her success. As she continues to work and further develop her style and experiment with new techniques, it will be exciting to witness the next step of her artistic evolution!

"Druvinka's Karmic World", an exhibition of recent paintings by Druvinka will be held at the 706, Gallery (706, Road, Colombo 3) from June 7 to 18.