---
Netball, clean and beautiful
By Nilika de Silva
Hatton National Bank teams swept the boards again at the recently concluded Open Club Tournament conducted by the Netball Federation of Sri Lanka.

Hatton National Bank has been performing this remarkable feat for the past five years since the very inception of the tournament.

The Hatton National Bank A team emerged winners, while the B team were placed Joint Champions in their division together with Police and the Mixed team also emerged champions in their category.

Six of the members in the A team are national players while the other two are also in the national pool. The A Team consists of Deepthi Rupasinghe (Captain), Somitha Kumari de Alwis, Jayanthi Somasekeram de Silva, Shanika Herman, Thushari Kodituwakku, Gayathri Lankatilleke, Nazleen Haseem, and Harshini Wijelath.

The B Team consists of Sumudumali Geekiyanage (Captain), Anne Weerakkody, Diloshini Fernando, Chamali Liyanage, Indika Meurling, Chamika Aponso and Malini Jayasinghe.

The Mixed Team is made up of Chathura Wickrematilleke (Captain), Maxwell Saranapala, Duke Rajapakse, N. Thivaharan (who won the award for the best male player), Jayanthi Somasekeram de Silva, Somitha Kumari de Alwis, Nazleen Haseem, Chamika Aponso, Diloshini Fernando, Deepthi Rupasinghe and Harshini Wijelath.

The boys played at Center, Goal Shoot, Wing Attack, and Goal Keeper positions, and most of the boys are basketball players. They have been playing for the last four-five years. They play a very clean game and it's beautiful to watch, Lourdes Jayasekera the HNB coach said.

"I coached HNB for the last six years and we have been winning almost all the major tournaments for the last six years," Lourdes said. Nationals, Mercantile, and this time we had the Open Club Tournament conducted by the Netball Federation of Sri Lanka, where teams from all over the country took part.

Lourdes Jayasekera who played for Sri Lanka from 1969-77, tried her hand at coaching when she was at Maharajahs, where she coached while she played. "We won the nationals and also the major tournaments. Till then I did not know that I had the coaching ability in me," Lourdes said, reminiscing. "It was my boss at Maharajah's, Managing Director Rajah Mahendran, who spotted my talent as a coach," she added.

"In l996 I was appointed as the Junior National Coach for the team which took part in the World Junior Championships in Canada. This was the first time we took part in the World Junior Championships." Lourdes was appointed Assistant National Coach in 1997, and from'98 onwards she has been the National Coach. In 1998 Sri Lanka won the Asian Championships.

Speaking about what measures need to be taken to improve netball in Sri Lanka, Lourdes stressed the need to improve the same at club level. "In Sri Lanka, itself, we should get more top class teams. Not one but six or seven, because in other countries the club standard is almost like the national standard, all these workplaces must take players and build them up," she said, explaining that the most important thing to improve the sport in Sri Lanka is to distribute the players so that competition standards improve.

And what is the next thing on the cards, or rather the courts, for the HNB teams ? It is the nationals in August. Before this there will be the under-21 tournament, for which a combined mercantile side will play.

---
Athletic Trials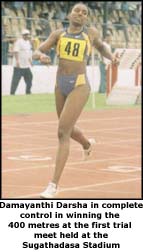 Damayanthi Darasha in complete control in winning the 400 metres at the first trial meet held at the Sugathadasa Stadium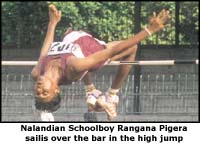 Nalandian Schoolboy Rangana Pigera sailis over the bar in the high jump.
* Pix byRanjith Perera







---
Cricket - With Ranil Abeynaike
What makes a good coach ?
I am in the process of reading a book published some years ago - 1992 in fact - The Cutting Edge by Ian Chappell. In it he devotes a chapter to coaching, to have or avoid? It was interesting reading the former Australian captain's views eight years ago on the role coaches play at international level and in fact at all levels of the game. This diverted my thoughts to, what makes a good coach?

But, first to Chappell. He does not mince his words. He is blunt and to the point. "An Australian coach is something the team tours around England in!" That was how much he disregarded a coach for an Australian team then.

Up until about thirty years ago the Aussies believed in a learn-it-yourself policy. They believed you had to work it out for yourself. Of course now the thinking has taken a total turnaround. Australia is the country that puts in the biggest effort to ensure committed and successful coaching.

Chappell is of the view that players who reach international level should not require coaching. If they do, then it means that young players aren't being properly prepared for the climb up the ladder. He also firmly believes that only the captain can run a cricket team. In case he can't then the wrong bloke has been selected for the job! Further, its his belief that there aren't too many good coaches around and the few available must be working with the most talented young players, so that they develop into becoming top class players.

Overall, Chappell's unflappable view is that an international team must not have a coach who will be attempting to initiate his views and ideas towards the team's cricket management. His belief is that the captain takes all the responsibilities for the playing part of the game. He also concedes that the captain should take the praise in times of success and all the brickbats in times of failure.

Whatever, Ian Chappell's thoughts were in 1992 they have gone waste. The whole world has embraced the idea and the necessity for a coach. Much is being done to develop coaches to provide of their best. In fact the expertise has increased in the form of doctors, physios, dieticians, fielding coaches, specialist advisers on batting and bowling and even speech instructors, to help players do better when interviewed on TV.

Meanwhile, the Australian coach's position has moved from Bobby Simpson to Geoff Marsh to John Buchanan. Buchanan has only a modest playing CV. He has played 10 years of Grade cricket in Brisbane. Has had a few games with Queensland in lhe late 1970's, averaging just 12.31 in 13 first class innings. Plus some professional experience in league and minor county cricket in England.

As a coach he has enjoyed much success, coaching Queensland to their first ever Shield title and more. Coach of Middlesex CCC and now in-charge of an ever improving national team, he has other strengths. A degree in human movement studies, a teaching diploma and a Masters degree in Sports Administration, providing an academic background. This together with 20 years of coaching and 15 years working in sports and recreation giving much practical experience.

So what makes a good coach? Certainly not a piece of paper containing a formal qualification nor a glittering playing career. Experience at playing at the highest possible level is compulsory. A wealth of knowledge and a profile that demands respect for that reason. The ability to organize, communicate effectively, understand players, work with individuals, hone the different talents and skills of players, bearing in mind the different career stage of each individual are musts.

Honesty is a powerful weapon in a coach's armoury. Never let a player doubt you for any reason. Should a coach lack in an area never back out of getting assistance from a person more knowledgeale in that particular area.

John Buchanan says that he is always looking for ways of enhancing the environment in which players can improve, based on a programme of self improvement. He says he directs them in the right direction, asks the relevant questions and provides the tools for the players themselves to come up with the answers.

In a world where individuals strive to extract every bit of knowledge to develop their careers, the value of the cricket coach is becoming more and more important. The gospel of the game spreads through the teachers of the game and they play such a vital role whether they are involved at international level or with kids seven and eight years old.

---
Vidyartha and Seethadevi win titles
Vidyartha won the Kandy Schools under 19 boys' title while Seethadevi BMV and Mahamaya finished as joint champions in the under 19 section in the championships conducted by the Kandy District Hockey Association played at the University grounds Peradeniya.

Vidyartha beat Trinity in the boys' final by 2 goals to nil with S. M. Munasinghe and I. C. Paliyapana scoring a goal each while Indrawansa Herath and T. Chandrakantha scored a goal each for Seethadevi BMV and Mahamaya respectively in their drawn match.

In the boys' semi finals, Trinity received a walk over from St. Sylvester's while Vidyartha beat Dharmaraja by 4 goals to nil with I. C. Paliyapana scoring two goals and C. S. Bulathsinhala and S. M. Munasinghe scoring a goal each.

In the girls' semi finals, Seethadevi BMV beat Girls High School by 4 goals to nil with Chaturangani Inosha scoring two goals and Amitha Lakmali and Iroshani Liyanage scoring one goal each.

Mahamaya beat Pusphadana by 3 goals to 2 in a penalty shoot out in their semi final.

---
Preethi, Ashhar on top
Renowned motor racing champion from the South Preethi Palliayaguru was elected uncontested as President of the Southern Motor Sports Club at its Annual General meeting held last week in Matara.

Palliyaguru who has many rallying and road race victories under his belt took over from another racing ace Suranjith Premadasa who was at the helm for three years since the club's inauguration. Under the constitution of the club the maximum period of office in a stretch is limited to three years.

Palliyaguru is also a well-known automobile engineer having represented his country at many international sessions on the subject.

Ashhar Hameem famous for his rallying exploits was also elected uncontested to fill the position of secretary left vacant by Palliyaguru.

Hameem also boasts of many victories in racing arena and is also a well-known organiser of motoring events having masterminded the Marble Decor Rally which pioneered Rallying in Matara area.

Office bearers of the Southern Motor Sports Club:

oPatrons: Minister Mahinda Wijesekara, G.S. Ediriweera, Sugath Andramana, N.P.G. Mendis Silva and M.A.M.Hameem.

oPresident : Preethi Palliyaguru.

oVice -Presidents : Jayaraj Wijeweera, Oscar Amerasinghe.

oSecretary : Ashhar Hameem.

oAssistant Secretary : Lalin de Silva.

oTreasurer: Dudley Hettiarachchi.

oAssistant Treasurer : Mohan W. Surendra.

oExecutive Committee : Andrew de Silva, Harsha Priyadarashana, Aruna Siriwardena, Shihan Samsudeen, Andrew Gamage, Athula W. Surendra,S.P.Jayawardena,S.M.P.Jinapriya, Nalaka Abeygunawardena.

---
That great bowler Barnes
By Bruce Maurice
In 1901, the M.C.C. found themselves up against a problem. There was a mix up and they found that they could not raise a satisfactory side to tour Australia. Yorkshire made matters worse, by withholding Hirst and Rhodes. So they passed the 'baby' onto Archie MacLaren, who was to captain the side. MacLaren was a brave and knowledgeable man, who backed his own judgement. He plucked Syd Barnes out of the Lancashire League. Barnes had played a few games for Warwickshire as a fast bowler. But was a spin bowler when MacLaren saw him.

In the first Test played at Sydney, his very first Test victim was none other than Victor Trumper, who he caught and bowled for 2, and finished with the figures of 5 for 65. England won that Test by an innings and 124 runs. In the second Test played at Melbourne, he and Blythe bowled unchanged through the Australian first innings, and routed them for 112. Barnes taking 6 for 42. So after playing only two Tests in Australia, he was being acclaimed as the finest hard-wicket bowler England had sent Down Under. He finished that series by taking 19 wickets in only three Test matches. A few years later, Monty Noble singled him out as the greatest bowler in the world. In the third Test at Adelaide, he had bowled only seven overs, when he suffered a knee injury and had to leave the field. He did not play in another Test until the July one at Sheffield in 1902. He took 6 for 49 in the first innings, but for some mysterious reason, was not picked for that immortal Test at Old Trafford, which Australia won by just three runs. After that he never played in another Test against Australia in England and also missed a tour to Australia.

It is interesting to note that Noble should have placed Barnes on a pedestal, because it was from Noble himself, that Barnes had learnt a lot about swing. Barnes began his career as a fast bowler. But soon found that there was much more to it than sheer speed. He then experimented with finger spin and it was as a medium paced spinner that MacLaren spotted him. He always watched the other leading bowlers, and Noble in particular captivated him. And Noble lived upto his name by giving Barnes some very useful tips. Barnes was not satisfied bowling only off-breaks and leg-breaks. He wanted movement in the air, and this he studied from the great left-arm bowler George Hirst.

In the third Test played at Leeds in 1909, Trumper after having made only 2, got a delivery from Barnes that a man might see only in his dreams or, if he is drunk. It was a fast one that started on the leg stump. But just before it pitched it swung suddenly to the off. Then it pitched, broke back and took Trumper's leg stump. Barnes was always accurate and kept a perfect length. He varied his pace and flight and regulated the spot at which his swing became effective. He could also regulate the amount of break.

---
Yasas for cricket in UK
Yasas Tilakaratne left for England to play League Cricket for the 5th successive year. He had a very successful season in Melbourne.

He represented Brighton Central Cricket Club in the Saturday Competition conducted by the city Morabbin Cricket Association.

In the Sunday competition Yasas turned out for the Cavaliers Cricket Club conducted by the Y.C.W.Cricket Association.

This time Yasas will turn out for Burslam Cricket Club in the Birmingham League as a professional.