---
A village in the lurch
With mothers in the Middle East and fathers at the
battlefront, this remote village struggles to cope
with family turmoil
By Feizal Samath and Kumudini Hettiarachchi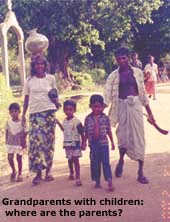 Amunichchiya – In this remote village in the arid north-central region, the men have either joined the armed forces or taken on the role of women. They stay at home and idle most of the time.

With poverty staring them in their faces and a shortage of jobs, Amunichchiya's women go to the Middle East to work as housemaids or in other unskilled jobs. In almost every one of the 135 families living in this impoverished village, a woman is abroad.

"At least 65 percent of our women are abroad toiling for the family," says 26-year-old Sriya Kanthi, who left her two small children in the care of her mother in 1997 and went to Kuwait. She returned last year but all the money she sent from there was used by her parents to raise the two boys, aged seven and five, and rebuild the house.

"I just have a few thousands left," Kanthi said, echoing a common plight among most women who have worked abroad.

For a small village that has so many of its residents working abroad, one would expect some development in the infrastructure. But Amunichchiya — like many Sri Lankan villages where hundreds of young women have gone abroad to earn a living — is unchanged from the days when the Middle East flow started and has only dirt roads and a battered, old school building desperately in need of repair, to its credit.

Uchitha Jayampathy, a 30-year-old resident, says the women return from abroad laden with electronic and household appliances, expensive clothes and jewellery but no savings. "After some time the money runs out and the goods are sold. They then return to earn more money. It is a vicious circle," she added.

The dirt track to Amunichchiya, nearly 200 kilometres from Colombo and off Kekirawa, runs along the bund of a beautiful tank studded with brightly-hued Olu and Nelum. On the other side lush green paddies soothe the weary visitor's eye.

Bicycles are the main mode of transport while the nearest bus stand is about two kilometres away in the closest town of Bamunugama.

Children bathe and frolic in the tank, while women, especially old women, wash their clothes, happily chatting to each other, masking many of the problems the village is confronted with.

As we turned into the dusty 'main road' of the village from the tank bund, the calm and tranquil white dome of the temple greeted us, belying the turmoil and unhappiness within the humble homes.

The issues are many — homes without mothers who are abroad or fathers who are at the battlefront. This has caused a severe psychological impact on the children who are brought up by their grandparents in the absence of the mothers. Children hardly recognize their mothers who return in colourful clothes, covered in costume jewellery, with faces touched up with bright lipstick and mascara. For these women, the simple beauty of the village belle and the humble but contented lives they led before the lure of the Middle East, are only memories, to be scoffed at.

"My elder son still calls me 'aunty' and prefers to be with the grandparents," says Kanthi, whose husband is a soldier. She is now the president of a community group in the village helping to empower women, set up savings schemes and organise training programmes. Kanthi's group was initiated and supported by the Rajarata Women's Forum and Sheela Ratnayake, the forum's area leader.

At least 30 young men from the village are in the army or the navy. The absence of men and women in households has triggered other social problems — love affairs between the remaining spouses.

So far four families have broken up with the man or the woman leaving their homes to live with lovers.

More than one million Sri Lankans work abroad in the Middle East and Asia, a bulk of whom are women from remote villages. Another form of employment for youngsters is the war. Nearly 90 per cent of the armed forces constitute village youth who have joined up due to poverty and the inability to find jobs.

Economists say Sri Lanka's village economy, once maintained by farm incomes, is now held together through incomes from Middle East workers, soldiers and women working in local garment factories.

Foreign reserves get a tremendous boost through remittances from expatriate workers.

Often the farmer-husbands of the Amunichchiya women laze at home, sleeping and drinking with the money sent from abroad while rice fields lie unattended. "It is an eternal struggle for the woman - she has to do a man's job and also attend to work traditionally done by women," said Kanthi, her eyes filling with tears.

Villagers, who own an average 1-2 acres, grow rice and crops like chillie and maize.

Jayampathy, whose husband works in a ceramics factory, doesn't want to go abroad. "I will somehow manage here," she says, chatting inside the small school building where classes are held up to Grade 5. The school with 60 students is dilapidated though parents, who worked abroad, had helped to buy a few bright-blue chairs and tables, giving it a semblance of respectability.

She says most village women, who work abroad, are illiterate and give little thought to savings. Plans are often short-term. "Some go abroad on three or four, two-to-three year stints to buy or rebuild the house, bring television sets, refrigerators and jewellery. They rarely deposit money in a bank and earn a monthly income," Jayampathy said.

There are also women, who have spent many years abroad, who neglect their children and husbands, preferring to stay overseas and send money than return. "There are quite a few who have not been there for the marriage of a son or daughter," said Kanthi. The problems for Amunichchiya began in the mid-1990s when chillie prices crashed and households ran out of cash. Foreign employment agents then rolled into the village and offered the women jobs abroad, providing a loan to pay for agents' fees and air tickets.

The women in turn invited their friends to join up and a trickle became a flow. They earn between 6,000 rupees to 9,000 rupees per month abroad.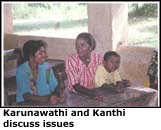 S. Karunawathi, an unmarried woman of 27 says her parents won't send her abroad because of all the stories they hear. "It's better to eat salt and rice, rather than leave the village."
A small percentage of Sri Lankan women have been assaulted or subjected to sexual abuse by their overseas employers. Non-payment of wages is another problem they face abroad. So far, Amunichchiya's womenfolk have not encountered such harassment.
"Those days whenever there was a funeral in the village, the women were at the fore, helping the bereaved family and cooking their meals. Now there isn't a single woman around, so the very young girls are doing that work," Karunawathi noted.
Kanthi sums up the situation succinctly. Amunichchiya means the amuna (bund) where there is menik (gems). That's only in the name. Here there is no wealth or happiness. Only pavul avul (family squabbles), she adds.