---
Mini-Tennis picks up in Negombo
3500 children between the ages 5 to 10 years are to benefit from this SLTA programme
The SLTA has made a major shift in its strategy to promote the development of tennis in Sri Lanka. For many years, the SLTA has concentrated its resources and attention on promotion and development of tennis mainly in Colombo. But now after the somewhat disappointing results in international competitions over the last few years, the SLTA felt the need to reconsider its strategy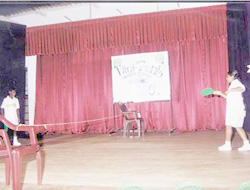 and shift its main area of concentration to the outstations.
The SLTA having already started its outstation Mini-Tennis programme in Kandy, will now introduce it to four schools in Negombo. The four Negombo schools are Maris Stella, Ave Maria, St. Peter's and Newstead College. This programme in Negombo will benefit around 3500 children between the ages of 5 to 10 years. The SLTA has donated 300 Mini-Tennis racquets and 600 sponge balls to the four schools.
The Mini-Tennis programme commenced in June 1997, and was first implemented in the Colombo schools. The introduction of Mini-Tennis to the Colombo schools has been extremely successful. Thereafter, the SLTA introduced Mini-Tennis to Kandy. A Mini Tennis tournament was conducted in Colombo in 1999, supervised by Mr. Boshan Jayaratne, the Schools' Tennis Initiative Co-ordinator. This tournament was definitely the largest tennis tournament attracting over 1200 entries. This shows that the Mini-Tennis programme is successful and popular among children.
The Negombo schools seem to have taken onto Mini-Tennis within just two days. Reverend Sister Chandrika, Principal of Ave Maria said that the children were so interested that they played late into the night.
Ms. Nani De Silva, has been appointed by the SLTA as the regional Mini-Tennis coordinator and will be placed in charge of the Mini-Tennis programme in Negombo.
Boshan Dayaratne, STI Coordinator, who is in overall charge of the entire Mini-Tennis programme in Sri Lanka will report directly to the SLTA. Nani De Silva explaining the practice sessions of the children said that each class will be allocated one half hour period per week. Mini-Tennis will be played by grades 1 to 5, and since each grade usually consists of 5 classes, this means that there would be approximately 25 classes in every school participating in Mini-Tennis. If all these classes play at least once a week, it would mean that tennis will be played throughout the day. This is why each school has nominated a full-time teacher for Mini-Tennis, she said. She would be visiting the schools on a regular basis to ensure that proper instructions are being followed and also to assist them in improving practice sessions.
The primary aim of this Mini-Tennis programme is to increase the number of people playing tennis in Sri Lanka. By introducing tennis to children aged 5-10 years in schools through Mini-Tennis the SLTA hopes to create more awareness and interest in tennis.
The SLTA is aware that tennis is one of the many sports competing for the time and interest of children. Tennis now will have an advantage because a child could begin tennis and enjoy it at around 5 years. The SLTA expects that by broadening the base of tennis, the overall standard of tennis is likely to improve. Dayandra De Silva, Chief Guest and President of the Negombo Tennis Club said that Mini- Tennis would provide an excellent source of talent identification for follow-up junior development programmes. He also said that children showing promise and interest will be trained at the Negombo Tennis Club premises under its junior development coaching programme. When queried, he was upbeat about Negombo producing a tennis champion. Rohan De Silva, started tennis at the Negombo Club and is currently playing Davis Cup for Sri Lanka. "I am confident that Negombo will produce not one but many champions in the future, he said. He was also optimistic that the Negombo schools would implement and continue the Mini-Tennis programme.
Arjan Perera, Chairman, Coaching and Promotion, said that the SLTA would hold inter-schools' Mini-Tennis tournaments within six to nine months in Kandy and in Negombo. "Just imagine the interest that would be generated when these 3500 children practise for a tournament. The end result is that the overall standard of tennis would improve. We also plan to hold regional tournaments between Colombo, Kandy and Negombo". He also said that historically tennis has been considered an elite sport. But in fact, many great champions in other countries started playing at public tennis courts. With this in mind the SLTA hopes that the outstation Mini-
Tennis programme will help tennis become more and more, a "sport for all". He also said that the SLTA has targeted 20,000 children by the end the year 2000. Plans are underway to introduce Mini-Tennis to Batticaloa and Kurunegala.
Romesh Fernando, Chairman, Coaches and Officials said that with the increase in tennis players the infrastrucure of tennis had to improve to shoulder the increased interest. "We have conducted a level-two coaches course and two green badge umpiring courses. Six coaches passed the level-two course, which is considered a very competitive and strenuous examination. At the green badge course over 25 qualified as umpires. We now plan to conduct a number of level-one coaches' courses islandwide. In order to do that we will first conduct a Tutors Level One course with the assistance of the ITF. These tutors who qualify will be sent islandwide to conduct level-one courses," he said.
The SLTA wishes to express its gratitude to the ITF and Mr.Suresh Menon, ITF Development Officer for the support that has been extended and the equipment that has been donated to the SLTA for the outstation Mini-Tennis programmes.
---
What a nail- biting finish
Pindi Stadium in Rawalpindi may not be the most fashionable or famous cricket stadium in the world. But over five days last week some absorbing cricket was witnessed and then a nail-biting finish.
At the end of day one, the game seemed set to end much before schedule. However, it went on and on up until the last hour.
Day one was completely dominated by the Sri Lankans. After Sanath Jayasuriya won the toss and correctly gambled in putting the opposition into bat, his bowlers delivered the goods. First Chaminda Vaas, then Wickramasinghe, Zoysa and Muralitharan all contributed towards Pakistan's batting debacle.
Reasonable cover
The reasonable cover of grass on the pitch helped the seamers. Pakistan though, contributed to their own downfall, with many batsmen throwing their wickets away. Perhaps they had not adjusted for playing one day cricket. Some angled their bats and obliged the slips with catches. All three sessions on day one belonged to the visitors.
When the home team took to the field, their bowlers were also able to extract movement off the pitch and so life was difficult for the Sri Lankan batters too. The early batsmen kept departing at regular intervals until the seasoned and experienced Arjuna Ranatunge and Aravinda de Silva locked horns to pull their team out of the woods.
Both players had to take their time and bat patiently. They were short of International match practice. But like how "ducks take to water" they were quite at home tackling the wiles of Waqar Younus, Abdul Razak and Saqlain Mushtaq. That Wasim Akram had to quit after just two overs was a big blow for his team. Conditions suited the quicker bowlers and his absence left a gaping hole in the Pakistan attack.
Magnificient
However, Waqar Younis and Abdul Razak filled the role magnificiently. Their Captain Saeed Anvar depended on the veteran and the young buck and how well they obliged. Younis, now at the twilight of his carreer came pounding in ball after ball and gave everything he could. So too the novice Razak. He moved the ball both ways kept a tidy line and kept going tirelessly.
Off-spinner Saqlain also tried his utmost. In the first innings he was bowling more defensively. Again the effects of one day cricket rubbing off. The second time his line and length was probing. He gave all the batsmen a hard time. Of course he could not attack as much as he would have liked to, with the target to get - not being a big one.
It was the mental pressure also that got to the Sri Lankan batsmen when up against the off- spinner in the second innings. It will be interesting to see the battle continue in the next two Tests because the Sri Lankan batsmen are gradually getting on top of Saqlain having now played against him on many occasions.
Alive
The game came alive with the partnership between Wasim Akram and young Younus Khan. Again the combination of youth and experience came to the fore for the home team. They had nothing to lose, and so, played freely against the Sri Lankan bowlers. It was the first session in the game - between lunch and tea on day four - that the Pakistani's got the better of the exchanges.
Slowly but surely Akram and Khan gave their bowlers a reasonable target to bowl at. Younus Khan looks a player of the future. A century on Test debut is indeed a commendable achievement. He is technically sound, has a good temparament and is a well organized player. In addition he is a fine fielder in the cover area. Certainly a valuable find for Pakistan.
Two hundred and twenty runs may not sound much, but on the fifth day of a Test match it can be a tough task. Lose a couple of wickets then the pressure becomes even more. The game fluctuated to and fro right through the final day. Both teams seemed in with a chance at one point or another.
Vital innings
With Atapattu, Arnold, Jayawardena, de Silva and Jayasuriya gone and Ranatunge nursing an injury in the dressing room the home team was certainly in with a big chance. The Sri Lankans did not deserve to lose this game. They did all the running and suddenly they were staring defeat in the face.
The innings that Romesh Kaluwitharna played was an absolutely vital and brave one. Ranatunge was no second, coming back with an injured bottom hand. They used every ounce of their experience. Slowly but surely they clawed their way through to a famous victory. Not often does a Test match produce such a close, tense finish. It could have gone either way. The Sri Lankans played the crunch points better to come out on top.
To produce a result in the final hour of a five day Test match is the ultimate dream of any Curator. Full marks to him and the ground staff at Rawalpindi. They contributed greatly towards the success of the game.
---
Rugby takes back seat
My Police Memories
By S. Sivendran
(Retd. Snr. Supdt. of Police)
When I was in charge of Cinnamon Gardens there used to be several incidents involving foreign seamen who frequented the night clubs such as Sun O Rama and Tropicana for their booze and belles. One night two foreign seamen had gone from one of these clubs to Radio Ceylon after liquor and one of them had climbed on to the statue of Lord Buddha which was in front of the building and sat on the shoulders and the other had taken a photograph. This was brought to my notice the following morning and I promptly made inquiries from a guest house at Bullers Lane in close proximity where they had spent the night and traced them to their ship and arrested them and charged them in Courts. They were heavily fined on their pleading guilty and were deported.
During this period I met Hemasiri Fernando who was a Sub-Lieutenant in the Navy who was in charge of the security of Radio Ceylon which was guarded by the Navy, when one of the sailors on guard duty at Radio Ceylon committed suicide by shooting himself and I had to go for the inquiry. Thereafter Hemasiri and I have been close friends. He later went on to become the Chairman of Telecom and the Secretary to the Prime Minister and is today the Chairman of the National Olympics Committee.
On 20.6.77 I was transferred as Officer-in-charge of Kirulapona Police in a major shake-up of the Colombo Division Police to gear for the forthcoming General Elections that was to be held in July 1977.
Then Kirulapona was a hot-bed of vice and crimes and had several pockets in the canal bank, Koombikelle and Destructor Road that were infested with well-known criminals and bad characters who reigned supreme in the underworld. There was also the sale of ganja and the illicit brew which was commonly called "Kasippu" and this trade was mainly controlled by Carolis Malli who operated under the Kirulapona bridge at the entrance to the Sri Siddhartha Passage. Saa de Costa who had his empire down Balapokuna Road and the Dabares - Victor and Simon who had their joints at Polhengoda Road and Destructor Road. There was also prostitution in the shanties along the canal bank and the king-pin who handled this operation was Sonny Dep who was killed by a rival gang with a bomb.
There was also Monte Carlo in Kirulapona which catered to the affluent class where at a time ten or fifteen beautiful girls were available but at a price. All these places came under constant raids by the Police.
The Kirulapona Police was housed in a small building down Kirulapona Avenue and the bachelor Police officers occupied a house across the road opposite the Police Station. Sub Inspector Nester Peiris was in charge of crimes. Sub Inspector Waranakulasuriya, an elderly officer who rose from the ranks was in charge of Administration. S.I. Nalin Perera was O.I.C. Vice Squad who is today an A.S.P. working as bodyguard to Kingsley Wickremaratne, Minister of Trade and Commerce.
During the 1977 General Elections we had to work round the clock to ensure a peaceful election in Kirulapona without any incidents. The United National Party led by J.R. Jayewardena scored a landslide victory defeating the Sri Lanka Freedom Party which was led by Mrs. Sirimavo Bandaranaike who ruled Sri Lanka from 1970. But immediately after the elections violence broke out and several houses were set on fire and people were attacked and killed. In order to maintain law and order additional strength were brought into Kirulapona from the Colombo Fraud Bereau led by A.S.P. Hema Weerasinghe which included Inspector Willie Fernando and Inspector D.N.S. Perera.
During these days of violence I very seldon visited my family who were living at the Anderson Golf Links Police Quarters as I had to be available at the Police station day and night. My wife and my three daughters who were barely five years found it difficult to be alone at home and I decided to send them to my mother's house in Jaffna. I contacted Air Vice Marshall Harry Gunatillake who was the Commander of the Air Force who was a friend of mine as we were members of the Sri-Lanka Society of Rugby Football Referees where I was the Secretary and requested him to help me to send my family to Jaffna. He within hours informed me that there were four seats available and for me to take my wife and children to the Ratmalana Airport and my family were flown to Jaffna where there was peace at that time and they lived with my mother and returned to Colombo after all the troubles were over.
Amongst the places that were attacked in Kirulapona was the Kalpana Theatre which we were able to protect without any major damages and arrested the miscreants and had them remanded. In another incident I and a Police party had to open fire on a mob which came to attack the Tamil boutiques in the Kirulapona bazaar from Kumbikelle. In this incident four people were injured due to the firing and were arrested and remanded preventing further trouble in the area.
J.R. Jayewardene who was the Prime Minister at that time after the elections visited the Kirulapona Police personally to congratulate me and my staff for effectively maintaining law and order along with the then Ministers R. Premadasa, Gamini Dissanayake, Ranil Wikremesinghe and the Member of Parliament for the area Edmund Samarawickrema and also toured the Kirulapona area and visited the affected places such as the Kalpana Cinema.
At the end of 1977 I was rewarded with the transfer to Bambalapitiya as Officer in Charge. During this year rugby took a back seat due to the General Elections and the violence thereafter. Havelocks this year won the Clifford Cup for the second successive year for whom Thomian schoolboys Michael Jayasekera and P.L. Munasinghe emerged as two of the finest centre three quarters.
---
Cricketing genius Sobers
Another of Sobers' memorable centuries was the one he made against England in the second Test at Sabina Park in '68.
As usual it was another rescue act against all odds, which was increased by a very untrustworthy pitch. In the first innings the West Indies had been sent packing for less than 200 and Sobers himself had not bothered to trouble the scorers.
Despite a fine knock by Seymour Nurse, the West Indies had to follow on, and were only a hairsbreadth away from defeat, when Sobers came in at No. 6. On that wicket a batsman need some luck to survive and Sobers was dropped in the slips in the early part of his innings.
But only a cricketing genius could have hoped to score a century and inspire his side. He finally closed the innings at 390 for nine and came very close to snatching a miraculous victory from certain defeat.
At stumps England were 68 for 8 and neck deep in trouble against the spin of Lance Gibbs and Sobers. Sobers himself finishing with 3 for 33.
When the South African tour to Australia in '70 was cancelled, it was replaced by an Australia vs Rest of the World series and Sobers was picked to lead the World XI. In the first innings of the Melbourne Test, they were dismissed for one hundred and eighty four, with Lillee taking 5 for 48, including Sobers for a duck.
In reply Australia scored 285 and the Rest of the World were struggling for survival at 87 for 3 when Sobers came in to perform another of his rescue acts. When stumps were drawn three hours later he was 139 not out. When the game started the next day he took his score to 254, and the World XI reached 524.
Australia were dismissed for 317 and lost the match by 96 runs. In that innings which contained 33 fours and three sixes Sobers played every shot in the book as well as some of his own - the delicate placement, the lofted straight drive, the square cut, the square drive, the controlled flick off the legs, the majestic hook and the flowing front foot drive were just some of the delicasies that were put on display on those two days.
From start to finish everything worked to perfection timing, footwork, judgement and execution.
There are many examples of Sobers' prowess as a big hitter. This includes the enormous six he hit off Ian Meckiff in the Sydney Test in 1961. The ball landing on the top of the Sherridan Stand. But the most remarkable was that record breaking over for Notts against Glamorgan, when he hit the helpless Malcolm Nash for six sixes in one over.
This was the first time it had been done in first class cricket. It was not a deliberate assault on a world record. Nor did it owe anything to international co-operation from the opponents, as did that hurricane hundred by Robin Hobbs against Australia at Chelmsford in '75.
With more than 300 for 5 on the board in their first innings, Sobers wanted quick runs for a declaration. Nash, one of the established bowlers, was bowling steady left arm spinners. Sobers simply hit each ball on the rise to various parts of the ground and each time he hit one, the crowd kept yelling for more, because they had never seen such a burst of controlled hitting and are not likely to see it again.
The first two balls were hit hard and high over long on and mid-wicket. The third went straight over Nash's head and the Members Stand was bombarded. The fourth ball was pulled over square leg. He struck the fifth too far up his bat and was caught by a fielder right on the boundary.
Just like Sobers not to wait for the umpire to raise his finger, he was already walking. But the force of the shot had carried the fielder over the boundary and he was called back. This no doubt to the joy of the enthralled spectators.
It was not until he had hit four sixes, did Sobers think of hitting the whole lot for sixes. By now the spectators were on their feet and howling their tops off. Wilf Wooler who was commentating for T.V. was almost hysterical with excitement. Nash's last ball was a deliberate seamer, but he made the blunder of digging it in too short. And it went hurtling into the outskirts of Swansea.
Peter Walker who was fielding at slip for this remarkable over and thanking the Gods that his bowling stint was from the other end, summed up that last blow. "It was not a six. It was a bloody twelve." -
Bruce Maurice
---
121st "Battle of the Blues"
Thomian strength is in bowling
By Ravi Nagahawatte
The Royal-Thomian is for cricket what the Bradby is for school rugby .
The schoolboys of both schools know what honour it brings to be out in the middle and perform as players in this cricketing extravaganza which is 121 years old this millenium year.
And given the importance of this year's match, reports reveal that most of the tickets have already been sold out to enthusiastic Old Boys of the two schools who reside here and abroad. The Royal- Thomian, after the historic centenary big match in 1978, has again created that air of excitement which could bring in a capacity crowd from the very first day. The match holds great importance to both sets of players as it is played in this much celebrated millenium year.
This mother of all big matches is scheduled to be played from 9-11 March at the Sinhalese Sports Club grounds.
"It is a great experience to play in the Royal-Thomian and we are going all out to win," said Royal skipper Ruchira Jayasuriya.
The stylish batsman leading a talented side this year guided Royal to a moderately successful season with one win and 15 draws from 16 outings.
The Royalists were never troubled with the lack of form. But unkind weather gods robbed them of victory on more than four occasions.
And then came an inspiring moment for the lads from the Reid Avenue school three weeks before the 'big match' when they scored an enterprising innings and 13 runs victory over Prince of Wales.
According to their coach Nihal Kodithuwakku the Royalists have a bowling attack which can run through any batting line-up.
"We have bowled out practically all our opponents to scores which were lower than ours," said Kodithuwakku.
Two freshers Sampath Edirimuni and Ganganath Ratnayake have provided the shocks to their opponents and have also been their regular wicket takers in most of the matches. Edirimuni, a right arm pace bowler, has the potential to put batsmen on the back foot and has taken 39 wickets this season. His feats include a fiery spell of bowling against Richmond which brought him six wickets.
Right arm off-spinner Ratnayake is known to have the ability to keep the batsmen guessing and has reaped a rich harvest of 38 wickets this year. He was in fine form in the Wesley match and returned impressive figures of 5 for 30. Ratnayake who is just 15 years old happens to be the 'baby' of the side.
Fresher and pace bowler Amila Kariyakarawana with 26 wickets and fourth year player Harith Rajakaruna ,who has taken 25 wickets with his leg-spinners, will form the rest of the bowling attack.
Opener and second year player Malinda Thotuwilage will be the batsman to watch among the Royalists having accumulated 585 runs while batting at number three. The exuberant right hand batsman has earned a name for collecting runs at a brisk pace and made his highest score which was 87 against Isipatana.
Thotuwilage will be partnered by Dhanushka Perera who has performed reasonably well this year. Interestingly the second year player makes a comeback in this Royal-Thomian cricket encounter after losing his place last year. He has fond memories of scoring a century this year against Prince of Wales.
Seniors Ruchira Jayasuriya and Sri Lanka youth player Jehan Mubarak will be relied on to bolster the Royal score with both having topped the 500 run mark.
Mubarak, batting at number four has played a key role in the side since his debut for Royal in 1997 and has today turned out to be one the most entertaining schoolboy batsmen .
The right hander has been in cracking form this season and was on fire in the match against Ananda where he scored a century.
Skipper Jaysuriya has also been among the runs this season and has made a personal best score of 64 against Dharmapala. He has four other half centuries to his credit.
The Royalists had a nightmare last year having lost the 'big' match after a cracking start on the first day. Their last win against the Thomians was recorded in 1991 under Rohan Irriyagolla.
The Thomians have a slight advantage when they go in to this encounter having won last year's big match .
As much as eight players from that big match winning team have reamined with the side this year. But a serious Thomian coach Dinesh Kumarasinghe has thrown emphasis on form which has shown the door to two seniors for not living up to expectations. Shanaka Caldera and Rajiv Gunawardana will be mere spectators for this 'big' match where several other seniors have been forced to perform to retain a place .
"Our hope is to repeat last year's performance" said the successful Thomian coach who has been with the side for the past twelve years.
All rounder Gihan Fernando who counts five years of experience leads the lads from Mount Lavinia .
The Thomians have had a fair season this year having won two and drawing the rest from 15 matches played .
They vanquished Nalanda at Mount Lavinia and later routed Wesley by innings and 85 runs and wrested the coveted M.Sathasivam Trophy which was on offer for the first time.
"We will play for the school and not for the crowd" was what the Thomian skipper had to say when contacted by the 'Sunday Times'.
The Thomian strength lies in their penetrative bowling attack having dismissed most of the opponents for under 150 runs this season.
Paceman Lakmal Fernando spearheads the bowling attack and tops the bowling averages with over forty wickets. He seemed unplayable in the match against Wesley and turned in a career best performance of eight wickets for 16 runs in the first innings .
Leg-spinner Jeewan Mendis has lived up to his captain's expectations and has captured 40 wickets this season which includes a six wicket haul in one innings against St.Peter's. Spinners Dilshan Gunawaradana and Dilusha Nanayakara will add spice to the Thomian bowling and have thirty wickets each to their credit.
Last year's big match hero Meshad Peiris and skipper Gihan Fernando will be the batsmen to watch when the Thomians go into bat .
Peiris who contributed immensely towards a Thomian victory last year with a century has topped the five hundred run mark this season.
Fernando who has been the best among the Thomian batsmen has reached 750 runs and made an entertaining 101 against Thurstan. Senior player Lakmal Fernando could be the other Thomian batsman to pose a threat to the Royal bowlers having scored over 650 runs.
The teams -
Royal: Ruchira Jaysuriya (captain ) Jehan Mubarak , Harith Rajakaruna , Dhanushka Perera , Andrew Perera , Malinda Thotuwilage , Sampath Edirimuni, Amila Kariyakarawana , Kanishka Edirisuriya , Ganaganath Ratnayake, Dilina Perera , 12th man Shafraz Saldin.
S.Thomas' : Gihan Fernando (Captain) Lakmal Fernando, Zakir Kanaka , Meshad Peiris, Lahiru Wickremasinghe, Heshan Peiris, Dilshan Gunawardana , Jeewan Mendis , Dilusha Nanayakkara , Praveen Mendis, Aruna Banadaranayake , 12th man L.A. R Perera .