Contents
---
Lester gets 2nd Award from IFFI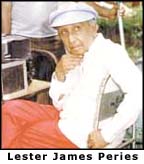 Well-known Sri Lankan film maker Lester James Peries is to recieve the second life achievement award for contribution to cinema at the 31st International Film Festival of India (IFFI) commencing here next week.
The festival, which is the first international film event in the new millennium, is being held from January 10 to 20. It has been organised by the directorate of film festivals of the information and broadcasting ministry in collaboration with the government of the national capital territory and Indian film industry.
Peries has completed almost 50 years in the world of cinema, beginning with his film Rekhawa in the mid-50s which had found entry at the cannes international film festival. This film had in fact changed the course of Sinhala cinema since it was the first serious film in that language.
Peries began his second film in collaboration with another young filmmaker, Sumitra, whom he later married, and both husband and wife, are renowned for making creative Sinhala cinema, reports UNI.

---
Drama a month

Tower Hall Teatre Foundation will produce and stage a drama on a monthly basis at Lionel Wendt Theatre begining from Sunday, January 16.
In addition, high quality drama productions of the Theatre workers will also be staged as Invited Dramas. A discussion on the drama show will be held together with a small tea party after every show.
A short programme also will be conducted to introduce the original play wright of every translated/adopted drama. The Foundation invite TV Times readers to be a member and to participate in these programmes. Only Rs. 150/- for three months membership and is available presently at Lionel Wendt Theatre.
The very first one hour drama 'Padadaya' will be staged at 3.00 p.m. on Sunday, January 16.
Padadaya is produced by Buddika Damayantha. This is a translation of the American dramatist Edward Albee's "The Zoo Story".
'Last Bus Eke Kathawa' (30 minutes) by Dhananjaga Karunaratne will also be staged on the same day.
'Seveneli Saha Minissu' written and produced by Prasanna Jayakody will come on stage on February 13 and 'Kallo' produced by Buddhika Damayantha will be stage on March 12.
The 'drama festival' is sponsored by Tower Hall Theatre Foundation and Nestle Lanka and supported by the Sunethra Bandaranaike Trust.