---
Youth bring hope of unity
By Ruhanie Perera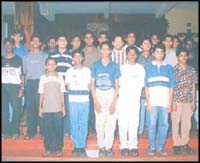 Music is known to work many a miracle. At a time when so much gloom surrounds us, a gathering of young boys coming together to sing, ignites a spark of hope. The boys are from different schools. They belong to different races and practise different faiths, but yet, as they lift up their voices in harmony, the differences melt away. It is a promise of unity through a service of song.

The participants at this event will be the school choirs of St. Peter's College, Wesley College and Carey College. Some old boys of S.Thomas' Preparatory School will also join them. Each school represents the different denominations of the Christian faith, such as Roman Catholic, Methodist, Baptist and Anglican. The boys will sing as one choir - one voice, to celebrate Christian Unity Week from January18- 25. However, the ultimate purpose goes beyond this. It is a celebration of the possibility of unity and so the apt theme "Let all be one" (from John. 17) has been adopted for this event.

This unique idea is that of Priyanthi Seneviratne who has been responsible for numerous successful choral productions. She has been choral director of St. Peter's College and has been training the Wesley College Choir for almost two years. But this is her first time with the other two schools. "My goal is to prove that unity is possible and is within our reach if we really want it. And these boys have already proven that–by focusing on what they have in common without squabbling about their differences."

The idea to have a "prayer for unity in song" was proposed at the Conference of Interfaith Dialogue. From that point onwards the National Christian Council and the Episcopal Conference for Ecumenism of the Roman Catholic Church backed the idea. Fr. Valence Mendis and Rev. Ebenezer Joseph assist in the arrangements for the concert.

It was decided to execute the idea at school level because - as Priyanthi puts it - "They are the youth of the country and our future. If they, at this point, learn the true meaning of unity then there certainly is hope for our future."

Much work has gone into the preparation for the event. Not only have the boys had to practise their music, they have also been prepared spiritually. Attending a retreat where they had many discussions has helped break down any barriers there might have been.

As for the boys' response to all this - it's 'thumbs-up' all the way. "It's a unique idea," was the unanimous response. Many of the boys haven't met before, so for them it's a great opportunity to make new friends. Some of them are not used to the music while others have been singing for years. So this is a time for hard work and helping each other. At a time of fierce competition among schools, it is refreshing to see them working together towards one common goal. "When you compete, only one school ends up winning - here all of us are winners."

So, if you have just about given up on the possibility of unity among people, come to All Saints' Church, Borella on January 21 at 6.30 p.m. and witness evidence of unity.
---
Rap with Urban Sounds
By Laila Nasry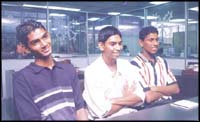 Brothers Krishan and Gajan Maheson and Ajanth Gopal look like any other regular guys. Aged between sixteen and eighteen, they come across as normal teens with school, homework and exams to weigh them down. Like others their age, they too have ambitions, wanting to be corporate bigwigs and computer analysts. What distinguishes them from the rest of their peers, though, is their "hobby", their passion, their love...their ability to make beautiful rap music.

Starting off in 1997, the threesome together with Delon Weerasinghe and Nishan Dias Weerasinghe of "Brown Boogie Nation" were first known as "War Poets". Wanting to do something that was originally Sri Lankan they decided to focus on the ethnic conflict and the war. However, things didn't work out as they planned. As a result, in 1998 the threesome formed this group called "Urban Sounds" together with 18- year-old Iraj Weeraratne who is the producer for the group and Rukshan Dole of "Rude Boy Republic" fame.

Becoming instantly popular, 1998 proved to be a fantastic year for "Urban Sounds". "We were like really huge at the time," Gajan recalls with shining eyes. They performed at the 'D.J of the Year' contest in March, at the Rock Cafe, at the "Showboat" karaoke finals and at various Interact Club functions. Krishan also did a rap jingle for PEPSI. Their tracks "Smooth flow", "Gangsters", "Celebrities", "Kelle-you better listen to me" and "Sri Lanka 2030" were aired on Sun FM's "Silk Sheets" and later requested by Sun FM listeners on "Dial-a-tune", a popular request show.

As youngsters they enjoyed R&B and pop music. As time went on, they became hooked on rap, influenced by "Afdhel Aziz's Colombo Try project". "It was only rap and hip hop and it featured everything that was Sri Lankan. We heard it, we liked it and we thought we should do something like it," Krishan explained. So what did their parents have to say to all this? "Well, they were not all that supportive. Mum is strict and scolds us," Krishan says with a half smile, "but Dad's cool. He has come and watched us perform and funds most of our projects."

Rapping is done only in their free time and the boys take a break when exam time is looming, like last year when Krishan had to do his O/Ls. However all is not easy for the guys who have big plans and great dreams. The music scene in Sri Lanka is dominated by pop and commercial rap songs. Hip hop isn't as popular. "Radio stations don't concentrate on hip hop so they are reluctant to play our tracks," a dejected Krishan said. Further, studio charges are as high as Rs.1,000 per hour. Around Rs 10,000-12,000 is spent on recording, mostly funded by their parents. When the songs are not aired and there is no return from a track, it seems a waste of money and time, they say.

However, they aren't giving up. They hope that music lovers will learn to appreciate hip hop and rap more than before. They also hope to publish copies of their tracks and that they will find a sponsor and be able to perform more in the months to come.

You never know. Dreams have this remarkable ability of turning into reality. And judging by these guys' abilities and talent, maybe in a few years Sri Lanka will have its own "Puff Daddies" to boast of.

---
The Independent boys
By Ruhanie Perera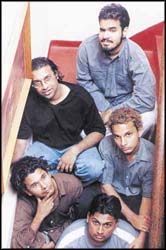 At some point in life everyone wants to be a musician. It is that passion that drives one to bang on mum's best saucepans with a wooden spoon, strum madly on an imaginary guitar or sing a favourite number into a broomstick. Sometimes the passion never leaves you. The hopeful scribble lyrics, while the ambitious form their own little bands. That usually is as far as the dream goes.

But for the band Independent Square the dream didn't end there. Carrying on with their music and making the band work seemed - "the natural thing to do". In 1992, long before Independent Square was even dreamt of, it was just Shehan and Anil writing music in school. They kept on writing and recording music until they joined up with Priyanka (O.P.) and Ajith and formed a band. Dhinesh, who was found by accident (a very lucky accident), completed the band, which was christened Independent Square.

One might wonder where the inspiration for the name 'Independent Square' came from. Well, wonder away for the name was just one of those unaccountable spontaneous things, which worked for the guys so they decided to stick with it. To them it isn't the name that's important, "it's the music that makes the name". And so Independent Square it was, with Shehan on the rhythm guitar, Ajith on the lead guitar, O.P on the bass guitar, drummer Dhinesh and Anil doing the vocals.

Almost all the music the guys play is original, though they do play "revved-up old songs", which they have added their special flavour to. Every single guy always has something to add when it comes to the making of a song. Usually one person does the songwriting and then it's brought along to one of the "jamming sessions" and the band works wonders giving new life to the words with the music. "One classic example is our song 'Anger'," says Anil. The song, which had been written by Shehan, had been "transformed" after Ajith added a lead part to it.

The five guys give their music their personal tastes and touch. Though they are all "very much into rock", each one is influenced by a different degree of rock ranging from metal (which is O.P.'s thing) to soppy stuff (which is right up Anil's street). "We do listen to a lot of music by Pearl Jam and we find Nirvana very inspiring," adds Shehan. "Other people's music is an abundant source of inspiration" and there is so much of it that it can continue to be an inspiration forever.

What about themes? "We try to be as depressing as possible," comes the prompt reply. "But seriously," they continue in a valiant effort to explain, "we try our best to avoid cliches." Songs can become stereotypical and that is what these guys steer away from - "Our songs are not 'obvious'". Sometimes they don't even think about themes or deeper meanings, when writing the meaning just falls into place. There are even times when meanings just evolve during a 'jamming session'. And judging by the thrilled look on the faces of the guys it's clear that it is that spontaneity that they thrive on.

Independent Square has certainly come a long way since their first gig at the Arts Centre. Since then they have performed at Legends, Rock Cafe, My Kind of Place and the Commons. Their biggest success was at "On Stage" held at Rock Cafe where they were judged the best rock band. This band that remembers a time when they were "begging for gigs" has also released an album - 'Bring Back The Sun'. Looks like the begging days are over.

"We're still learning a lot about being a live band - especially the fact that there is a limited audience for rock music, but things are certainly getting better." They don't ask for much, "just a chance; listen to our music and believe it or not it grows on you. And please don't associate us with devil worshippers," is their final cheerful plea.