Home alone for seven days
In the West whenever the kids are left alone at home, they throw all -night parties, But here things are different as Aditha Dissanayake discovers
When my father goes on a business trip to Singapore for a week, he takes my mother along with him.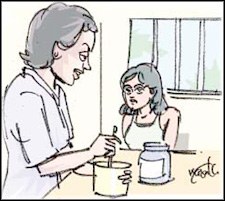 He feels she deserves a break. Nishi, Duni and I are left alone at home to fend for ourselves.
Nishi has to go to work. Duni to university. Waiting for the final results of my B.A., I happen to be the jobless one among the three. So Duni and Nishi gladly confer the post of housekeeper on my shoulders.
Getting up at five thirty in the morning is no problem. Neither is making tea. If not for Duni. He sits at the table and begins to narrate the final bits of the movie I had abandoned watching last night. As usual the best part had begun after I had gone to bed. Engrossed in listening to Duni, I lose count of the number of spoonfuls of milk powder I had put into the huge enamel mug used for making tea. Duni suggests I put the whole lot back into the tin and count again. This does not seem right. I make the tea with what is already in the mug. The tea is so thick with milk powder, Nishi suggests we drink a glass of water afterwards to make it slide down our throats.
My mother had seen to the larder. It is filled with food enough to see us through almost to the end of the new century. But I have to buy vegetables and fish. There are three fish vendors who go past the house on their bikes in the morning. Each has a different way of advertising their wares. One hollers "maaaaaaalu". The other, "malooooooo", while the third says "ma-llloo". "We buy only from the tall dark one. He cleans the fish well and has accurate scales", my mother advises me before she leaves. I keep my ears picked for "maaaaaaalu" for that's our one and ignore the other two.
Catching the "keerakaraya" is not so easy. On most days he pushes his cart past our house with hurried steps. It seems almost as if he does not wish to see me. When I stop him he avoids my eyes and says in one breath, "The green leaves are not good today Baby, all the good ones have been sold, these are the leftovers, tomorrow I will save a good bundle for Baby." But tomorrow I will not be at home to waylay him. I walk back to the house, disappointed. The food I cook gives no satisfaction to our palates. To my utter relief Duni and Nishi come down with severe colds during the middle of the week. "Nothing is wrong with the food," I tell them. "It's your malfunctioning taste buds that make them seem tasteless." They gobble down whatever I give them with gusto. Next year's Oscars for best actor should be shared by Duni and Nishi.
In the West whenever the kids are left alone at home, they throw all night parties, so one reads in books and sees on TV. But here things are different. Lokuamma calls us (during off-peak hours) every morning, noon and night to check if we are all right. The threat of Lokubaappa dropping in to see us on his way to and from work hangs in the air like the hang-man's noose. So we choose the most innocent pastime possible. On Sunday we invite all our friends for a game of monopoly. "Come after the sun has risen well in the sky. Bring anything and everything that is edible," read our e-mail messages. "We'll buy lunch packets from outside and give ice cream for desert," suggests Duni. Nishi agrees. I sigh with relief.
We move the car out of the garage and drag the dining room table out. Luckily there is no breeze to blow the dollar notes haywire. We time the games. Nishi and Duni are intent on winning. I find myself too soft hearted to demand rent when someone bankrupt lands on my property. Nishi's mate from office turns out to be a hard-core 'monopolize'. He gets 'free passage' from all the other players. 'Pany', Duni's soulmate from university, sells his plots for discounts. He wins almost every game. The others just manage to make ends meet. It is six in the evening when we pack up. When Lokuamma calls at seven we are back to our normal pursuits. Nishi is watching TV, Duni is seated at the computer and I am in the kitchen, making dinner.
Cooking, I realize is an endless process. It's a wheel which keeps rolling, rolling and rolling, on an endless Russian steppe. Take out the pots and pans, make breakfast, wash them. Half an hour later take them out again. Make lunch, wash them. A short break. Take them out again, make dinner, wash them.... get up at five thirty... Long before the water on the pots has dried after making breakfast, they have to be used to make lunch. Then again by six thirty in the evening there pops the question "what are we going to have for dinner?". Deciding the menu is twice as difficult as making the curries.
Running a house demands intelligence. One must have plenty of brain cells to remember which side of the pestle is used to pound coconut, sambol on the wooden, minimized mortar. A sound knowledge in zoology helps when it comes to cleaning fish. Knowing a bit of chemistry is an added advantage when mixing the spices. Cutting green leaves into small shreds requires the patience of a hermit. When it comes to the bottle of salt, however, there are no guidelines. Here, one should let one's sixth sense prevail.
With only one day left to go before my mother returns, I have realized how unselfish and absolutely marvellous all mothers are who spend endless hours , cleaning, cutting, washing, pounding, frying, boiling raw vegetables and meat to make them into delicious dishes and do almost all the other household chores,while keeping up a career as well.They sure deserve Buddhahood!
A new beginning
Young Romesh brought me the invitation card and laughed saying, "Raja and Amali are getting onto the marriage merry-go-round. Hope they won't think of jumping out suddenly."
I held the invitation in my hand. A new year, a new beginning, a life together and in my mind I could see you Amali, a radiant bride, so sure the love Raja has for you will remain unchanged,the promises he made will last a whole lifetime for has he not said, he will never hurt you, never be unfaithful and always be gentle? I can see Raja too as he stands watching you come to him,waiting to place his ring on your finger and pledge your promise to each other,to be true, to love each other in good times and bad,and we your parents, your friends and all of us for a moment will nostalgically remember the past and tears of happiness for your joy will fill our eyes.
But as I take the invitation to keep it in a safe place, Romesh's words echo in my ears. Was it not yesterday that one of those society wedding photographers said, "I daren't give the six months credit that I used to for wedding photographs because even before the six months is gone, the marriage is over." As Romesh would say, "The couple have got off from the merry-go-round of marriage!" And I wondered why it should happen. Maybe the couple are not really ready for marriage.
Love during courtship is a matter of pleasing one another. Even the occasional angry words, and the little arguments are washed by the warmth of a kiss, a cuddle, a word of apology. To be in love is so wonderful that it covers with happiness the moments you spend with each other. The family intrudes only when the wedding is planned and then, there is so much to do and the cocoon of being in love yet remains intact. But I often think, the fact both of you are not an homogenous entity but a he and she, two persons, not identical souls in love, will emerge briefly on your honeymoon. Amali may not know Raja prefers to sleep till late while she wants to wish the morning sun. Raja wishes to sleep early and is not interested in watching TV or talking! So many differences you discover, yet the magic of love in the shared sexual togetherness covers them all and a honeymoon away from all responsibility, away from the world , waiting to intrude with its numerous problems rarely bothers you, for after all you are in love and it is only the happiness of each other which matters.
But then when you come back things will be a bit different.You question will that love you promised survive or will you want to step out from the merry-go-round of marriage? Maybe you will like to hear of the experiences which will touch you on that journey and perhaps then you will understand how much is required from each one of you to stay in that wonderful world of marriage.
Lovingly yours,
One who understands.