Facts about the President's speech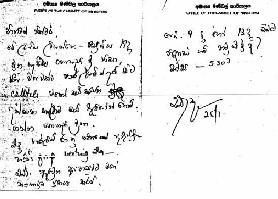 There are occasions when a foolish friend can be more dangerous than a vicious enemy.
It is doubtful whether any other head of state ever brought herself or himself to such ridicule so soon after victory at elections. Two days before the elections she had escaped death in a serious bomb attack but had been injured. When the injured person is a head of State, the normal practice in such circumstances is to take her/him away from public life immediately, provide her/him with all necessary medical attention and to bring her/him back to public life after she/he has fully recovered.
Unfortunately this tragic incident took place on the eve of a decisive election, where she herself was a candidate. Consequently her political advisers had to get her to address the people in disregard of her physical condition.
She addressed the nation briefly on the day before the election. The sight of her generated tremendous sympathy among the people. After her electoral victory and the taking of oaths and before proceeding to England for medical treatment she again made a short but emotional speech to the nation. At least after the electoral success which had been sought and achieved, she should have been kept out of public activities until she had fully recovered and all necessary medical attention provided to her.
However, after she had gone to England and had come back in connection with the new millennium, some small coterie wanted to get her to speak at length for the purpose of implementing a narrow political agenda of their own, and brought her to public ridicule.
It may be that she was not in a position to present facts in a relaxed and logical manner. She attacked everybody she considered her enemy. She attacked not only the U.N.P., Prabhakaran, the private media, some businessmen and police and military officers, but also, directly and indirectly some members of her own Cabinet.
She directed her ire mainly on the non-government private media.
In the same way that President J.R. Jayewardene called JVP rebels beasts, she called media persons some poisonous snakes, who had crept into public life. The only group she defended unconditionally was officials and persons very close to her.
She said that they all were very honest persons who were doing a very good job of work. Among her Cabinet colleagues the only one who got a significant certificate was S.B. Dissanayake. Her conduct was not relaxed. Her language and tone too were not those of a State's person but those of women in a broil. It is clear that the entire programme was enacted in a way that S.B. Dissanayake wanted it.
I was among the President's main targets. She did not fail to designate me a bomber. But surprisingly, after saying that, she also said elsewhere in her speech, while telling about the role she played in defending the SLFP headquarters, that she too had to take a bomb in her lap. Thereby she came down to the level of a bomber.
She emphasised that I am not a friend of hers or a person close to her. In order to show how little her acquaintance with me was, she asked 'What Ivan?'.
In spite of having said that, she also said that she had offered me several of the highest posts and that I had rejected them. She further said that I requested government advertisements for Ravaya and that, accordingly, she asked all state institutions to give advertisements to Ravaya.
She said that thereafter I had asked for a sum of Rs. 20 million to improve the Ravaya press. She said that she asked 'Victor, how can I give such a big sum?' and that she promised to give me a sum of Rs. 2 million, and actually gave me a sum of 5 lakhs. She said that she gave me that sum in spite of a warning given by two ministers that this was a person who would bite the hand that fed him, and to find out what would happen. She said that Ravaya attacked her that very weekend.
It is meaningless to analyse the discrepancies in what the President has said about me. Of course she said all this in the full knowledge that no legal action can be instituted against her even if her statements were inaccurate or defamatory, and under the cover of presidential immunity. Whether I like it or not, she is the President of this country. Because she has state power in her hands, she is powerful. The political atmosphere in the country is also tense. She is doing all this in the context of her electoral victory.
In such a situation, trying to reply her can be dangerous.
However, in spite of her powerful position, and the risk involved, I have an obligation to tell the truth which I have to say. If she has the right to attack, I too must have the right to reply, although she is the President of the country. I must say what has to be said, whatever be the consequences.
I believe even today that I played a part in building her political image. But I did it, not with the aim of coming close to her or making any financial gains, but because I thought it was necessary to have a more attractive leader for the purpose of defeating the UNP and broadening democratic freedom in the country.
In the process some closeness also developed between us. At the first stage she re-joined the SLFP. (Before that she was in the Sri Lanka Mahajana Party, founded by Vijaya Kumaratunga and a number of others).
Thereafter she contested the Western Provincial Council elections and became the chief minister of the Western Province. At the Western Provincial Council elections she sought my assistance in publicity work. I gave her the maximum possible assistance. It is also true that by the time that the Western Provincial Council was held, I had friendship with Lalith Athulathmudali. I must say that, in spite of that friendship, I followed a policy of helping Mrs. Chandrika Kumaratunga to the maximum and never of belittling her role. She, in her speech, said that I had used some unflattering pictures of hers at that campaign. There is no truth at all in that statement. Of course her appearance then was different. The clothes she wore too were different. She faced the cameras too without any makeup. Thus there may be, some difference between her photographs then and those of today.
As soon as President D.B. Wijetunga announced a parliamentary general election in place of a presidential election, the SLFP Central Committee met and appointed a four-member committee for propaganda work in connection with the parliamentary election.
The other three members were C.V. Gooneratne, Lakshman Jayakody and Mangala Samaraweera. As soon as this committee was appointed Mrs. Chandrika Kumaratunga contacted me on my cell phone and asked me to meet her at 12.00 noon at the chief minister's office. When I went there, the three MPs - C.V. Gooneratne, Lakshman Jayakody and Mangala Samaraweera too were there in addition to her.
Mrs. Chandrika Kumaratunga spoke to them briefly and said that she was aware that a large sum of money had been paid to a foreign publicity company to do the propaganda work at the '88 presidential election but that company failed to conduct an attractive propaganda programme.
She said that I had done her propaganda work in Western Provincial Council elections and that I was able to do that job successfully at an incredibly low cost. She said that she proposed to hand over the responsibility of conducting all the propaganda work to me. Thereafter two MPs - C.V. Gooneratne and Lakshman Jayakody left. She asked me to prepare a suitable publicity programme for the parliamentary election and set up a mechanism including suitable persons for the purpose, and said that she too could provide the assistance of several persons. That was how propaganda work for the '94 parliamentary election was handed over to me.
Mrs. Chandrika Kumaratunga offered to help me for the first time, not after she came to power, but at that time when propaganda work was being done. Ravaya had no press of its own. Ravaya got its printing work done at some other press.
The paper had a large circulation (the average circulation was about a hundred thousand) and we had all the necessary qualifications to get bank loans for a press. The banks with which we had dealings were reluctant to give us credit facilities to buy a suitable press due to fear of the UNP government of the day.
Mrs. Chandrika Kumaratunga too knew this. She told me that there was the possibility of buying an ultra modern press at an extremely low price (Rs. 4 million) and, because she did not need a press she asked me to get it for Ravaya and said that she would meet the cost of buying it. She said it would be enough, in relation to do some of the printing work she needed during the time of the elections. I agreed.
This discussion took place at her Rosmead Place residence at the initial stage of the election propaganda work. After the discussion she went with me in her vehicle to meet Navin Gunaratne. Navin was an old friend of hers, and that was the first time when he was enrolled for PA's activities. She got Navin too into the vehicle and went to the official residence of the Leader of the Opposition (Mrs. Sirimavo Bandaranaike). Mrs. Chandirka Kumaratunga told me that it was Sanath Gunathilake who knew all about the press and that he was at the residence of the Leader of the Opposition, and asked me to meet him and discuss the matter with him.
That was the first occasion on which I found Sanath Gunathilake in PA politics. At that time he was a UNP member of the Western Provincial Council. While Mrs. Chandrika Kumaratunga was having a discussion with some others in the Leader of the Opposition's official residence, I met Sanath Gunathilake who was at another place in the same house and had a discussion with him about the press. I remember that he had a beard grown all over his face and was wearing a blue denim pair of trousers. He addressed me as 'Athula Ayya'.
When I inquired about the press he said that Ananda Ganegoda had a press worth several crores of rupees, but that it was possible to get it for as little as 4 million rupees. I was surprised by what Sanath said. I knew that Ganegoda had mortgaged all his properties to state banks. It was not difficult for me to understand that, if a press owned by him was purchased in the manner described, a PA government that would come to power would have to follow a special policy in regard to Gunegoda's loans. I saw it as a subtle knot. I asked Sanath how, when all of Ganegoda's properties had been mortgaged to state banks, a mortgaged press could be sold.
Sanath said he knew nothing about it and that, if what I said was the case, that purchase should be avoided.
If I had wanted to make undue financial gains, I would have acted differently. It was Mrs. Chandrika Kumaratunga and not I who wanted to pay a price of Rs. 4 million for the press. Although it had been mortgaged to a state bank, in a situation when PA was definitely going it come to power, I could have allowed Mrs. Chandrika Kumaratunga to untie the knot, and got hold of the press. But I did not do that. I explained to her the true position of Ganegoda's properties and requested her not to touch that press.
On the very day when the Cabinet of ministers was sworn-in after winning the parliamentary election she gave me a telephone call and asked me to see her that evening at the Finance Ministry office. When I went there the media minister Dharmasiri Senanayake and Lionel Fernando who had been appointed secretary to that ministry were already there.
Mrs. Chandrika Kumaratunga requested me to accept the post of Chairman of the Lake House. When I refused it, she said laughingly that Lake House chairman would get a salary higher than what she got as prime minister. She asked me to accept the SLBC or Rupavahini if I did not like Lake House. I said whatever help I had given so far was not given with the expectation of any post or any other reward, and that my intention was to continue with Ravaya which I had started, although it was a small paper. She appreciated what I said, and told me that others were waiting for posts.
When I had not accepted any post, she, while having a conversation with me on a subsequent date, she asked me whether to nominate me to the Tower Hall Trust to serve in an honorary capacity. I refused that too.
Thereafter she wanted to nominate me for a Deshamanya honour, and asked through Piyasena Dissanayake, who was functioning as an Additional Secretary of hers, whether I would accept if she nominated me for such an honour. When I said that I would not accept it, Piyasena Dissanayake pestered me about it. He said that the President would not like it if I refused it after I was nominated. He requested me to accept what the President was offering gladly. I told him to inform the President that I was refusing it not because of any pride, but because I didn't need such a thing.
For propaganda work in connection with the parliamentary election 8 or 10 modern vans had been purchased on a finance basis. After the victory at the presidential election and when it had been decided that those vans should be sold by auction, Mr. Udaya Nanayakkara telephoned me and said that it had been decided to give me one of the vans and asked me whether it might be sent to me. I said that my help was not given in the expectation of a reward and refused to accept the van.
Before I come to the story about the Rs. 20 million I must deal with the President's statement that two ministers had told her that I had expected a post of political advisor to the President. The fact is that I had never expected or asked for such a post. The reason was that I wanted to maintain my independence. But as for Mr. Sanath Gunatilake's post I must say that I had done something that might give him pain of mind.
At Mrs. Chandrika Kumaratunga's request Sanath Gunathilake too had been included in the main propaganda committee of the PA. Navin Goonaratne too was one of its members. Although Sanath was a member of it, he did not do anything of significance except that he participated in the making of a short documentary about Mrs. Chandrika Kumaratunga.
After the victory at the parliamentary elections I was going to Sathi Wijepura's residence with Navin Goonaratne in Sathi's car for dinner, (it was Sathi who functioned as the accountant of the PA propaganda section) and Navin Goonaratne said to me thus:
"Victor, now I am going to talk to you about a sensitive question. Sanath expects to be Chandrika's media advisor. Can't you propose his name to Chandrika for that post?"
I said "Navin, first of all understand me. I don't expect to hold any post under Chandrika. But I can't propose that Sanath be made the media adviser. It is not done on any jealousy or hypocrisy. He is not suitable for that post. I am puzzled why he wants me to make such a proposal. You too are a friend of Chandrika. Why don't you make that proposal? Also, if Sanath wants that post, he can talk directly to her about it. Why does he want to get me involved?"
I wanted thereafter to know at whose request Navin made such a request to me. Navin and Sathi went on smiling, but did not reply to me. However, when I questioned them at some time later about it the reply was that the idea was Chandrika's as well as Sanath's.
It might be that Sanath had a hidden grouse built up against me due to my failure to do what Sanath had wanted me to do. President herself once said to me something that suggested it.
Once at a discussion I had with the President to which she had called me she said that previously I had rejected in an extremely preposterous manner a message she had sent me to see her. "When a message was conveyed to you to see me you had said. "I won't help that party woman any further," she said. When she said that I had to express my great surprise.
"I may criticise anyone. But I don't think that I had said such a preposterous thing to a person who conveyed to me a message from the President of the country that she wanted to see me. It is absolutely impossible."
I asked her who the person who had said that. After my explanation there was an obvious change in her expression. But she asked me not to ask who had said that and to forget about it. There is also no truth at all in the story that. I asked for Rs. 20 million. The truth about the story is this:
In January 1996 a secretary (a female) of the President telephone me to say that the President wanted to see me on some special matter and asked me to come to Temple Trees that evening. Although by that time the relationship between the President and me had not turned sour, Ravaya had become critical of the PA Government. When I went to Temple Trees she had a long and leisurely discussion with me. She said that she expected to start a private newspaper institution and that for that purpose she had got a project report prepared by a person who might be considered the best specialist in the country on the subject.
She said that she had thought of handing over to me the newspaper institution she was going to set up. When she asked me whether I was prepared to take over that responsibility I said that I did like to take over the responsibility of directing a newspaper institution owned by the head of state and that the Ravaya institution built up through facing various challenges was performing a very special role in society and therefore I was not prepared under any circumstances to allow that institution to collapse and to build another institution.
I told her that I had the idea of buying a press with bank loan raised by mortgaging the Ravaya building and the land and that a special project report had been prepared, and that the project report had already been submitted to the bank for credit facilities.
After listening to what I said the President spoke in praise of Ravaya and said that, although Ravaya was now critical even of the PA Government, a paper like Ravaya was a social necessity.
She said that she did not want to impose on me something against my will.
However, she requested me to read the project that she had received and said that it had been written by Leslie Dharmaratne. She said that she too wanted to help Ravaya and asked me whether I would accept if she made some donation to Ravaya's fund. I said that I would accept it if it was given in good faith.
Then she said that she would be able to give a sum of Rs. 5 lakhs soon and that she would give 8 lakhs more later. She asked me to take with me Leslie Dharmaratne's Project report and to let her have my comments on it. She asked me to see her two days later about 8.00 a.m. and said that she would send a vehicle to my office for me to come.
I read the project report which I had brought home and with a short note giving my views about the report. According to that report the investment to be made on a newspaper institution was Rs. 500 million.
It included the cost of buildings, vehicles and furniture. However, the cost of printing machinery. The report envisaged that at the first stage the newspaper could be printed in a press outside, and that machinery would be purchased in the second stage. My view was that it was the weakest future of the project report, and I recommended that machinery be purchased in the first stage and that the necessary vehicles be obtained on a contract basis and that they should not be purchased at that stage.
On the fixed date a vehicle came from Temple Trees early in the morning. As far as I remember the driver of that vehicle was driver Dayaratne who died at the Town Hall bomb blast. He was a pleasant person who had served for a long time as Mrs. Chandrika Kumaratunga's driver.
When I went there the President had breakfast with me. At the same time I expressed my views about the project report.
After breakfast she requested me to go downstairs and wait until she could dress up and come. About half an hour later she came downstairs and gave me a bag and said that it contained Rs. 5 lakhs and requested that the sum be credited to the Ravaya fund. She also requested me to consult her when something was to be written about the Ministry of Finance.
By that time the bag of money which the President had given was in my hand. However, what she had said about the Finance Ministry after giving me the bag of money did not please me. I asked her why it was necessary to speak to her to get a clarification everytime something had to be written about the Ministry of Finance. It was clearly apparent that my question did not please the President.
The President said "you want to argue unnecessarily about everything" and saying that it was not the occasion to have a further discussion about it because she had to attend a Cabinet meeting, and went away. All that I could do was to take the bag of money that had been received and to come back to Ravaya in the same vehicle. But that final exchange of words persuaded me.
I handed over the money to the Ravaya accounts branch and got a receipt to the effect that it was a donation. Although that sum of money was of great help at that time, the manner in which it was finally received did not please me. I wanted to symbolically inform the President that I treated it only as a donation made in good faith and that I was not prepared to consider it as something that involved any obligation.
So I published a lead story in the issue of the same week with the title "Rajan Asirvatham's privatization too as a racket" which was critical of a PERC transaction under the Ministry of Finance (January 28,1996). That news was not made up. In fact Ravaya carried criticisms of PERC transactions even before. This news story was about the doubtful nature of the sale of the Kotagala Group.
I learned that news story had angered the President. She must have thought "this is how this man has acted even after I had helped him." She was justified in thinking so. On the other hand, my declaration of independence was also very essential in view of the matter that the donation ended. My action too was justified
After this new story the President summoned Rajan Asirvatham and advised him to institute legal action against me. Instead he made a public challenge to me through newspapers. He requested the President to appoint a commission chaired by me to inquire into the Kotagala transaction and he stated that if nothing irregular was found in the transaction, I should donate a sum of Rs. 1 million to the Kydney Fund. His challenge and statement was published in a number of public newspapers and we gave public reply to that challenge through the first issue of Ravaya for February (February 4, 1996). Several months later the Exchange Commission stated that there had been a massive fraud in that transaction and imposed a fine of tens of millions on the parties to the transaction. That shut Rajan Asirvatham's mouth and the collection of the criticism we had published was also well established.
It must be said that although a distance in the relationship between the President and me developed after that incident, thereafter too we met on various occasions and had conversations. The President was driven to a position of enmity to Ravaya after the revolution made by it about instances of corruption and fraud that had occurred at the Local Government election of 1977. That anger, I think, must have been heightened after the Wayamba elections.
In the world of today, however pleasant or benevolent a ruler may be, no good, and only evil will ensure from such a ruler, unless his or her political activity is democratic. I have stated that the President's victory for the second time will not benefit the country, not due to any personal grouse but because of the anti-democratic nature displayed by her political practice.
I must also state that, although the President at her interview said that she met me because two ministers had informed her that I wanted to see her, I had gone to meet her on her invitation and not because I had wanted to see her. When the President wanted to see me she informed me through her (female) secretary or she sent a note written in her hand. It is a photocopy of such a note sent to me by the President that is shown here.