---
Ihashi play Zulu music
By Sanath Weerasuriya
In 1987 African born 'Osibisa' became the first ever foreign band to perform on Lankan soil.

With the ice broken in the Lankan music scene, many top bands, and artistes have performed in Colombo since then. 'Bony-M', 'Brotherhood of Man', 'Cool & The Gang', George Baker Selection', 'Three Degrees', 'Trini Lopez' are a few amoung them.

After about twelve years since Osibisa, another African band visited Sri Lanka last week. 'Ihashi' was the first traditional South African band to perform in Colombo.

'Ihashi Elimhlophe' (which means White Horse in English) is a traditional 'Zulu' band which play only Zulu music and songs.

'Ihashi Elimhlophe', an eight member Zulu band was in Colombo to boost the South African food Fiesta, which was held in connection with the South African National day last week at Taj Samudra Hotel. Speaking to TV Times exclusively Linah Ngcobo, the manageress and a vocalist of the 'Ihashi' said they play only 'Maskandi', traditional Zulu music. 'We are, first time out of Africa. Last week we were performing in Mumbai, Delhi and Calcutta and Colombo is our last stop of this trip. We have performed in Tanzania, Swaziland, Ivory Coast, Botswana, South West Africa, Zimbabwe and in Lesotho. So this is a new experience for us as Sri Lanka is an exciting country. We would love to return here soon,' Linah said. 'Ihashi Elimhlophe' comprises leader Bheki Ngcobo (main vocals), Thuthukai Cele (keyboards), George Nxusa (bass), Harwad Oxila (drums), Linah (vocals), Mandla Zondi (backing vocals and dancing), Priscila Banda (backing vocals and dancing) and Bonelakhe Ndlovu (vocals and dancing). Bheki and Linah are husband and wife.

'Ihashi Elimhlophe' is a household name in South African traditional Zulu music. Leader Bheki Ngcobo the brains behind the 'Ihashi Eimhlophe projects, first recorded his music in 1986. Ihashi has never looked back since then.

Ihashi Elimhlophe, hails from Zulu Empangeni in Kwa-Zulu Natal. He was forever playing Maskandi music, imitating his uncle and brother, who are top Zulu musicians in South Africa. In 1976 Ihashi Elimhlophe decided to take the Maskandi music route. He came to Johannesburg, the centre of opportunities.

'When I arrived in Johannesburg I joined a group called the Young Brothers as a bass guitarist. I left the group and had a stint with a few other groups before joining popular and famous Mbaqanga group, the Soul Brothers. Bekhi said Soul Brothers wasted no time, they noticed his great talent and made him their lead singer on their junior group, "Imitshotshovu". After recording their debut album "Icala" Ihashi came up, win an idea of recording as a solo artiste. That is when he gave himself this name "Ihashi Elimhlophe". Ihashi Elimhlophe's first album called "Hololo" was followed by a series of successful albums. Todate Ihashi expanded as a big family, Izintombi Zehashi, an all girl group, Amataliana, a three man maskandi group and Amaponi, Linah's and Ihashi's biological children. His wife Linah Khama (known to her fans as "Ebony") is one of South Africa's leading female artistes who has carved a niche for herself in the tough music industry.

To add on to his successes, last year he made an album with two well respected Maskandi artistes - Phuzekhemisi and Mfazi Omnyma and called themselves "Izinqunqulu Zomhlaba". "This collaboration is spearheading a very important project that is aimed at bringing lasting peace in KwaZulu Natal," he added

According to Bheki, in 1998, Ihashi Elimhlophe joined Bula Music and released a very powerful album entitled "Ithemba". The album is doing well already in the market. "The tracks on this album are once again inspired by the desire to retain one's culture and heritage, although for a lot of songs further inspiration has been drawn from the desire to promote love and peace amongst people of South Africa," Bheki said.

'Amaponi', the band formed by the children of Bheki and Linah are doing well too in South Africa.

From the age of 5, Nkosinathi, the oldest of the four, has been dancing with his father's band. When Nkosinathi's younger brother, Jabu was 8 years old, he too joined his father's band.

Ihashe's latest album "Phal-aphala" features a track "Amasiko" by his two sons. This year Nkosinathi and Jabu decided to form their own band, they invited their two sisters, Ntombi 13 and Vusiwe 9 to join them.

The name Amaponi came so easy, simply the off-spring of Ihashe. Amaponi know that they are so blessed, both their parents are successful musicians, their mother Linah Khama and father Bheki Ngcobo have been in the music industry for as long as they themselves were even born.

"Writing songs for their album was like sharing household chores for Amaponi," said their mothor Linah. "I have been so strict in teaching my children the importance of sticking to our culture and following our African Tradition, hence it was so natural for my children to follow suit in singing traditional music," said their father Bheki. 'We would like to bring Amaponi' with 'Ihashi' next time, when we come down to Colombo. I hope we will be in town soon, because Sri Lanka is almost like South Africa in lifestyle, culture and the traditions," said Linah and Bheki.
---
Teenagers to model
Teenage girls today, worry about their appearance more than anything else. They follow world fashion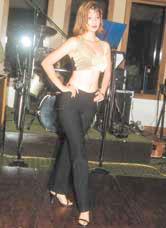 trends very closely. But there aren't any fashion shows which cater exclusively for teenagers.

To fill that void, a group of professionals have got together in organizing this special show for teens.

Exclusive fashion shows for teenage girls is one of the main features to be organized by a proposed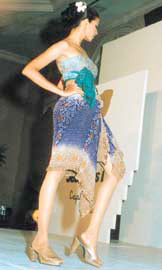 club for teenagers for the year 99 to 2000.
The teenage club will be organized under the, direction of Gwen Herath and a group of professionals.
The difference of this fashion show is that, only models who are teenagers would be chosen to take part.
These teenage girls will not be professionals, but girls who are interested in modelling as a hobby.
The chosen models will be trained by former model Danoma Perera, who is now a professional dress designer and few other people who are also in the same field.
The club is planning on expanding the fashion show concept to cater to foreign teenagers in other countries as well. Their training would be of an international standard.
The clothes which will be displayed in the fashion show will be according to the current trends in the teenage fashion in the world and will be shown in three different categories. They are informal wear, formal and sports wear.
The venue of this show will be a five star hotel.
The Board of directors of the club invites foreign teenage girls to take this opportunity in joining the club.
---
Stars play cricket
Film and teledrama stars are to leave their professional rivalries aside and are making arrangements to play a friendly cricket match to collect funds for a worthy cause. The venuee of the match is at Uyanwatta Stadium in Matara the date is on May 16, (today).

Sri Lanka Federation of the Visually Handicapped (SLFVH) the pioneer and premier national organisation of the blind has organised this event.

"SLFVH will be celebrating its Silver Jubilee on November 09 this year. By the end of the century SLFVH is planning to shift into the first floor of a new spacious place at Church Street, Colombo 2, shortly.

SLFVH is in need of funds to complete and equip the building. " federation sour-ces said. The Federation Secretary appeals to one and all give their fullest support and ensure the success for the fund raising effort for a worthy cause. The cricket match is scheduled to commence at 1. 30 p. m. Tickets are priced at Rs 500/-, 300/-, 200/- and 50/-
---
'Irabata Taruwa': special screening in London
The Sri Lanka-London based teleserial Irabata Taruwa' is scheduled to be screened at the Commonwealth Institute London on June 27. A specially edited version relating the entire story of this 14 episoder will be screened to a invited audience of Sri Lankans living there. 'Irabata Taruwa' was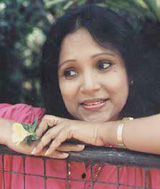 directed by Sudath Rohana.

Thereafter sequence shooting of the second London Sri Lanka based teledrama 'Chandrayamaya ' is scheduled to commence. Written and directed by Daya de Alwis its London shooting schedule is timed to be for about 30 days.

The purpose of producing this London Sri Lanka based teleserial production was to do away with the monotonous type of locations and a new presentation the brainchild of this teleserial Sriyani Amarasena said.

It has been filmed in beautiful locations in Sri Lanka and London. The Buckingham Palace, Trafalgar Square, Piccadilly Circus, Dockland Railway, Heathrow Airport, Shakespeare Village are some of the places that have been filmed in London.

Sometime back when Sriyani Amarasena was in London for a special screening of her film 'Taranaya' a group of art loving Sri Lankan expatriates proposed a venture of this nature. They were so absorbed in it that they even came forward to finance it. Wimal Alahakoon, Tissa Madawela (London) and Sriyani Amarasena are the co- producers of this teleserial.

"We are grateful to AirLanka and the Foreign Ministry officials for the co-operation extended by them to produce this teleserial" Sriyani Amarasena said.

This teleserial relates a story of a mother's efforts to find her daughter separated from her during infancy. She visits London on a clue given to her that the child, who is now a grown up woman is living. there "It's a family drama with plenty of emotions, excitement and adventure written by Daya Alwis. We are confident that the theme will click among our teleserial viewers" ever- green Sriyani said.

The date of telecast of this teleserial in Sri Lanka is still in the balance as most TV channels are reserved for other teledramas.

Sri Lanka Associations based in Paris, Swden, Denmark and Melbourne have already made requests for the edited version of the teleserial which would be attended with pleasure she added.

Daya Alwis, Sriyani Amarasena, Lelani Perera, Senaka Weerasinghe, Robin Fernando, Indrajith Nawinna, and many others play in this teledrama. Daya Suriyaarachchi and Bandula Weerakkody are the cameramen while music direction is by Somasiri Medagedera.
---
Acting is Kalansuriya's business
By Kumaradasa Wagista.
There was a time when traders imported used clothing from European countries to be sold here. These items were popularly then known as'bale' clothing. This name was also coined by traders as these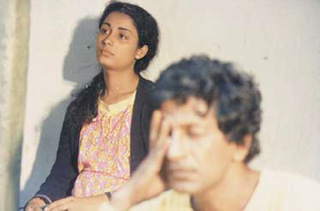 items were imported into the country in heaps called bales.

During this time a young man in Kandy was dealing in these clothing items both for men and women. He is one of our versatile film and teleserial actors. He is film and teleserial actor Amarasiri Kalansuriya who is also a leading businessman in gents clothing in Kandy. The experience he gained in dealing in bale clothing made him to trade in drapery and tailoring.

'Kalan' as he is called by his close associates commenced his film acting career only to please his friend Ranjith Perera. "Ranjith invited me to act in a 16 mm colour film produced and directed by him. When I told him that I have no experience to act in films he insisted and to please him I accepeted the offer" Kalan said. This film was 'Reyath Dawalath'and Kalan played opposite Anoma Wattaldeniya in this film. She is presently attached to the Sri Lanka Rupavahini Corporation. 'Reyath Dawalath ' was produced in 1967.

Later Ranjith Perera directed films and presently he is dubbing director in many foreign television serials.

Kalansuriya's filmography covers about 50 feature films under many film directors. He has acted in many teleserials also.

This versatile actor played the main role in Sri Lanka's first teleserial 'Dimuthu Muthu' directed by D. B. Nihalsinghe. Devika Mihirani played opposite him. "I am not depending on films. I always go through the script before consenting to appear in a film or teleserial. "he said.

Commenting on the present plight of the local film industry he said the Sinhala film has been taken over by India. "Too many Hindi films are telecast on various television channels. As a result most of our cinemagoers are now addicted to see them. This is the main reason for the downward trend of the Sinhala film industry. We cannot compete with these multi million budgeted films, he commented rather disheartened.

He has won national awards and most popular actor of the year and Sarasaviya awards for his performances in films. "These awards are tokens of rememberance of my achievements which gives me so much of satisfaction as money is not everything. "he said.

Recently Amarasiri Kalansuriya became a grand father. Two of his children are employed while the youngest daughter is still schooling yet. He is an old boy of Dharmaraja College Kandy.
---
'Min Dada Hee Sara'
An unusual type of a hilarious comedy film titled 'Min Dada Hee Sara' (Cupid's Arrow) is scheduled to be filmed shortly.

International Award winner Joe Abeywickrema, Ravindra Randeniya and Dilhani Ekanayaka are named to play the main roles in this film.

"It is a full length comedy with three elderly men and a young woman. The third man to play in the fim is yet to be selected" story writer-cum producer Buddhi Keerthisena said. The film is produced under Cinema Buddhi banner.

A highlight in this film is its title being suggested by Pundit Amaradeva.

"I wrote the story while Pundit Amaradeva gave me the title for which I am grateful to him. "producer Keerthisena said.

Incidently Pundit Amaradeva rendered a song titled 'Min Dada Hee Sara which is popular among listeners. 'Roy de Silva the filmmaker who has created a record box office collections for his comedy films will direct this film also. G. Nandasena will be the cinematographer.
---
SAARC film festival
Sri Lanka will host the first SAARC film festival where feature, short, documentary and animation films will be screened. Prominent film scholars and delegates are to be invited to participate in the festival and the symposia that will be held while the festival is conducted. This festival which is non competitive operates under the direction of President Chandrika Bandaranaike Kumaratunga.

A heavy package of films are expected to be screened for the festival because it is the first SAARC film festival that is to be held among the member countries - Sri Lanka, India, Bhutan, Pakistan, Nepal, Bangladesh and Maldives. As India is the largest film producing country in the world a larger number of titles is expected be included

Festival films are scheduled to be screened in several Colombo Cinema halls. It is also proposed to screen a few titles in Kandy and Galle simultaneously, SAARC Film Festival Secretariat sources said.

This Secretariat functions under the Ministry of Posts, Telecommunications and Media.
---
Alston Koch makes come-back
Sri Lankan born International recording artiste Alston Koch is back in the International music scene after a lapse of five years with a world-wide recording deal.

Domiciled in Australia for the last 25 years, and very recently taking a long sabbatical in the country of his birth the only Sri Lankan born singer-song-writer with 4 Gold and 2 Platinum Awards from Australia, will sign contracts with BMG/RCA on May 17 that will earn him publishing and song-writing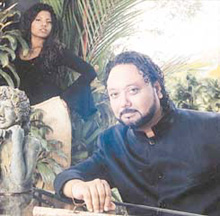 royalty advances of more than a US$ 1 million.
The album to be titled 'MOVE TO THE RHYTHM' with the new artiste name of Alston Inc. will be released in South Asia (India) first and the record label will also release 3 music videos to coincide with this release.
Indonesia, Malaysia, Taiwan, Thailand, Singapore and The Middle East will follow and then Europe and the USA.
This is the first time in recording history that a Sri Lankan born artiste will be released professionlly by a multi-national recording company throughout India namely BMG/Crescendo.
'I am not interested in getting back on stage unless I am fully compensated. I am very content with my lifestyle and what I have achieved so far. If they want me to get back on the boards they better pay me well for it....' said a very confident Alston Koch.
At the time three major labels were negotiating for the product.
Now, BMG (Crescendo) the leading record company in India will be releasing his product in early June'99 throughout India with MTV and the rest of the Music television channels providing the necessary airplay to a market of 1 billion people.
Alston's recent introduction to Dave Most, legendary publisher in London and man behind the success of brother Mickie Most publishing more than 50 hits for Kim Wilde, Cliff Richard, Hot Chocolate and recently Oasis, Savage Garden etc. will be Alston's publisher for the UK and America and Warner Chappell will be the publishing arm for Australia.
Alston Koch joins a strong stable of artistes at BMG/RCA such as Whitney Housten, Backstreet Boys, Lisa Stansfield, Lionel Richie, Elvis Presley, Kylie Minogue etc. to name a few.
Internationally, Alston has several hits to his credit. "Disco Lady", "20 Miles", "Gimme Dat Banana", "Try Again", "Don't Stop it Now", "Midnight Lady", "Island in the Sun", "Never Felt This Way", "Closer to the Phone" and Kookaburra are some of the top hits by Alston.
Alston has appeared on the BBC (Top of the Pop's) America's TODAY show, Australia's COUNTDOWN, Sounds, Ray Martin Show, Steve Vizard Show, Europe's Music laden, and has performed on the professional recording artiste circuit throughout the world.