Getting arty!
Every time you turn on your computer there it is . . . the same old bor- ing screen
But it needn't be a turn-off any more.
Because you can start your computer sessions with a vista of a beautiful futuristic landscape, like the one above.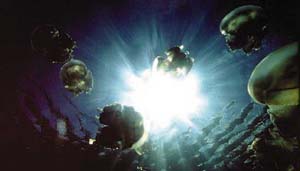 Or you can have a clear blue sea stretching to the horizon. Or if that's too arty for you. . .
You can even have Homer Simpson dancing across your screen. Or a shark swimming across it.
The choice is yours because you're no longer limited to those tired desktop backgrounds of tiles or puffy clouds that come with Windows 95 or Windows 98.
You can even jazz up your icons - the symbols on your desktop over which you double-click the mouse to get into areas like My Computer, My Documents and the Recycle Bin.
Once again, the problem is that those that come with most PCs are all a bit functional and boring. But they can all be changed with a quick visit to the Internet where you can find millions of new, funny and fancy options.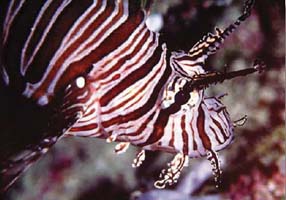 You can down load icons including characters from South Park or that great favourite of so many computer buffs, The Simpsons. The desktop can also be changed to anything you can imagine.
To save you the time and effort of searching the Net to find them, here are some suggestions. To get some funny-face icons from The Simpsons, why not visit http:// members. xoom. com/ checkel/. If you prefer to stick Cartman and his South Park pals on the screen, go to http:// members.aol.com/obsiddia/SPU-Cursors. htmlIcons.
Once you have the web pages on screen, you can transfer them. Just click the mouse button on the download option - they are all free.
To change your stuffy old icons, right click on them and select Create Shortcut. Once that appears on screen, right click on it again and choose Change Icon. You can then choose the one you want and replace it. The background of your computer screen can be changed even more easily.
These backgrounds are known as wallpaper, because you can re-decorate your screen.
To get started, why not look at some peaceful underwater scenes at http:// www. uwphoto. net/
If you like something a bit more arty or mystic, visit http:/www. digital-pen-guin. com/cd/
Or maybe something from South Park again at www. sweeet.com.Once you've found the one you want, just press the right button on your mouse and a list of options will pop up. Then select Set as Wallpaper.
When you close, or minimise, the Internet screen, you will see your chosen image has become the background or wallpaper.
As you become more confident and experienced, you can delve deeper into the Internet vault to find literally thousands of different options.

Here are a few more you can try:
www.desktopdelights. com
www.k7group. com
www.foranimage.com
www.costomeffects.com
Get surfing!