---
New TV Channel
Arrangements are being made to start another TV Channel in Sri Lanka by the Rupavahini Corporation.

The new channel will be known as 'Channel 2 (SLRC) sources said.

The new channel is scheduled to be inaguarated in mid-February. The second channel comes out due to listeners and advertisers demands.

This channel will also provide entertainment, sports, features, educational and current affairs programmes.
---
Hyderabad stages Indian Film Festival
By Bandula Jayasekera
The 30th International film festival of India offers a rich fare for the film buffs making their journey to the new cinema city of India, Hyderabad. The event which is held in Hyderabad after a period of 12

years will screen 85 films from 45 countries. There are four films from Russia, twelve from Poland four from Germany and six from France, five from Iran two from China and after the split in Yugoslavia, there is a rare entry from Croatia aptly titled 'Agony'.

There is a strong package from America and Canada but a major disappointment from the neighbouring countries as there is only one entry from Sri Lanka, Prasanna Vithanage's Purasanda Kaluwara -Death on a Full Moon Day. The Sri Lankan delegation to the festival is led by film star and media advisor to the President Sanath Gunatileke with Assistant General Manager of the National Film Corporation Ivan Weerakkody and Managing Director Film Location Services, Asoka Perera.

At the festival this time the Indian directorate of film festivals has decided to honour eminent Italian film director Bernardo Bertolucci for his contribution to the world cinema and the major attractions of the festival are Dance Me to My Song (Australia), Debtof Love (Australia), Street Heart and August the 32nd on Earth (Canada), An Unusual Love and The Promise of Endearment (China), Place Vendome (France), Passion (Hungry), Dance of Dust and Don (Iran), Pick a Card (Israel), Who the Hell is Juliet? (Mexico), Book of Great wishes (Poland), Brother (Russia) and Expectations (Sweden). However, the main attractions are Shekar Kapur's internationally acclaimed film 'Elizabeth' and Bertolucci's 'Besieged'. The cinema-goers are also watching with interest the screening of Santosh Sivan's, 'Terrorist' starring Aysha Dharker, supposed to be based on the assassination of Rajiv Gandhi. The movies are screened in over seven cinemas around Hyderabad.

With all the films, stars, fans and the glitter around Hyderabad what echoes in the minds of people from around the world here is the words of Shekar Kapur director of Elizabeth, the man who conquered the cinema world with just two films. 'He said" the artiste is the conscience of society and it is the duty of the State to protect the artiste even if it is upset with him'.
---
Roving 'Elvis-The Concert'
"Elvis - The Concert", the production that reunites former Elvis bandmates live on stage with a video-projected Elvis, will tour Europe from January 23 - February 8, 1999, in effect marking Elvis'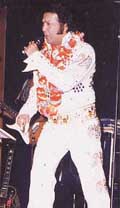 first-ever concert tour outside North America.

After two critically acclaimed tour outings of Elvis - The Concert in America in March and August of 1998, including three sellout performances at Radio City Music Hall and Elvis' return to the Las Vegas Hilton, the production is now set to open the European leg of its world tour at London's Wembley Arena on January 23 - the first of eleven shows in eleven cities in England, Belgium, Germany, Finland, Sweden, Denmark and Norway.

In his lifetime Elvis' only concerts outside the United States were five shows in three Canadian cities in 1957. A world tour was an unrequited dream for Elvis and for his international fans. Now, more than twenty-one years after the superstar's death, the dream comes true.

"Elvis - The Concert' is a production of Graceland/Elvis Presley Enterprises, Inc. (EPE) in association with SEG Events. It is produced by Stig Edgren of SEG Events, co-produced by Todd Morgan of Graceland/EPE, and directed by Randy Johnson. The musical director is Elvis' longtime conductor/musical director Joe Guercio. The cast for the European tour will be Elvis Presley (via video), a 16-piece orchestra and a group of Elvis' bandmates from the concert era of his career: Joe Guercio (conducting), J.D. Sumner & The Stamps (male vocals), The Sweet Inspirations (female vocals), Millie Kirkham (soprano), and Elvis' TCB Band: James Burton (lead guitar), Glen D. Hardin (piano), Jerry Scheff (bass guitar), and Ronnie Tutt (drums).

The show's concept is to present an authentic Elvis Presley concert with original bandmates, although the star of the show died twenty-one years ago. The producers edited together a collection of Elvis' finest concert performances that exist on film and video and remove all sound from the footage except for Elvis' vocal. The Elvis footage is projected on a large video screen. On stage, a 16-piece orchestra and the cast of Elvis' former bandmates all perform live with the Elvis video. All music heard in the concert production is performed live except for Elvis' voice. Elvis impersonators are not involved in any way. The show stars Elvis Presley himself.

Elvis concert footage for the show comes primarily from the MGM concert films Elvis, That's The Way It Is (1970) and Elvis on Tour ( 1972), out-takes from these two films as seen in the video package entitled Elvis, The Lost Performances, and from the historic 1973 global television special Elvis: Aloha from Hawaii via Satellite.

---

Fund raising Indian music from Rotarians
By Daffy Duck
All Sri Lankans who love classical Indian music are in for a treat. Two world renowned artistes are scheduled to perform in Sri Lanka on 13th of February at the BMICH. Rotary Club of Colombo takes the credit, as the show is their charity concert.

The artistes are Hari Prasad Chaurasia, flutist of International repute. Asians, American and European audiences equally love him. He was one of the artistes to be featured at the US festival of India in 1985.

Chaurasia has recorded a compact disc at Oslo along with western artistes such as John Mclauglia & Jan Garbarakwhich has won much praise. His famous master piece is 'Silsila' on which Pt. Shiv Kumar collaborated. It was a platinum disc in India. Next was the experimental album 'Eternity' a fusion between western and north Indian classics.

His many achievements comprise of the 'Maharashthra Gaurav Puraskar' bestowed on him in 1990. In 1984 the 'National award of the Sangeet Natak Academy' was given him for his outstanding contribution to music. For the first time in Indian history in 1992 he was awarded the 'Padma Bhushan' but more importantly the 'flute' was given recognition as an instrument.

The other is Zakir Hussain the internationally acclaimed Tabla player. For many who watch Indian MTV Music Channel, the tabla player who says 'I even played the dog for Jim Morrison. That's a joke, ha! ha!' is non other than Zakir Hussain himself.

He has received distinction and recognition in the world of Indian Classical music rarely achieved by an accompanist, both in India and abroad. The Indian Government presented him with the title 'Padma Shri', in recognition of his achievements in the music scene.

The tickets are priced at Rs.500/-, Rs.750/-, Rs.1000/-, Rs.1500/-, Rs.1750/-, Rs.2500/-.
---
Rumours aplenty of unhealthy film plans
By Kumaradasa Wagista.
Sex is likely to dominate the film industry this year .This may be viewed as an attempt to upgrade an already sagging film industry.To the uninitiated while this may look like an innocent effort,the actual story behind the scene is not that innocent.

A visitor introducing himself as a prominent film exhibitor from the south met an award winning film director at the latter's residence. After exchanging pleasantries the two men started to talk on many things among them were films.Without wasting more time the exhibitor immediately came out with the purpose of his visit. He told the director that he wanted to produce a film and requested the director to handle it."As a film exhibitor I know what the audience wants to see on the screen.What they need now is the sex ingrediant in films" He added that it should not be 'crude' sex like what is screened in most adults only tagged films. Families do not visit cinema halls to see such films what is needed is sex to be presented delicately and artistically.

The surprised filmmaker asked why he selected him when there are many more film directors who are specialists in making adults only films.

"It's because you are said to be exposing lesser number of raw negatives and not a whisky consumer like many others"was the exhibitors prompt reply.The filmmaker only smiled at the suggestion made by the visitor.

Another film director approached a leading film actress recently with a script.

After reading the script several times the actress decided to discuss further with the producer as there were a few semi nude- scenes incorporated in the script.The actress requested the director to explain how those scenes would be presented.But the director's version was that his producer could pay any amount as remuneration and requested her to accept the role.The actress once again insisted the director to detail how these shots would be filmed.As she did not get a satisfactory reply the matter came to a stop.

The third story is altogether a different one.The director of a film signed up an actress to play a role in a film.According to the script, shots of her nude upper back was needed for several scenes in the film. Everything was finalised and the shooting took place.This particular actress dubbed the shots and the matter ended.Later she was informed that several more nude shots were dubbed by an extra artiste which made her suspicious.Finally when she pre-viewed the film prior to screening before the Public Performances Board (PPB) she found scenes she did not appear, inserted in the final print.

All this,according to hot rumours spreading in film lobbies,appear to be the game plan in a very sordid story.Extras are being used under the cover of prominent names so that it may attract large audiences.
---
Cinema Guild formed
An organisation representing all segments of the entertainment world in Sri Lanka (films as well as television production and exhibition personnel and cinema journalists),was founded at Hotel Galadari recently.Named Sri Lanka Cinema Balamandalaya (SLCB), has film director H.D.Premaratne as its first President, while Jeevan Kumaranatunga, Malini Fonseka and ITN Chairman Newton Gunaratna are Vice Presidents. Sathischandra Edirisinghe is its Secretary. Nadika Gunasekera is the assistant secretary. Soma Edirisinghe is the Treasurer.

Presidential Media Advisor Sanath Gunatilake is the chief organiser. A Committee comprising 30 were elected along with an Advisory Committee comprising 10 prominent personalities.

The Committee comprises Tissa Abeysekera, Hemapala Dharmasena, Nanda Malini, Buddhi Keerthisena, Suminda Weerasinghe, Jackson Anthony,Robin Fernando, Vasanthi Chathurani, Sanoja Bibile, Lucky Dias, Prasanna Vithanage,Lal Wickremarachchi, P. Sivadasan, Lionel Gunaratna, Lal Piyasena, Prem Dissanayake, Rohana Weerasinghe, A.A.Page,Imithiaz Page and Asanka Edirisinghe.

The Advisory Board consists of Lester James Peries,Information Director Ariya Rubasinghe,National Film Corporation acting Chairman Professor Somaratna Balasuriya,Iranganie Serasinghe,Henry Jayasena,Professor J.B.Dissanayake,Chandana Silva,Amara Hewa Madduma,Sarath Wijesuriya and Ashley Ratnavibhushana.
---
Nita breaks with tradition at 'Pauru Walalu' premiere
Prasanna Vithanage's film 'Pauru Walalu' at its premiere at the Regal Cinema on January 22 will see many of the leading film personalities of the day as guests.

Producer - actress of this award winning film Nita Fernando has decided to invite all her colleagues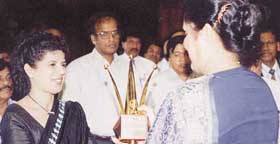 for the main show in January as a gesture of camaraderie with one and all in the film industry."I have been working with my colleagues in the film field for two decades. Unfortunately some of them are not among us. My greatest pleasure in life is to open the curtain of the first show of 'Pauru Walalu' amidst their applause",she said. She regrets her inability to have the film released last week as scheduled.This was due to unavoidable circumstances.
Shot to a screenplay written by Tony Ranasinghe who also plays the main role with Nita, it also stars Sangeeta Weeraratna, Roger Seneviratna, Mahendra Perera, Damayanthi Fonseka, Edward Gunawardena Sita Kumari, Chandra Kaluarachchi and many others. The entire bulk of the shooting was done within within the Galle ramparts by cinematographer Suminda Weerasinghe.
The story is woven around an ex-army officer who meets his first lover after three decades. The film has no songs but a powerful background musical score by Harsha Makalanda.Lal Piyasena has edited the film. It is released in the fifth circuit cinema halls.
---
Saints Groovie Disco
The 'Saints Groovie Disco' featuring the best club and mobile DJ's will be the main attraction at the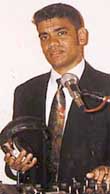 'Carnival of music 99' trade fair at St. Peter's College on January 2.

This huge disco would no doubt be the best attended disco at carnivals for a long time, even better than last year's disco where the crowd attendance was a remarkable 1200 people says the man behind this mega project, Romesh Fernando better known as DJ Everton.

This king size dance floor would hold a thousand or more happy groovers a time the organisers added.

Sound EFX DJ's would be featured along with big names in the club and mobile DJ circuit spinning a variety of music.

Tickets are available in advance at the college pool and are priced only at Rs. 100/-. Get them early. The noise starts at 7.00 p.m. See you there.