How does garden grow
Plants, plants, and more plants. Dainty flowers, unusual plants, thorny plants, budded plants.............Nature's wonders all decked up to take your breath away have become a blooming business for some.
By Sandrina Abeywardene
Some are indiffer- ent, others admire their beauty. But only a few enthu- siasts share a pas- sion for plants and are willing to shower tender loving care on plants, big or small. The result - a blooming business or so it seems with practically a flower exhibition and sale each weekend at the Vihara Maha Devi grounds.
The recently concluded "Wasantha Mal Dakma" was one such event. With flowers bright and beautiful on display, it was a charming and refreshing sight amidst the blistering heat. Plants, plants, and more plants. Dainty flowers, unusual plants, thorny plants, budded plants, layered plants, grafted plants...... Nature's wonder all decked up to take your breath away.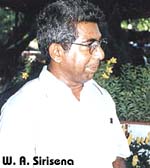 Clad in a sarong and shirt, the elderly W.A.Sirisena is hardly the sort of person you would expect to be the organiser of "Wasantha Mal Dakma". Yet his simple manner disguises his leadership abilities. After all he's been in the business of horticulture for nearly 15 years. Sirisena with the encouragement and support of his family runs the Chandana Nursery. Yet it would never have come to pass if not for a spot of bad luck. Not even in his wildest dreams did he imagine turning to horticulture. He was a businessman and with the idea of beautifying his shop he decided to grow his own flora but it got to the point that his collection of plants grew so vast that he was forced to sell some. When Sirisena's first business went bankrupt he already knew what he was going to do. "I began to grow plants. Although I had very little knowledge of horticulture, I began to read books and with my own experience to guide me, started out," he said.
Sirisena doesn't concentrate on any particular variety but his wife adds that they favour Cypress and Ixora (flowering plants) since there is a large demand for them. Prices depend on the growth of the plants. "If it's easy to grow a particular plant then the cost is low but if it's difficult to maintain then the plants can be quite expensive," he says.
"Wasantha Mal Dakma" is the fifth exhibition that Sirisena has organised. Getting all the horticulturists together is no Herculean task for him. After all they've been in the same trade and have known each other for a long time. Yet Sirisena's not too happy about its success. Said he "The crowd is not up to our expectations." After all with a plant sale almost twice a month, even consumers tend to take it for granted, knowing that if they gave it a miss they can always attend the next one. So is it still profitable? "There is somewhat of a profit, but not as much as I would like," said Sirisena soberly.
So does he hope to continue his horticulture business? "I would like to, but I cannot give a definite answer." With Rs. 10,000 for hiring the Vihara Maha Devi park grounds Rs 4,500 per stall and now the added burden of the GST (General Service Tax) the profits gained are not worth exclaiming over, says Sirisena.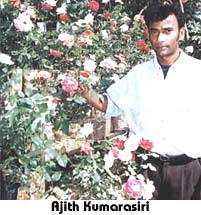 Ajith Kumarasiri, the proprietor of Avalon Roses has been involved in the rose business for 11 years. His rose stall attracts many visitors, all admiring the vibrant coloured blooms. Ajith has around 800 varieties . Most of his roses are imported then budded and pruned at his nursery in Koswatte. According to Ajith roses are budded to T,L,Y methods. After budding a plant it is then dated and set aside. Some for 24 hours, some plants at least for a month, depending on the variety. "I first started growing roses as a hobby. When I found out how easy it was to grow them and how profitable it can be, I began to think of it more in the terms of a business. Now I have a branch in Colombo as well," he says.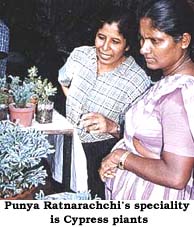 Pix by Sanjeeva Chinthaka

Punya Ratnarachchi's speciality is Cypress plants. She too started off on a small scale as a hobby. But the increasing demand for her plants made her turn the hobby into a profitable business. "Most people think that it's difficult to grow Cypress trees but in reality, it's only during the first couple of months that extreme care should be taken. After that you should just water the plants once a day and manure them once in two weeks," she said.
On these sunny days, a glimpse of some water and greenery is a sight for sore eyes. So water plants are much sought after. So what has a technician got in common with plants? Nothing much except to draw him away from his technical field into something which gives him much satisfaction, says I. Mallikarachchi. A hobby that grew to be his livelihood, Mallikarachchi started to grow plants as a pastime and ended up selling his excess plants. "Although I have a wide selection of plants, I specialise in water plants mainly due to business prospects. It's always better to do something different," he said. The proprietor of The Decor in Piliyandala he imports plants from Bangkok. Yet the prices are not exorbitant especially where the small plants are concerned.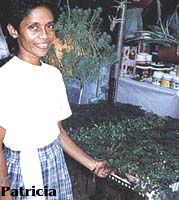 The range of cacti at Sirilak Nursery was definitely worth a second look. These ornamental plants can be kept indoors and need minimum attention. Ideal for absent minded folk who forget to water their plants. You only need to water the Cacti once in four days! As for those who think it's not the typical plant to beautify your home with, all you need to do is take a look at what Nimal Ramachandra has to offer. It may not be elegant but would definitely appeal to all those with a taste for the extraordinary. For that's exactly what they are in their weirdly amusing shapes and sixes. Ramachandra imports his plants from Amsterdam and South America. Though Ramachandra puts down his love for plants as a hobby it is more or less a tradition which has been handed down." My father used to grow plants and ultimately I too got interested in it. It's very easy to grow Cacti if you don't pamper the plants too much. I now have around 700 Cacti varieties," he says.
A stroll around the exhibition proves the plant enthusiasts' dedication to make their gardens grow. They not only manage to magically rub a part of their interest in flora off on their visitors but are a store house of knowledge for budding gardeners. Interestingly most of the horticulturists were men. So the next time you drop by a plant show, pause awhile to chat to the people behind the plants. They'll tell you how to make your garden grow.
---
Acne treatment
As my acne blemishes heal, they leave dark spots on the skin. What can I do about this ?
The spots are almost as unattractive as the acne. Irritation and injury to the skin from acne can stimulate the pigment-forming cells in the area to overproduce, leaving dark spots when the acne lesions heal. This reaction is referred to as post inflammatory hyperpigmentation. It is more apt to appear in individuals with darker complexions and can be a special problem for blacks. It can also be more of a problem in people who pick at their acne.
The hyper pigmentation will gradually fade over the course of several to many months. You can conceal the hyperpigmentation with a masking cosmetic.
---
A treat for fashion lovers
Fashion lovers can expe rience the glamour and glitter of Paris coupled with a world renowned name in haute couture right here to Colombo, when the Colombo Hilton Hotel hosts an Yves Saint Laurent fashion show.
The Yves Saint Laurent team along with 10 leading fashion models whose names are a by-word in the world of international fashion, will arrive in Sri Lanka to present 'Mode de Yves Saint Laurent', the Paris fashion show which could well turn out to be the event of the year. It is indeed the first time ever that a designer of such international repute has been involved in a fashion show held in Sri Lanka.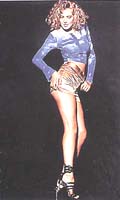 According to Hilton sources, Yves Saint Laurent is flying in a whole new line of clothes especially for the event as well as choice items from the YSL Museum in Paris. A hair stylist and make up artist from the fashion house will also be brought in to dress the models.
Famous Paris model Perine Fernando will head the team of 10 international models . Sri Lankan born, now resident in Paris, Perine has made quite a name for herself in the world fashion scene.
Perine who loves to contribute in some way to her mother country was recently in Sri Lanka to finalize matters for the fashion show, and considers her participation a great honour and privilege, especially since the proceeds from the shows are to go to charity. She stayed with her family at the JAIC Hilton Tower.
Two shows, both in aid of charity, are scheduled to be held on May 24 and 25 at the Serendib Ballroom of the Colombo Hilton. On the 24th dinner will be served followed by the fashion show and on the 25th it will be only the fashion show starting at 7.30 p.m.
If they purchase raffle tickets also in aid of charity, participants of the dinner show will have the opportunity of winning several exciting prizes.
The first prize of the charity raffle draw for which tickets will be sold at the show would be a return air ticket to Paris on Gulf Air and two entrance tickets to an YSL Fashion Show and the second prize would be a bracelet-bangle from 105 Lalitha with a YSL handbag, perfume and scarf to follow.
An exciting range of beautiful clothes modelled at the shows will be on sale afterwards. YSL taking into consideration the aim of the show has brought down their prices to astonishing levels, so participants may well be lucky enough to walk away with a few chic designer outfits.
The shows are being presented by 105 Lalitha Jewellery Mart along with Colombo Hilton. Celltel together with Gulf Air, the host airline are also co-sponsors.
The YSL team and the models who will be arriving at the Hilton on May 18th and 21st are being hosted by Walker Tours and John Keells Hotels.