Sue's Story (Part Four)
Daddy's girl
By M.T. L. Ebell
I think I understand what's bothering Rouanne. She too may have guessed that Manny's keen on her. Well, I couldn't see what was holding her back. He was brainy, witty, and unattached. I could see Hillary setting her sights on him but so far she was making all the running. If we could get off on this walking holiday in Wales that most of us were trying to fix up during the Easter break, I would see if I could help them get together. The more I thought about it, the more it seemed to me they were made for one another.
We met in the pub that evening to finalise plans for the holiday etc., but it seemed most people had other things on their mind. John was concerned about Anna, her hand was not healing as it should. He didn't want to leave her, and she had to check in for regular dressing of her wounds. Sid and Rouanne had both received mail from Sri Lanka, and although they tried not to let it show, the situation at home was troubling them. Sid's letter said that schools and offices were being shut at a moment's notice for fear of violence and he was worried about his sister and his niece and nephews. Rouanne's letter seemed to be more personal. She said something about her father being ill. She didn't feel like leaving the Campus after all.
"What good is your moping around here going to do?" asked Manny. I guess he was disappointed that she might not come. "I'm not going to mope!" Rouanne said. "I don't feel like going if I can't be reached in case of necessity." Although lots of suggestions were put forward about phoning in every day, and cutting our trip short, Rouanne would not change her mind. She didn't want to spoil things for those of us who were going. It ended with Manny, Vijay, Mike, Sid and me definitely going, Hillary and Alison joining if Alison could bring a friend from out of Campus and Alan turning up and asking if he could come too. I was over the moon at the idea of two weeks in Wales away from books and lectures and being with Mike but I was sorry about Rouanne. Well I'd have to wait for two weeks before doing anything to help her. Then I realised it would be almost a month. Manny was leaving Wales a day early to fly back to the States on business. I think he was seeing a publisher about a book he had written. He would miss a week of our new term.
"What's wrong with your Dad?" I asked Rouanne later. Manny had asked that while we were walking back but I didn't catch the answer then. "He has been ill for four years now," Rouanne sighed. "At first, I used to think he was faking, using illness to get his way in everything. . . or almost everything! But now he is really ill and he lives with my brother and his family. He has constant nursing care.'
'Was it difficult to leave him - to come away?'
'No, it was he actually who was so keen I came to England to study. I had to decide between going elsewhere, coming here or just staying at home. I've spent most of my time here wondering if I've done the right thing... made the correct choice. At least, made my own choice. My father kept saying he would like to see me with a degree before he died, then he'd know he'd done his duty by me. So, I came."
"And if you'd gone elsewhere?"
"I may have worked rather than studied and maybe come over here later to do my degree. My father didn't want that. He wanted me to be a BA now. He feared that if I worked I would not bother to finish studying." I knew Rouanne's Mum had died six years earlier and gathered that her father doted on his daughter. That's why I could not imagine that he's wanted to send her away from him. "Is he asking you to come back? Now, he's really ill, I mean."
"No, he's not. The thing is... oh they are so manipulative!" she exclaimed, her eyes flashing. "First they plead, they make you feel guilty, they shout at you even demand and command. It made me so mad! Yet, I wish I knew whether l'm here because I wanted to be, or whether it's what someone else wanted or if it's what no one wanted." I was silent. They? She had lost me. "I suppose he is possessive," she said after some thought. Who? I thought. I said nothing "And very domineering. He did not wish to share me with anyone else."
"That s why I can't understand him letting you come here, on your own I mean," I ventured to say. She didn't seem so angry now. Rouanne said she thought the emphasis was on the word alone. If she had gone elsewhere she may not have been alone. I sat up in bed. 'Oh, Rouanne you never said, there is someone else...um...someone I mean ." Rouanne said there may have been once, but no one would wait for ever would they? I asked what this 'someone ' had thought about her leaving Sri Lanka. Hadn't he tried to stop her or suggest some other course of action? I meant marriage but I did not say so. I could see her eyes flashing again. Rouanne sighed again. "Oh, I don't know. All three of us got so angry and shouted and said so many hurtful things. In the end all of us went separate ways. I came here, my dad went to live with my brother and..." "What happened to "him?" "I told him I needed to find myself and he went away. He said I didn't need to find myself I just needed to lose my Dad." I felt awful. What could I say? "Have you never heard from him since?" "Oh, I have. But I feel he's waiting for me to 'outgrow' my father. He thinks I'm still a Daddy's girl. Oh well, it's been good to talk of all this. If I hadn't heard from home today, it may never have come up. In fact, talking to you has made me see how silly some of the problems have been. We've blown them up so." Well if she was feeling better I was glad but I couldn't help feeling sorry for Manny and Sid. I said so. Rouanne nearly fell off her bed demanding to know whatever had made me say that. I told her that Sid got this particular expression on his face whenever he looked at her and that I suspected that Manny was sweet on her too. Peculiar choking sounds came from Rouanne's direction. "Oh, Sid is a good friend, I know that," she said when she had recovered. " I can't think what gave you this idea about Manny. He rarely speaks to me out of class and then all he does is insult me! Anyway, I'm going to sleep now, but, because you have been so patient with me, I'll tell you that this talk has helped me a great deal and I've decided what I'm going to do. I'm going to outgrow them!" "Fathers?" "Men" !
---
The hills are alive!
Headed up into the hills for a little holiday with Chix and clan two weeks ago. I've always been somewhat of a city slicker, and am usually reluctant to leave the familiar toxic fumes and charming fauna of the city for unspoiled rural beauty.But I needed a little break, and I'm told doing the hill country is the "in" thing during the season. If nothing else, the promise of escaping the searing heat in Colombo made my mind up for me.
Quite to my surprise and growing annoyance, I found that the heat was about the only thing that I could escape from up there. It was as if everyone in Colombo had just packed up and moved into the hills. Which isn't really bad, but the thing is when people from Colombo go on trips, they tend to take Colombo with them. What's wrong with that? Well nothing really, but the thing is that Colombo has a culture and a habitat all of its own. And personally, I'd like to go somewhere outstation on a holiday and enjoy the unique habitat of that place without having a nagging suspicion that I'm really somewhere in Bambalapitiya.
We headed into N'Eliya for a day and found it absolutely packed with people. I think that maybe we should split the season up, or have quotas for the amount of people who can go up to the hill country at any given time. 'Cos the hills are not really well equipped to handle the amount of people that flood in during the season. I don't know about everyone else, but I think if going to the hills became a similar experience to a trip to the Pettah market, that would pretty much spoil it for me.
We saw many disturbing things there. Rubbish dumped everywhere (even in the middle of the race-course), large loudspeakers spouting forth unbelievably shrill doses of Hindi pop and the whole town turned into one big alcohol and cigarette ad. But by far the most disturbing discovery for me was the presence of "Cool dudes" there. It was impossible to say if they were "Cool dudes" from Colombo who had followed the rest of us there, or if they were indigenous. "Cool dudes" - an unfortunate minority of the aboriginal population who had been infected by tourists who were carriers. Whatever the case, the evidence of the disease in its advanced stages was all round. Baseball caps, plaid shirts, sun glasses, hideously large belt buckles, designer T-shirts and jeans were everywhere.
But that isn't the only place you'd see designer names in the hill country. Anyone who pays attention would have noticed the amount of people wearing Calvin Klein T-shirts. They're everywhere. There are almost as many CK T-shirts in the hill country as there are Tommy Hilfiger T-shirts in Colombo (since someone started selling that seemingly "unlimited" consignment of rejects over here). But seriously, what does it say about a country when there are more people with the same type of T-shirt, than there are people who can read what's written on it?
Thankfully, we only spent one day at N'Eliya. The rest of the time was spent exploring those few pockets of unspoiled beauty that still exist in our beautiful country if only one bothers to look. But these little pockets are becoming increasingly rare. The Horton plains are a good example. We went up to the plains one evening and found it incredibly crowded. There were vans, buses, cars and lorries of all sizes packed up in the parking areas. Some others had pulled off the road to have a little picnic on the plains. And to our horror, we saw that the disgusting little heathens had left all their garbage just by the side of the road.
How could they spoil such a beautiful place? How could they look around them and not feel that they have a responsibility to protect all that beauty for generations to come? Impotent little twits. But I will remember that trip to Horton plains for a long time. For this was the first time I ever saw Sambhur on the plains. The sun was setting and at first we managed only to catch a glimpse of them. But then one by one a whole herd emerged from the thickets and started playing and grazing on the plains. They were magnificent creatures.
We watched them for over half an hour and then decided reluctantly to head back. But we had hardly travelled a hundred meters when we came upon a group of young people. They had gotten down from their van, turned the volume on the stereo up as loud as it would go and were dancing on the road.
They were less than 500 meters from one of the most magnificent spectacles of natural wonder they were probably ever going to witness - and they were dancing on the road! Why do they even let these people up there? I'm not saying that nobody should be allowed up there so that there wouldn't be anyone around to annoy me the next time I go (though that would be nice). I'm just saying, the next time you go somewhere outstation take the trouble to appreciate what you see. Appreciate the fact that it's not spoiled by people or exhaust fumes. And appreciate that you're just a tourist - you'll come and go, but if you don't disturb anything, these things will go on the way they have for centuries.
---
A star on fire
By Raushen Akbar
In Sri Lanka on a brief visit, Fire actress Nanditha Das was the epitome of the contrast apparent in the movie. Immediately vivacious and then serious, she possesses the charm of a child alongside the maturity of a veteran actress.
"I've acted in four films only," she states modestly, but if Fire is anything to go by Nanditha's appeal on the big screen is undoubted, not just because of her simple sensuality but more the unaffected portrayal of a woman torn between tradition and her own desire. A desire to question and to understand without blind acceptance.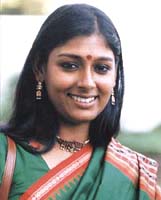 The movie is not about lesbianism she says, but about love. It is not about women but about men taking women for granted. Whilst it uses powerful, provocative and passionate dialogue as its base, it also very effectively uses the sound of silence to communicate.
Deepa Mehta's direction thus begs reaction. One cannot see Fire and go away nonchalant. One is either critical, amused, dazed or confused. And this is the movie's very essence. To spark thought and emotion in its audience.
Addressing a press conference at the Indian Cultural Centre, Nanditha spoke of the few apprehensions she had at the outset. "However, I was convinced about the script and Deepa's ability to evoke an aesthetic quality to the direction. Even now, there are many people who think I am Sita. They ask me if I am a lesbian too and this can be quite annoying.
When asked how the Indian response to the movie has been , she stated that it was for the large part positive, but perhaps this was due to limited circulation among the upper and middle classes only. "We'll just have to wait and see. ( I've got my fingers crossed..)"