28th September 1997
| | |
| --- | --- |
| | Contents |
---
The Baseline Road Expansion project will displace about thirty families at Kirulapona. This can be avoided if the RDA routes the highway via a State landreserve say the affected residents. Dilrukshi Handunnetti reports
For over thirty families down De Costa Gardens Kirulapone, the Base Line Road expansion project, has become an emotional issue. If the proposed road expansion goes through, they stand to lose the houses they live in, to say nothing of the attendant problems of finding alternative housing, replanning children's education and a multitude of other problems.
But they are not up in arms against the project for this reason. All this, the residents claim, can be borne in the name of development if not for what they see as the insanity and illogic displayed by the authorities who are deciding to totally ignore a 100 meter wide state reserve with no buildings on it, in favour of constructing a 150 meters wide straight street line which cuts across De Costa Gardens, one of the highly residential areas in Kirulapone, demolishing many private residences and causing pollution and environmental concerns for those remaining.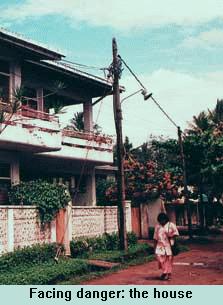 Apart from the number of houses which would be affected by the Base Line Road expansion project via Robert Gunawardene Mawatha, three industrial concerns will also have to make way. A pioneer knitting company in the country- Bernard Boteju, Vipula Batiks and SLM. Apparels will have to relocate, resulting in probable loss of employment for several in the area. In addition, the possibilities are there for the partial destruction of the Balapokuna Purana Raja Maha Viharaya, though this was refuted by Ministry of Highways.
Under the proposed road expansion project, Base Line Road is to be connected up to Narahenpita, Kirulapone via Balapokuna Road to reach Ratmalana, efficiently distributing traffic, through feeder routes that would not clog the main roads. In improving the trunk road network, the Master Plan gave priority to finding a north-south link to the Colombo city traffic.
The feasibility study conducted by the Japanese Special Assistance for Project Formation (SAPROF) on the Base Line implementation project in July 1992, recommended the upgrading of Base Line Road to a dual three- lane highway, and its urgent implementation with certain modifications to the earlier plan done by UK company.
Expanding Base Line Road and connecting it up to Galle Road was decided upon though there was no approved street line given for this purpose, despite the requirement"s urgency. New street lines were expeditiously drawn for its Southern extension and to restrict development in the vicinity which would face destruction.
The total period of construction is to be 2.5 years at an estimated total cost of 3,383.4 million rupees of which 854.0 million would be utilised for resettlement purposes alone. However, it was decided that the most appropriate street line would be recommended once proper study and an environmental assessment impact was conducted. But now the Southern mouth of Base Line Road is to begin immediate expansion, leaving many questions unanswered.
In early 1993, the Road Development Authority by circular informed the Dehiwala Municipal engineer to discourage construction along the proposed route closer to the marked corridor, as the intention was to survey a corridor of hundred metres width.
The area to be cleared is over five acres in extent, and to its left lies the State land-reserve existing since 1936, totally unutilised and not built upon.
Feasibility studies on the road expansion, according to residents began about eight years ago, and it became public knowledge that Robert Gunawardene Mawatha would come under the new road widening plan. But, the Colombo Municipal Council continued to issue new permits to build, and several houses were recently constructed in the area. Some of the builders have halted half way due to fear of having to face demolition . However, squatter families have settled without any authority on the reserved land, and have not been instructed to go. When the lawful owners raised the issue of alternative land, they say they were sarcastically told to build on the reservation, for it would no longer serve any purpose.
Amidst the claims and counter claims, what follies are committed in the name of development, ask the residents down De Costa Gardens who live in perpetual suspense, not knowing when they would be asked to go, and then, where to. The problem has been aggravated as no official communication has been issued, though conflicting signals are sent.
Lalith Illangakoon purchased a plot of land seven years ago in a secluded spot down the same lane to build his two-storied home. He was not informed of any proposed street lines by the CMC. So Lalith raised a massive bank loan and spent over ten million to complete the ground floor, but is afraid to build further, lest it serves no purpose.
"My children ask me whether they will have to go to other schools. When a man builds his house, he plans many other things. We cannot disrupt their education and uproot them and plant them elsewhere. It is a situation of law abiding citizens being forced out of their homes, and the unauthorized settlers remaining. We are not standing in the way of development, but want some sensible solution. There is no need to ignore the reservation, and haphazardly select a route. Nowhere in the world do we find dead straight streets, and even then, nobody demolishes houses just to straighten roads. It is a whimsical and callous plan," he claimed.
Shirani Kadirama-pulle was on the verge of tears, explaining how the demolition would affect her family.
Her family has owned large properties, until under the Ceiling of Housing Properties Act in 1973, they lost two houses, for which they have not received compensation so far.
"These are ancestral properties, and I received this house from my parents. Naturally, I want my children to inherit what I have. Now we would be rendered homeless losing the very house we live in," she said.
To Shirani, like others, the question of compensation does not arise. "My home is ancestral property, and has enormous sentimental value. How can I put a value to it?" she says.
Shirani's brother Sunil de Costa has received approval for his housing plan recently, which will not be affected by the project . He claims that the RDA is guided by an old map of the area, which has no houses marked on it.
"All they have to do is to tar the reservation road saving a lot of money, and remove a few squatter families who could be given better alternative housing and paid better compensation . What they pay us would not be adequate to build a room to our liking. In any case, we are not interested in that aspect, he said.
"Nobody seems to understand the value of a residential area which is in the heart of bustling Kirulapone. Those remaining will be faced with environmental problems and extreme pollution making the area inhabitable. The authorities must first conduct an impact assessment survey to find out the problems faced by residents. In addition, three industries will have to go, culminating in many low income earners losing their source of income. Is this the action of an accountable government committed to just and fair play , asked an angry Mrs. Nora Pittal, who could lose her home of over forty years.
Vipula Dharmawardene, the owner of a BOI approved project, Vipula Batiks had his original property at 15, Halgaswatta Lane, which he later divided to five blocks to give his sons for construction of new industrial premises and living quarters. He has repeatedly given up his land for road widening, and so far sacrificed 22.79 perches to the CMC without compensation.
He is a pioneer exporter of batiks and handicrafts, a business he held there for thirty years. He has given employment to over 300 persons from the same locality. He is yet to be informed of the new street line which would run through his business premises, forcing him to go elsewhere, rendering workers unemployed.
"There is nothing left for us, our homes mean everything to us. We have raised loans, spent a lot, and built them with so much of love. If there is no alternative, we would accept the proposal to broaden the road. Our grouse is that the existing alternative is totally ignored and a new destructive path has been chosen," he said.
The residents call this a daylight robbery, and an infringement of their rights An angry Mrs. Daya Mettananda said that the least they could do was to officially inform them , and discuss the matter. "Nobody is willing to do that. We have invested everything to buy these lands and to build, and for the want of a straight street line we are to go. Are we expected to live in caravans and move, everytime the authorities tell us to vacate?"
The common belief is that there have been no ground surveys done owing to the residents protests. Only aerial surveys have been conducted, that too much before the mass construction of houses took place.
The residents have repeatedly appealed to President Chandrika Kumaratunga, Prime Minister Sirimavo Bandaranaike and Minister of Transport and Highways A.H.M. Fowzie to intervene and clear the confusion, and to resolve the problem by utilising the state reserve rather than destroying private residences. A public petition bearing 84 signatures of affected residents was sent to the President in June last year, urging the implementation of the former road development plan in place of the recent proposal, to which there has been no response todate.
Minister of Transport and Highways A. H. M. Fowzie has informed perturbed residents that the British company Aitkins International which conducted aerial surveys in 1990 and the RDA have never considered the alternative suggested by them, that of utilising the existing road reservation. His officials denied the existence of the road reservation said to have been drawn up over sixty years ago.
However, the Colombo Municipal Council has passed a resolution last year condemning the new proposal and urging Minister of Transport and Highways to reconsider the project, and to utilize the existing 100 feet state reserve, thus avoiding destruction of so many houses.
RDA officials stated that the highway of 150 feet which was proposed in 1996, has been suspended due to public pressure, and reduced to 80 feet with a 12 feet corridor on either side, making it 104 feet in width. This would still lead to destruction of properties, unlike the reservation which has no permanent buildings on it.
General Manager of the Road Development Authority .P.B.L.Cooray accepted that many houses would be affected when the proposed highway cuts across Edmonton Road linking up with Robert Gunawardene Mawatha. He also said that all options have been studied, and it has been decided to avoid curves and build a direct road which would be more accessible with less fuel consumption.
The RDA General Manager said that the compensation and relocating of residents are serious issues taken into consideration by the authorities. He said that it was difficult to state whether the reservation would be utilised for this purpose or not.
Despite clear evidence that the road expansion would affect the houses, the CMC has issued permits to build even in the month of May. The total value of the houses in line for demolition would be a colossal fifty billion rupees. The question is whether we want haphazard development, which wastes money and destroys a whole environment, all in the name of development; or people and environment-friendly methods of forging ahead with less hassle and heartache?
Houses endengered
:





---
Continue to Plus page 2 - Is this really English ? * Of judges and justice * It was simply sentational * Ingredients were just right
| HOME PAGE | FRONT PAGE | EDITORIAL/OPINION | NEWS / COMMENT | BUSINESS
Please send your comments and suggestions on this web site to
info@suntimes.is.lk or to
webmaster@infolabs.is.lk