"Sex and nudity is part of human existence" Tharindu
By Susitha Fernando
Tharindu Ramanayaka; Young filmmaker who dares to be different
View(s):
A promising young filmmaker Tharindu Ramanayaka, the first Sri Lankan student to study cinema at the prestigious Satyajit Ray Film and Television Institute, has taken a bold approach to cinema. Specialised in direction and screenplay writing, this young filmmaker won the Best Short film award for his film 'Krimikosh' (Cocoon)  at the Agenda 14 short film festival held in January last year.
Hailing from Nittambuwa, Tharindu initially studied mathematics medium for his Advanced Level but soon realised that it was not his  line. So he changed to the arts stream. He studied for six months, got three As and was selected to enter the Sri Palee Campus of the University of Colombo. While awaiting university entrance Tharindu received  a full scholarship to follow Bachelor of Arts degree in Theatre and Drama at the Rabindra Barathi University in India. Studying in India, Tharindu learnt more languages such as like Hindi, Bengali and Tamil. Having returned to Sri Lanka the young film enthusiast worked in film and drama projects and also served as a teacher of drama and mass communication.
"I wanted to study cinema and realised that there was no proper film school here. So applied for my second scholarship at the Satyajith Ray Film and Television Institute," Tharindu said. "I got the scholarship, thanks to my language ability which was an added qualification. I was selected for an extensive three-year Post-Graduate diploma course in cinema. In the first year we all studied six main areas of filmmaking and from the second year onward I mastered direction and screenplay writing. The extensive study for five long years helped us to study theory of cinema and also the practical side. After eight to 10 hours of work everyday we were made to watch cinema in theatres at the Film school," Tharindu said, describing his experience in India.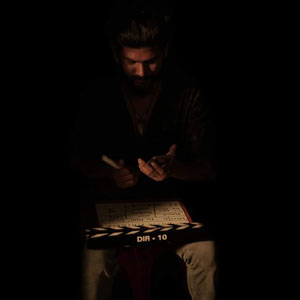 The short film 'Krimikosh', one of his film projects won the Best Film award at 9th Agenda 14 Short Film Festival in Sri Lanka and it was also screened at the 21st International student Film Festival in Tel Aviv. His other short films and documentaries won rave reviews. His short film  'Weeping Angel' was selected as the Official film at the 3rd South Asian Short Film Festival last year. 'Aagadhi' a music video he directed and acted in was selected for screening at the Cefalu Film Festival in Italy in 2019, Music Shorts Film Festival Dublin 2019, Bangaluru International Short Film Festival 2019 and  Dadasaheb Phalke International Film Festival in 2019.
After Tharindu, the Satyajit Ray Film and Television Institute has awarded the scholarship to another Sri Lankan cinema student this year to study cinematography.
"This will be a great opportunity to many young Sri Lankan filmmakers of tomorrow," Tharindu said.
While being a filmmaker Tharindu also wants to share whatever he learnt in India and Sri Lanka but traditional and administrative obstacles have prevented him from doing this.  "We see that there are practical filmmakers whose knowledge is not used in the academic field while there are many academic experts who don't make films," said Tharindu stressing the importance of both practical and theoretical knowledge in cinema.
"My main target is to share my knowledge. I represented Sri Lanka in several countries and
I like to share my knowledge. I want to make films and I have already written about ten scripts," said Tharindu while adding he still has a lot to learn in cinema and he plans to do his Phd as well.
As a filmmaker Tharindu has taken a bold approach in subject matter and the presentation.  His cinema stresses on vivid pictures and colours to achieve his objectives. At the same time Tharindu views sex and nudity a part of life and they should be used to use to bring out powerful audio-visual messages.
"My mainstream is art film not commercial films. Should I get down to the level of the audience or as a filmmaker should I try to get the audience to my vision? I think my role should be to try for the latter. Film is an expression of the filmmaker," says Tharindu highlighting the importance of art house cinema.
"My themes are based on existentialism and I use it with surrealism," explained the young filmmaker. When we talk about existentialism we cannot avoid talking about sex and nudity because human existence is there only because of sex. We are all born because of sex and I dare to show nudity in my films," he said.
However, Tharindu admits that the problem is not only in Sri Lanka but in India, one of world's largest filmmaking countries.
His short film 'Krimikosh', was acclaimed as one of the best short films there but it was banned few hours after it was released. This was mainly based on the nudity scenes featured in the film.
"This is hypocrisy and result of the Victorian culture imposed on us," said Tharindu.
The young filmmaker has completed an Indian production based in Sri Lanka. For this he has deployed a number of Sri Lankan artistes like Kaushalya Fernando, Niranjani Shanmugaraj, John Dinesh Sandaruwan and Koralage Saman. His longer short film titled 'Underja' has completed post production.
Tharindu is getting ready for his debut feature film with the producer U. A. Palliaguruge and it would be a controversial film.