Five years after Anton Jones
View(s):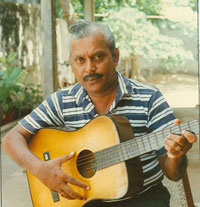 The fifth death anniversary of veteran singer Anton Jones, who excelled in the Sri Lankan music scene for more than six decades, falls on February 21.
Anton Jones who was born on June 3, 1937 in Hultstdorf, Colombo had released almost 40 cassettes and 10 CDs in his tuneful career.
Anton Jones who also worked as a stenographer for a state bank for 35 years, became popular following hits like 'Mini Gavuma', 'Kanthoruwa Kanthoruwa', 'Maru Sira', 'Sepala Ekanayake', 'Premawathi Manamperi', 'Polonnaruwe Podi Wije', 'Asai Bayai', 'Rukmani Devi', 'Suli Sulang', 'Sondina Mana Pinana'  and hundreds of other songs.
Almost all his songs were woven around historical events or significant true incidents in the country.
His first song on Radio Ceylon was aired in 1958. He had sung more than 300 songs and taken part in musicals shows in England, Paris, Italy, Canada, Middle East, Korea, Cyprus and other countries.
Among those who penned popular songs for Anton were K. D. Sumanapala, D. B. T.  Edirisinghe and Hemasiri Halpita.