Mandarina launched 'Nelum Kole' again: A menu with authentic Sri Lankan flair
View(s):

Guest can always count on great food from Mandarina Hotel, Kollupitiya. Now, Mandarina has once again innovated a true Sri Lankan classic.
Mandarina Hotel has completely revamped the iconic 'Nelum Kole' meal concept to suit the modern day city dining. Mandarina Colombo launched the authentic Sri Lankan menu 'Nelum Kole' last year but due to pandemic situation was stopped after a couple of few weeks' operation. Back in action, the city hotel is now ready to host guests to a tantalising local lunch menu with 'Nelum Kole' for lunch during weekdays except Sundays.
'Nelum Kole' lunch would become a novel experience for Colombo food lovers. Guests will experience the true meaning of lunch served on a 'Nelum Kole', in the midst of a star quality restaurant backdrop' said Rumzi Salie, the Director Sales and Marketing of Mandarina Colombo.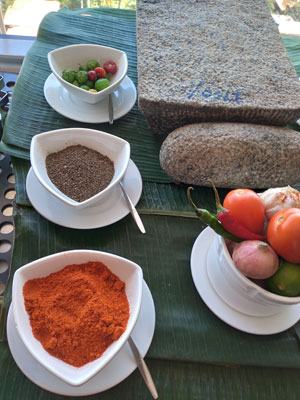 The whole new 'Nelum Kole' menu promises mouthwatering cuisine. The secret of the rich flavours and their mastery in the local dishes is because of the local ingredients that are used. The guests get to choose from three different types of local rice, a range of 10 rich curries, 5 mouth-watering meat dishes and not to mention any condiment you could think of.
'In the Covid situation, it's needless to point out that not only the hospitality industry, but also a sub section of the society whose livelihoods were based upon the industry have been affected. Mandarina Colombo, as a part of the leading Sri Lankan conglomerate, Macksons Holdings is on the strong footing that our post Covid revamp mission is not only catering to the reinstatement of our hotel's commitment towards the local food culture, but also as an avenue to give back to the society. We have initiated several attractive promotions including the new 'Nelum Kole menu' said Dinesh Hettiarachchi, General Manager, Mandarina Colombo.
Mandarina's local suppliers are scattered around the country, this includes the raw  materials that are sourced from Kumbukgete in the North Western Province along with daily vegetable and lotus leaves being supplied from the Colombo Suburb, Bandaragama, and many more.
'Especially through the new 'Nelum Kole' menu, our lunch will offer an array of authentic local cuisine. Hence, we do believe that as a local organisation, at this context we have been able to contribute to the Sri Lankan community at our level best as a part of our CSR commitments. Furthermore, I need to add that for a Hotel, the food is the key   value addition, hence we are very proud of the quality and unique taste of the food that has been prepared by our chefs who have over 60 years of combined experience in the industry being sure to tantalize the taste buds of our guests' added Rumzi Salie, the Director Sales and Marketing.