Something to take note of
By Shannine Daniel
Students and stationery junkies out there, these customised or readymade creations are just what you are looking for
View(s):
Each of the online businesses we feature today have Instagram and Facebook pages filled with pictures of cute and colourful notebooks, journals, planners, stationery and gift items – some customised and others readymade. The wide array of vibrant stationery is ideal for students and stationery junkies.
While some import their raw materials or their products, and take on the customisation process or finishing process on their own, others prefer to source local products and raw materials.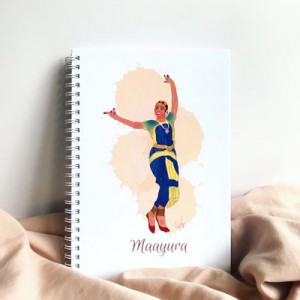 Colour Press Stationery
Colour Press Stationery designs and produces customised bullet journals, and different types of planners from academic planners to wedding planners and travel planners. They also customise gift items such as mugs, framed posters, bunting and stationery sets. Recently they have taken on digitally illustrated products of any picture sent in by their customers.
They give their customers the option of choosing a theme when it comes to designing stationery sets and stationery gift boxes, and the option of choosing the stationery and other gift items to be included in the package.
"We pay a lot of attention to detail and offer in-depth customisation facilities where the customer can truly be involved and have us design the image they have in mind. I think that's what makes us unique," said the Colour Press Stationery founder.
They have been in business since December 2016 and deliver islandwide. Orders can be made through Instagram (colourpress_stationery) and Facebook (Colour Press).
---
Your Page Notebooks
"I personally love pretty notebooks and stationery, unfortunately, I could not find many nice notebooks in Sri Lanka, and some were quite expensive. So I created my own notebook which came out exactly the way I wanted," said one of the co-owners of Your Page, who wished to remain anonymous.
"After seeing that book, many people asked me to create notebooks for them too. So I decided to start this business. And in a digital era, where people tend to key in nearly everything, I wanted to encourage people to write down whatever they want in their personalised notebooks."
Launched in 2018, Your Page specialises in customised notebooks, journals and planners and gives their customers the option of deciding on the binding, covers, inner pages and other extras like pockets for their books.
Aside from journals and notebooks, they sell customisable stationery and gift items such as calendars, memo cubes, diaries, sketch books, scrap books, travel journals, recipe books and to-do list books. They also undertake corporate bulk orders.
Your Page can be reached through Instagram (notebooks_by_yourpage), Facebook (YOUR PAGE) and their WhatsApp number (070 2777 341). They deliver island wide, and customers can also pick up their orders from this home-based business located in Colombo 07.
Their products are also available at the Tribe Store at One Galle Face in Colombo 1 and Sanka Bookshop at Wijerama Mawatha,   Colombo 7.
---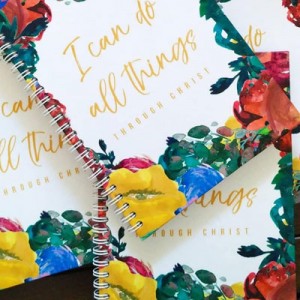 Aletheia Prints
Husband and wife duo Andrew and Dilanie started their online business five years ago. Dilanie always had a passion for graphic design, and after she and Andrew got married they decided to take up a business that would allow Dilanie to use her talent and creativity.
"Initially we started out with only framed wall art, but now we've expanded to a whole range of products, which are all customisable," Dilanie tells the Sunday Times Magazine.
"We generally take 24-48 hours to complete orders. So if you're stuck for a last minute, personal, creative, meaningful gift – we've got you covered. We focus on items with faith-based, Bible-centred values and themes," she added.
Currently busy with Christmas gift sets and customisable covers for their diaries for next year, they also create phone cases, pop sockets (pop grips), mugs, frames and stickers.
Contact Andrew and Dilanie through their Instagram page (alethiaprints), their Facebook page (Aletheia Prints) and on WhatsApp  (076 520 1208). They deliver within Colombo and in the suburbs, and also use PickMe Flash.
---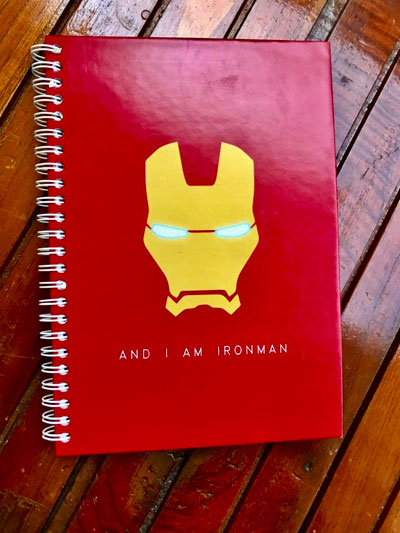 Notebook Core
Notebook Core is a new online start-up by Iddhi Dharmaratne and Tharaka Kaluarachchi. In the business for a little over a year, they initially sold imported notebooks and then moved on to selling personalised notebooks made from raw material sourced from Sri Lanka.
Right now, they design and produce personalised notebooks including spiral, hardbound, note pads and sell a range of stationery items from pencil cases to pens.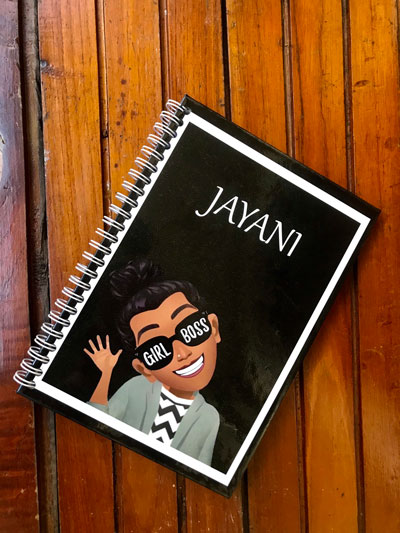 "We specialise in bringing out our client's creativity into their very own personalised notebook. We offer a dedicated service from the initial steps of creating the digital artwork to manufacturing and delivering our crafted notebooks to our client's doorstep," Iddhi said.
"We have built our business with customer satisfaction at its core. We have a strong customer base, which has led to repeat sales. We also offer free artwork design and have plenty of personalisation options," they added.
Currently operating online, they have plans to expand and open a store in the heart of Colombo.
They deliver islandwide and have a cash on delivery option. Orders can be placed through Instagram (notebook_core) and Facebook (notebooksrus).