'Bulletproof Children' competes in China
By Susitha Fernando
Dr. Indika Ferdinando's newest film 'Vedi Nowadina Lamai'
View(s):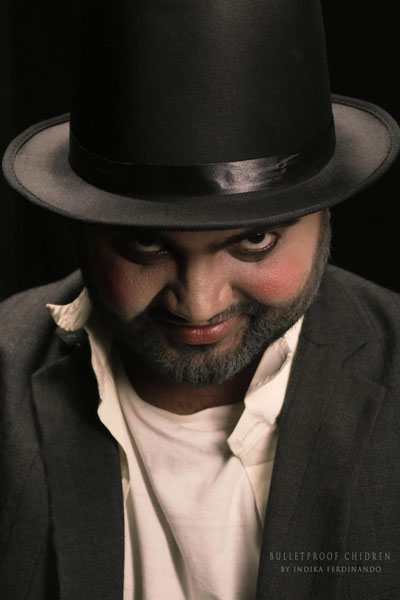 Award winning playwright and filmmaker Indika Ferdinando's newest film 'Vedi Novadina Lamai' or 'Bulletproof Children' will be competing at the 33rd Golden Rooster Film Awards – 2020 in Chinathis week.
Following his box-office hit 'Ho Gaana Pokuna'- 'The Singing Pond', the second directorial venture by Indika will compete for four awards under Foreign Language Film Section. The categories that 'Bulletproof Children' compete arethe Best Foreign Language film, the Best Screenplay, the Best Actor and the Best Actress.
Held from November 25 to 28 at Xiamen in East China's Fujian province, there are a total of 155 films that are shortlisted for main 19 awards. Jointly initiated by the China Federation of Literary and Art Circles and the China Film Association in 1981, the festival is one of the most professional and authoritative for film awards in China.
The World Premiere of 'Vedi Novadina Lamai' was held at 12th Bangalore International Film Festival 2020 in India.
Based on a true event that happened about two decades ago in Sri Lanka, this semi-musical dark comedy thriller is set against the historical day in which Sri Lanka won the Cricket World Cup at Lahore in Pakistan. Named as a dark fairytale, Indika has juxtaposed a true incident against one of the most important days in the history of Sri Lanka.
While Sri Lanka and Australia battle it out in the 1996 Cricket World Cup final in Lahore, a middle-aged couple boards a bus in Colombo, hoping to return home, with their dead child in a cardboard box.
It's March 17 1996. The conflict between the Tamil Liberation Tigers and the Sri Lankan military is at its peak and the Wills Cricket World Cup Final between Australia and Sri Lanka is about to begin at the Gaddafi Stadium in Lahore. Thousands of spectators arrive at the cricket ground, gather around their televisions or tune into listen to commentators reason out predictions on the game. Meanwhile, in Colombo, a man and his wife board a bus carrying a cardboard box. Joined by a young couple that's eloping, two elderly government servants celebrating their monthly salaries, a very sick grandmother and her autistic grandson returning home to a dying grandfather attacked by a wild elephant, a street magician, two Buddhist monks, a group of disenchanted school children with a runners-up trophy, a handsome gentleman, an overweight woman with a decadent sweet tooth and an overly devoted cricket enthusiast among several other passengers aboard, they take off on a long night's journey. The seemingly peaceful bus ride shifts its pace when it enters a chase with a Defender jeep. An accident unexpectedly reveals the contents of the cardboard box promising the passengers a journey unlike any they have taken before.
"This film is a mixture of different genres. Although the plot is extremely tragic, it ends in a positive note," said Mr. Ferdinando who currently works as the Dean of the Faculty of Dance and Drama at the University of the Visual and Performing Arts in Colombo.
"It is a tragi-comedy, a musical, a thriller and a fantasy that metaphorically portrays a cross-section of the Sri Lankan society and how we lived through war, cricket, poverty and, socio- political passivity," explained the national and international award winning filmmaker.
"Depicting a society by grasping their characteristics metaphorically can be, sometimes, more effective than a direct representation of its demography. In that sense, this is an ethnographic film which is told in the form of a dark fairytale. Also, in this film, I tried to explore how truth can be articulated intertwining real incidents, historical events, fiction and fantasy in cinematic storytelling," he added.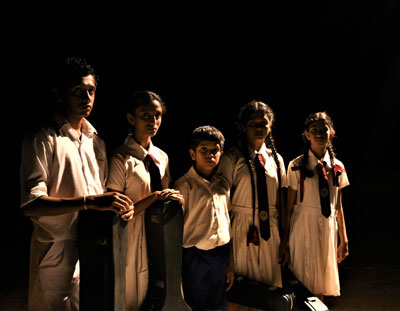 "The film is to be released in September 2021 on EAP circuit cinemas but I don't know what would happen by then. We are still negotiating with some producers," he said explaining how the Covid-19 pandemic has brought the industry to a standstill.
'Bulletproof Children' will also be the last film where Sri Lankan audience be able to experience the acting of pioneer actor, the late Dr. Jayalath Manoratne.
The film stars Anasuya Subasinghe, Kalana Gunasekara, Sethika Gunasinghe, Stefan Tirimanne, Hemasiri Liyanage, Jayalath Manorathna, Dayadewa Edirisinghe, Mahendra Perera, Anula Bulathsinhala, Ashan Dias, Udeni Chandrasiri, Xavier Kanishka, Prabodinee Chandrasena, Dilum Buddhika, Lakshika Jayakody, Sanjeewa Dissanayake, Randika Gunathilake, Nipuni Sharadha Pathirage, Karindra Edirisinghe, Naduni Vanigasundara, Dinaya Jayasekara,
J. Chandrahasan, Nayanathara De Silve, Vashikar Chandrahasan, Chamal Ranasinghe, Chandima Sirinayake, Dihan Kaveesha and Uditha Liyanage.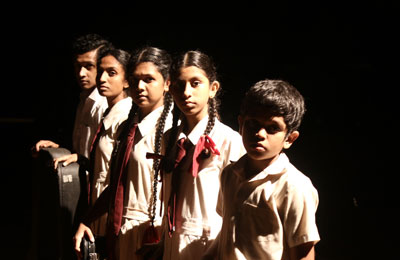 A national and international award-winning theatre practitioner and a filmmaker Indika Ferdinando won the Best Director award at the National Drama Festival of Sri Lanka at the age of 19, the youngest director to have received it. In 2002, he graduated with a first-class honours degree in Drama and Theatre from the University of Kelaniya. He received his PhD in Theatre and Performance from Monash University, Australia in 2017.
Indika's debut feature film "The Singing Pond" (Ho Gaanaa Pokuna) was selected by prestigious film festivals in the United States, Germany, Czech Republic, China, India and Vietnam (2014 and 2015) and won several international accolades including the Best Feature Film. In Sri Lanka, Ho Gaanaa Pokuna won the Best Film of the Year and the Most Popular Film of the Year awards in 2016.
Behind the screen screenplay by Piyal Kariyawasam and Indika himself and the film is produced by Deep Motion Pictures. Cinematographed by Dimuthu Kalinga Dahanayake, editor is Tissa Surendraand sound designer is Sasika Ruwan Marasinghe. Muscial score by Nadika Weligodapola and Thilanka Gamage, art director is Kasun Mahawaduge and make up by Buwaneka Ranawaka. Costume designer is Wasanthi Alwis, while assistant director is Tharindu Ranepuraand production manager is Madhuranga Jagoda.