SLPP strengthens position while UNP-SJB infighting continues
By Our Political Editor
View(s):
Group of JSS trade unionists infiltrate Sirikotha; cause minor commotion over party leadership
Polls Chief Deshapriya in public dispute with EC member Hoole, but denies  any crisis in the Commission
Samaraweera decides to pull out of August 5 election; speculation he may re-joinUNP
The parliamentary poll was delayed by the deadly coronavirus, but the fears seem to have receded sufficient enough and purported legal constraints have now vanished.
On Tuesday, the Election Commission (EC), whose credibility has taken a bad beating in the public eye, announced parliamentary elections would now be held on August 5, a Wednesday. That ended many a controversy related to the polls. At first, EC Chairman Mahinda Deshapriya, asked President Gotabaya Rajapaksa to seek a determination from the Supreme Court. He refused.
Then came eight fundamental rights petitions before the Supreme Court. They challenged polls being fixed for June 20 after the original date, April 25, was postponed. They also sought to re-convene Parliament that was dissolved on March 2. A five-judge bench unanimously dismissed the petitions. In effect, that meant that the dissolution of Parliament and subsequent actions by the President were constitutional. The SC through its rejection also endorsed that the postponing of poll dates by the EC was in accordance with the law.
In the wake of the SC ruling, amidst public expectations that a date would be announced that day, the EC met on June 8 (Monday).
Instead, discussions centred on other aspects. One was the report submitted by Dr Anil Jasinghe, Director General of Health Services, on the health guidelines to be followed. There was a suggestion that Dr Jasinghe be asked to gazette his recommendations. Another was a mock poll in Ambalangoda, Deshapriya's hometown. The drill was to ascertain the time taken by a voter to go through the process of casting a vote. It was felt that more such mock polls should be carried out. There was also a discussion on poll expenses which would now be higher in the light of the adoption of health safeguards. A suggestion was made to meet Presidential Secretary P.B. Jayasundera in this regard.
At a news conference on Wednesday to announce the latest date (August 5), Chairman Deshapriya was livid with the media. He charged that they were deciding on dates when it was the responsibility of the EC. However, soon after the SC rejection of the FR petitions, Deshapriya was quoted by different television networks as saying that the poll date would be announced on June 8 (Monday) after the Commission met. After that meeting, he, however, declared that the date would only be announced later this week.
He also told the news conference, "The Elections Commission is there to conduct elections. We were forced to delay due to the COVID-19 situation. We were not responsible for delaying local elections or the Provincial elections. They were delayed as the relevant proposals were not brought to Parliament. Those who were represented in Parliament should be held responsible.  As for the local council elections, if we had not gazetted 93 of them, even today the elections would not have been held.  We have done our best so far and will do the best." On Tuesday, the EC gazetted the names of all candidates, their preference numbers, and the polling centres. That signalled the formal start of the polls campaign.
Chairman Deshapriya put on a bold front despite the internal rivalry between him and another member, Ratnajeevan Hoole. It became a public secret. His repeated assertions that there was only "differences of opinion" became a joke. That such friction was delaying the polls date became noticeably clear. Yet, this was glaring not only from Hoole's public utterances but also by his decision to make separate submissions to the Supreme Court, independent of the representations by Chairman Deshapriya and other member Nalin Abeysekera.
His counsel argued that the date chosen by the Commission to accept nominations for the parliamentary polls was a public holiday – a position which the SC did not accept. The date had been arranged by the Presidential Secretariat in consultation with Chairman Deshapriya. Here was a member of an independent commission seeking legal remedy over the actions of his own chairman. This no doubt raises the need for the government to re-examine the role of such independent commissions. It is not only the EC, but even the Police Commission has run into controversy many a time for heeding political directives and transferring personnel. In the light of this, the question is whether they function with total independence or under pressure for different reasons.
In the EC it was indeed an unusual case. Not that a member is not entitled to legal redress. But the fact that he did so made public that there was a power play between the chairman and a member. That was a dilemma for Deshapriya since the EC rules stipulated that the trio (who are all EC members) formed the quorum. Therefore, snapping relations would have been anathema for not only Deshapriya but for the entire country. No decisions would have been possible, and a parliamentary election would become uncertain. That was a strong weapon in Hoole's armoury.
Other sources, however, accuse Deshapriya of "going soft" on Hoole, a dual citizen of Sri Lanka and the United States, for other reasons.  This 'cold war,' these sources said, led not only to delays but also contentious moments when matters "have to be decided upon." Thus, many a friction found its way into the public domain. This prompted SLPP-led government leaders to be publicly critical of the goings on in the EC.
I asked Prime Minister Mahinda Rajapaksa about the government position. It was before the poll date was officially announced. He told the Sunday Times, "All we want from the Election Commission is for it to function, as designated, as an independent body. I have had complaints both from our government members and from the public. These are matters for concern. This is not the time to raise them. We expect them to conduct a free and fair election without further delay."
The August 5 parliamentary election is significantly different from the previous ones. One is the devastating effect the Covid-19 pandemic has had on its conduct. Major rallies have been restricted to one for a district and limits imposed on those engaging in house-to-house canvassing and holding 'pocket meetings.' This will be a drawback for leaders of political parties. In the Asian region, charismatic leaders among them not only draw large crowds but also garner more votes.
To reach out to electors, they have to now depend largely on the social media, which has seen a heavy surge since the advent of the Covid-19 pandemic. Already, individuals and companies are taking up a lot of space in the social media offering their services to send out group emails, polls propaganda material and WhatsApp messages for a fee. With the Postal Department not functioning at its optimum, this new trend will enhance the role of the social media. Yet, the media guidelines published in a Gazette by the Election Commission does not make any reference to the social media. It only deals with the electronic and print media. They will thus have a free run unless the Commission comes up with another notification to reign them in. This is because some government and opposition groups are now using them for their poll propaganda.
The stances of different political parties will be formally known only when they publish their manifestos. Significant among them will be the ruling Sri Lanka Podujana Peramuna-led alliance which has vowed to introduce a new constitution. As is now known, opinion is divided among sections over whether the 19th Amendment to the Constitution should be retained, replaced or provisions changed. This has become all the more important since the major opposition contenders, the United National Party (UNP) and its stronger offshoot, the Samagi Jana Balavegaya (SJB), are now thrust with new issues which could further weaken their positions. Conversely, that would strengthen the SLPP led alliance further, placing it at a more advantageous position.
Another factor relevant in this regard is a call by National Freedom Front (NFF) leader Wimal Weerawansa on constitutional changes necessary for the election of a President — views he expressed on a television talk show. Weerawansa told the Sunday Times, "A future presidential election should be carried out on an electoral basis. This is somewhat similar to the practice in the United States, where an Electoral College elects the President and the Vice President.The modalities have to be worked out to use the electorates as electoral colleges. Even the parliamentary election should be carried out on a similar  basis after all the modalities are decided upon." It is well known that Weerawansa is a staunch backer of President Gotabaya Rajapaksa. He said that he proposed to suggest changes when the matter comes up for discussion. Weerawansa's proposal means a marked departure from the existing practice where political parties decide their presidential candidates. Weerawansa also defended the use of the military at times of exigencies and insisted that such moves were not militarisation.
Commotion at Sirikotha
With the polls ahead, last Monday was not particularly a good day for the UNP with three different meetings scheduled, one after another. The first was an Advisory Group meeting to discuss poll strategy. This was held at Sirikotha, the party headquarters in Kotte. Chaired by leader Ranil Wickremesinghe, it included Assistant Leader Ravi Karunanayake, National Organiser Navin Dissanayake and General Secretary Akila Viraj Kariyawasam. Immediately thereafter came a meeting of trade union representatives, members of the Jathika Sevaka Sangamaya (JSS).
Former parliamentarian Palitha Range Bandara was on his feet. He had just followed JSS stalwart Sunil Silva who made the welcome speech. Range Bandara said the first meeting was slotted for 8.30 a.m., the second for 9.30 a.m. and the Working Committee at 10.30 a.m. He explained to the Sunday Times what happened. "Halfway through my speech, I saw Party Leader Wickremesinghe, General Secretary Akila Viraj Kariyawasam and Assistant Leader Ravi Karunanayake walking in. Soon after attending the meeting, the party leader gave a signal to Akila Viraj Karyawasam and he left the room.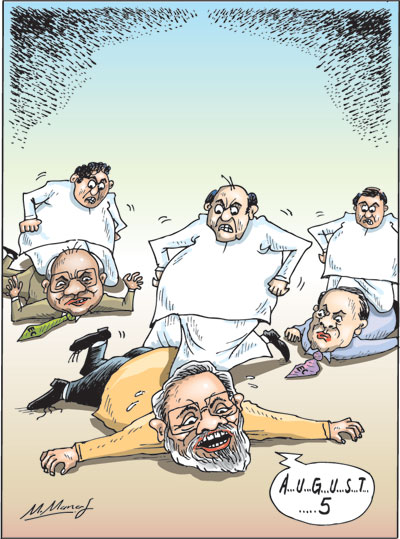 Later I learned that the party leader had made the gesture to tell the party General Secretary to prepare a room to hold the Working Committee meeting.
"After my speech, Wickremesinghe spoke. The meeting concluded and the leader got down from the stage while the party's petroleum sector trade union leader Ananda Palitha delivered a vote of thanks. When Wickremesinghe was heading out of the room, some trade union members who we suspect were under the influence of liquor shouted they wanted to hold a meeting with the party leader. Then the leader agreed and asked them to meet him the next day, on Tuesday, June 09 at 4.00 p.m. at the party head office.
"Then the trade unionists shouted that they were loyal for so long to the UNP, but their issues were never addressed. They said the leader never spoke to them.  There was commotion between the unionists and others."
Some eyewitnesses said there were shouts by some unionists thereafter asking Wickremesinghe to step down from the UNP leadership.
Range Bandara added; "Even after that meeting, I asked them what their demands were. They only said that the government is taking political revenge from UNP members in the state sector. The following day, Wickremesinghe remained at Sirikotha at 4.00 pm waiting for the trade unionists to come but they did not turn up."
The third event at Srikotha was a meeting of the UNP Working Committee. Whilst awaiting responses from 99 members who have been suspended, the Committee decided to sack from the party a group of local government members.
UNP General Secretary Akila Viraj Kariyawasam confirmed the sequence of events spelt out by Range Bandara but claimed it was a "small commotion." He declared, "We believe that the trade unionists who protested were from the Samagi Jana Balavegaya (SJB)." All the blame is now heaped on others including the SJB. That the party's premier trade union organisation is split is all too well known though no one expected such happenings inside Sirikotha. After the imbroglio, the JSS trade unionists had a meeting with SJB leader Sajith Premadasa.  That does not augur well for the party leadership.
Samaraweera saga
On the other hand, the SJB is also in crisis with deepening divisions within. Some of the issues were brought to the fore when Mangala Samaraweera, in his own way a colourful personality, declared he was withdrawing his candidature from the Matara district at the August 5 parliamentary elections. His antagonists were quick to say that he took this course of action knowing full well that he would lose. This is on the premise that groups of his regular voters had complained he was not visiting the electorate as often as he did before. His last position as Finance Minister did tie him down to the job. Added to that was a degree of forced isolation he had been thrust into in the past many months denting his image.
It came when he first made the remarks last year that Sri Lanka was not a Sinhala Buddhist country. It did anger the Buddhist clergy in no small measure. More recently, he angered the Buddhist clergy again by criticising them and drawing their ire once more. He defended himself by saying that even during the Lord Buddha's time, there were those who were opposed to him. A former ministerial colleague Lakshman Kiriella criticised him publicly for those remarks and declared he was a liability to the SJB. Similar sentiments were expressed by another newcomer who was associated with former President Maithripala Sirisena. A caucus against him had built up within the SJB. They were dubbing him "anti-Buddhist."
A lesser known fact is a recent meeting Samaraweera had with SJB leader Sajith Premadasa. Sometimes heated and at other times mellow, Samaraweera discussed the issues he faced within the SJB. He complained that the SJB had veered away from the UNP ideals and was fast turning into a "nationalist group." If anyone wanted to become a member of such a group, he had contended, that they would have joined President Gotabaya Rajapaksa and members of his family. He had said it was notnecessary to go behind a "duplicate group." Asked for his comments on this, Samaraweera downplayed it. See box story on this page.
The focus of this accusation is another political party leader who had now joined the SJB. The person who is acting as his controversial media manager is being accused of carrying out a daily high-pitched propaganda drive that has overshadowed Premadasa and even the SJB. Others in the coterie are said to include a former UNP General Secretary Tissa Attanayake and two former provincial councillors. Attanayake, who had differences with leader Wickremesinghe, quit to receive a portfolio from then President Mahinda Rajapaksa ahead of the 2015 presidential election.
It is no secret that Samaraweera has been side-lined for many months now. Premadasa's contention is that he is a liability and could lessen Buddhist votes for the SJB. For Samaraweera, it is like the Sinhala saying that a man who fell from a tree being gored by a raging bull. Together with Malik Samarawickrema, one time close confidant of Ranil Wickremesinghe, it is Samaraweera who led the campaign to foist Premadasa as leader of the UNP and saw the formation of the SJB. They were backed by a group whom Wickremesinghe has introduced into politics but turned traitor to him thereafter.
This was why Premadasa's election campaign was placed in the hands of both Samaraweera and Samarawickrema. In reality, they were ousted by others, including those in the family, both in raising campaign funds as well as scheduling public meetings among other matters. One source familiar with the developments said that Premadasa loyalists had pressured Samarawickrema, who lives in Kandy now, to return to Colombo and sort out matters. He had, according to the source, replied that he had distanced himself from politics. This was why he had chosen not to contest parliamentary polls though the SJB had offered to even place his name on its National List. He had wished them best of luck and added that it was now up to the SJB leaders to move forward with the ideals they have all stood for. Samarawickrema was not available for comment yesterday.
Samaraweera's formal announcement came in a news release on his letter head. It does raise some interesting questions. First to excerpts:
"Mangala Samaraweera informs the people of Matara who had courageously provided him protection and placed their confidence in him for three decades that from today (09 June 2020), he steps down from the politics of being a member of parliament. Accordingly, he requests the people of Matara to refrain from casting their preferential votes for him at the upcoming 2020 parliamentary election although his name appears in the electoral list as a candidate from the Samagi Jana Balawegaya. He had addressed letters to the leader of the United National Party Ranil Wickremesinghe and the leader of the Samagi Jana Balawegaya Sajith Premadasa informing them about his decision to refrain from contesting in the parliamentary election….
"… He emphasized that it is necessary to initiate a movement towards a progressive political trajectory in Sri Lanka in partnership with the people in this country who respect democracy, and the different social identities and cultural traditions in the country, and people who are not overwhelmed and consumed by hatred towards one another. He urged the people who are not governed and guided solely by their racial, caste, religious, ethnic and gender identities at birth and those who are free of political, cultural and social hypocrisy to come together and join forces for this purpose."
The first thing that is abundantly clear from Samaraweera's statement is that he is disassociating himself from the SJB. Contrary to the belief in some quarters, he is not quitting politics. His appeal to voters is not to cast their vote for him as SJB candidate. It is another matter if he still wins. After all, the announcement of severing ties with the SJB came last Tuesday, the same day the Election Commission gazetted the list of candidates and gave him the preference number.
Samaraweera has hinted he wants to join "similar minded activists who cherish and are willing to fight for democracy and freedom, racial and religious justice, sexual and gender equality and also to fight against all forms of extremism and religious bigotry." That would mean joining hands with a civil society group and remaining in politics that way.  But for how long? The prospect of him returning to home base, the UNP, is one thing he had not ruled out. He told the Sunday Times that whether he is sacked or not, he is a UNPer at heart. That could be a cause for the UNP to invite him. After all, they expect like minded persons to join in.
Thus, Samaraweera like the UNP and its stronger offshoot the SJB, will remain in the country's political firmament. However, the Sri Lanka Podujana Peramuna (SLPP) has sprung up like a maara tree overshadowing them. August 5 is sure to reveal its further outreach and more importantly the fate of the UNP and the SJB as they continue the infighting.
The whole system is now rotten to the core: Mangala

Thirty-two years ago, Mangala Samaraweera accompanied his mother Khema, to a wedding of a family friend in Colombo.

They mingled around with the guests and came face to face with Sirimavo Bandaranaike, the first woman Prime Minister in the world. A conversation ensued.

"Do you have any plans to enter politics like your father, late Mahanama Samaraweera?" asked Bandaranaike. "I said a firm no," recalls Samaraweera. He said, "I was making a name for myself in the world of fashion as Mangala Innocence."

That was not to be. "I used to visit Matara regularly. Many women came with the woes of their sons, husbands, relatives, or friends who had gone missing (due to the JVP insurrection). They brought letters to be handed over to Premier Bandaranaike.

"Their anguish changed my mind. As a young idealistic person, I believed I could make a difference," he told the Sunday Times. "I entered politics. I became an MP in 1989 and the Mother's Front was formed at my residence in Matara."

With me together at that time was now Prime Minister Mahinda Rajapaksa. We were co-convenors, he said. Dr Manorani Saravanamuthu was to later become the Patron of the Front.

This week Samaraweera urged voters in the Matara District not to cast their vote for him. He is dissociating himself from the Samagi Jana Balavegaya (SJB)

A fearless politician, he has been mired in many a controversy in recent months.

Samaraweera spoke to the Sunday Times. Here are excerpts of the exclusive interview:

CLAIMS BY OPPONENTS THAT HE CHOSE NOT TO CONTEST DUE TO FEARS HE WOULD LOSE: Defeat is always a possibility in any political journey; I too have faced many defeats, both political as well as personal over the years but I have never run away from impending defeat.

I have always used defeat as a springboard for my next triumph. I have been continuously returned to Parliament at every general election since 1989 and as the only Finance Minister from Matara since Ronnie de Mel, I have done an enormous amount of development over the last several years and I feel that I could have surpassed my own record of 118,000 votes in 2004 this time.

However, I feel that the whole system is now rotten to the core.

Parliament has now become a virtual safe house for dubious criminal elements. It has now become irrelevant and impotent in the face of the executive encroaching on the legislature and a deeply divided opposition suffering from an identity crisis, ignoring/avoiding the burning challenges of the day including an economy in shambles, a democracy at the throes of militarization and a policy of majoritarianism openly espoused by the Gotabaya Rajapaksa regime.

In this context, the fight for democracy and other such values we cherish as a civilised society will have to be fought not on the floor of Parliament but in cyberspace and in the cities, towns and villages of Sri Lanka. 'He who fights and runs away lives to fight another day.'

ON HIS DISCUSSION WITH SAJITH PREMADASA:  Sajith is an honest, capable and an efficient political leader. Budget allocations to his ministry were always a pleasure because I knew that the money given by the Finance Ministry would be well spent in an efficient manner. However, in the SJB many people were not too comfortable with my liberal democratic values and some want the front to be a poor imitation of the SLPP instead of forging a distinct identity based on its UNP roots.

ON HOLDING DIVERGENT VIEWS WITHIN SJB:  With the advent of Mahinda Rajapakse to the SLFP leadership, the party moved away from its centrist policies which led to my departure from the party in 2008. I then started working closely with the UNP and especially with Ranil Wickremesinghe because of his liberal democratic credentials. Despite the unfortunate divisions within the UNP, I passionately believe that the founding principles of the UNP are more relevant than ever to Sri Lanka today.

Unfortunately, the UNP too is suffering from an identity crisis which I believe started with the defeat of Sir John Kotalawela in 1956. In fact l believe that it was in Sir John's era that the UNP policies were at its zenith with the economy 'booming'(the last time Sri Lanka's primary balance was in surplus until we went into surplus again in 2017) and our foreign relations excellent. Since then the secular mindset of the original UNP was lost and replaced by the 'PanchaMahaBalawegaya' mindset let loose by S.W.R.D. Bandaranaike. That terrible genie has yet to be put back in the bottle despite valiant attempts by both J.R. Jayewardene and Chandrika Bandaranaike Kumaratunga.

ON CRITICISING RANIL WICKREMESINGHE: No, I have never said that Wickremesinghe should not be criticized; in fact, I have been very critical to his face at several occasions. However, I still believe that he is the only leader with a democratic forward-looking vision left in the UNP despite his lack of populist appeal. It is a pity because he would make a good leader for Sri Lanka.

ON THE FORMATION OF THE SJB:  At the Working Committee of the UNP, I proposed along with Malik Samarawickrama and Kabir Hashim the formula which led to the formation of the alliance; it was a formula to keep the UNP intact with Wickremesinghe continuing as party leader while Premadasa was going to lead a new alliance and be its prime ministerial candidate. We never anticipated the alliance to be a separate entity.

The party symbol became a bone of contention and on both sides of the divide there were elements who were hell bent on breaking this great party and some of us, with the best of intentions became party to this breakup. Even though it is too late now, I hope the two factions will get together after the elections.

ON SJB LEADER NOT CONSULTING HIM: There were too many levels of command and too much of micromanagement.

ON RE-JOINING THE UNP:  Being UNP does not mean carrying a membership card or having a place in the working committee; I will always remain a UNPer at heart and fight for the liberal democratic values it represents.

THOUGHTS ON THE ECONOMY AS FORMER FINANCE MINISTER: Sri Lanka is facing an unprecedented crisis economically, politically, and socially. Sri Lanka's economy is now in shambles; having inherited an economy in the ICU gasping for breath in 2015; we nursed it back to a reasonably stable situation with strict fiscal discipline and achieved a surplus in our primary accounts for the first time since 1953.

The tax cuts implemented after the election and the total lack of fiscal discipline of the new regime had already made the economy very fragile when the virus struck Sri Lanka and it may well be the coup de grace of our economy with large scale unemployment and widespread poverty expected. External debt payments between now and December are $3.2b and foreign reserves are fast dwindling from $7.2b. The sovereign credit rating has been downgraded twice in the last six months.

Also, Sri Lanka's democratic framework is under severe pressure. Covid-19 has been used as a smokescreen to subvert the democratic process with politico-military subversion masquerading as patriotic nationalism, social discipline, and national security. The militarisation project is also being accelerated. In the absence of a strong opposition to counter these rapidly mounting threats to our way of life, I would like to join similar minded activists who cherish and are willing to fight for democracy and freedom, racial and religious justice, sexual and gender equality and also to fight against all forms of extremism and religious bigotry.