The Southern Whirlwind
By Naushad Amit
Record-breaker Paranavithana eyes place in Sri Lanka side
View(s):
National Youth cap, Navod Paranavithana became the first Sri Lankan batsman to cross the 400-run mark, after his enterprising knock in a school cricket first XI game played at Galle last week. The skipper of Mahinda College, who will be turning 18 in May, made this marathon knock of 409 runs, which came in 327 deliveries, against one of the strong school cricket teams from the southern coastal belt, Dharmasoka College, Ambalangoda.
With the knock, young Paranavithana made his name into the small list of school cricket batsmen to score more than 300 runs in an innings. Interestingly he tops the list of four and becomes the only cricketer in the history of Sri Lanka cricket to score a quadruple century, at any level.
"My intention was initially to score a century, but as the game progressed ideas changed," a contented Paranavithana stated.
After bowling out Dharmasoka for 185 in 42.2 overs, Mahinda posted 222 for the loss of three wickets at the end the first day. Paranavithana was unbeaten on 110. But very little did the southpaw batsman knew that the next day, March 10, would be a historic day.
"At the beginning Dharmasoka bowlers were threatening and tight. But I managed to make use of my experience and capitalise," he explained.
By the end of the second day, Paranavithana anchored to help Mahinda reach 679 after 132 overs, while he reached the magical figure of 409 runs. Paranavithana hit 39 boundaries and 19 sixes during his monumental knock.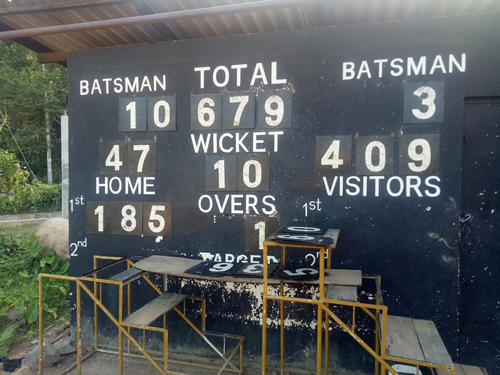 "After reaching the century at the end of first day, my intention was to go for 150, then 200 and so on. Then when I reached 300, I was determined to score 351 and claim the record for the highest individual score, and at the end, I ended up making 409," Paranavithana explained.
The marathon knock of 409, that gave Paranavithana the record, also comes as a learning curve for the aspiring youngster.
"I had three good partnerships, two hundreds, 109 with Sadev Induwara for the third wicket and 151 runs for the eighth wicket with Subhanu Rajapakse, and one of 90 runs. I knew I was the one who should lead my partner in the middle, and I learnt the importance of temperament, if you really intend in becoming a world class player."
Captivatingly, Paranavithana only allowed Avishka Tharindu's record of 350 runs, to last just 22 days. Tharindu, the St. Anthony's College, Wattala batsman claimed a record that stood for 24 years, by hitting 350 against Lumbini College, and bettering the previous record of 310 runs of Dhammika Vaas of Maris Stella College, Negombo against St. Peter's College, Negombo in 1996. Previously the record was with Indika de Saram, who crafted 304 runs, to become the first to reach a triple hundred, against Sri Devananda College, Ambalangoda in 1993. "It's a really good feeling to have the record under my name. I know it will stand for some time, perhaps for decades or beyond."
Paranavithana, as a 17-year-old youngster, has ample experience for his age. He naturally possesses maturity to play a longer innings. Already with experience of playing two years with the Sri Lanka Under-19 side and four years with his school Mahinda College, where he will turn out for two more seasons, Paranavithana pins hopes of making an early entry to the national side.
"I know it's odd, but I really look forward to cement my place as a top order batsman in the Sri Lanka side, very soon. I know I have that ability, I'm committed and determined," he stated.
The second among three boys, Binoth, the elder and Thamod, the younger, Navod is the only one from the Paranavithana brothers to play top level cricket. His elder brother too has played for Mahinda, but not at the top level, while his younger brother is more interested in football than cricket.
"My parents are very supportive, and so are my brothers. They all know that I can go a long way in cricket," the winner of Dialog 4G-the Sunday Times Most Popular Schoolboy Cricketer of the Year 2019, stated.
As a National Youth cap, Paranavithana has scored a century against West Indies Under-19s and another ton against England in the Tri-Series which took place during December 2019 in the Caribbean. He also has scored nine half centuries with the best among the lot – 92 coming against Bangladesh. For now his sights are set at the upcoming 115th Lovers' Quarrel Big Match against traditional rivals, Richmond College.
"I always like to seize the opportunity, whenever there is a possibility. Then again there is something called determination, which can be the crucial factor when it comes to creating opportunities. I will move ahead this way, and my nearest task is to do something unforgettable at the big match, and then take things as it comes," Paranavithana asserted.