Appreciations
View(s):

Exemplary public servant, diplomat and gentleman par excellence

Dharmasena wijesinghe

It is one year since the demise of Dharmasena Wijesinghe, former Senior Administrator, who held a number of senior positions in the public service, as Government Agent, Secretary to a number of Ministries and finally as Secretary to the Cabinet of Ministers, before being posted as Sri Lanka's envoy to South Africa.

His career in the public service with many bouquets, (and also a few temporary setbacks), is vividly described in his autobiography written and published by him, a few years ago.

My first acquaintance with Mr. Wijesinghe was when he assumed duties as Secretary to the Ministry of Coconut Industries, succeeding Dr. P.G. Punchihewa in 1983. While functioning as Secretary to the Ministry, he was also the ex-officio Chairman of the Governing Board of the Coconut Development Authority, where I worked as Director of an operational Division, at that time.

The time Mr. Wijesinghe took over the administrative reins of the coconut industry, was when the industrial and export sectors,were undergoing radical changes, with new trade policy formulations being introduced and implemented, following the liberalization of the economy. Applying these changes to the coconut industry overnight, seemed almost revolutionary, since until then, the industrial and export sectors of the industry had been subject to fairly rigid regulatory procedures, deemed at that time, to be in the best interest of majority stake holders and the coconut industry as a whole.These changes in their wake, brought in frequent disputes arising mainly from conflicts of interest between the numerous stake holders of the industry and trade, often placing State institutions at the centre of controversy and criticism. It was in this context, that we saw the true calibre of Mr. Wijesinghe as a veteran administrator and skilful negotiator. His pro-active approach in implementing state policies for the betterment of the industry as a whole and his participatory style of involving stake holders in vital discussions and decisions, helped resolve many a major issue in the industry. He had an unbiased and clear mind in his approach to solving problems and issues that frequently confronted the industry at that time.

He was a fearless and independent decision-maker and was quite clear and firm in what could be done and should be done in controversial and difficult issues. He was outspoken and forthright in the discharge of his official duties. These rare qualities perhaps contributed to a few unpleasant moments in his public service career, as elaborated by him in his autobiography.

All the same, in handling major issues he always consulted relevant officials and appreciated their views and opinions. He inspired others to think of new and alternative solutions to problems facing the industry and trade. Simple as he was, he often had a remarkable influence on the lives of others who worked with him and for him.

Even in later years, we found these great qualities in Mr. Wijesinghe's personal life. True to his name he was a firm believer and follower of the Dhamma. Mr. Wijesinghe would be best remembered as an exemplary public servant of rare calibre, an unassuming diplomat and above all, a gentleman par excellence, in the true sense of the words.

To his immediate family members to whom he was a mighty tower of strength and a great source of inspiration, his loss is irreparable, as it is to his motherland. May he attain the Bliss of Nibbana.

Henry Tillekeratne
---
A loving and firm father who gave us so much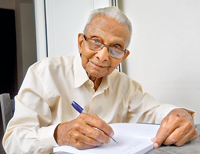 Wijemuni Shelton Allan de Zoysa
Wijemuni Shelton Allan de Zoysa grew up as an only child of Wijemuni Vincent Patrick de Zoysa and Walimuni Agnes de Zoysa, after losing his brother at the tender age of 11 years. Being a survivor he got used to doing things himself not depending on others; which trait he carried with him to the grave.
Although he grew up as an only child, he was compensated when he married my mother Alankarage Anna Hortentia Silva, the second daughter of a family of eight children. He and my mother had completed 63 years of wedded life upto the time of my mother's demise six years ago. They were lucky to celebrate their Golden and Diamond wedding anniversaries on a grand scale. After the demise of my mother six years ago, he came to live with me, his only daughter. Out of his two sons one is domiciled in Australia and the other lives close by.
Our father being a disciplinarian, we were brought up very strictly albeit lovingly. He gave all three of his children a sound Catholic education. Good values were inculcated in us. As a devout Catholic he spent his last years in prayer. Whenever my friends requested prayers for their problems he used to readily oblige.
After his retirement as a Class I Officer at the Ceylon Government Railway, he dedicated himself to teaching English to deserving students. He used to charge only a nominal fee. Many students have benefited by his teaching. Teaching English was nothing novel to him as he had already taught at St. Peter's College, his alma mater for a few years prior to joining CGR.
As the only girl in the family I was the apple of his eyes. I remember how proud he used to be when I used to come home with an excellent school report. As a lover of music, I remember how he used to enjoy the music whenever I played the piano. He was a very good dancer too and it was a treat to watch him do the jive and the cha cha. He could paint very well too, especially sceneries. Being a good orator as well, he had been a recipient of a silver medal during his schooldays.
He was in excellent health and he used to ride his bicycle until he was 85 years old. Being a stickler for discipline, he was very punctual in settling his bills.
His words of encouragement whenever I used to embark on a project was, "Hitch your wagon to a star; for even if you fail in your attempt, you will be somewhere amongst the stars". These words reverberate in my ears when I attempt to do fundraisers for worthy causes.
He was a fountain of knowledge and a walking dictionary! There was a time when we did not have Google at our fingertips to check the spelling of words, and I used to ask him when in doubt.
He lived to the ripe old age of 97 years without being a burden to anyone. My dear Thaththa a whole year has gone by without hearing your voice and your cheerful laughter and not seeing your evergreen smile; it is so heartbreaking to see your empty bed whenever I walk into your room. I remember with nostalgia when I had to go out for a function with my husband I used to check on you whether you were sleeping and if you were awake you used to comment on my attire saying that I was wearing a nice saree…. and enquire where I am headed off to. I miss your blessings very much.
He used to be very fond of his three granddaughters and used to dote on his only grandson. He was a very proud great-grandfather of one girl and two boys.
On your first death anniversary, my dear Thaththa I can only pray for you to find eternal peace with our creator!
Swarnamalie Fernando
---
A selfless person she gave her all to Vaazhvaham in Jaffna
Dr.Annaluxmi Sinnathambi Amma
Dr.Annaluxmi Sinnathambi Amma was the founder of Vaazhvaham, the home for the visually handicapped in Jaffna.
She dedicated her whole life for the cause of visually handicapped children. Born as the seventh child in an ordinary family, Annaluxmi Amma stood out with her patience, character and intelligence from childhood. She was a person who would not tolerate others' sufferings and this was evident on many occasions. At school, she stopped to help one of her co-competitors, who had fallen, disregarding her chances of winning a medal at a 100 metres track event.
After completing her schooling she served at various schools as a teacher since 1960. When she was working in Colombo, she by chance met a visually handicapped person and it gave her the idea of supporting such persons. She followed a Diploma Course in Special Education at Maharagama Teachers' College in the Sinhala medium. The education system that prevailed in 1972 allowed visually handicapped children to follow their studies along with the other students in schools. In the same year Amma took up the post of a teacher of Special Education in Jaffna. From then onwards she started to walk into villages in search of visually handicapped children and brought them to selected schools in Jaffna.
Due to her dedicated service, one of her visually handicapped students went on to become a graduate. The list of such graduates extended further in the years that followed. Amma increased the pace of her mission. Unfortunately her physical condition didn't allow her to proceed further. However, before retirement she appealed to the authorities to appoint teachers to succeed her. But her appeal was in vain. As a result, she thought of setting up a separate home for the visually handicapped and founded Vaazhvaham in 1988.
Since her retirement she worked tirelessly for the upliftment of Vaazhvaham. She faced numerous hardships during the ethnic conflict in the country and finally established Vaazhvaham in Chunnaham, Jaffna. On September 11, 2006 she calmly took her last breath among the wailing occupants of Vaazhvaham. Her body was buried in the same premises according to her last wish.
Her thoughts and deeds are the basis for the present status of Vaazhvaham, the home for the visually handicapped, a well-established institution in the Northern Province with a large number of occupants from all around the country.
Thambipillai Mohan
---