A bowlful of memories and Christmas cake
By Sharmini Rodrigo
View(s):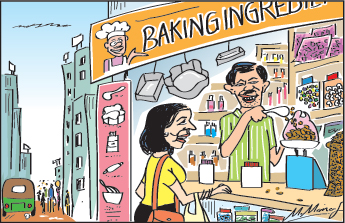 In late November prior to Christmas, a sojourn to Pettah is a must for me.
My destination is the connecting lane between the entrance to Sea Street and a part of Bankshall Street, with its profusion of stalls selling dried fish. This was where Colombo's Fish Market was once situated, before it was shifted to the environs of Kelaniya. The waft of fish that pervaded the very air is no more, and I leave my trusty three-wheeler and wade through puddles of  mud ( if it has rained) braving the sun and the ever present dry fish pong.
It is to this well known little shop that we've been coming to for decades, to buy our Christmas cake ingredients!
"Why?" You may well ask. With ingredients easily ordered over the phone, and home delivered, supermarket shopping in air conditioned comfort, online and all else. Simply this! "Christmas wouldn't be Christmas" without this total experience!
First the presenting of your list; if you've forgotten a vital ingredient, believe me, the gentleman owner will remind you – ( like he did for me this year), then on to the calculations, the payment and last of all – the wait !
My mother would accompany me when she could, and sit half perched on a high stool, within the confines of these cramped premises, enjoying the jostle and bustle.
Bags of Australian sultanas, local cherries ( merely dyed orbs of pumpkin preserve) kilos of rulang  (semolina) come hurtling down from an opening in the loft, where the weighers carry out their tasks, -  to the packers here below, who've shouted up their excess needs.
All done with the precision of a military exercise.  In order of purchase and payment. No favours granted here! (even if they've seen your face for aeons ) you take your turn, and are dealt with efficiently.  In the case of my mum and me, one year, two figs were passed on to us surreptitiously! And we sneaked them into our mouths with shared merriment. Sometimes dried peaches. Everyone is not so lucky … This  year I got a date!  A large luscious date!
Four years on since her demise, I miss my mum sorely at this cake making time.Especially at the final mixing stage, when the creamed butter, sugar, and eggs are added in to the brandy soaked fruit and preserves, plus all else. Oh, she helped alright with the chopping (sorry no food processors or choppers for me). Everything chopped by hand, the hard way, and nowadays sans domestic help.
I maybe hallucinatory, but I feel their presence, my mother, grandmother, great gran, around me at this time! Or is it just the flood of memories that come to the fore at this special time of year?
I can see my great grandmother – Annie Beatrice Nelson née Bertus, fair of skin and round as a great Dutch cheese, presiding over her army of domestics at Asoka Gardens in Bambalapitiya in days of yore, when preparations for the cake started in September, October. With the pumpkin preserve or " puhul dosi "as we call it, made at home. The same with that gnarled "funny face" "chow chow". These fruit/vegetable preserves were made in large vats  of boiling sugar. No small quantities, everything in that era was gargantuan to serve family and friends who descended en masse at Christmas. Raisins and sultanas were deseeded by hand, washed and sun-dried. The preserved ginger came in those lovely brown and white pottery jars from China. My mum always spoke of the Maraschino cherries and cherry brandy that went into her grandmother's cake.
In contrast my grandmother Zena Lamb was a " wanderer". I never knew her as a cake maker and baker, but she was a marvellous cook. Turning out the most delicious soups and savouries and standing by our sides, as we ate, waiting for our delivery of unstinting approval.
Ammi- my mother Barbara Lamb Gunasekara, had mastered the art.She made the rich cake for ALL the family weddings, and orders for a thousand pieces was the norm. Our Christmas cake was quite a ritual too. Ammi had a lot of domestic help, and my ayah Magalin became so adept at the tasks that Ammi could, in later years, leave her to it, in the sure knowledge that she knew what to do ! At the puhul dosi and cadjunut chopping stages I could always sneak a few morsels.Ever tried the puhul dosi and cadjunut combination ? Do so, and savour the delights.
Ammi's trays of cake always went for baking to the bakery down Thimbirigasyaya Road. Here in old wood fired ovens, the cakes had to be watched with care, so the chief baker was always given a good tip. When my father and driver Sediris were unavailable, the old Morris Minor taxis were enlisted and we went in a convoy, with the trays.
In later years, off the trays went in three wheelers with Alice and Prema our helpers, safeguarding the booty to Royal Bakery Wellawatte.
We waited anxiously for the return of the trays and the labels! When the trays returned hot off the ovens, my father and I were allowed to tear off the labels with the bits of cake sticking to the underside. Ah!
Yes,I missed Ammi at the mixing stage. Once I had qualified for the task, and earned the right to mix it all up – in the big ceramic basins we still possess, it was to have her come up and taste. "A little more vanilla", "some almond" , "a drop or two more rose essence".
Ammi had her own traditions. Her Christmas breakfast, the Christmas dinners, which were open house to all friends and family. I remember getting 80 plates out for washing one year (Do we still have 80 plates in this house? I wonder!).
Times change, the old ways are gone and over the years I've built up my own rituals and traditions. Most often not strictly adhered to, with half of "us" living overseas, and some Christmases spent Down Under. ( Sorry kids but I HAVE to state it) Nothing beats the joys of our own Sri Lankan Christmas!
When  the cake is in the oven, the whole house is " scented"  with Christmas!  A few corner pieces are stealthily lopped off and tasted. And the cake "rests" until the almond flavoured cadjunut paste goes on.  It starts, the wonder, the magic, that we carry within ourselves, in our hearts….
With Christmas music and carols played on the radio, the "season" starts for yours truly with the attendance at the Cathedral carol service. Christmases past -and the present intertwined.
Christ in Christmas and the love that surrounds all, and the memories we carry. The joy of sharing and giving…
I wish a time of goodness and HIS grace upon us all.