The Fort of many colours
By Oshani Alwis
View(s):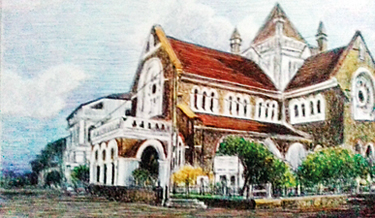 "Ma Dakina Galu Kotuwa" (The Galle Fort I See), the 28th solo art exhibition by ballpoint artist Mangala Madanayaka will be held from September 25 to 29 at the Maritime Archaeology Museum, Galle Fort from 9 a.m. to 5 p.m.
The exhibition is organised by the Central Cultural Fund in cooperation with the Maritime Archaeology Museum, Galle to mark World Tourism Day on September 27.
"I used to visit Galle Fort and admire its historical value," the artist  says. The exhibition will have pictures related to Galle Fort, including Mangala's favourite spots – the Clock Tower, Lighthouse and colonial buildings inside the Fort. Through his exhibition, Mangala wants to show the world the beauty of the city of Galle where he grew up. Around 70 sketches on canvas and paper will be on display done with Mangala's signature ballpoint, as well as acrylic, watercolour and oil paints.
"Colourful ballpoint pens have always fascinated me," Mangala says. It was in 1985 that he first started experimenting with blue, black, green and red ballpoint pens which were the only colours available in the market then.
Through experience, he found that by reducing or increasing the number of pen strokes a shading effect could be created. Using one colour on top of another to create different colour combinations, Mangala says ballpoint is a medium similar to watercolour or oil paint. He has used some 10,000 pens so far.
He received the Presidential award in 1997 for ballpoint colour art.
For further details on the exhibition contact Mangala at No.361/24, Hirimbura Road, Dangedara, Galle, or on 0775104980.