Ajith Galappathi's book on 'Photomontage criticism'
View(s):

Film critic and writer Ajith Galappathi's latest book 'Rupaye Asandhimithrakama', a critical book on use of visuals in the audio-visual medium will be released at 3pm on September 16 at the cinema hall of the National Film Corporation, Colombo.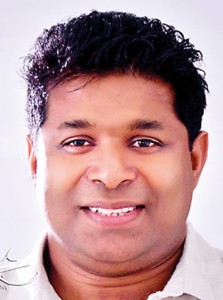 Written about the 'Photomontage criticism', a form of criticism introduced by Ajith for the Sri Lankan audience, the book will be guide to those interested in cinema and the audio-visual medium.
Dr. Sarath Amunugama and Deepthi Kumara Gunaratne are to deliver the key-note addresses while the first copies of the books are to be handed over to veteran actresses Swarna Mallawarachchi, Malani Fonseka, Anoja Weerasinghe, Sabeetha Perera, Sriyani Amerasena, Nadeeka Gunasekara, Chairman of the NFC Anusha Gokula and Nilmini Sigera who won the Yakushi Pearl Award given to the 'Most Brilliant Performer' at the Osaka Asian Film Festival (OAFF) 2019 which was held in Osaka City, Japan, in March this year.
During the book launch a vocal renditions will be performed by Chithral Somapala and the newest short film directed by Ashoka Handagama will be screened.
The book 'Rupaye Asandimithrakama' is a Sarasavi publication.
Film enthusiast and critic Ajith has written eight books on cinema and they include the important and critical roles played by leading filmmakers and actors Dr. Lester James Peries, Sumithra Peries, B. A. W. Jayamanna, Tony Ranasinghe and Tissa Abeysekera. Ajith had been a jury member at a number of cinema and teledrama festivals and he had been a member of the Censor Board or the Public Performance Board. He is also a member of the Teledrama examining board of the Sri Lanka Rupavahini Corporation and a member of the examination board of foreign television programmes attached to the Mass Communication Ministry.
Ajith has a diploma on Mass Communication from the Colombo University and BA from the University of Kelaniya. He is reading for his post-graduate studies on social science and mass communication.