Clothes for thought
By Tera Jayewardene and Ruqyyaha Deane
Here for Colombo Fashion Week's Responsible Fashion Summit, Bollywood actress Evelyn Sharma talks of her charity foundation 'Seams for Dreams'
View(s):
Her mother had imparted to her the wisdom of picking her battles and Bollywood actress Evelyn Sharma visiting Colombo last week as one of the keynote speakers at Colombo Fashion Week's Responsible Fashion Summit proudly claimed that 'fashion was her battle'. As a strong advocate of giving back to society and sustainable fashion, Evelyn spoke to a packed audience at theHilton Colombo on Thursday about her charity foundation 'Seams for Dreams' (SFD).
With Bollywood hits such 'Yaariyan', 'Kissebaaz', 'Ishqedarriyaan' and notably 'Yeh Jawaani Hai Deewani' opposite Ranbir Kapoor, the German-Indian actress is making waves in both the film and fashion industry.
'Seams for Dreams' begun in 2015 has become the favoured place for the rich and famous to donate their used clothing. These clothes in turn, once sold, help to clothe the less privileged citizens of India. With high profile supporters, fundraising events and international support, SFD has helped many people through 'responsible fashion'.
She sat down with the Sunday Times for an interview shortly after the summit.
How did Seams for Dreams start?      
Actually four years ago there was an earthquake in the north and me and my friends wanted to send some money, some medicine and water. We were wondering how can we send something to the affected areas. I have a friend and her NGO was going there. So I rallied my friends and I was like, why don't we all give our clothes, because if you lose everything then you just need basics. You need shelter, food, clean water, medicine and clothes. We said 'let's do the cause of clothing' and we rallied all my friends and we sent all their clothes to my house: 'Evelyn that's your idea, you do that.'
I got some friends and we segregated the clothes, into appropriate clothing, which is your T-shirts, jeans, kurthas, winter clothes and jackets. Inappropriate clothing, which is all your party stuff, your crop tops, high waisted skirts and all that stuff that no one in affected areas need. And High end fashion, my friends sent over some Dolce and Gabbana dresses and red carpet gowns. And then there is another pile  – that is your scrap clothes.
So there are three piles — so the good and appropriate clothes we sent off to the north. The inappropriate clothes, high fashion we used to do a fundraiser and the scrap clothes we recycled.
That's how Seams for Dreams was born and that's how it is now.
What inspired you to start Seams for Dreams?
My dream was to start a charity foundation since I was 15, and I never knew what it was going to be about. Is it going to be about women's rights? Is it going to be about a cancer prevention programme? I wanted to create a big impact.
Since I am from a small town in Germany I actually never experienced fame or popularity in any way, except for high school maybe. But nowadays popularity on social media and all that stuff  is on a whole new level and when I became an actress and my film 'Yeh Jawaani Hai Deewani' did really well, I realized one question that people asked me everywhere I went, whether that was the red carpet or it was on my Instagram comments, or it was at a friend's birthday party. And I am pretty sure that some of you have thought this here today too, 'who are you wearing?' It's that one question that people kept asking me and I was like 'um I don't know' and 'I forgot the name already' and 'I am not sure, that's what my stylist has put on me.' And I realized how much of an impact I have with what I wear when I am in the public eye. I realised that I have a huge impact with my decisions especially with what I wear and so the idea was 'why don't I stand up for fashion'. Why don't I do something that will impact the next generations with my decisions as a consumer and what I wear on the gram (Instagram) and the red carpet.
Where did the passion for sustainable development come from?
I grew in Germany and my mum was one of the trail blazers of the sustainable and organic movement in Germany and I have gotten all that from my mum. So she always took us to vintage markets, which are really big in Germany. Second hand clothing was obviously a very normal part of my life and my preference because its so cheap. So growing up I always loved second hand clothing.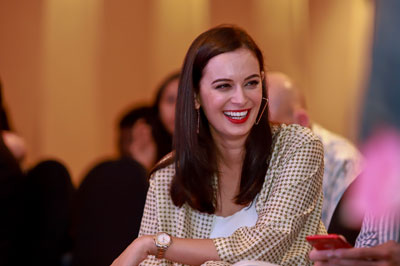 What kind of impact does your charity leave on people?
Second hand clothing was not a thing in India and now it's accepted although there is still a long way to go. On our website there's an awareness website, which has been covering different change-makers, brands and international companies that are trying to make fashion a little more responsible. That blog goes to everyone in the fashion industry so clearly there has been a penetration into the fashion industry with interesting thoughts.
From that we have seen brands coming up, reseller programmes coming up, vintage stores coming up, more fundraising events, garage sales, celebrities getting into emptying out their closets and giving it away, raising funds, etc.
There has been a huge impact besides the tens and thousands of clothing that we are able to give to the less resourced people of India.
What are your future goals for SFD?
What everyone here is talking about is the amount of clothes that we have and it becomes harder to manage and I think the future is more recycling and up cycling that you can call it. The amount of clothes that you have is a lot, so of course giving to the less resourced is our main objective. Reusing clothes is the first objective. Recycling clothes is the second. Recycling will be a stronger part in the future.
As the keynote speaker for the Summit that took place today ( Responsible Fashion) , how does it feel to have been recognised for your work towards sustainable fashion?
It's beautiful, the responsible fashion, sustainable fashion and the ethical fashion movement is a very small community I would say that has been growing really fast. I've seen a lot of people in the media and everywhere around moving strongly into responsible fashion. It is beautiful to be a part of this movement. To be recognised. Everyone here is doing amazing work. People must see what you do. It's a lot of hard work and it takes a lot of time and effort. You have to make a choice every time you wear something and it's not easy as there are not a lot of options either but now four years later, I can see you have a lot of options now. It's just nice to be recognised.
What do you think of the Responsible Fashion Summit?
It's so interesting. It's just so nice to see the new things in fashion.
What do you think of Fast Fashion and its wasteful nature?
Fast fashion as we know it, is not going to exist in another 10-20 years down the line. Fast fashion is changing and all of us have to rethink fast fashion. I think it is hard to sustain a business by dropping the price and producing more and faster. Changing trends every three months or even in three weeks in some cases. If you go into some of the fast fashion stores, it's hard to keep up. If the colours and patterns keep changing, how are you going have a wardrobe where things match?
The amount of clothes you have because of fast fashion, grows so quickly. Fashion is already on the brink of changing. We are on the cusp of a fashion revolution.
I always say go timeless over trendy and that's my fashion statement. Even if you buy fast fashion, buy black and white. It's a safer way of knowing that the piece of clothing is going to last for a while.
Define fashion?
An expression of yourself.
You grew up in Germany, how did you keep your Indian roots intact?
I grew up with my German mum and she tried to keep my Indian roots through making Indian food. Since she's German, she makes it in a very German way, so I would always call it German food. So I would always call my friends over for biriyani and paratas and they would be like 'no Evelyn, that's not German food.' Of course watching Sharukh Khan on the only Friday night programme at 8.
How would you describe your personal style and influences?
Timeless over trendy and since I crossed 30 recently I would say quality over quantity. The older you get, you start to think about how long this is going to last you. You  don't just buy bags because they look cute anymore, you think about the material ,and what you can wear it with. Most of my friends and my stylists all think that I'm mad that I empty out my closet so many times.
One tip I can give your readers, whenever you go on a trip, whatever you don't use on the trip don't bring it back. The pieces in your closet you have not used in the last 3 months , you are not going to use them again because they don't fit or they don't match or because it's not interesting anymore. Maybe in another 10-20 years maybe that trend will come back but let someone else have the chance to wear it. Whatever you have not used in 3 months, just give it away.
How would you want to leave your legacy?
Just to be a good friend, to my friends, my fans and family. I feel like a good friend is someone who would not say yes to everything that you do but also tells you no sometimes for something that is not good for you. It is my responsibility to my fans to guide them in their life decisions and to help them realise certain things that they are not aware of.
Like my mum always says 'Pick your battles', and my battle is fashion.