Appreciations
View(s):

Looking back on those English lessons at school with pride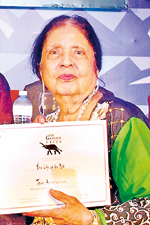 Jean Arasanayagam
Dr. Jean Arasanayagam is no more! It is the passing of one of the greatest personalities who ever turned to teaching in a secondary school as a career. She should have been a Professor in a University but her correspondence with me shows how much she enjoyed being a poorly paid teacher but able to mingle among students who appreciated her. Her brilliance in imparting knowledge to us was not as apparent to us 'cramming' for mundane examinations in those salad years. In later life, we look back with great pride at the rare privilege of having learnt our English from one of the greatest Sri Lankan exponents of the English language.
We knew her first as Jean Solomons, a pretty but petite, sweet but authoritative, young woman who could control a bunch of unruly schoolboys with great aplomb and acceptance. Jean was charming but her knowledge as well as her ability to carry herself with great dignity was the key to the respect she won from her students. Mind you, she functioned among some of the greatest teachers of our generation, or of all time. At St.Anthony's we had Robert Wright, George Macky, George Denlow and Fr. Robinson, among others, all of whom were masters of their subjects.
Jean has been internationally recognized and the accolades received are well known. She commenced her publications with a book of poems in 1973 and the collection of short stories, 'The Cry of the Kite'. Since then we have been virtually buried under a literary avalanche of stories, poems and learned writings. She was also a gifted artist. She acquired an MA in Linguistics from Glasgow, Scotland. Her books perhaps exceeded 50  in number and included both fiction and nonfiction. Her works have been translated into German, French, Danish, Swedish and Japanese. She received many prestigious awards and was a past winner of the State Literary Award for poetry. She won the Gratiaen Award for 2017. She was conferred an honorary doctorate by Bowdoin College, USA in 2013, the citation included the following words -  "a poetic witness to social and political history". The president of Bowdoin College, Barry Mills commented: "Yours is a voice of conscience, of experience, of wisdom and of hope. You have given generously of yourself in encouraging young writers, including students enrolled in the collegiate Sri Lankan education program."
Her message to us was that we had an obligation to be noble and adopt proper human behaviour. Her poetry and other writings covered so many topics of paramount importance including human and fundamental rights and the freedom of speech. Sadly, she learnt about the horrors of riots and civil disturbances first hand when she and her family suffered in camps for no fault of theirs and purely because of the brutality of others. She was bold enough to speak out and write of her experiences which as she told me resulted in her being like the proverbial prophet who was not recognized in her homeland for many, many years. She was in deep despair of being recognized internationally but not at home.  She was so happy to know that we her students followed her path to greatness with loyalty and pride.
I was more than honoured and overjoyed when Jean requested me her student from the 1960's to do a review of her book "With Flowers in their hair" a book of fascinating poems published in 2015. The poems showed the deep concern the writer had for peace and harmony. She stressed the need for making our diversity which can be an asset, work for us. She summed up her personal goal as: "the freedom and liberation to be myself and to live with truth and integrity, without bias and prejudice, without rancour, bitterness or hostility towards any being".
Her writings were always very expressive and carried profound wisdom. In my review of the book mentioned, which appeared in the Sunday Times, I said that: "she may have been a voice in the wilderness earlier, but not so now, with a more enlightened society seeking reconciliation". That was written when we were sanguine and hopeful about the return of peace to the nation. I wonder what she felt living to see more ethnic disharmony in the last days of her life!
In her poem the Generations one finds the following verse which is a fitting tribute to this remarkable human being:
"All these years I have created my own epics,
Stories, family histories that fired the mind
And imagination, filled page after page after
Page, that witnessing will remain".
Requiem for a poet
From the midday of the funeral
The shadows lengthened
Over a single face
Of an individual appearance
Joys and sorrows had strengthened.
The pen writes a poem
In the evening after the funeral
And griefs become impersonal
Turned into a requiem.
Patrick Jayasuriya
Franklyn Amerasinghe
---
 Where faith and reason met  
Professor Oleap (JNO) Fernando
I was due to pay a tribute to the late Professor Oleap (JNO) Fernando at a thanksgiving service on Saturday July 27, but was unable to do so. Consequently, I offer this public tribute as the next best thing I can do.
From the time I got to know him, Oleap impressed me as a fine blend of faith and reason. He was both a scientist and Disciple of Christ at the same time.
As a leading scholar in his beloved discipline of chemistry, he nurtured and used his intellectual gifts to capacity, passing on his knowledge and the fruit of his research to generations of students at the University of Colombo as well as at the Chemistry Institute, of which he was a visionary founder.
Oleap's intellectual interests and engagements however did not obstruct or dilute his faith and life in Christ. To the contrary, he demonstrated that the faculty of reasoning and the cultivation of the mind were compatible with Christian belief and values. Working with him, and at meetings and in conversations, one sensed that in him, reason and faith informed, fed, and redefined each other, as they are meant to. He did not have to pretend to believe in order to reason, and did not have to compromise on reason in order to believe.
Tensions between faith and reason have existed in Christianity for centuries. This is largely because the Church has mistakenly taught or implied that faith is the opposite of reason and that 'strong faith' eliminates questions and has little to do with reason. This thinking came to a head during what is known as the 'dark ages', when the Church out of ignorance failed to understand that human curiosity also came from God, and virtually shut the door on the scientific method as the enemy of faith. Since then however the work of Biblical scholarship and theology has attempted to put this right, by affirming that reason with integrity is not only compatible with faith, but also nourishes faith.
The blending of faith and reason is intrinsic to the method and teaching of Jesus. Time and again as recorded in the Gospels, Jesus confronted the crowds and His Disciples with questions to make them search and think and then believe. And time and again as recorded in the Gospels, He welcomed questions from the people, including His adversaries, reasoning and offering insights into the mysteries of life in a way that appealed to the mind. Even a cursory glance at the written Gospels reveals that a high proportion of the teaching of Jesus has emerged out of this discourse of questions and reasoning.
For example, Jesus reveals His true identity (His life and work) by pressing His Disciples to think and declare who they thought he was, narrates the immensely challenging parable of the 'Exemplary Samaritan' at the end of a bout of questions on eternal life and ones' neighbour, teaches true greatness by querying a discussion among His Disciples on this theme and unravels the connection between theology and financial ethics when faced with a trap question on whether it is proper to pay taxes to Caesar.
There are many, many, more examples of the importance that Jesus gives to the blend of faith with reason. But the point is clear; in the fuller understanding of the Gospel, integrity of mind, plays a crucial part in producing an integrated faith.
The reason-faith connection that Oleap displayed was more than a theory. In him the thinking-reasoning-believing, process, was intrinsic to life and work. To encounter him was to encounter the life of a Christian academic. While he would have been the first to recognize that his life as a scientist and academic was inspired and spurred on by this connection, its spillover into a lively and life-giving witness in the church, was vividly clear to others. We have time for two examples.
The crafting of the current Church of Ceylon constitution, adopted in 2007, required the best from the best minds in the church. Oleap along with persons like Bishop Kenneth Fernando, Bishop Kumara Illangasinghe, Dr Narmesena Wickremasinghe, Yohesan Casiechetty and the late Sriyangani Fernando, all excellent examples of the 'faith-reason' blend, were some of those who worked tirelessly to bring this work to completion. Among the salutary features of this constitution are the ample freedom bestowed on the two Anglican Dioceses to do their own thing and serve Christ among people, as well as provision for a Presiding Bishop and a General Assembly to facilitate the freedom to serve. Given his unstinting, intelligent and faithful contribution to this groundbreaking achievement, the 2007 constitution stands as a tribute to the endeavours of persons like Oleap who made it a reality.
The other is the modification of the duration of the annual Diocesan Council Sessions. For decades this entire event ran over a period of four tiring days, requiring people to come and go eight times, and imposing heavier demands on those who travelled from far. It was Oleap's concern for the people and his relentless reasoning that changed this to the current format of one evening and two full days. At times a lone voice, he insisted that change was necessary and possible, and that the change he proposed would not undermine the business the Church was called to address. To remember him is to remain ever grateful for this act of compassionate advocacy.
Prof. Oleap was a gift to the Church and nation. Integrating faith and reason in his life, he taught us that the probing of faith and the pursuit of explanations does not amount to heresy. As a scholar he reminded us that it is she or he who reasons with integrity who grasps the fullness of faith. As a Disciple of Christ he endorsed that faith slowly comes to life, and is then slowly stabilized and sustained, through reasoning.
We remember him with gratitude for these lessons and more, and indeed for the most valuable 'faith-reason' legacy he left behind. We honour him best as we imbibe and pass on this legacy.
Bishop Duleep de Chickera
---
Remembering a wonderful life with a loving Mother
YASA EDIRIWEERA
It has been three months since my beloved Amma passed away unexpectedly on May 11, leaving our family with a profound sense of sadness and deep shock. Amma passed away at the breakfast table after having her breakfast and taking her medicine for the day.
During her illness, I was always at her side, ensuring that due medical care was provided to her. As a result, Amma did not experience any complications and prolonged suffering during her time of ill health and I personally attended to and followed up on her medical treatment. I cared for Amma simply out of love and affection and never considered it "my duty" to provide her with the best medical care and attention.
Amma was a good wife to my father and a very affectionate mother to me and my sister. She was a good housewife and anyone who tasted her food always appreciated it. She had a talent for making birthday cakes, engagement cakes and all types of sweetmeats not only for our birthdays. Even our cousins used to get their birthdays or engagement cakes prepared by her. Her way of icing cakes was fabulous and the entire family would admire her marvellous talent.
Amma was a devoted Buddhist and observed ata sil every poya day. She was very kind and always looked to help others, especially her own siblings, nephews and nieces. She was happy to see them doing well in their personal lives. Whenever she bought something valuable she had the habit of informing her sisters and encouraging them to buy the same thing. Her sisters always say that my mother has helped them tremendously.
Her sudden demise has created an emptiness in me as she was my "protector" from my childhood. Amma and I had a special bond and a close relationship which cannot be explained in words. I feel that she is still with me in my heart, guiding me on the righteous path of life. After Thathi's demise I never missed being with Amma a single day and it was like a ritual for me to be home on weekdays by 5.15 in the evening as Amma always had early dinner and would ponder over the things that transpired during the day. I used to make her watch television in the evening and would hug her like a small child. If she was reluctant to take her meals, I used to tell her not to get sick and not to leave me as I loved her so much and she would look at me and say that she will always be with me.
My dear Amma, I will never be the same as I was before. We shared memories that nobody else shared.  You gave me a mother's true love even at this age of my life. We were a close-knit family; you and Thathi had a happy married life of 52 years, celebrating the 50th wedding anniversary in 2015 being the first in our family circles to do so. Now,when it gets dark, I stare at the chair in the living room and wonder what happened to you.  I miss your words of wisdom. I realise that, when someone you love dies, that a part of you dies as well.  When you left us, I used to cry because of the void left by your death but now I have gradually realized, it is easier to smile at the memories.
Amma, I want you to know that you are still guiding me and still answering my questions. I will always miss your blessings which helped me to overcome the difficulties in my life but I know that you will always be there for me. The void that has been created is hard edged and now that you have left me, your cherished memories are enduring.
Amma, I am ever so grateful to you for being my mother. To have such a wonderful and loving mother is something rare and I hope that I will meet you again in this journey of samsara once again as "my mother". If so rest assured that I will look after you the same way or more as I did for you, prior to attaining nirvana which will be my happiest moment.
May you attain the supreme bliss of Nibbana.
Your loving and ever grieving son   Thusitha
---
A man of enduring love for his family, relatives and friends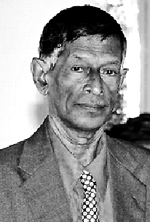 MICHAEL PINTO
It is more than two months since Michael Pinto (retired Engineer) passed away in May 2019.  "The evil that men do lives after them; The good is often interred with their bones" (Mark Anthony's eulogy in Julius Caesar by W. Shakespeare). Not so with Michael, for his positive thinking, vibrant ideas, questioning spirit and good humour still live with us. There was no guile in him. In life, he remained faithful to Catholic principles, duties and obligations, while supporting his Buddhist wife to grow and flourish in her religion.
He regularly went to Sacred Heart Church, Rajagiriya with his two daughters (now Dr. Yvonne and Dr. Angela) for Holy Mass and took his wife Piyaseele to the temple for her prayers. The success of his life was in his enduring love for his family, relatives and friends, as he demonstrated the following text from the scripture in his life. "Love is patient, love is kind. It does not envy, it does not boast, it is not proud. It does not dishonour others, it is not self-seeking, it is not easily angered, it keeps no record of wrong doings. Love does not delight in evil but rejoices with the truth. It always protects, always trusts, always hopes, always perseveres. Love never fails" (1 Corinthians 13:4-8).
While he found meaning in Christian values and the way of life, he also demonstrated in his life-style a pragmatic approach to the tenets of Anicca (impermanence) and Anatta (non-existence of self) in Buddhist Philosophy. He considered problems and failures as impermanent phases in life that needed no worrying, and treated disagreements with humour, as if selfish assertions were illusions of self.  He would move forward, rather than seek pity and sympathy. He was critical of the values imposed by the social upper-class and did not hesitate to violate them when he wanted.
When it came to work, he did not bother to ask, whether it should be done by a worker, subordinate or him. He just went and did it. He could get along with anyone, irrespective of social status, religion or political affiliation. He was also a great lover of nature and wild life. As his happy life was brought down by leukemia at the age of 77, and as he stands metaphorically at the portals of heaven, we can join him in singing, "Michael rowed the boat ashore, Hallelujah!"
Dr Leonard Pinto  (younger brother)
---