Different strokes to heal a nation
By Oshani Alwis
Well known artist Raja Segar and young artist Nisansala Karunaratne Rajapaksa hold joint exhibition
View(s):
The Duo Exhibition of Paintings which will be on on August 3 and 4 in Colombo, will feature paintings by Sri Lanka's renowned artist and sculptor Raja Segar and young artist Nisansala Karunaratne Rajapaksa.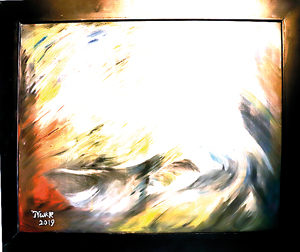 The first joint exhibition by the two, Nisansala sees the venture as a display of true harmony between two artists as they are different in terms of style, ethnicity and gender; yet share a common creative vision.
"As artists, it's our responsibility to support the country which is trying to get back to where it was," says Nisansala referring to the Easter Sunday tragedy and its aftermath.
Segar will exhibit some 20 paintings in this exhibition which is his 45th. The veteran artist is away in Malaysia preparing for his 46th show at the Four Seasons Hotel in Kuala Lumpur which will open on August 16.
Nisansala's paintings are inspired by colours, textures and concepts of nature. Deviating from her usual style though is a recent abstract painting hanging in her living room,titled 'Political Turmoil in the Island'. The canvas is mostly covered in black strokes to depict the hidden agendas of political parties. The white strokes, barely visible, represent the genuine thoughts of a few who try to help the country.
Having a passion for painting from a young age, Nisansala received a Bachelor of Fine Arts (BFA) in Photography and Graphic Design from California State University, USA and completed an M.A. in Buddhist Studies from the University of Kelaniya. She opened her very own Casa Serena Art Gallery in 2011 and last year opened a new wing of the gallery at the Institute of Palliative Medicine, Matara. "Segar was really supportive of the venture and gave his paintings to be displayed there," says Nisansala. The sales proceeds of the new gallery will be donated towards cancer care.  She herself devotes much time to the Cancer Care Association launched by her husband Dr. Samadhi Rajapksa. The association  runs palliative care centres for cancer patients.
The Duo Exhibition of Paintings by Segar and Nisansala will be held on August 3 and 4 at the Lionel Wendt Gallery, Colombo 7 from 9 a.m. to 7.30 p.m.
For further details on the exhibition please contact Nisansala on 0714310000.